Walt Disney Pictures (August 3 2007), Walt Disney Home Entertainment (December 18 2007), single disc, 82 mins plus supplements, 2.40:1 anamorphic widescreen and 1.33:1 pan-and-scan crop, Dolby Digital 5.1 Surround, Rated PG, Retail: $29.99
Storyboard:
When a top secret lab experiment – you know the kind – quite literally explodes in the face of mad scientist Dr Simon Barsinister, it transforms ordinary beagle Shoeshine into an incredible superdog with the ability to speak and fly! Adopted by a friendly ex-policeman and befriending his son, Shoeshine reveals his secret to the young lad and, when the boy's friend and her spaniel Polly Purebred find themselves in trouble, proves himself to be anything but an "underdog"…a name that sticks! With the rest of Capitol City under threat from Barsinister and his henchman Cad…it's a bird! It's a frog? No! Have no fear – Underdog is here!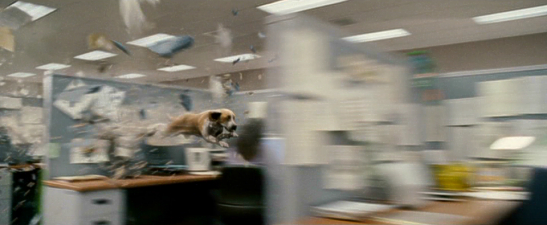 The Sweatbox Review:
I really didn't know quite what to expect from this live-action, modern updating of the not-so classic 1960s animated series about a dog with super powers. A more comic take on Superman's Krypto concept, Underdog appeared in 1964 to fight the crazed comic villains of Capitol City, perhaps based on the success of Paul Terry's Mighty Mouse, who had become a hit all over again thanks to CBS' purchase of his studio and their running of those cartoons each weekday afternoon. Superheroes were big business again in the 60s, with many other cartoons coming to the screen, both original and not so original, good and bad. It seems over time that all of these shows have been ripe for reappraisal by fans, or for "reimagining" by studios, and it was only a matter of time before Underdog's rights owners started shopping their character around.
After a raft of destroying other companies' animated properties and converting them, almost factory like, into awful live-action vehicles (think Mr Magoo, Inspector Gadget and George Of The Jungle, though on second thought perhaps don't), the Mouse House appeared to be out of ideas, mining their own library for the half-decent Herbie film that didn't do any wonders for anyone but didn't crash the bug either, The Shaggy Dog, and a recent string of derivative but original movies such as Sky High and Enchanted. Just when they seemed to be back on track with the giant Pirates Of The Caribbean and National Treasure hits, this latest offering goes back to the co-producing well, partnering with Spyglass Entertainment and Underdog's owners Classic Media, and I guess it could have turned out either way…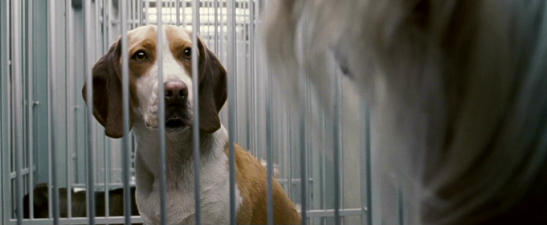 I was never hugely into the 1960s Underdog show, a limited animation filler that was very much in the Rocky And Bullwinkle and Roger Ramjet mould. Despite the fact it enjoyed a fairly long run, it was rarely seen after (with stations plumping for new Hanna-Barbera product over anything else, it seems), and I also couldn't quite get into a show where the point of the thing was that an ordinary dog took on amazing abilities and yet the regular humans' pets also walked, talked and wore clothing. Doesn't that negate the purpose of an actual super dog? What's so special about him – other than the flying – when the likes of Polly Purebred are already swooshing around apparently patterned on Marilyn Monroe and your hero's alter ego is a shoe shining pooch that's able to work out how much to charge, and in an amusing rhyming scheme to boot?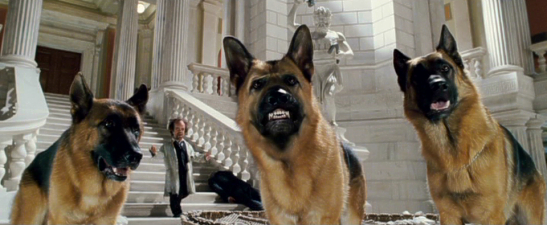 With a not-as-high-as-expected run at the box office last summer, Underdog comes to DVD, if a little sheepishly, then at least with a full fanfare. The opening pays homage to the original program, opening The Adventures Of Rocky And Bullwinkle like with a cartoon prologue. But this is an origin story, flipping back time to when Shoeshine was just an ordinary, down on his luck beagle, before the dubious intentions of Simon Barsinister (a name with amusingly curious connotations that I'll let you research and discover) unleashes the powers within. As before, I wasn't sure that having the other dogs yakking away totally worked, but at least here the dog talk is kept between the canines – apart from Underdog's ability – with none of the humans understanding a word other than "bark". And while I understand why our hero's secret identity is Shoeshine (a reference to the original show), there isn't really a reason to call him that here, and I'm still unsure if the Underdog moniker is a play on "Wonderdog" gone wrong since that's not much of a name for a superhero.
But…this is one clever dog! The animal action on show – a mixture of real-life pooch, puppets and CGI animation – is well within the traditions of Disney's many live-action canine stars, and to be honest although I knew there had to be some effects trickery going on to help Underdog along, I couldn't tell you where the joins are, such is the good work handled between the effects artists and the real life ability of the leading hound. Of the live-action actors themselves, the casting has fun too: Jim Belushi will be a familiar pick from previous family movies including the K-9 series and Curly Sue among many others and tons of animated voices, and Patrick Warburton gets to do much more than just provide the cameo wisecracks that he's been doing over and over in his voice work since breaking through as Kronk in The Emperor's New Groove almost ten years ago.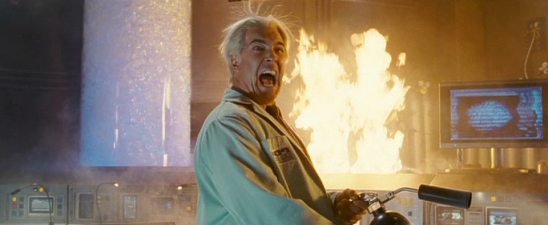 Although the film aims for a younger, family audience demographic, it very pleasingly drops the fake over hip-ness that has plagued Disney's recent such fare (Inspector Gadget especially) and strips out the ill-judged contemporary music tracks for a proper orchestrated score by Randy Edelman that's by turns heroic and stuffed with comic touches. Essentially, and refreshingly surprisingly, I found Underdog to be firm, well made stuff, with nicely observed effects too – something the wizards never get quite right are the eyebrows on these kind of digital doggie character hybrids, but here there's some great work around the eyes that really help the pooches come over with real expressiveness, especially Underdog's adoring Polly Purebred, who "acts" most impressively.
The other effects are good too, never looking like those cheesy CGI effects that try to sell a concept but fall short – here they actually make a flying dog look pretty fantastic. Director Frederick Du Chau finally makes a jump to convincing helmer status, after Warners' poor attempt to enter the feature animation field with Quest For Camelot and Du Chau's own previous shot at bringing digital personality to animals in the strangely hyper, overacted and overlong Racing Stripes. Here he stuffs in some lovely visual touches – the dog's mouth chewing the digital camera he retrieves being good for a big laugh – and appropriate nods to Superman and Lady And The Tramp for comic and animation fans, updating a 60s cartoon for the High School Musical generation but never letting it get too fast paced. Du Chau and his screenwriters also make sure a subplot about Shoeshine's teen owner and his girlfriend doesn't unbalance the movie, which is happy to play at the dogs' level and concentrate on Underdog's relationship with Polly, to the tune of some amusing Clark Kent/Lois Lane dynamics.
What else can I say? Perhaps with my curious expectations and lack of history with the character, Underdog hit me as one of the fresher, funnier, better recent Disney family adventures (think Sky High rather than another Herbie). For whatever criticisms could be levelled at it, Underdog also gets a lot right. My Name Is Earl and The Incredibles' Syndrome, Jason Lee might not be the most apt voice for Underdog himself, but he provides very good value in his alter ego guise Shoeshine, while Disney's new find Amy (Enchanted) Adams works her charm as Polly, who swoons at the swoosh of Underdog but has more bite than bark for when he's not in costume.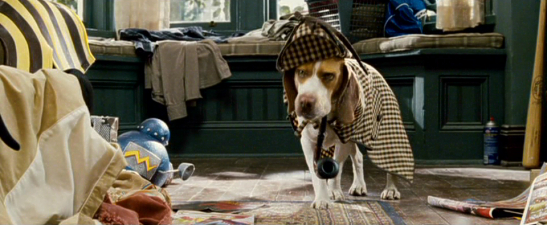 And unlike Garfield's Odie, I'm glad they went with a real dog rather than the caricatured nowhere ground of Scooby-Doo, though compared to the cartoon, I did find that Shoeshine's ears seemed to range from being their natural color to that of Underdog's blacker ears, but this is a small nitpick and again, this wasn't ever intended to be an Oscar nominee and the movie has a lot of fun getting more right than wrong: a sequence working through potential names, costumes and catchphrases is highly amusing, as is the story's location set name of Capitol City, and Peter Dinklage's diminutive mad scientist is simply the most humorously bent mad scientist I've seen in film for ages!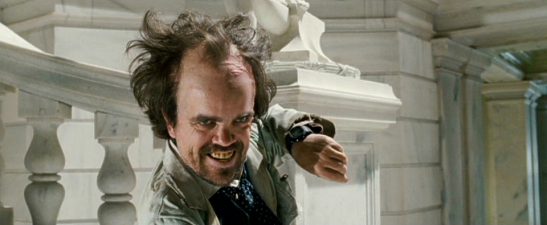 Things may fall into predictable superhero comedy conventions just before the climax, and the film might have skewed a little older and featured more knowing humor to better effect, but then again it's never rude and keeps up a relentless but never tiring pace throughout. As a genuine family outing it's really good to see Disney continuing their streak of robust family adventures, and hopefully a good showing on DVD will add to its modest box-office takings and put the pooch back in tights for a potential encore. I certainly wouldn't object to at least one more run around with this dog-eared hero.
Is This Thing Loaded?
The new, quite lovely Disney promo plays on start up, which does no more or no less than get one excited about "Disney" as a concept…it's quite a clever way to restore some of the faith lost in the company as of late, but I'm still puzzled as to why it uses music from a Warner Brothers motion picture. Really surprising – but very, very welcome – is that the disc has been completely authored in 16×9 anamorphic, with all but two slices of content formatted to wide screens.
As a FastPlay disc, the usual previews play first, this time around for the delights of Blu-Ray, One Hundred And One Dalmatians, National Treasure 2, The Game Plan and, from the Sneak Peek menu, Cinderella II, Snow Buddies, The AristoCats, Phineas And Ferb and the Disney Movie Rewards program – all either native or windowboxed in anamorphic widescreen. As such, you'd think that a disc of this type would play the included 2.35:1 theatrical ratio edition of the movie when FastPlay gets to that point, but nooooo – there's also a completely redundant fullscreen hack job that plays by default. Even worse, just finding the widescreen version proves to be a detective job worthy of our titular hound!
The extras prove to be worth more than they sound, the first of which is a selection of three Deleted Scenes, presented with optional introductions from director Du Chau, who comes off as someone who understands how to make these kinds of movies. Du Chau's comments explain that these were mostly cut for pacing reasons, but the first also shows Warburton's character Cad off as a real meanie as opposed to someone who's just stupid. The second repeats a story point, as Du Chau says, but it does set up the Molly character more suitably for a payoff later in the film. Third is a simple extended scene which, like all of the four minutes here, isn't a great loss but wouldn't have really harmed the picture had they remained either. They look and sound great, again in anamorphic widescreen.
Backing this up is a short one and a half minute montage of Bloopers. There are some Pixar-styled set up flubs on the tail…sorry, tale end of the movie itself, playing amongst the credits, but these are the real deal, if not very funny. The main reason for the multiple takes here is to do with getting the animal stars to hit their marks and perform the right tricks at the right time, and while there are only a couple of laughs to be had from any mistakes, it actually proves an interesting insight, as before any wires and prop stands have been removed we can see the way some of the "how did they do that?" shots were accomplished.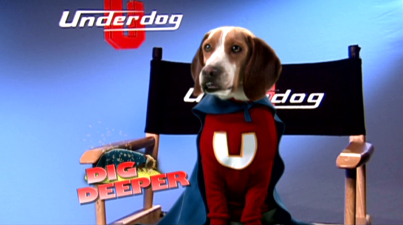 Sit. Stay. Act. Diary Of A Dog Actor introduces us to Leo – at least I think that's what I heard since there seems to be a hush around calling the dog anything but his screen names – the real life beagle who so capably handles his dual role in Underdog. As again voiced by Jason Lee, Shoeshine gives us a peek into the making of the movie, aided and abetted by some "Dig Deeper" icons which, when selected, take one into a hidden layer of further information. I suppose this adds a coating of interactivity to the disc, but it's fairly tedious waiting for the jump back and forth between the clips. They are worthwhile, however, offering up some proper on the set footage on a variety of topics. The all-in-one package runs to almost six minutes, but selecting the pop-up icons stretch this out to over 15 in total and since Underdog was never going to need a double-disc feature packed edition, this adds some neat enough value.
A two and a half minute Underdog Raps music video featuring Disney Channel's Kyle Massey does what it says on the (canned dog food) tin. I'm always more impressed when characters from the movie interact with the performers and here, as opposed to just cutting between Massey and clips from the movie, Underdog swoops in to fly about the posse of dancers as Massey spews out an updated version of the barely recognizable theme. Although it's presented in 1.78:1 letterbox, this is the only clip not treated to 16×9 enhancement.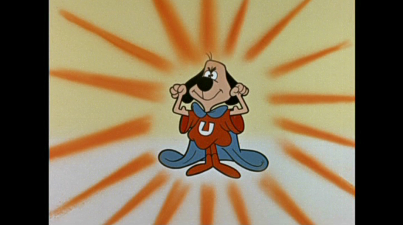 Finally, an Original Underdog cartoon episode Safe Waif dishes up the caped canine's very first animated adventure (rhyming dialogue intact), in windowboxed 16×9. Since Underdog used to air as part of a longer half-hour programming block that encompassed other characters, this "episode" is in fact only one story segment from that format, therefore only running just under five minutes. I've only seen a handful of Underdog cartoons in my time, and this didn't especially seem to be one of the better ones. It's interesting, of course, to see the beginnings of the character, though I can't particularly see the appeal of him over the other superhero spoofs of the time, or those that were to come, like Batfink for instance. I also seem to recall a "secret energy pill" Underdog used to gulp down, but some digging of my own reveals these appear to have been removed from later syndicated versions. The fact that such a pill doesn't appear here could mean the concept (originally to get youngsters to eat their vitamins) hadn't yet been introduced in the early episodes, or that this is an edited syndicated version, but since credits have been shorn off, there's not mush else info available other than an encouragement to check out the rest of the series on DVD from Classic Media.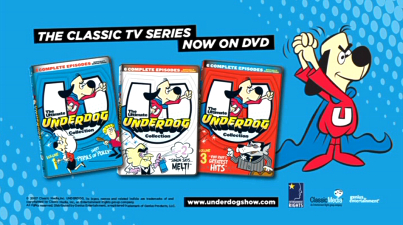 The concurrently released Blu-Ray Disc adds an extra episode of the cartoon series that features the first appearance of Underdog's nemesis Simon Barsinister (there's that name again!), and some additional deleted scenes – both features that could have quite happily sat on this disc too, so where are they?
Case Study:
Underdog comes to disc in a pretty spiffy package. A traditional white Disney keepcase is covered by a shiny, embossed slip, though the front cover art looks frankly awful, sporting a rubbish Photoshop job that doesn't even look like the same beagle as in the movie, especially the almost red ears instead of Underdog's black. It's most unfortunate since the cover is cheesy enough to put anyone off and does very little to emphasize the decent nature of the film within, especially with the copious contractual reminders that the film was produced "in association with Spyglass Entertainment" and the insipid "Saving the world, one paw at a time" tagline, a variant of a now much-overused movie poster phrase. What was wrong with the "One Nation, Under Dog" theatrical tag? A chapter index found inside basically reprints the back cover design, there's the Movie Rewards code, and a simple Disney Blu-Ray guide that includes a $10 rebate when upgrading Underdog to hi-def.
Ink And Paint: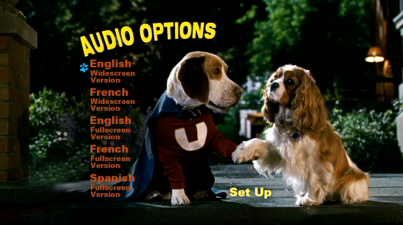 Since the disc is pretty nigh on a full anamorphic presentation, this makes the inclusion of a fullscreen version – and one that plays by default – doubly silly, though maybe this was a Classic Media stipulation. What's finicky is the process one has to go through to select the much-preferred theatrical widescreen ratio. Does the disc offer a choice, pre-movie? Not if you go the FastPlay route. Is there an obvious menu selection, then, maybe in the Set Up options? Uh-uh. I finally found the way to access the intended framing was via the AUDIO menu – of course! In one of the oddest configurations I've yet come across, the viewer must choose between English Widescreen, English Fullscreen, and similarly for French, though paw…sorry, poor old Spanish speakers are saddled with Fullscreen only.
The fullscreen edition predictably crops the edges of the frame severely, losing almost half the intended screen area and breaking some shots in half as they try to squeeze in the image information. Even with two versions of the film on one dual layered disc, compression is remarkably absent, most likely thanks to a short length and limited extras. Though there's a bit of edge enhancement threatening to creep in and a couple of brightly lit scenes take on a slightly processed look, the flesh tones are accurate and the 2.40:1 widescreen option – though nearly impossible to find – is the way to go for anyone serious about watching a flying dog movie.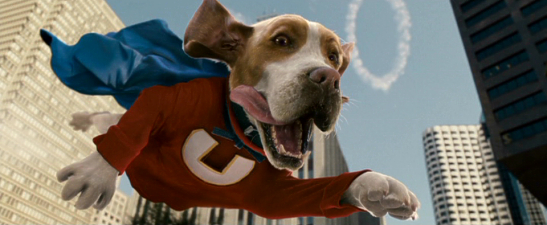 Scratch Tracks:
With decent visuals and a kids' movie background, you'd think that Underdog would be going nuts with an overactive surround track. Surprisingly, everything seems to be quite front heavy, with only the occasional fly-by offering anything exciting in the rears. Apart from that, I didn't have any problems understanding the largely ADR and overdubbed dialogue, and all the performances have been recorded and reproduced well, with only one line (Jay Leno's cameo) being strangely hard to pick out. Randy Edelman's score may not be super-memorable, but it's got punch and fights all the other audio activity with panache. As mentioned above, French and Spanish subs and dubs have been packed in.
Final Cut:
Don't let my words of praise build up the greatest of expectations for Underdog – especially if you're a long-time fan since you may not appreciate the changes made in telling this back story. But on its own terms, and for those young enough to believe in their imagination or coming to the character for the first time, there's some good, plain old family fun to be enjoyed with this Underdog. The disc comes close to being overstuffed with a fullscreen transfer that will hopefully go unwatched by many, though thankfully this waste of space hasn't impacted greatly on the proper widescreen presentation and a bowlful of snacks fill a hole in the extras department. It got a critical mauling on theatrical release, but home video is notorious for pulling modest underachievers like Underdog back from the brink, especially in the children's and family categories. If you can't stretch to a purchase, I'd heartily recommend at least a rental, where you may find this entertaining Underdog to be just that.
Animated Classic or Back To The Drawing Board?