When Disney began working on Treasure Planet in the late '90s, the studio envisioned cabin boy Jim Hawkins setting sail on numerous voyages across sequels and a TV series. But a lack of interest from audiences sank the would-be franchise in November 2002 – which was particularly unfortunate for the team already hard at work on Treasure Planet 2.
Director Jun Falkenstein had been involved with the sequel for about 8 or 9 months. Her previous film, The Tigger Movie, was a hit with critics and audiences, becoming Winnie the Pooh's most profitable feature with a $96 million worldwide gross from a $30 million budget. Disney suits needed her to work similar magic on Treasure Planet 2, especially given the escalating budget of the first Treasure Planet.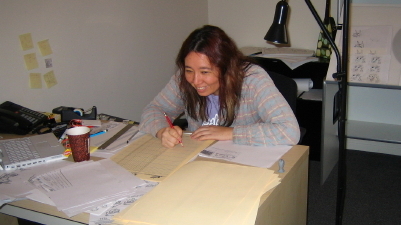 Jun Falkenstein
Falkenstein set about crafting a worthy successor to John Musker and Ron Clements' space adventure. She began collaborating with DisneyToon Studios' staff writer Evan Spiliotopoulos, who had already submitted an initial draft of the screenplay. Together, they developed the following story for Treasure Planet 2, as described by Falkenstein:
The sequel was to pick up where the first film left off, with Jim Hawkins going to the Royal Interstellar Academy. At the Academy, he is a hotshot "natural," but he doesn't follow the rules very well. Hence, he gets off to a shaky start – especially with his classmate Kate, who is very smart and has a type A personality. Kate's father is Admiral Blake, the Commander of the Navy. Jim and Kate vie for top of the class but have very different skills.

Captain Amelia is dean of the Academy, which has a brand-new vessel: the Centurion. Designed by Doctor Doppler, the Centurion is the fastest ship in the galaxy. B.E.N. is its pilot.

The pirate Ironbeard desires to commandeer the Centurion. This ruthless villain is relatively all iron – almost nothing of whom he originally was, inside and out, is left. He leads a group of pirates to hijack the Centurion while Jim and Kate are aboard. The Navy can't catch the Centurion, due to the vessel's speed and armor.

Jim and Kate escape the Centurion. Jim decides he needs a pirate to help catch pirates. They find his old buddy Long John Silver in the Lagoon Nebula, where he is running a smuggling ring. Silver agrees to help when he hears about the Centurion. Jim and Kate receive a tracking signal from B.E.N. – who is currently hostage aboard the Centurion – and follow via Silver's creaky vessel. They discover the Centurion docked near the Botany Bay Prison Asteroid.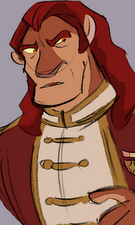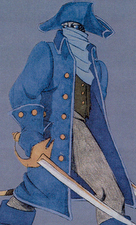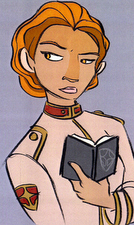 Left to right: Admiral Blake, Ironbeard, and Kate
(Click each to enlarge)
Ironbeard is using the Centurion to disable Botany Bay's security systems. Jim, Kate and Silver sneak aboard the Centurion, where Silver reveals to Jim that he wants to take the Centurion for himself. He asks Jim to join him. Kate overhears this and is horrified, especially since the two have, of course, started falling for each other during the adventure.

Ironbeard discovers the intruders, charging into a fight in which Silver is injured. Meanwhile, the other pirates throw down ladders to the prison below, allowing swarms of elated prisoners to climb up into the ship. Silver, Jim, and Kate exit the Centurion amidst all the confusion. However, Ironbeard shoots down Silver's ship. They plummet to the prison asteroid below, crash-landing.

Kate is angry at Jim and storms off. Jim is about to blow her off as well when Silver tells him to give her a chance. He reveals a part of his past through a flashback, when a young (non-cyborg) Silver screwed up a relationship with the love of his life – a decision which directly led to his life of piracy.

Silver has a very dangerous cargo with him that he had been trying to smuggle and sell for a fortune, which has the power of a neutron bomb. Jim, Kate and Silver reconcile and work together to fix Silver's ship and prevent the Centurion, filled with the most evil pirates in the galaxy, from going on an insane robbing-and-killing spree. At the last second, Silver reluctantly gives up his "retirement fund" in order to destroy the Centurion, with Ironbeard and all the pirates on board.

Silver again parts from Jim and Kate, telling them to take care of each other. A few years later, Jim and Kate graduate with honors, while a proud Silver secretly watches from the shadows, smiling.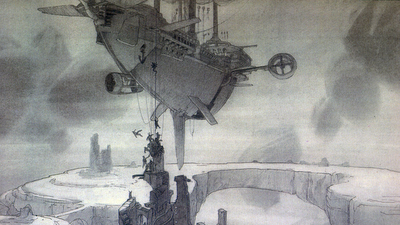 The Centurion over the Botany Bay Prison Asteroid
(Click to enlarge)
Fresh off his villainous turn in Sam Raimi's Spider-Man, Willem Dafoe signed on to play Ironbeard. Most of the first film's cast – which included Joseph Gordon-Levitt as Hawkins, Emma Thompson as Captain Amelia and Brian Murray as Silver – were expected to return. As for who might have played Kate, Falkenstein says, "I, honestly, can't remember now who we were considering."
The Treasure Planet 2 art team of Yarrow Cheney, Emil Mitev, and Mike Inman began working on visual development artwork. Mike Cedeno, who animated Jim Hawkins for the first Treasure Planet, designed Ironbeard. The production team had not gotten far enough to consider a composer for Treasure Planet 2. However, they were talking to Tommy Walter of the alternative rock bands Eels and Abandoned Pools, to write and perform songs in the same vein as John Rzeznik's music for the first Treasure Planet.
Regarding directors John Musker and Ron Clements, Falkenstein says, "We did pick their brains, but other than that, they were not really involved." After all, the directorial duo were hard at work finishing and promoting the first Treasure Planet, which was months away from release.
In October 2002, Thomas Schumacher, then-President of Walt Disney Feature Animation, spoke with Cinescape about his plans to expand Treasure Planet's universe with sequels and a television series. "We've got a story and some storyboards and concepts up, and a script for what a sequel to this could be. There's also a notion of what a series could be," he told the news source. "I have all the pieces in place, and should we [decide] to push the button, we push the button and go with it."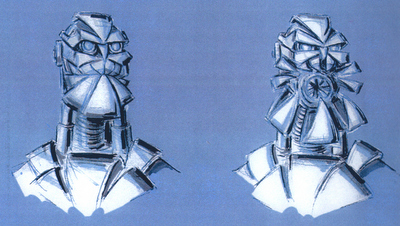 Ironbeard unmasked
(Click to enlarge)
Despite Schumacher's optimistic words, Falkenstein understood Disney was concerned about how Treasure Planet might perform. With a reported production budget of $140 million, the traditionally animated film needed to be a blockbuster in a time when audiences were seemingly more interested in the increasing number of computer animated features. Still, the traditionally animated Lilo & Stitch had proven to be a respectable hit that summer by collecting $273 worldwide, offering hope that families would be up for a trip to Treasure Planet.
But those hopes were dashed when Treasure Planet opened Thanksgiving 2002. Over the five-day weekend, the movie came in fourth – behind 007's Die Another Day, Harry Potter & the Chamber of Secrets, and Disney's own Santa Clause 2 – with $17 million.
The Monday afterward, Falkenstein, producer Prudence Fenton, and voice director Jamie Thomason were at a recording studio in New York. Willem Dafoe was scheduled to arrive in 30 minutes, to record his lines. Instead, the creative team received a phone call, which they were asked to put on speakerphone. The caller, whom Falkenstein declines to name, revealed the bad news: Treasure Planet 2 had been canceled.
"This was a huge bummer, because we thought the project was rocketing along really smoothly," says Falkenstein. "All the crew were really enthusiastic about the film."
By early December, Disney had announced it would deduct $47 million off its previously-reported fourth-quarter earnings. Treasure Planet received a boost in recognition with an Oscar nomination for Best Animated Feature. However, the notice was too little too late. At the end of its box office run in 2003, Treasure Planet had grossed a disappointing $109.6 million worldwide. Disney took a $74 million write off on the film.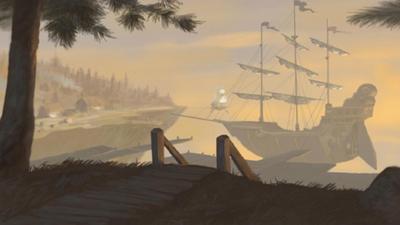 Mike Inman's Treasure Planet 2 visual development art
Falkenstein went on to work as a storyboard artist for numerous films, including Despicable Me, The Smurfs, and Legends of Oz: Dorothy's Return, which is still playing in theaters. "My friend Will [Oz co-director Will Finn] asked me to do some storyboards, and I'm happy to help Will with anything," she explains. More recently, Falkenstein did storyboard work on Reel FX's upcoming Beasts of Burden, Shane Acker's adaptation of the Dark Horse comic series. In the meantime, she and Kevin Johnson have been developing a Jungle Book movie for DQ Entertainment.
Treasure Planet did get a sequel of sorts in the PC strategy game Treasure Planet: Battle at Procyon, which was released before the movie opened in theaters. But Jim Hawkins and Silver have yet to reunite for a feature follow-up and television series. Treasure Planet has collected a following in recent years thanks to its home entertainment releases and availability on Netflix Instant. However, fans may need to be content with a sole adventure alongside Hawkins. In the quest for box office gold, few execs would risk another journey to Treasure Planet. The odds of a sequel are slim to none, at least for the foreseeable future.
---
The Art of Treasure Planet 2
Emil Mitev
(Click to enlarge)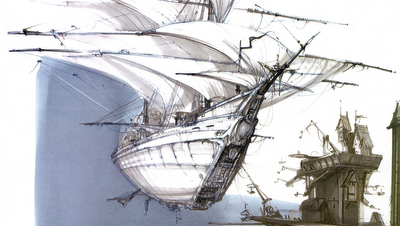 Jun Falkenstein
(Click to enlarge)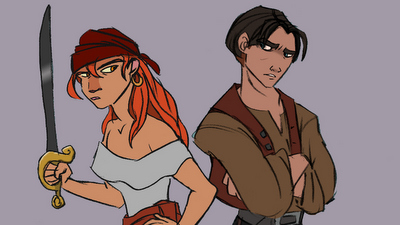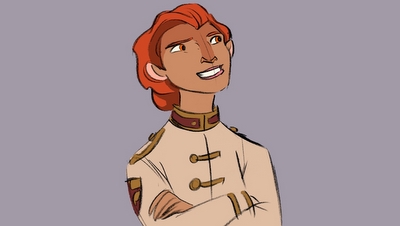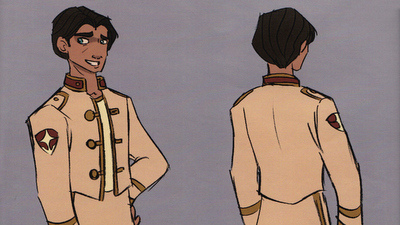 ---
Yarrow Cheney
(Click to enlarge)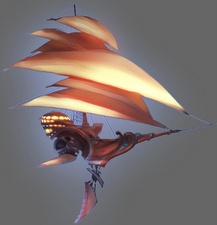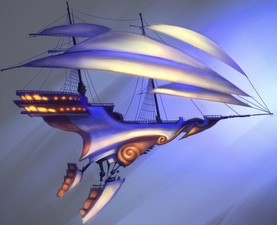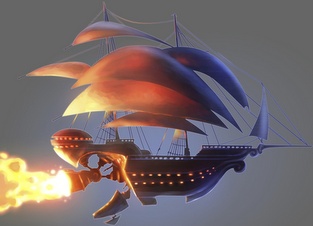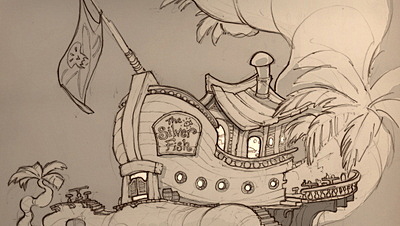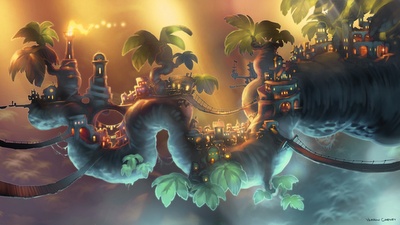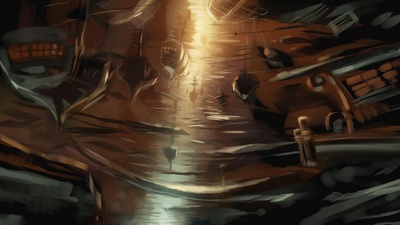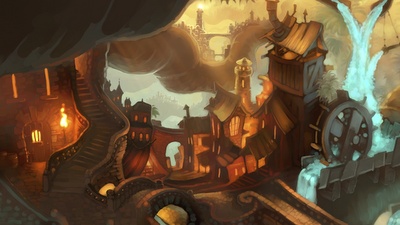 ---
Ken Boyer
Captain Amelia and Doctor Doppler animation panels (left to right)