Ten years ago, Brother Bear, Walt Disney Animation Studios' 44th feature, entered theaters nationwide. Oscar-nominated for Best Animated Feature, the traditionally animated film grossed more than $250 million worldwide, becoming one of the studio's higher-grossing titles in the early '00s. But what many folks – including some of Disney's biggest enthusiasts – don't realize is that prior to the direct-to-video Brother Bear 2, another chapter was planned in the Brother Bear franchise: a TV series.
From 2003 to 2004, Disney Channel International sought to develop series based on what were known internationally as Disney Heritage properties, such as Disney's animated classics. Studio executives examined the animated films most popular worldwide; they believed TV series based on one or more of those features would easily capture audiences around the globe while increasing consumer awareness of the characters. As for U.S. distribution, the series would premiere on Disney Channel before airing on the ABC network's Saturday morning block.
Writer Bart Jennett had a deal with Walt Disney Television Animation, which would soon become the animation production arm of Disney Channel Worldwide. DTVA execs approached Jennett, who had written for their hit show Recess, to develop a few of the series in consideration. From the Heritage titles mentioned, he chose to write pilots and produce teleplays for series based on Robin Hood and Brother Bear. To helm the pilot for Brother Bear: The Series, DTVA hired Pete Michels, who had directed episodes of The Simpsons and Family Guy.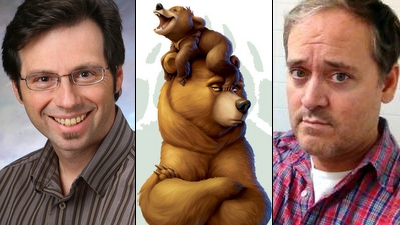 Left to right: Pete Michels, "brother bears" Koda and Kenai, and Bart Jennett
Brother Bear: The Series took place directly after the first movie, which saw the young tribesman Kenai choosing to live his life as a bear and a big brother to the cub Koda. (Brother Bear 2 was in early development at DisneyToon Studios and thus had no bearing – no pun intended – on the series.) Michels found making a TV series based on a movie still in theaters to be somewhat of a challenge. "I had to 'check out' the only copy [Disney] would let me use, and I had to return it as soon as I watched it," he recalls. "It made it very difficult to direct a series pilot based on a movie I had no access to for reference."
Brother Bear directors Aaron Blaise and Robert Walker had no involvement with the series, remaining at Walt Disney Feature Animation Florida. Kurt Dumas (Looney Tunes: Back in Action) joined the series as a storyboard artist, with Jill Daniels (Phineas and Ferb) in charge of the art direction. Matt Barrios (The Proud Family) signed on as editor, while also working on Robin Hood and Mulan & The Treasures Of Qin.
The synopsis for Brother Bear: The Series saw Koda enjoying Kenai as his big brother so much that he decided to invite other orphaned animals to join their family. Eventually, the family would have included an overactive husky pup, two owlets, a porcupine, and a strange elephant/platypus hybrid named Doohickey, one of the last of its kind, who had a habit of blithely leading Kenai and Koda into danger. "The show was basically about Kenai trying his best to control a situation that's always getting out of control," says Jennett.
Jeremy Suarez reprised his role as Koda for the series. Rick Moranis and Dave Thomas also returned, as the comic relief moose brethren Rutt and Tuke – a somewhat surprising move considering Moranis' retirement from acting. According to Jennett, Moranis signed on because he could record his lines remotely from a studio near his home and also work with Thomas again. Kenai, voiced by Joaquin Phoenix in the film, was to be voiced by Boy Meets World's Will Friedle, also known as the voice of Ron Stoppable in Disney Channel's Kim Possible. Other voiceover veterans to join the cast included Tom Kenny (Spongebob Squarepants) and Grey DeLisle (The Fairly Oddparents).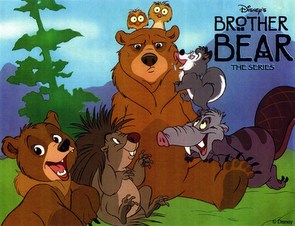 Early artwork for Brother Bear: The Series
Click to enlarge
While Phil Collins and Mark Mancina collaborated on the film's soundtrack, Brother Bear: The Series had no composer. Disney Television Animation didn't spring for composers to score pilots in those days, says Jennett. Instead, the creative team used music cues from film and TV series soundtracks, inserting them where they seemed to fit. Nonetheless, DTVA did pay for title song composers. "In this particular instance, however, we didn't know what to do for a title theme," says Jennett. "As I recall, we just did a riff on the Brady Bunch opening, borrowing that recording."
After months of work, Michels and Jennett completed a colorized animatic, or leica reel, of the pilot for Disney to test with audiences. They were soon pleased to learn that Brother Bear: The Series tested very well. Michels hoped Disney Channel would order a full run of 52 or 65 episodes. Unfortunately for him and Jennett, the network opted for neither – nor any other number. While Disney Channel International was enthusiastic about the Disney Heritage projects, Disney Channel U.S. – which would have shouldered half the financing for these series – was not. The channel was in the middle of establishing its own brand of tween-centric programming and believed that ordering numerous series based on classic feature animation titles was counterproductive to its goal. Disney Channel execs eventually softened that viewpoint, agreeing to take on at least one of the Disney Heritage series: The Emperor's New School.
School was based on The Emperor's New Groove, released in December 2000 to positive reviews but a lukewarm box office. Internationally, the film grossed $169.3 million, compared to Brother Bear's $250.4 million. "Even though The Emperor's New Groove didn't do gangbusters at the box office, it was still kind of fresh and kooky and stood apart from other features that Disney had been putting out," explains Jennett. "In comparison, Brother Bear felt a little more traditional and wasn't considered particularly successful. I don't know personally how well that film did, but it wasn't the kind of title that generated buzz, and there was zero cachet to be gained by creating a series based on it, in the U.S. at least." Indeed, while Brother Bear's gross eclipsed Groove's internationally, the latter collected $89.3 million to Bear's $85.3 million in the U.S. School also had a premise that went well with Disney Channel's image, offering an academic setting and young characters.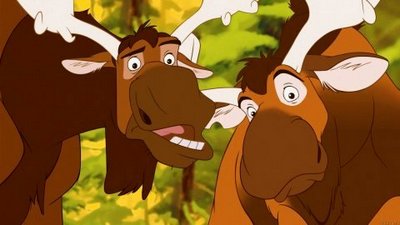 Tuke and Rutt in Brother Bear
A Brother Bear spin-off series starring Rutt and Tuke was rumored yet never produced, although Jennett faintly recalls people mentioning it off-hand after seeing the characters appear in his pilot. Brother Bear fans were still able to go on another adventure with Kenai and Koda when the direct-to-video Brother Bear 2 hit stores in August 2006. The sequel was praised as a solid follow-up to its predecessor and debuted at the top of the national DVD sales chart, fiscally outperforming Kronk's New Groove, which had premiered directly to video eight months earlier.
Jennett went on to write for other TV series, including Cartoon Network's George Of The Jungle reboot, Kick Buttowski: Suburban Daredevil, and Scooby-Doo! Mystery Incorporated. Today he serves as both a writer and a co-executive producer of the new Pound Puppies series on the Hub Network.
As for Michels, he directed another pilot for Disney Channel, Super Cooper, in which the title girl wakes up with a new useless super power every day. It, too, was not picked up by Disney Channel. In hindsight, Michels recalls the one casting decision that might have saved Super Cooper: "Miley Cyrus auditioned – we should have cast her." After Super Cooper was rejected, Michels returned to Family Guy for various directorial duties. He now acts as supervising director on Adult Swim's Rick & Morty, co-created by Justin Roiland and Community mastermind Dan Harmon.
Michels still wishes Brother Bear: The Series had been picked up, if only for the opportunity to have collaborated more with Jennett. "If Brother Bear did get picked up as a series, it would have definitely been an enjoyable show to work on," says Michels. "I loved the characters, loved the writing and the whole concept.
"I'd still like to get the chance to work with Bart again. We're still young, so you never know…"
Jennett shares the sentiment. Still, he harbors no hard feelings about the fate of Brother Bear: The Series, understanding the nature of the industry. "That's what happens with 99 percent of development – it goes nowhere," he muses. "Development is a rough business; you do your job and move on."