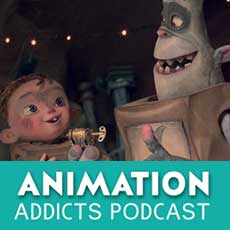 Learn more about The Rotoscopers!
Mason is out of town so it's another good ol' "Morgan & Chelsea episode" – in the same room! The girls take on Laika's third stop motion animated film, The Boxtrolls!
Highlights
Nerdy Couch Discussion: Travis Knight – Laika CEO, Producer, & Lead Animator
Main Discussion: General info, budget, & the melodic saw.
12 Boxtrolls facts you probably didn't need to know.
Themes: Social climbing, cheese, and living "outside the box."
Voice cast, character development, aiming high in story development.
Aesthetics and difficult scenes to animate
Don't forget to use the hashtags #AnimAddicts and #AnimAddicts113 when talking about this episode on Twitter!
(The internet connection was cut mid-way through, so only partial video is available, but the full audio version is available above.)