"The following film is a work of fiction. It is loosely based on historical events and is, in no way, meant to be historically accurate. Except for the talking turkeys. That part is totally real."
With that opening disclaimer, Free Birds sets the tone for its following 91 minutes. Much of the movie takes place days before the first Thanksgiving in 1621, as a group of turkey freedom fighters resolve to take their kind off the holiday menu forever. Thus, Free Birds makes one thing clear: These turkeys are out to change history, not teach it.
"We added the disclaimer because we weren't there to give people a history lesson," says director Jimmy Hayward. "I mean, it's talking turkeys that are traveling through time – if that's not enough of a giveaway that you're not at school, I don't know what is."
Reel FX is out to make history of its own with Free Birds, its first in-house theatrical animated feature. For two decades, the studio has provided animation on a work-for-hire basis, with projects ranging from the theme park attraction Despicable Me: Minion Mayhem to the TV special Ice Age: A Mammoth Christmas. But in 2010, Reel FX decided to develop its own animated features. Budgeted at roughly $35 million, Free Birds is the first result from that decision, set to be released under the studio's new banner, Reel FX Animation Studios. The milestone arrives in time for Reel FX's 20th anniversary.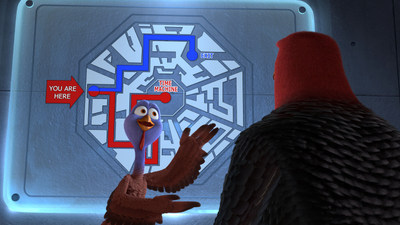 Many directors might buckle under the pressure of tackling a studio's first feature. But for Hayward, the pressure was no different than that of any other feature.
"I think you feel a lot of pressure making any film: It's an expensive endeavor that involves a lot of people," he explains. "Obviously, they were very excited to get their first film out. It was really inspiring to be around a group of people who were stoked to make their first film.
"I remember being a young animator on the first Toy Story. It felt a lot like that – a bunch of people who've been preparing for something for a long time, pulling together and doing their best."
Hayward is all too familiar with the excitement of a studio's early days. In the 1990s, he was an animator on ReBoot, the first computer animated television series, at Mainframe Entertainment. Hayward was then recruited by Pixar, allowing him to animate for the first two Toy Story films, Monsters, Inc. and Finding Nemo. From there, he jumped over to Blue Sky Studios as a sequence director and story consultant on the Ice Age creators' second feature, Robots.
The Blue Sky experience gave him the opportunity to adapt Dr. Seuss' Horton Hears A Who, his favorite book as a child, into a computer animated feature. Hayward and co-director Steve Martino spent numerous hours studying the work of Theodore "Dr. Seuss" Geisel in the Dr. Seuss Collection at the UC San Diego Library. To earn approval from Seuss' estate, Hayward, Martino and head of story Ricardo Curtis presented them with a special version of the Horton book, containing additional rhymes and illustrations representing new story material planned for the film. The move paid off: With approval from Seuss' estate, including widow Audrey Geisel, Hayward and Martino adapted Horton into a critically acclaimed blockbuster, released in 2008.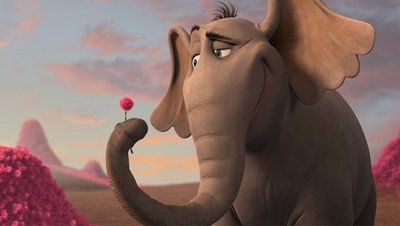 "I really wanted to keep it close to the original material and have it be in the same spirit. There are only two instances in the film where I kind of strayed outside that," says Hayward, a possible reference to the film's anime parody and an ending where the entire cast of characters performs REO Speedwagon's I Can't Fight This Feeling Anymore. "I think that constant diligence helped the movie be what it was."
When Hayward joined Free Birds two years ago, the picture had already been in development for quite some time. Its title had been whittled down from Time Turkeys to Turkeys. Toy Story 2 co-director Ash Brannon and Ren & Stimpy creator John Kricfalusi had both lent their talents to the feature, to varying degrees. However, Turkeys was still in the developmental oven, far from done. Hayward and Scott Mosier rewrote the screenplay from the ground up, sticking with the initial premise of time-traveling turkeys taking on Thanksgiving.
"It wasn't a matter of keeping things or throwing things away; it was a matter of starting again," says Hayward, of the film's earlier drafts. "It was taking that initial great premise and exploring what it could be."
One of the first decisions was to tone down the time travel element, to focus more on both the comedic journey and personal growth of protagonists Reggie and Jake. In the new story, free-thinking turkey Reggie becomes the latest recipient of the annual presidential pardon, his ticket to a life of pizza, telenovelas and lounging in bed all day. But Reggie's lazy life is interrupted when he is kidnapped – er, recruited – by Jake, the leader and sole member of the Turkey Freedom Front. Together, they steal the time machine S.T.E.V.E. and travel back to 1621, to stop their kind from ever being the main course at Thanksgiving – if they and their new fowl friends can avoid being captured by Plymouth Colony Commander Myles Standish.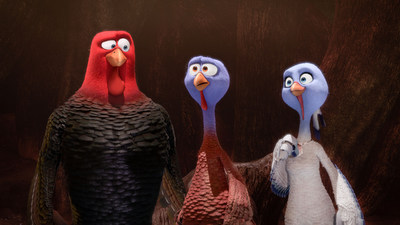 Of course, even the best plots require an excellent cast to pull them off. Fortunately, Free Birds had Owen Wilson and Woody Harrelson early in its production, as the two had already expressed interest in doing an animated feature with one of Reel FX's founders. "That was a natural fit: Those guys were all from Texas, and they all are great friends who hang out outside of work," says Hayward. "I think the movie was kind of born from that." For the voice of Reggie's love interest Jenny, the studio cast Amy Poehler, with whom Hayward had already worked on Horton Hears A Who. George Takei lent his recognizable baritone vocals to the time machine S.T.E.V.E.
Hayward, too, voices a few characters in the film, including Jenny's brother Ranger as well as the President who pardons Reggie. When recording temporary scratch vocals for characters, the director brought out his best impersonation of President Bill Clinton, which immediately won over Reel FX Animation's president, Aron Warner. But the kicker came when Harrelson then burst into the room. "I actually tricked Woody," recalls Hayward. "He was like, 'Man, you fooled me!'" While the President in Free Birds may sound like Clinton, he bears little resemblance to him. "He's got Reagan's pompadour and Clinton's voice – I don't know whose chin. We just threw them all together, you know? Put them in the ol' President blender."
Hayward and head of story Jeff Biancalana also voice a team of government hazmat workers. No matter the situation, the hazmats retain their, as Hayward describes, "smooth, buttery cop voices." He and Biancalana came up with that particular attribute while improvising in the recording booth. "They're always like, 'I'm going to be very calm, no matter what's happening… even though the pod is on fire… Houston, now I'm on fire…,'" continues Hayward in his hazmart worker voice.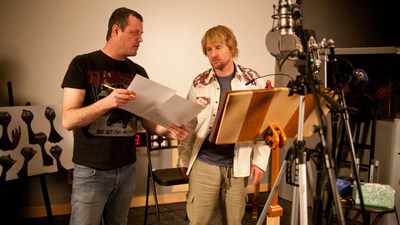 Jimmy Hayward directs Owen Wilson, the voice of Reggie, in the recording studio.
Hayward believes the key to successful jokes in a computer animated comedy is making them accessible to both kids and adults. "Really, the best jokes in movies are the ones told on two levels, where kids are laughing at the action while adults are laughing at the dialogue." Free Birds mixes the turkeys' wacky antics with plenty of tongue-in-beak humor for adults – a blend to be expected given the co-writing involvement of View Askew stalwart Scott Mosier. "Nobody wants to sit and watch something that's really dumb and just aimed at kids," says Hayward. "I think when people make films like that, they're underestimating how smart kids are."
Hayward takes pride that Free Birds was "cut, modeled, feathered and furred" completely in the U.S., between Dallas, Texas – where Reel FX's headquarters are located – and Santa Monica, California. The film was originally scheduled for a November 2014 release. When a slot opened for early November this year, distributor Relativity Media grabbed it. Hayward credits his past directorial efforts as giving him the ability to finish Free Birds on time. Those efforts include the aforementioned Horton Hears A Who as well as his 2010 live-action endeavor, Jonah Hex – two dissimilar films that were received very differently by both critics and audiences.
"I'm interested in telling stories that I'm a fan of, that I have a unique perspective on, or that intrigue me personally. Sometimes they're risky ideas – sometimes they work, sometimes they don't. But I think the most important thing, artistically, is that you're challenging yourself to continue to grow and to learn," says Hayward. "Having made those two different films brought me to a place where I could make a movie like Free Birds in two years instead of four."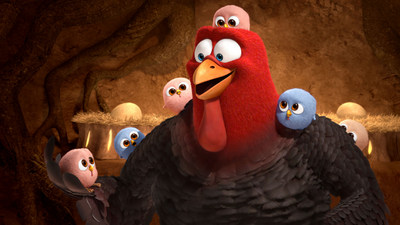 Whether Hayward will be able to utilize that newfound knowledge for a Free Birds sequel remains to be seen. "We didn't put a sequel-baiting moment at the end of the movie," he says. "But when you have a great relationship among the characters and a time machine, you can do anything you want. So, I wouldn't write the idea off, though we have no plans to do one, currently."
For the time being, the director hopes audiences will embrace the message of Free Birds, which is that each individual is part of something bigger than himself or herself. "The movie centers on Reggie realizing that message. He's a lazy consumer, all about himself, until he learns he's part of something bigger," says Hayward. He summarizes that, despite the historical setting, the film's lesson is less about history and more about the present: "Free Birds, like Thanksgiving, is about stopping what you're doing and coming together to appreciate the people who are around you – your flock, as it were – the people who love you, and the people you love."

---
Relativity Media/Reel FX's Free Birds opens in theaters nationwide this Friday.