Paramount Pictures/Nickelodeon Movies (December 21 2001), Paramount Home Video (July 2 2002), single disc, 82 mins plus supplements, 1.85:1 anamorphic widescreen and 1.33:1 pan-and-scan, Dolby Digital 5.1 Surround, Rated G, Retail: $19.98
Storyboard:
Deep in Retroville, young Jimmy Neutron is secretly on the search for extra-terrestrial life. After a seemingly failed experiment (involving the kitchen toaster doubling as a satellite!) actually brings mutant aliens to Earth, Jimmy's classmates must put all their faith in the boy genius. In what might seem like the perfect scenario, the aliens have kidnapped all the world's parents, rendering the mom-and-dad free kids more than willing and able to pursue their wildest dreams! Trouble is, they all find out soon enough that there are some things that you just can't do without parents…cue Jimmy Neutron! He builds a bizarre collection of intergalactic spaceships using the rides from a local theme park, and the kids are off on a trip through space to save their folks from the aliens' human sacrifice plot!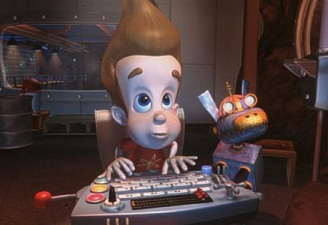 The Sweatbox Review:
Like a big burst of brightly-colored bubblegum, Jimmy Neutron: Boy Genius blasted onto our screens in late 2001, the first of Paramount's leaps into CGI animation. Following the success of the two safe-bet Rug-Rats movies, Paramount's kids division Nickelodeon decided to go the route of Disney, DreamWorks and Fox and risk all on a computer generated movie. And not just a movie, but a giant commercial for a fully-fledged franchise! For not only does Jimmy Neutron: Boy Genius herald a new set of characters to the big screen, but also a TV series, comics, games and takeaway tie-in meals!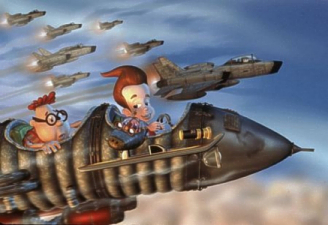 In truth, behind all the corporate grumbling, Jimmy Neutron is a fun movie, reflected in the fact that it was picked as the third in the running for this year's first Academy Award for Best Animated Feature. Sure, it's bright, the CG plastic-looking, and the plot breezy, but it holds its own against the big boys on the animation block, even if it does not develop the medium any further. But then again, breaking boundaries wasn't exactly what the team behind the film set out to do. Created and co-scripted by Jim Carrey-collaborator Steve Oedekerk, Jimmy Neutron sets out to please the kids and have some laughs at the adults' expense.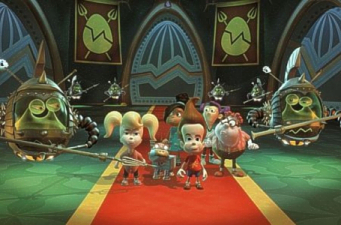 The kid-as-a-secret-saviour-of-the-world type plot is starting to be plundered more and more often, but Jimmy Neutron is consistently inventive. Our hero is basically your average, run of the mill genius kid and the film has a lot of mileage in the many inventions Jimmy comes up with to help him in everyday life: personal grooming machine, sidekick robotic dog, etc… Some of the stock characters don't really seem to belong on the big screen, but they'll be right at home on the TV show, with its mixture of Dexter and Recess as clear influences.
Once again, it's the magic of CGI that pushes the movie quite literally into the stratosphere and worthy of a big screen release. Stylistically, it's a million miles away from the wonders of the almost-real worlds of Shrek or Monsters Inc, going here for more of an obviously "cartoony" look, a change in design that is nonetheless welcome. Using a combination of off-the-shelf software, the guys at Nick show just what can be achieved with what is basically "affordable" top-end software. Of course, you'd have to be pals with Patrick Stewart and Martin Short to get them to voice your movie!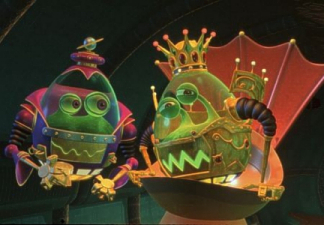 Although there's an overall feeling of the merchandising push of Space Jam that slightly overshadows Jimmy Neutron: Boy Genius, the scripting, imaginative plot, outrageous characters and voice acting represents a top-notch affair artistically and creatively, and scores a bulls eye for pure entertainment value.
Is This Thing Loaded?
Jimmy Neutron: Boy Genius plays like a good disc-bad disc experience. It's a Special Edition all right, but it's a special edition from Paramount. They have opted to go the kid-friendly route with the extras, even though both Shrek and Ice Age managed to do this and keep the more adult fans happy (in their cases with a second disc of collectors' features). So, although this is an Oscar candidate we're talking about here, we have nothing approaching any meaty discussions on how innovatively Jimmy was put together, nor something as basic as an audio commentary.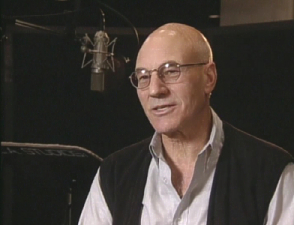 But it's not all bad news! We do get a rudimentary featurette, which does pack a ton into its 16 minutes, including behind-the-scenes peeks and voice talent sound bites. Two music videos add to the package: Live It Up from Aaron Carter and Kids In America from No Secrets. Annoyingly, the record label information for both clips is left on screen in the bottom left-hand corner FOR THE WHOLE VIDEO! As it goes, these are pretty average examples of current music promotional clips anyway and probably only one time plays at that.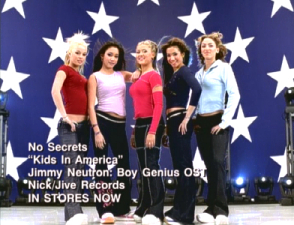 What is a great bonus, however, is the entire trailer campaign for the theatrical release. Under Interstitials, you'll find seven 90-second "mini-shorts" that ran on Nickelodeon in the run up to Jimmy Neutron's release. Some seem to have been transferred digitally, while others look like lower-resolution copies, but they set up the characters nicely and a couple look like first passes at some gags that later appeared in more refined forms in the movie.
The Cliffhangers promo spots are a series of five clips of around 1 minute each that almost run as a prequel to the main feature. Again varying in quality, it's these spots that make you think that maybe the journey to film print and back to video for the actual movie may have taken away from the "back-to-basics" of the animation – these spots, presented in their original 4:3 full-frame ratio, look much less detailed than the film and do not possess any cinematic quality. However, they are definitely fun and add up to another 10 minutes or so of Neutron animation! Also included are the original teaser and theatrical trailers, which firmly place the movie in the "pre-teen" market bracket!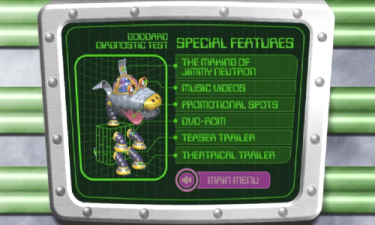 Moving on to the disc's DVD-ROM content, and as one might expect for a film that deals with a computer savvy kid, this section of the disc is in danger of swamping the regular material! Included on this disc are seven new games, which are actually kind of mindless fun, but seem to have been previously available on either giveaway CD-ROMs or the internet. Like the movie, none of them are going to win any awards for interactive innovation (they are mostly simple platform games and variations on a theme) but the demented squirrel laugh from Ultralord Vs The Squirrels will haunt you for a while. HyperCorn was my favorite – just try and rescue Jimmy's Dad while trying not to laugh too much when Jimmy falls! Though previously released, it's handy to find them in one place here and a welcome use of the format's versatility, as is fast becoming the norm for kids' titles
Case Study:
Nothing too special…a colored keepcase houses the disc and chapter index.
Ink And Paint:
Did you know that there was some Pixar animation in Jimmy Neutron? Well, technically not in the movie itself, but Paramount's "flying stars" logo, used for the last 15 years or so, was originally created by those CGI magicians responsible for Woody and Co. On revving up this particular DVD, you'll be treated to the mountain's new, 90th Anniversary logo before the menu screens kick into action accompanied by John Debney's spot-on tongue-in-cheek espionage-spoof score.
In this digital-to-digital world, the main gripe with the video presentation is that rather than transfer directly from the computer files, Paramount have elected to place Jimmy Neutron on disc from a standard film print. This is pretty apparent from the get go, as the main title graphics are not as perfectly set still as on some recent releases from Disney and DreamWorks, and some minor scratches and pops appear throughout the movie, but this is a tiny quibble. Overall, the transfer is crisp and clean. There's a choice of two formats: theatrical anamorphic widescreen and a pan-and-scan full-screen (why do they call this "full"-screen when so much information is lost on the sides?) edition that is useless. The widescreen print is definitely the one to go for.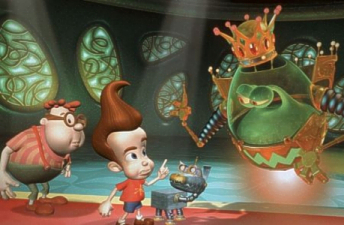 Scratch Tracks:
Presented in a choice of Dolby Digital 5.1, Dolby Surround and French Dolby Surround, the soundtrack is bright and clean. In a film dealing with spaceships, laser guns, and blast-off explosions, you'll find that Jimmy Neutron could hold its own against the likes of Armageddon and Toy Story 2 with the 5.1 track in play! Bass has a satisfying rumble, vocals are placed and locked hard center and Debney's music score (all big brass and cool slap-bass) is what you might call funky sci-fi kitsch! The movie starts with a great audio demo sequence, and while it may level out during the film, it's always got some dynamic kick.
Final Cut:
Still the CGI movie most squarely aimed at kids, there's much to enjoy in both the film and the disc of Jimmy Neutron: Boy Genius. The disc was perhaps never destined to become an adult collectors' item, and while the humor doesn't ascend to the heights of comic brilliance displayed in some of the other recent CG fare, there are some laugh out loud moments for the grown ups (Jimmy's Dad has some choice lines). Never a real front-runner for the Oscar race, some may tire of the bright colors and basic plotting after a couple of viewings, but it's nice to know that even under the circumstances of corporate tie-in merchandising opportunities that a little film like this can still guarantee that a good time is had by all!
Animated Classic or Back To The Drawing Board?