Hanna-Barbera (1996), Warner Archive (March 27, 2012), 2 discs, 286 mins, 1.33:1 original full frame ratio, Dolby Digital 2.0 Stereo, Not Rated, Retail: $24.99
Storyboard:
Teenaged Jonny and his friends & family roam the globe, finding adventure in Borneo, Canada, Easter Island, and in the Himalayas.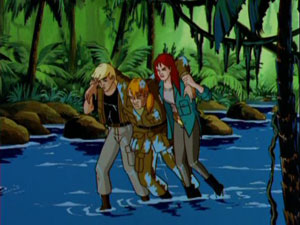 The Sweatbox Review:
Sluggish sales of the first volume of The Real Adventures Of Jonny Quest in early 2009 doomed plans for a retail release for the second half of Season One. However, this is just what Warner Archive is for. Fans can at least continue to collect favorite series, even if they have to accept the perceived downside of made-to-order DVD-Rs. Personally, I'll take what I can get. Better DVD-Rs than nothing at all.
In this continuation of 1996's re-imagining of the classic show, we stick with the same designs and concepts that showed up in the earlier episodes. As explained in our review of the previous volume, things would change greatly for what was loosely termed Season Two, which was actually a parallel show developed separately by a different production team. But for this 2-disc DVD set of Season One,Volume Two, we stick with a grey-haired Dr. Benton Quest, a south-western accented Race Bannon, and the occasional episode dealing with the virtual reality playground of QuestWorld. Aside from that CGI land, stories are initially fairly down-to-Earth, with frequent sci-fi elements; but as the end of the season approaches, things get a bit wackier.
Thirteen episodes are split unevenly over two discs, all in broadcast order.
Disc One
The collection begins with In The Wake Of The Mary Celeste, where Dr. Quest's team looks into the mystery of a ship that sank decades ago in the Atlantic, and they encounter a strange phenomenon. Next, they jet off to Borneo in Amok, only to encounter a legendary sloth monster and a gang of drug smugglers.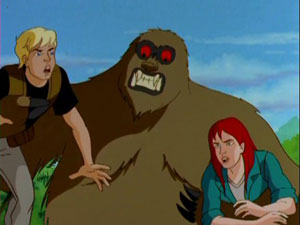 Quest nemesis Jeremiah Surd shows up in Besieged In Paradise, and reveals his plans to use whales and dolphins to conduct deadly attacks (that's scary if you really think about it). The Spectre Of The Pine Barons is an intriguing tale involving a centuries-old battle over the Declaration Of Independence.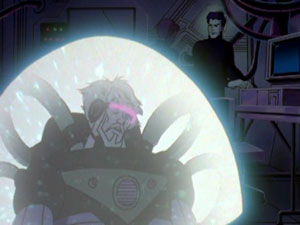 Heroes brings back Surd, who is interested in a Greek archaeological find. Next is the ghost story The Ballad Of Belle Bonnet, which sees a spirit watching over a cache of gold. In The Darkness Of The Moon brings the team to northern Canada, where Race falls in love with a lady werewolf. It gets more "out there" in The Secret Of The Moai, as Dr. Quest and Race find an alien ship, and get devolved into apes by Surd. Expedition To Khumbu involves Yeti and an avalanche.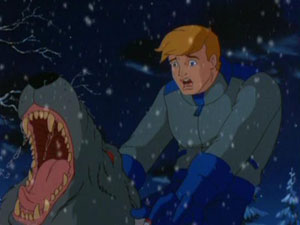 Disc Two
Race's daughter Jessie crashes through Siberian ice and into an underground world in Ice Will Burn, only to be promoted as a heroine who will help re-ignite a volcano. Ezekiel Rage, another great villain, returns in Future Rage with a plan to melt the polar ice caps. (Bwa-ha-ha!) Then, with a title like Alligators And Okeechobee Vikings, no description of the plot can live up to expectations. To Bardo And Back brings back Surd, a mad bull, and a QuestWorld rescue mission.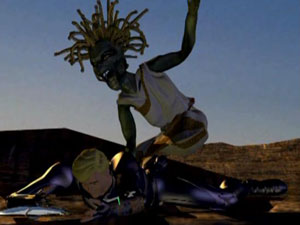 I always love globe-trotting adventure, and for me, this show delivers. The stories never attain heights any higher than "boys' adventure stories," but they do just what they set out to do: primarily entertain, but also to bring a little exposure to unique settings. It's too bad that the animation can't quite keep up, being from a hodgepodge of animation studios from around the world, which often struggled with the realistic character designs and (intended) high-octane action. More stylized design may have actually benefited the show. Other than that, the writing is solid, and it's clear that the producers were aiming high. They may not have created the classic they intended, but they did manage to deliver a pretty fun show.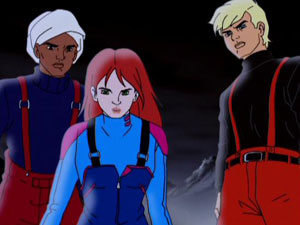 Is This Thing Loaded?
Somewhat unexpectedly, this set does have a new featurette, possibly prepared when a retail release was still being considered. Journey Into Questworld (9:21) looks at the cyber world created by Jonny and Hadji. Jerry Beck and creators from the show look back at how the series used the technology of the time to create a unique environment for its characters.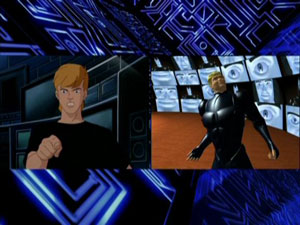 I recall the CGI parts of these episodes looking cheesy even back when the shows first aired, but one had to appreciate the effort. It certainly gives the show a little extra something, even if one must be forgiving of the primitive character CGI animation (the 3-D environments actually look pretty cool for the most part).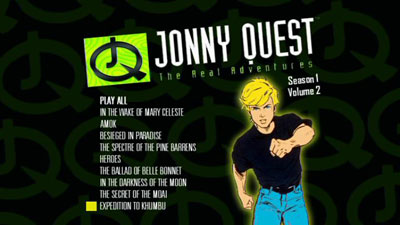 Case Study:
Clear keepcase, with a swinging tray to carry the second DVD-R. No inserts. There is no episode listing anywhere on the case or discs. There is not even any mention of bonus material on the packaging. The cover logo states Jonny Quest The Real Adventures, but I've used the series' official name in the title of this review.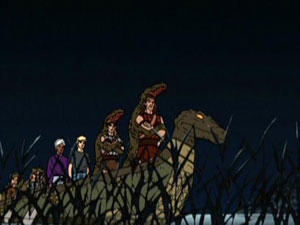 Ink And Paint:
Unfortunately, the video quality is quite lacking for this release, and is not as good as for the previous volume. While the source material has a minimum of physical artifacts, the transfer itself looks shoddy and overly compressed. Any pans result is outlines breaking apart, and there is a large amount of shimmer, along with some moiré effects (especially with the opening sequence, where green lines turn into rainbows).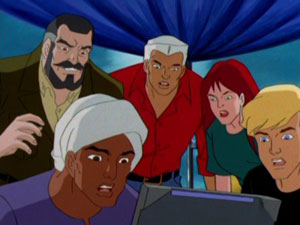 Scratch Tracks:
There are no complaints, however, with the stereo sound. That opening sequence with the lousy video quality is still a masterpiece of auditory delight. The episodes themselves rarely deliver any acoustic thrills, but the sound quality is more than adequate.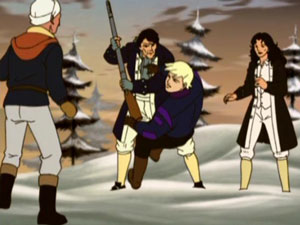 Final Cut:
This is essentially the last of this incarnation of Jonny Quest, as the following season revamped the show. I'll look forward to seeing those, as I rarely caught those episodes back when they aired. A weak transfer and variable animation quality plague this current set, but the episodes themselves are good adventure stories that subtly offer lessons in geography and science. The stories get a little crazy, too, which is a good thing in my book. The addition of an original featurette, rare for a Warner Archive release, makes this a compelling purchase.
Animated Classic or Back To The Drawing Board?