Hanna-Barbera (1996), Warner Home Video (February 17, 2009), 2 discs, 266 mins plus supplements, 1.33:1 original full frame ratio, Dolby Digital 2.0 Stereo, Not Rated, Retail: $26.98
Storyboard:
In this third time that Jonny Quest came to television, Jonny and his friends were older and took a more active role in solving various mysteries ranging from natural phenomena and evil scientists, to aliens and lost civilizations.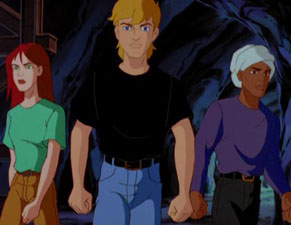 The Sweatbox Review:
The original Jonny Quest is somewhat legendary among those who treasure cartoons from the 1960s, or Hanna-Barbera in general. That show aired in prime time for just one season before its reruns hit Saturday morning, but over the years it developed a solid following of hardcore fans that loved it for its adventuresome take on television cartoons. When Hanna-Barbera revived The Jetsons in the 1980s in order to complete a better collection of episodes for syndication, they did the same for the Jonny Quest franchise, adding a rock man to the otherwise human group of characters for a thirteen episode run of 1986's The New Adventures Of Jonny Quest, which ran as a part of the syndication block The Funtastic World Of Hanna-Barbera. Unlike the new Jetsons episodes, Jonny's new show was more easily distinguished from its predecessor by being less violent and less mature, but the premise and character designs were still largely similar. Things stayed much the same for a 1993 telefilm done for USA Network, Jonny's Golden Quest, though this movie did disregard some of the continuity of the original show by showing Jonny's mother. In some ways, it presented a "re-imagined" origin for the characters, but it did not go over all that well with fans.
In 1995, fans knew something was up when TNT heavily promoted another movie, Jonny Quest Vs. The Cyber Insects, with a large emphasis on the fact that this would be the final appearance of the original Jonny Quest. This was because Hanna-Barbera was cooking up a brand new Jonny for the 1990s. The Real Adventures Of Jonny Quest would age the younger characters into teenagers, allowing them to be more involved in the action. (This is the series' official name, though its logo appears to read Jonny Quest: The Real Adventures.) The show would also embrace new technology by incorporating CGI into the show. Production began in the early 1990s, but it was troubled. The original production team did a larger overhaul of the concept than what was desired, and they were fired in 1996, not long before the series was to go to air (it had already been delayed from a 1995 start). New producers were brought in, with one directing a team to finish up the original team's episodes, while another producer started from scratch, and decided to adhere closer to the old show. Even before airing, the show was shaping up to be a forty million dollar fiasco.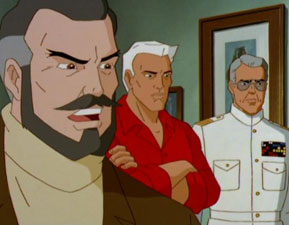 The bizarre result was two very different sets of 26 episodes each. Though they both aired the same year, they are usually referred to as "first" and "second" seasons in order to distinguish them. The "first season" bears the imprint of its story editor Peter Lawrence, who wanted stories to be plausible and believable. His changes were seen through by John Eng and Cos Anzilotti, the people selected to complete the initial twenty-six episodes. Here, Dr. Benton Quest (Jonny's dad) had dark grey hair (or sometimes brown, with a varying amount or whiting at the temples), the team's bodyguard Race Bannon had a distractingly western accent and folksy but firm demeanor, and the missions involved investigating real-world matters as well as having stories that involved the virtual reality environment QuestWorld. Seven studios from around the world were brought in to handle the cel and computer animation, with a heavy emphasis on visual effects to add realism to the show. Buzz F/X did the opening credits and QuestWorld segments (which included CGI characters); but budget, time, and equipment constraint left those sequences looking less impressive than hoped.
The stories for the "second season" tended more towards fantasy. David Lipman, Davis Doi, and Larry Houston were brought in the do these ones, with the direction to bring them closer to the original show. They did this by bringing in paranormal and science fiction concepts, and also brought back Dr. Quest's red hair and a more recognizable Race. An all-new cast was selected, and the younger characters lost a year in age. Japan's Mook Studios did the second season's cel animation, while Blur Studio handled the CGI (Blur is currently a production partner for the comic book feature The Goon). It may have been the plan at one point to air the two seasons as distinct series, but the Time-Warner acquisition of Turner may have altered those plans.
With Hanna-Barbera being directly owned by Ted Turner's company at the time, The Real Adventures Of Jonny Quest premiered on all three Turner channels— TNT, TBS, and Cartoon Network. This meant that it showed 21 times a week! It was supported by massive media and merchandising campaigns. And, when the show finally came out on August 26, 1996, it all flopped. Ratings were initially satisfactory, but the show really failed to catch on, and the merchandise didn't move at all. A troubled production history begat a weak debut, and then relative obscurity, despite the immense build-up.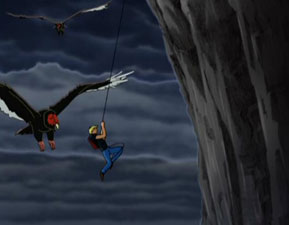 I was one of those, back in 1996, that had bought into all the hype and was looking forward to the new show's debut. The ads certainly made it look exciting. I didn't mind that they were "updating" the show; after all, we were getting new VHS releases of the original episodes, so I could still watch those as well. And when I first caught the show… I really liked it. By chance, I mostly saw the first season episodes, but every once in a while I would catch one of the "alternate reality" second season episodes, creating no small amount of confusion. It was all good, though; I found the show to be quite a rush, with a unique energy and interesting stories.
In the first season, scientist Dr. Benton Quest has a compound in Maine, from which he conducts his research and investigations. His son Jonny is thirteen, handsome and athletic, with an adventuresome spirit that somewhat emulates that of his bodyguard Race Bannon. Jonny's best friend is his adopted brother Hadji Singh, a philosophical lad a little older than Jonny, who has special talents derived from his study of Indian yogic arts. Hadji balances out the dynamic that Jonny has with Race's daughter Jessie, who is more mature than Jonny and prefers to use her head. (Jessie had been introduced as the daughter of a missing scientist in The New Adventures Of Jonny Quest, then in Jonny's Golden Quest was revealed to be the daughter of Race and his lady friend Jade; but in The Real Adventures she has a different mother.) Jonny's pet bulldog Bandit is also around, but plays a smaller role than he did in the original series.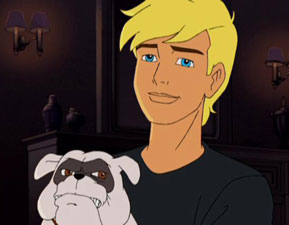 The design of the first season of the show skews closer to some anime than the 1960s Hanna-Barbera aesthetic. The realistic character designs obviously challenged the animators, with the animation quality getting off to a rocky start. Fortunately, as the series progressed, it got better. Still, if you are going to go with realistic designs, you had better hope that you have some animators that can really draw, and they do often fall short in this show. Compounding this problem was the use of several animation houses, with work contributed from Korea, Japan, France, and the United States. The slickness of the backgrounds and the effects does help to disguise shortfalls in the animation, so overall the show comes off fairly well. There are times, though, that I really wish that not every character had full lips in their models, as it is clear that not every artist draws lips well. And could Dr. Quest keep his hair color the same for consecutive episodes, please? That's the disadvantage to watching the shows on DVD— the inconsistencies become more obvious.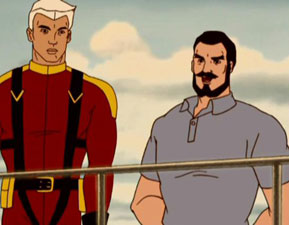 The most dubious aspect of the animation, of course, remains the QuestWorld sequences. Oh, boy. Some of them look pretty sharp, but generally they are eyesores, particularly when human faces are attempted. Their reach far exceeded their grasp in that respect, and as a result the QuestWorld episodes are weaker than they had to be. (As it was, QuestWorld threatened to be the Jonny Quest equivalent of the Holodeck from Star Trek: The Next Generation; I hated the Holodeck, and QuestWorld has some of the same illogical features.) The virtual reality ideas seem far too fantastic. Instead of the cyberpunk stories the writers were attempting, they came up with preposterous plots. Fortunately, most episodes do not have QuestWorld featured to any significant degree.
This DVD set has the first half of the "Season One" episodes, thirteen episodes on two discs.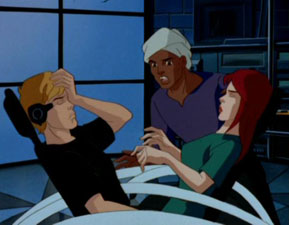 Disc One
The Darkest Fathoms – Each episode starts with the opening, and then a teaser, before getting into the meat of the story. This particular episode gets two teasers, with one being a pirate tale hundreds of years old. Okay, this was just a bad idea. The debut episode of the show does not even bring in any of the main characters for several minutes! Two teasers is one too many at the best of times, but especially in a debut episode of a twenty-two minute (without commercials) show. Even when Jonny and the gang finally come in, there is no explanation of the status quo. It is sometimes nice to just get thrown into the story, but this is a rough way to treat potential new fans of the character. Other than that, this tale of a possible pirate ghost is pretty decent.
Escape To QuestWorld – Okay, here we go. QuestWorld! Race's old nemesis from his "Agency" days returns from apparent death. Jeremiah Surd is discovered to be alive (but physically damaged), just as an old plot of his comes to threaten a large city. While the kids try to bribe Surd with QuestWorld, he takes advantage of the situation and enters Quest World to further his own means. A few situations in this story strain credibility too far, but the worst parts are those rough CGI visuals. Good villain, though.
In The Realm Of The Condor – This episode, more than most on this set, really evokes the old Jonny Quest. Dr. Quest is asked by a woman to help locate her grandfather, who has been lost in a tropical jungle. An aboriginal tribe, a hidden city, a betrayal, and more figure into this plot. To say more would spoil it. Good show.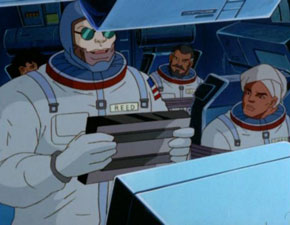 Rage's Burning Wheel – This episode would go over a lot better if it were presented later in the set Unfortunately, the villain in this one is not introduced until the next disc! That's just another sign of the production problems on this show (they are presented on DVD in airdate order). Anyhow, someone named Ezekiel Rage hijacks a space shuttle that has Jonny's father, Race, and Hadji on board. The villain is mad, but quite interesting, and this story is a barnburner. Just watch it after watching Disc 2.
Ndovu's Last Journey – While helping with some nature photography, Jonny is chosen by an elephant to follow it to its place of dying. This would be a great opportunity to discover an elephant graveyard, except for the Australian poachers following the same elephant.
Manhattan Maneater – A tiger is loose in New York, and Jonny and his friends are trying to beat a slimy television journalist and a big game hunter to its capture.
East of Zanzibar – Sea monsters in the Indian Ocean keep the Quest team busy, as they look into the mystery of some boat disappearances.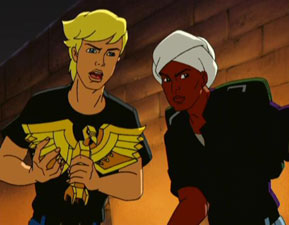 Disc Two
Assault On QuestWorld – Surd launches a strike against the Quest compound while Dr. Quest and Race are away. The second part of his attack involves QuestWorld. The kids fight him on two fronts— the compound's living room, and in the virtual reality domain.
Ezekiel Rage – It's nice to finally see Rage's origin story here. The Quest team meets Rage for the first time (again), and we learn the tragic truth behind his madness in a plot that involves a secret stash of nerve gas.
Alien In Washington – Extraterrestrials are sending messages to Earth for an unknown purpose, and an agent of theirs turns up in a surprising place.
Return Of The Anasazi – I consider this to be perhaps the coolest episode on the set. Dr. Quest's old friend Alice Starseer sends him a quartz statue, leading to the team going to New Mexico (think Roswell), where they encounter Men in Black, a group of aboriginal Americans, and… other beings. The plot works better as a Jonny Quest episode than an Indiana Jones movie.
The Alchemist – Dr. Quest searches for the Philosopher's Stone (thank goodness they didn't call it the Sorcerer's Stone!), and when he finds it his partner turns out to be far less altruistic than Dr. Quest.
Trouble On The Colorado – The two best new characters on the show, Alice Starseer and Jeremiah Surd, come into conflict. Alice has… been away, and Surd wants to know what she has seen.
Is This Thing Loaded?
Jonny Quest Returns: Modernizing A Classic For A New Generation Of Fans (12:42) is the only featurette on this set. Naturally, it doesn't dredge up all the old gossip on the show's history, but it does present a few of the creators (principally story editor/writer Peter Lawrence) discussing the thought process behind making the show and crafting the characters, while animation historian Jerry Beck pontificates on what made the original show such a landmark in television animation. The featurette is just okay, bringing up some nice points but failing to go very in-depth. And, considering the true story behind the show, this featurette is a big disappointment. Even without getting into the show's failures, it has a significant role in Hanna-Barbera history, but there's no sense of that here.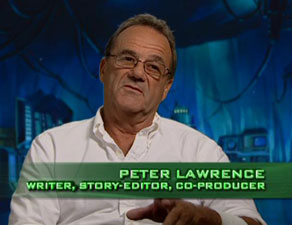 A Wonder Woman trailer opens Disc Two, then other Trailers on the Disc Two special features menu include those for Play FusionFall Online, Ben 10 Alien Force Volume 2, Zeta Project Season One, and Ace Ventura, Jr.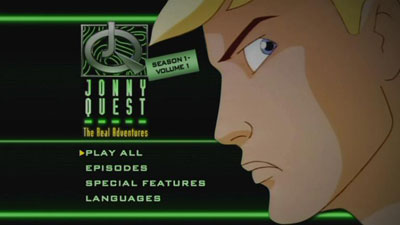 Case Study:
Warner Home Video here uses the umpteenth iteration of its packaging for the Hanna-Barbera Classic Collection. Having long ago abandoned the clear slipcovers for cardboard ones (not to mention leaving behind the "Golden Collection" moniker), Warner has nevertheless always used digipacks for its Hanna-Barbera sets, though in various forms for a varying number of discs, with some cases having overlapping discs and some not. This time, though, they have opted for a standard keepcase with a tray, and have housed them in an embossed slipcase. No insert is present, and there is no episode listing anywhere. I'm afraid Warner is slipping here, but I'm guessing there just wasn't a big budget for this release.
My real beef is that we only get two discs, with the first half of the "first" season. At this rate, we shall need three more sets to complete the show, and I am leery at having to rely on sales of this volume to guarantee even finishing off the first season. (I couldn't even find a copy locally.) I understand Warner's rationale here, as they don't wish to release more discs than they have to in order to gauge interest in potential buyers, but it is unfortunate for those of us who would really like to collect the whole series. My concern is that the whole series will not reach disc, and even if it does, it will take years.
Ink And Paint:
The video image is a little better than expected. I'm not sure why I say that, but for some reason I was concerned that this show might look overly soft. It's still not a stunning transfer, but it is pretty solid. The picture is stable for the most part, with only occasional shimmer artefacts. For better or worse, you can really see the varying quality of the animation.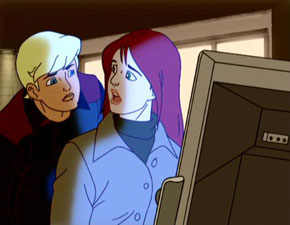 Scratch Tracks:
English and Portuguese stereo tracks provide decent effects. This is one of those shows that actually sounds like stereo rather than over-glorified mono. English, French, and Portuguese subtitles are also provided.
The voice cast, I should mention, included J.D. Roth as Jonny, Michael Benyaer as Hadji, Jesse Douglas as Jessie, George Segal as Dr. Quest, and Robert Patrick as Race. Whoever told Patrick to do a Western accent (complete with silly metaphors and inane sayings) should be admonished, but otherwise I enjoyed the cast readings. But my favorite part of the show is the redone theme. The original Jonny Quest theme is an all-time classic, and the new version— playing over a CGI-enhanced opening sequence— is thrilling.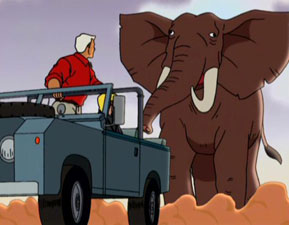 Final Cut:
Is this a flawed show? Yes. Watching it, you can easily believe the horrors of its production history. However, when it's good, it's very good. There are some thrilling stories here, and even though the animation can be inconsistent, there is, again, some great stuff here. Now I can only hope that we shall still see the rest of this show getting released. As good as some of these episodes are, I have a feeling that the best is yet to come.
Animated Classic or Back To The Drawing Board?