Warner Bros. (2011), Warner Home Video (January 24, 2012), 2 discs, 311 mins, 16:9 ratio, Dolby Surround 2.0, Not Rated, Retail: $19.97
Storyboard:
The classic troupe of four teenagers and a Great Dane get new adventures, solving mysteries in their monster-infested hometown of Crystal Cove. The stories add a wink and a nudge, while also expanding the concept and cast of the original show.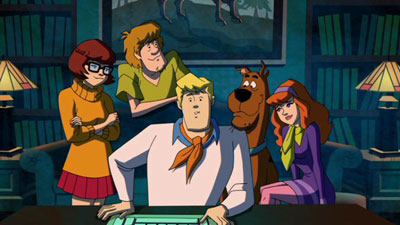 The Sweatbox Review:
Can you believe that Scooby-Doo now has his eleventh TV show in just over 40 years? That's pretty wild. Can you imagine the thoughts of the writers and producers at Cartoon Network when they are told that Warner Bros. wants yet another Scooby-Doo show? To date, we've seen the classic original version from 1969, the additions of a dumb cousin and an annoying nephew, team-ups with 1970s pop culture icons, Scoob and Shag with Vincent Price, child versions of the gang, live action versions, direct-to-video cartoon movie versions, live action direct-to-video versions, an updating of the original show, a way-different take with just Scoob and Shaggy, and now… Scooby-Doo – Mystery, Incorporated. So, what makes this version unique?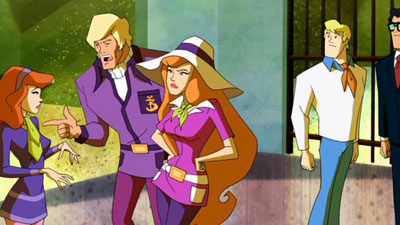 Like so many other properties these days, the franchise was re-built from the ground up. Characters retained their familiar clothes (e.g. Fred got his ascot back, which was absent in some recent versions), but the kids gained parents and an actual hometown, named Crystal Cove. They also got lives. They attend high school, and develop minor romances. Fred lost some mojo, becoming somewhat clueless at times, and overly obsessed with traps, to the point of being oblivious to Daphne's affections. Fred's dad is mayor of Crystal Cove, promoting its tourism industry by emphasizing the town's reputation for monsters and danger. Daphne's parents are rich snobs. Fred gained a lantern jaw, and Velma now shows her neck as well as some curves. A local disc jockey named Angel Dynamite adds to the retro vibe for the show, with her big hair, bell-bottoms, and bright lime eye shadow that matches her midriff-baring shirt. And the gang is regularly given introductions to mysteries by a mysterious Mr. E.
This ain't your daddy's Scooby-Doo. But it is kind of fun.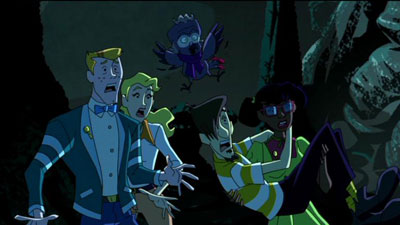 Part of its fun factor is that Scooby-Doo – Mystery, Incorporated also has continuity. The first season has an overall story arc, though each story stands alone well. There's a mystery about hidden treasure that becomes more evident during the course of the season, and a history of an earlier teenage Mystery, Inc. group that counted a bird among its members— a bird who is now a diabolical villain named Professor Pericles. The original Mystery, Inc. group disappeared mysteriously years ago, as did the Darrow mansion. These mysteries are at the heart of the series. The whole scope of the show feels bigger, thanks to the expanded cast and the peek into the lives of the gang, not to mention the ongoing storylines. These build right to the end, until all questions are answered and the characters each see their lives being changed.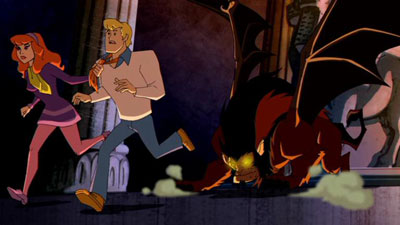 The three previous DVDs for this series had only four episodes each, but this two-disc set thankfully polishes off the season with the final 14 episodes. These episodes mostly first aired at the beginning of 2011, and pick up at a time when Velma has been rejected by Shaggy, who has chosen to hang out with Scooby rather then devote time to a girlfriend. Daphne is finally getting through to Fred, and the term "boyfriend" begins to get used. More details come to light about the original Mystery, Inc., and it becomes more apparent that some of the new characters may not be all that they appear.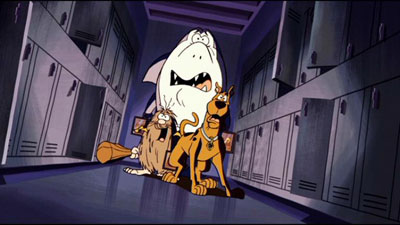 I found each episode to be fairly strong, but a special favorite is certainly Mystery Solvers Club State Finals, which goes back to the 1970s in an extended dream sequence that utilizes the original character designs, and teams Scooby up with other sidekicks of the era, including Speed Buggy, The Funky Phantom, Captain Caveman, and Jabberjaw. Just as cool as Laff-A-Lympics ever was, it was a delight to see all these old favorites together. I only wish it were a pilot for an ongoing series. Escape From Mystery Manor is something of a standout, too, as it brings to light some of the mythology surrounding the Darrow house and the disappearance of the original Mystery, Inc. twenty years before. Those who fondly remember The 13 Ghosts of Scooby-Doo will appreciate Nightfright, which gives a starring role to Vincent Van Ghoul, previously based on the now deceased Vincent Price. More fun can be found in The Wild Brood (a bit of a spoof on The Wild Ones), plus a circadian bug monster, a ghoulish prom queen, duelling Chinese wizards, and the series ultimate bad guy, The Freak Of Crystal Cove.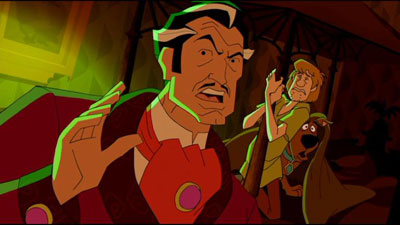 It is a little ironic that a Scooby-Doo show could be opened up so much by sticking mainly to a single locale, but focusing on the community of Crystal Cove proves to be a nice take on the aging franchise, and offered the opportunity to create a season-long story arc. The addition of romantic entanglement, though quite innocent and simplistic, is a wrinkle that grew on me throughout my viewing of the episodes. Purists may balk, but I am of the opinion that the franchise needed some freshening, and this series has been a pleasant surprise. The slightly more angular designs and often-dramatic color design make the show look more modern, while still embracing a retro chic look. Also enjoyable are some knowing in-jokes that allude to the franchise's past— whether it be quips about "meddling kids," a decidedly reluctant reference to Scrappy Doo, or commentary on the personality traits of the characters.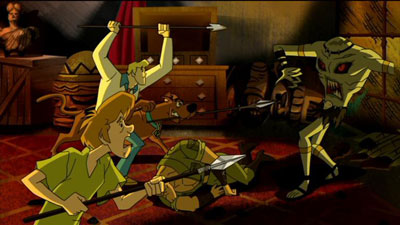 Sure, the mysteries in each episode are still pretty easy to solve; there's still usually only one real suspect. However, these stories do get some unexpected twists, and the season-long storyline holds one interest even when the identity of the one-episode culprits can be easily guessed. The great voice work also is continually appealing. Frank Welker still does Fred, as well as Scooby; Shaggy's movie actor Matthew Lillard plays him here, in a voice that isn't really like Casey Kasem's, but still has that definite Shaggy quality; Grey Delisle is Daphne, and Mindy Cohn returns as Velma. Patrick Warburton has a recurring role of a sheriff, Gary Cole is Fred's dad the mayor, and Vivica A. Fox is Angel Dynamite. Special appearances are also made by Jeffrey Coombs (who else but H.P. Hatecraft), Udo Kier, and Marion Ross; and even the live action Velma, Linda Cardellini, guests as the school's weird girl, Hot Dog Water.
With the final episode of the season representing a potential game-changing scenario, I'll be anxious to see where the show goes next.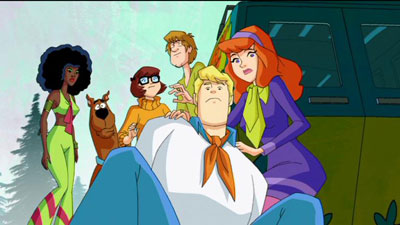 Is This Thing Loaded?
Disc One offers Trailers for Scooby-Doo: Music Of The Vampire and The Looney Tunes Show: Season One, Volume Two. Plus, from the menu, there are additional trailers for the Zoinks Points Scooby rewards program, and the new Thundercats.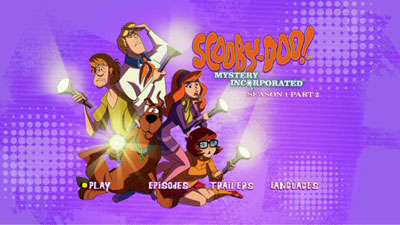 There are no series-specific extras.
Case Study:
Eco keepcase with swinging tray. No slipcover or inserts. An episode listing is found on the back cover, though they are not broken down by disc.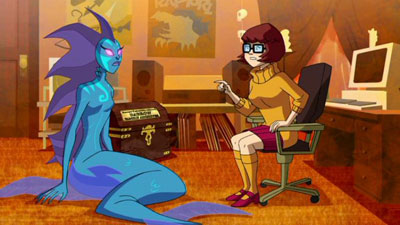 Ink And Paint:
The 16:9 image looks pretty much perfect, as far as I could tell. The stable picture, with no significant artifacts, looks great; and the show's color palette gets pushed in all the right directions. While the color design may border on gaudy at times, I loved that the artists were trying to create so much mood.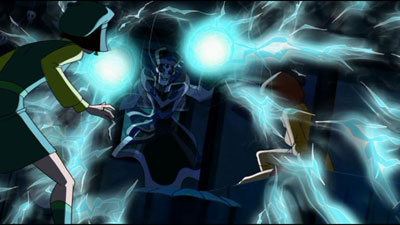 Scratch Tracks:
The Dolby Surround track may not be an award-winner, but it does its fair share of making things go bump in the night. It's one of those tracks that doesn't really impress, but if it were only in mono, you'd miss the extra Surround processing. Other language options include French, Spanish, Portuguese, and Thai. Subtitles are available in English, Spanish, Portuguese, and Thai.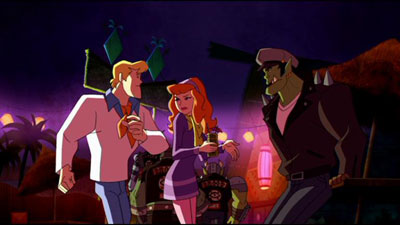 Final Cut:
A few things about the series made me wince initially, but once I got past the teen romance angle and the static setting, I quite enjoyed the mythology that they were setting up. The mystery behind the original Mystery, Inc. and the disappearing mansion fuel the show through some standard plots, though there are several quite enjoyable stories here. The art design of the show pushes the boundaries in exciting ways, while staying true to the original in most ways. Best of all, widening the show's concept to allow for more characters really opens things up. In the end, the chemistry between the original characters remains as winning as ever, even if their personalities have been tweaked a little.
Animated Classic or Back To The Drawing Board?