Disney (1977), Walt Disney Studios Home Entertainment (August 18, 2009), 1 disc, 129 mins plus supplements, 1.66:1 ratio, Dolby Digital, Rated G, Retail: $29.99
Storyboard:
An orphan boy hopes to find peace in a quaint town, but the residents have differing views on his friend, an invisible dragon.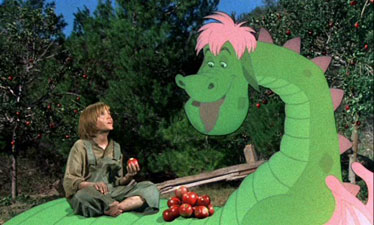 The Sweatbox Review:
Pete's Dragon is one of those Disney movies that I often don't remember existing. I'm not even sure when I first saw it. I know that we had a copy of the comic book adaptation in our house, and I can still make out some of the drawings in my head (it looks like Dan Spiegle was the artist). It might be that I never actually saw the film until watching a rotted fullscreen laserdisc of it several years ago, which didn't really live up to the comic book presentation. So, I guess it was about time to give this film it's proper viewing. How nice of Disney to oblige with a new DVD edition.
Pete's Dragon comes from a long, proud line of Disney features that have melded live action and animation. Sure, 1964's Mary Poppins is the most famous, and there was its follow-up Bedknobs And Broomsticks in 1971; but this tradition goes back to Disney's pre-Mickey silent films, the Latin American films Saludos Amigos and The Three Caballeros of the 1940s, and many other film and television examples. In some ways, Pete's Dragon may seem to be the least ambitious of the bunch, having only a single animated character, with most of the film's runtime being devoted solely to live action. Still, the delightful character actors in it manage to make it feel more animated than it is.
The script originated from a story that Walt Disney acquired the rights to two decades earlier. I'm not sure about the original story's contents, but the basic premise certainly must have seemed ripe for a partially animated adaptation, at least judging by the final result. In the movie, an orphan boy named Pete runs away from his awful, hill people adoptive family, the Gogans. Though his plight seems horrible, Pete does have a wonderful friend— a magical, friendly dragon named Elliott. With Elliott's help, Pete finds his way to Passamaquoddy, a quaint 1900-era American town that largely reflects Walt Disney's own sense of the nostalgic. Pete hopes to start his new life there, but his own insistence on Elliott staying invisible backfires when a combination of clumsiness and playfulness on Elliott's part gets Pete in trouble. The one person that does get to have a glimpse of Elliott in the town's lighthouse keeper, an older gent named Lampy, known more for his drinking than his reliability as a witness. Lampy's warnings about there being a dragon in the town bring him ridicule, and make Pete even less likable to the town's denizens.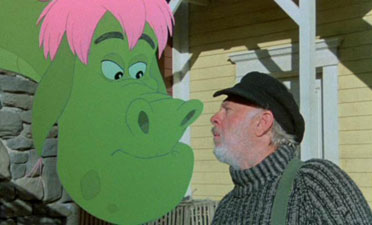 Fortunately, there is a silver lining where Lampy is concerned, and it is his grown daughter Nora. Nora takes a motherly interest in Pete, and offers him a place to stay at their lighthouse. She also gets him prepared to attend school. At last Pete has found a home, and perhaps a family. Elliott, meanwhile, has been forgiven, and is willing to stay in a nearby cave. Of course, not all is merry, as the arrival of a charlatan brings ill omens. Doc Terminus is already known and reviled by the townspeople of Passamaquoddy, and they seem ready to ride him back out of town, wishing for him to take his fake potions and medicines with him. The people of Passamaquoddy, however, are lovably gullible, and soon Terminus and his assistant Hoagy have them eating out of their hands with a funny display of theater and misdirection.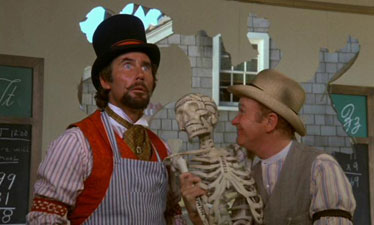 The problems start for Pete again when Lampy brings Hoagy home to meet the dragon. Though the goofy creature somehow terrifies Hoagy, his boss Doc Terminus smells a huge source of profit when he hears about it. When the Gogans show up in town and meet Terminus, you know it will be nothing but trouble for Pete, especially when Elliott goes away in order to search for Nora's long-lost sweetheart.
It is all very Disneyesque, and that's the largest compliment that one can give it. From the idealized small town, to a bevy of character performers, not to mention lively animation, likable leads and a happy ending, this feels like a Disney movie from start to finish. One wouldn't goes as far as to compare it favourably to Mary Poppins (hey, let's not get absurd), but it's very pleasing family entertainment. Even at a little over two hours, and with a plethora of songs, I never felt like the movie overstayed its welcome. Veteran director Don Chaffey did everything right to keep things interesting, so that even when the songs do little to advance the plot, they still manage to excite and amuse. And when the action threatens to get cute or silly, he shows admirable restraint from which I wish today's kiddie film directors would learn lessons. Chaffey gets plenty of help, too, by his strong cast. Even unknown child actor Sean Marshall comes off as natural and endearing, but the adult performers around him positively radiate professionalism. Singer Helen Reddy brings an obviously strong voice, but also perkiness and warmth as Nora, while old-timer (even back then) Mickey Rooney hams it up in grand style as Lampy, all the while with a sparkle in his eye and a glow in his heart. Broadway performer Jim Dale chews the most scenery, as the rascally Doc Terminus, while Red Buttons as Hoagy finishes off whatever scenery Dale somehow missed. Shelley Winters gets less to do as Ma Gogan, but still brings some class through layers of dirt and makeup. Jeff Conaway, later to appear in Grease and later on TV's Taxi, broadly plays one of the Gogan boys. I also loved seeing Jim "Mr. Magoo" Backus as the town mayor, but his appearances were all too infrequent.
The animation of Elliott was directed by none other than Don Bluth, whom I would say only got better as he matured over the next decade or two. Elliott is certainly well animated (by such youngsters as Glen Keane and Ron Clements), but often in a manner more restrained than one would see if done with today's sensibilities. Still, his playfulness comes through and Elliott manages to be fairly likable. His incomprehensible sounds are generally charming, but come off as closer to Fleischer Popeye than a well-realized Disney character. It's all part of what makes this movie special, I suppose.
Maybe I saw this film in my early days on Wonderful World Of Disney, or maybe I'm just remembering the comic book. Regardless, what I just viewed on DVD had me feeling like a seven year old again; and whether the nostalgia is real or imagined is unimportant. It's a Disney film, after all, and one worth remembering, regardless of when you first encounter it.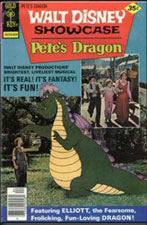 Is This Thing Loaded?
This "High Flying Edition" contains a surprisingly robust collection of extras, many culled from the prior DVD release, but still enough that's new to possibly make an upgrade worthwhile.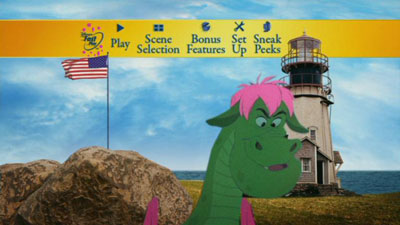 Brazzle Dazzle Effects: Behind Disney's Movie Magic (25:23) is a new and really-quite-good featurette examining the special effects legacy of the Disney studio, focusing on live action-animation combos. It traces the history right from the silent Alice shorts, to the Latin American pictures, right to Enchanted. It is nice to see so much attention given to Ub Iwerks, the extremely important animator who further revolutionized the studio by delving into the world of technical effects. It was Iwerks who developed the sodium screen process, similar in some respects to blue screen, that enabled the combination of live action and animated elements. Older techniques, such as rear projection and the use of background plates originating from recorded film, are also demonstrated, with examples from classic Disney films. The last several minutes of the featurette focus on Pete's Dragon, with many behind-the-scenes clips, and an explanation of how the sodium screen process worked. This is one of those featurettes that makes a new DVD edition entirely worthwhile. On the other hand, the previous disc's featurette, the Sebastian Cabot-narrated theatrical featurette Man, Monsters, And Mysteries, is sadly dropped from the new DVD.
There is a Deleted Storyboard Sequence: "Terminus & Hoagy Hunt Elliott" (2:25), which is nice for a look. A similar feature is Original Song Concept: Bop Bop Bopbop Bop (I Love You Too) (2:26), which presents storyboards for an alternate presentation for the song. Furthermore, there are Original Demo Recordings for three songs, including alternate versions of Brazzle Dazzle Day and Every Little Piece, as well as a song (The Greatest Star Of All) that didn't make the cut, as it concerned a deleted villain character.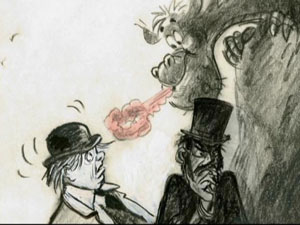 And there's still more music! Promotional Record of 4 "Pop" Versions Of The Songs presents the recordings initially featured in a 7" record used to promote the film. The music plays over a seaside background of the film, with a picture of the original record in the foreground. Cool.
For the kids who want a game on their DVD, there's "Where's Elliott?" The Disappearing Dragon Game.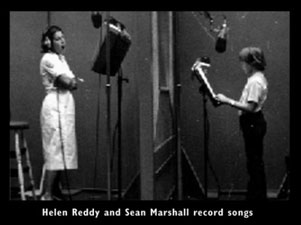 Pete's Dragon Art Galleries offers plenty of concept art, behind the scenes shots, and publicity/advertising/promotional material, including a photo of that beloved comic book of my youth. There are also re-release Trailers for the international and domestic markets, though the original trailers are absent. About Pete's Dragon offers five pages of text that serve as limited but useful liner notes concerning the origins of the film.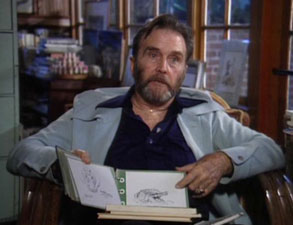 Disney Family Album (2:20) gives brief exposure to Ken Anderson, the designer of Elliott. Anderson is championed as an artistic leader at the studio, providing leadership particularly after the death of Walt Disney. There is also an Except from The Plausible Impossible, the 1956 episode of Walt's television show which has been excerpted for so many other DVDs in the past. This old excerpt obviously has nothing to do with Pete's Dragon and is pretty skip-able. There is a more welcome Donald Duck short, Lighthouse Keeping (6:35), with Donald battling a pelican in his lighthouse.
Finally, the Sneak Peeks on this disc include those for Snow White, The Princess And The Frog, Disney Movie Rewards, Disney Blu-ray, Hannah Montana: The Movie, Up, earth, Tinker Bell And The Lost Treasure, and D23.
Case Study:
Standard keepcase with identical but embossed and slightly shinier o-sleeve. The case has those annoying side snaps. There is a Disney Movie Rewards insert inside.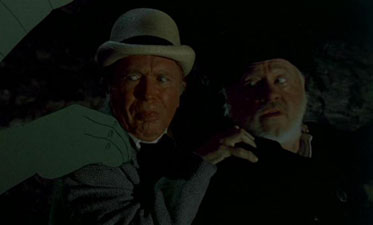 Ink And Paint:
The 1.66:1 image is decent if unspectacular. Fine detail seems slightly lacking, even for standard def, but is actually pretty good for a film that has not been recently remastered, and there are bits of dirt that show up from time to time. Effects shots are understandably a little grainier but less so than in a Harryhausen movie (which used different effects processes). Colors seem to be correct, except for skin tones occasionally wandering towards the reddish end of the scale, and there is barely any aliasing. For a relatively unimportant 1974 film, I found the video pretty satisfying, really.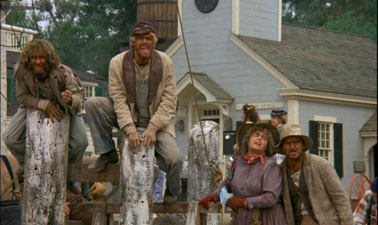 Scratch Tracks:
The soundtrack is presented in 5.1 sound (English only), but the upgrade from Stereo hardly seems worthwhile. It all sounds just fine, but rear effects are pretty minimal. English subtitles for the hearing impaired are also available. It is probably also worthwhile mentioning here that Pete's Dragon was nominated for two Oscars, for Best Original Score and Best Original Song (Candle On The Water). At least a couple of other songs may also have been worthy of nominations.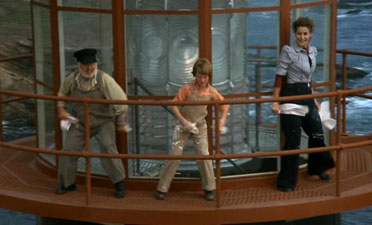 Final Cut:
The 1970s are often thought of as a low point for the Disney studio, but even that decade had its share of good-to-great Disney films. Though Pete's Dragon may be more obscure than many other Disney films, it turns out to be a delightful winner all the same. It was a modest success in its day, and in some ways comes off as fresher today, being largely devoid of stupid humor, cynicism and false hipness, thank goodness. Walt wasn't around when the film was finally produced, but I think he would have been proud of it. The video and audio are not standouts, but they are quite acceptable on this disc, and the quality bonus material makes this DVD a pleasant little surprise.
Animated Classic or Back To The Drawing Board?