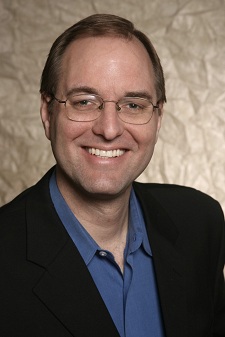 He's the animator of Cogsworth, Iago and Kronk. But today, he comes to us, at the invitation of Walt Disney Studio Home Entertainment, to talk about his supervising the animation of Pumbaa during a memorable virtual roundtable. This is Tony Bancroft.
Upon graduating from high school, Tony was accepted into the exclusive, Disney sponsored, California Institute of the Arts (CalArts) in 1987, where he thrived artistically and developed a lifelong passion for animation. As a result of his time at CalArts, he was "drafted" to the big leagues of Walt Disney Animation Studios.
His ability to quickly adapt his skills to any given project led him to work on such legendary animated productions as The Rescuers Down Under, Beauty and the Beast, and Aladdin. His diligence and a meticulous eye for character performance were rewarded when he became the Supervising Animator for both The Lion King and The Emperor's New Groove.
Memorable characters such as Pumbaa, the lovable warthog, and spinach puff specialist Kronk, were two of the comedic creations that Tony brought to life for those Disney classics. He capped a successful 12-year career at Disney being named co-director of the award-winning feature Mulan; adding to his list of credits, "youngest director in Disney's history" and an Annie Award for Best Director that year.
With a desire to broaden his horizons, Tony was tapped by Sony Pictures to become the Animation Director for their summer release, Stuart Little 2, and then briefly returned to Disney to direct the English-language voice talent for the U.S. release of Miyazaki's Porco Rosso. The culmination of his talent and experience led Tony to found his own animation studio – Toonacious Family Entertainment – where he specialized in DVD feature development and commercial production. Toonacious also produced their own original DVD series called Lenny and Sid.
Tony currently serves as the Creative Director for Divide Nine Animation in Glendale, CA. Besides being in charge of all creative content for the studio, he is directing the company's first CG animated feature. He and his wife, Rene, currently reside in Altadena, CA, with their three daughters and dog Maximus Prime.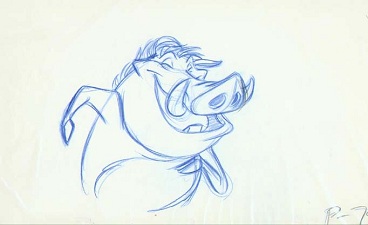 ---
Roundtable Interviewer:
Did you ask to supervise Pumbaa? What drew you to the character?
Tony Bancroft: No, actually I asked to work on Zazu originally. Pumbaa and Timon, even at an early stage of the film, were the break out popular characters and they seemed out of my reach to even request as a first time Supervising Animator. Having just finished animating Iago the parrot from Aladdin, I thought, "well, Lago's a bird and Zazu's a bird…maybe I have a shot!" I was totally taken by surprise when the director's called me to offer me the character of Pumbaa! It was one of the happiest day of my life.
RI: What were your visual inspirations for Pumbaa?
TB: As animators we always start with the real thing first. I spent almost six months in the beginning of the film just researching warthogs and African animals. It was a great time to soak in what the real animal looked like before I moved away from it and caracatured it. Besides reality, Ernie Sabella, the voice of Pumbaa was a big influence. He has a very round and appealing smile that I knew just had to be a part of Pumbaa.
RI: What was the most difficult aspect of animating Pumbaa, and why?
TB: Really trying to make a warthog appealing. They are really the ugliest animals in the animal kingdom so trying to make him cute was an on going battle. I'm pleased with the results though.
RI: How much was voice actor Ernie Sabella used as a live-action reference for the character of Pumbaa?
TB: A lot. Early in the process of making the film, I flew out to NY city with Mike Surrey, the animator on Timon, where both Ernie Sabella and Nathan Lane (Timon) were in Guys and Dolls together on Broadway. It was a great education for me to see Ernie performing, to study his movements and actions. Then when I got back to my animation desk I would try to incorporate as much as Ernie's acting style in my scenes. I think it really helped in bringing the character to life.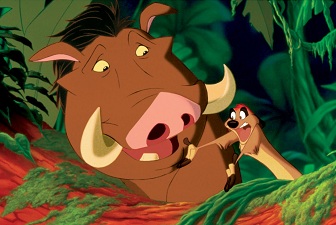 RI: What's the sequence you're most proud of in this film?
TB: That's a tough one, but I would have to say the sequence where Pumbaa is lying on his back looking up at the stars with Simba and Timon talking about what the stars are. I loved Pumbaa's response to Simba's thoughts on what the stars above really were. He says, "Aw, gee… I always thought they were balls of gas burning billions of miles away." That scene really helped round out Pumbaa to be a more fully realized character. He's not dumb, he's just an innocent animal that follows Timon's lead. Once I animated that scene, I felt like I knew who his character was.
RI: Looking back at the character, is there anything you wish you had done differently?
TB: Not really…since I was a first time Supervising Animator my mistakes had to do with managerial things that I was learning about leading a crew but also the work on the screen of which I am most proud of. I learned so much on this movie and it really changed the kind of artist I am now.
RI: Is Pumbaa part of your favorite characters?
TB: Definitely. I enjoyed all of the comedy characters I have worked on over the years (Iago, Kronk, Cogsworth, etc.) but there is a special place in my heart for Pumbaa. I think it was because he was my first character to supervise as an animator. Also, he and I have so much in common. We're both overweight and enjoy a good bug every once in a while!
RI: What will the 3D technique bring to this new 3D version of The Lion King?
TB: I think if we had the technology of stereoscopic 3D in 1994 we would have used it in the making of this film. We really tried to make it as inclusive as we could for the audience with the technology we had at the time. Look at the wildebeest stampede scene for example. We made the wildebeests in CGI and lowered the camera down to the level of Simba so that the audiences feel the fear of the little lion cub as they rush past him. In 3D that scene literally leaps out at you and makes it all the more frightening for little Simbaa. That alone is an improvement on the story telling and a great reason to have this new awesome version.
RI: The Lion King is such a super classic and popular story to millions of children all around the world through many 2D versions. Although the 3D movement is now in vogue but the Disney 2D animation has become an irreplaceable trademark. Do you think remaking this film into 3D might be a double-edge sword?
TB: When I first heard that The Lion King was being made into a 3D version I must admit, I was skeptical. I wasn't sure what the technology would bring to our 2D animation. Then I saw it and I was amazed at how it looked in 3D – how much it enhances the animation. When we created the film in 1994, we tried to make it as dimensional and real as we could with the technology during that time but now with stereoscopic technology it actually fully realizes the potential of what were trying to make. I think it actually improves the film.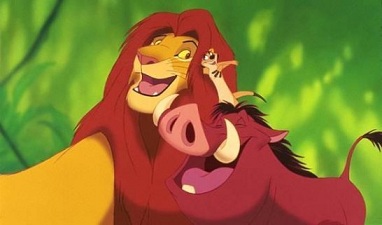 RI: What was it like working at Disney Animation during that period?
TB: Boy, it was a great time. Many of us on The Lion King were young animators that just had no fear of trying new things and we were totally focused on making great films. There was not a lot of pressure on us at the time because the studio did not expect much from The Lion King at first so we felt creatively unharnessed.
RI: What were the big lessons you took from Lion King?
TB: The theme of the movie that Simba learns is that "we all have a purpose in the great circle of life". It is the thing that he tries to ignore half way through the film but ultimately it comes back as his responsibility to his pride and family. I think this is a great and universal lesson that really helped this film become the universal success that it is.
RI: When did you realize The Lion King was more than just a movie?
TB: It's funny because at the time we had no idea that The Lion King would become the phenomenon that it has become. At the time, we thought it was just this fun little film with a quirky story about a lion cub in Africa that thinks he killed his father and has bug-eating friends set to music by Elton John. Not the normal Disney story for sure. It still amazes me that it is so well-loved around the world.
RI: Is there anything subtle in the movie that you see in it, that you'd like to point out to audiences?
TB: One of my all time favorite movie moments happened in The Lion King. There is a scene where Simba after disobeying his father and going to the elephant graveyard is walking back to home following behind his father. He knows he's in trouble and more than that; he fills like he will never live up to being the king that he is. Those feelings are summed up in one visual moment as Simba accidentally steps into his father's footprint. The camera shows his little paw inside the huge footprint of his father's and in that key visual scene, it says so much about not only their relationship but also the great responsibility Simba has in following his father's "footsteps" in becoming the next king of the pride. To me, that is great film making!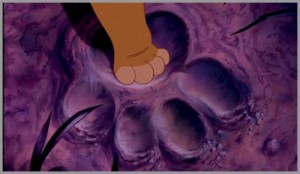 RI: What do you enjoy the most about your job?
TB: I think I have the best job in the world! I love bringing characters to life through animation. It's a great feeling to go to a theater and sit with an audience that is seeing a movie I worked on and hearing them laugh or cry at a character I helped create. It's probably the biggest perk of what I do that I can move people in an emotional way.
RI: What are your thoughts on the production system whereby specific characters are assigned to specific animators (or teams of animators with a supervisor)? This was done on The Lion King and many of the stronger animated Disney movies, but it's not always the way animated films are produced. Do you favour this system over the alternatives?
TB: Yes, I do. Back when we were making The Lion King at the Disney studios it was common for animators to be a "cast" on a character by the Directors just like live-action actors are cast for their parts in a movie. Some animators are better with comedy characters, lead stars, women or villains. I was always "type casted" as a comedy character guy, which I loved. The is system is good because animators really are considered "artists with a pencil" so they have a natural skill sets in how they draw and make their animation that connects better to certain character types. For me, this still is the best way to work on a film.
RI: If you had any advice for anyone wanting to break into the industry, what advice would you give them?
TB: I still think it is so important that an animator knows how to draw really well even in this computer animation world we live in now. Drawing is a quick and easy way for an animator to communicate his ideas to a director or others before going to his computer to flesh out a scene. But besides that, studying how people move and act around them is very important. Watch your family around the house, how your dog moves, or how people interact at a bus stop. All of those things will help you bring a character to life.
RI: What are your thoughts on the direction animation has gone since The Lion King?
TB: It's a little bittersweet for me. I love 2D hand-drawn animation and it's hard to see the world of animation turn so much to CG animation. But I also love what CG animation has done for filmmaking in animation too. I think there's room for both techniques in the world of animation and I hope to see it balanced out more in the future.
RI: You directed Mulan in 1998 along with Barry Cook. Any interest in directing more animated features?
TB: Yes, I have developed several films since Mulan but for whatever reason I have not made it to the screen yet. I am currently directing a new CG feature right now that I am excited about. I can't tell you anything about it yet…but soon…very soon.
RI: Tony, any final thoughts on The Lion King as we close out this virtual roundtable?
TB: The Lion King for me represents a great time in my life personally as a young animator. I am so happy that I get the opportunity to reminisce on that time with the release of The Lion King 3D. It's been 17 years since I worked on Pumbaa for the film but for me it's like visiting an old friend. So much has changed in how we make movies in animation and yet so much has remained the same. The essence of making animated movies is still about taking the audience on a magical journey to a place they have never before seen through the eyes of characters that are appealing and endearing. I think The Lion King is the best example of that.
---
---
---
---
Our thanks to Tony Bancroft and Dre Birskovich!