On December 21, 1937, Walt Disney Productions premiered Snow White & the Seven Dwarfs to an audience that was hesitant about a full-length animated feature. Beating box office expectations, the film earned $8 million internationally, becoming the most successful film of all time. Afterward, Disney continued to release one critically acclaimed film after another, from Pinocchio (1940) to Fantasia (1940) to Dumbo (1941). For roughly the next three decades, the studio made masterpieces that delighted the kid in every adult. But on December 15, 1966, the unthinkable happened: the "Old Mousetro" himself, Walt Disney, died, leaving behind a legacy of classics but an uncertain future for his animation studio.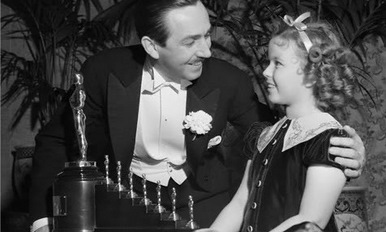 Shirley Temple presents Walt Disney with an honorary Oscar – and
seven miniature Oscars – for Snow White & the Seven Dwarfs.
In 1984, Walt Disney's nephew Roy E. Disney brought Paramount Pictures' former senior vice president Michael Eisner and one-time Warner Brothers chief Frank Wells as CEO and president of the company, respectively. Eisner's Paramount colleague Jeffrey Katzenberg also arrived, as Disney's new studio chairman. During an initial meeting at Disney, Eisner instructed Katzenberg to revitalize the company's animation department. Since Walt and his team of "Nine Old Men" were no longer at the studio, it was struggling to develop projects with the same masterful storytelling of its earlier years. Thus, Katzenberg chose Peter Schneider to represent Walt Disney Feature Animation as its first president.
In 1985, Disney released The Black Cauldron. The film, which had been in development for about 10 years, failed to connect with critics and audiences. Disney fared better with The Great Mouse Detective (1986) and Oliver & Company (1988). Although Mouse Detective scored better reviews, Oliver grossed more than twice as much domestically.
However, Disney still needed a new film to please both critics and audiences. Unbeknownst to the studio, it was about to get several. Courtesy of Mouse Detective duo Ron Clements and John Musker, The Little Mermaid arrived in 1989, ushering an era known as the Disney Renaissance. The following year, Hendel Butoy and Mike Gabriel's The Rescuers Down Under became Walt Disney Animation Studios' first feature sequel. The film was a financially successful response to its 1977 predecessor, The Rescuers, which once held the domestic record of highest opening for an animated feature. In 1991, Gary Trousdale and Kirk Wise's masterpiece Beauty & the Beast opened with massive praise and became the first animated feature nominated for the Best Picture Academy Award. Clements and Musker then returned with Aladdin, the world's highest-grossing film of 1992.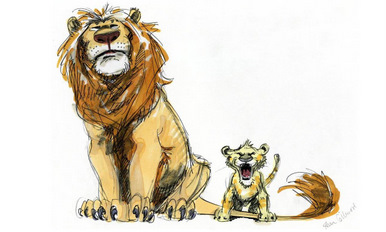 In the midst of all this achievement, Disney carefully planned their next big musical. They felt confident the picture would earn critical acclaim and break box office records. With powerful music, captivating visuals from many of the studio's top animators, and a story loosely based on a Shakespearean classic, Disney eagerly anticipated for this film to take the world by storm. The film was Pocahontas. Meanwhile, Disney was also developing a B-film about a boy in Africa, framed for murdering his father. With music by Elton John.
Director George Scribner, praised for his Mickey Mouse short The Prince & the Pauper (1990), was quietly developing King of the Jungle. "When the project was originally conceived, it was suggested that it would kind of be a 'Bambi in Africa.' That was the pitch – Bambi with lions in Africa," explained Rob Minkoff, who later joined the project as a co-director. "Bambi is a very naturalistic film about what life is like in the forest for those creatures. That's kind of the approach that was being taken. It was a bit more straightforward and true-to-life."
While King's concept was intriguing, the Disney brass were unsatisfied by its story. Hence, they brought Roger Allers on board as a co-director. Allers had previously worked as a storyboard artist on Mermaid, Rescuers Down Under, and Pauper, and as the head of story on Beauty. "Since I had a lot of experience working closely with the composers and the directors, I started wondering whether I should try directing. Some other people had been suggesting it," recalled Allers. "I proposed it to Peter Schneider, so he put that away in his head. I had been helping out on Aladdin. When I finished with that, basically, he asked me to join."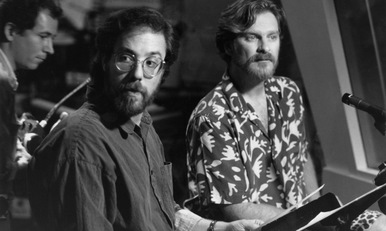 Rob Minkoff (left) and Roger Allers during the making of The Lion King.
However, the directorial team of Scribner and Allers still struggled to find a story approved by Disney management. Finally, the studio decided a change in directors was needed, turning their attention to Minkoff. At Disney since 1983, the Cal Arts graduate had directed the Roger Rabbit shorts Tummy Trouble (1989) and Roller Coaster Rabbit (1990). "Disney decided to make a change away from George and asked me to come in. I think they gave Roger the opportunity to stay with the movie and join me on it, or not," remembered Minkoff. "The two of us got together and talked over my ideas. Roger had some ideas that hadn't quite managed to get to the surface of the project."
Over two days' worth of meetings, Allers and Minkoff met with producer Don Hahn, as well as Beauty directors Kirk Wise and Gary Trousdale, to retool the film. "When I got involved, we were able to bring some of the more mythical and magical elements, like Mufasa's ghost coming back to talk to Simba, which were not part of the film before," said Minkoff. "Also, Rafiki as a character changed dramatically to become sort of a shaman witch doctor as opposed to what he had been previously, which was more of a politician." In time, the filmmakers began to see similarities between their film and Shakespeare's Hamlet, drawing inspiration from the latter work. Minkoff and Allers worked from a screenplay by Irene Mecchi and Jonathan Roberts, with revisions from Linda Woolverton. Brenda Chapman served as story supervisor.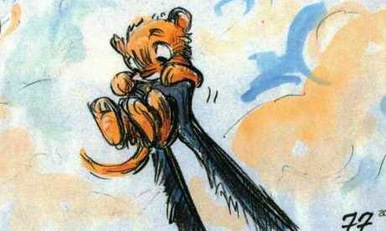 Thus, The Lion King was born.
Despite the film's promising story, Allers and Minkoff faced another hurdle: convincing top animators to work on the project. "We had a difficult time convincing people to work on the movie because the studio had decided they were going to do two productions at the same time, which hadn't been done before. That meant the artists basically had to be divided among the productions, which gave the artists actually a lot of clout and control over what they wanted to work on," said Minkoff. "If they didn't want to work on The Lion King, they could work on Pocahontas, and vice versa. Because of the impression that Pocahontas was a more obvious hit, there were a lot of top artists who wanted to work on it. We were struggling to convince people to work on our movie."
Multiple factors had contributed to Disney's favoring Pocahontas over The Lion King. "The Lion King wasn't based on a fairy tale or a previously-published work. There was no awareness of what it was. There was a general sense of, because of that, there was no guarantee whether it would succeed," said Minkoff. "Pocahontas was a project that Jeffrey and others at the studio felt was much more of an obvious hit, in the sense that it was combining two classic stories. It was telling the Pocahontas story. People, if they didn't know much about it, certainly had heard of Pocahontas. And Disney was really trying to take an angle of it being based on Romeo & Juliet, a cross-cultural love story."
Plus, Pocahontas had one more sizable factor: Alan Menken, who had won six Oscars among 10 nominations for Mermaid, Beauty, and Aladdin. "To me, it was fine that Alan was on the other project. That seemed in Alan's field – a romantic movie, because he was really good at that," said Allers. "I don't think we felt like, 'Oh, I wish I had Alan Menken.'"
"At the time, one of the first songs he had written was "Colors of the Wind", which was really a spectacular song," said Minkoff. "I think all of those things led them to feel Pocahontas was an obvious surefire hit, and The Lion King was more of a question mark."
Without Menken, Allers and Minkoff still planned for The Lion King to be a musical. For inspiration, Allers considered his time with Menken's lyricist, Howard Ashman, who died in 1991. "Basically, we were still three-quarters of the way through Beauty and the Beast when Howard died. He was actually involved right up to the end, working with us," remembered Allers. "It was a wonderful experience, working with Howard and Alan. But it was such a painful one in the last days, having phone call conferences with him as he literally faded away. That was rough." In his time with Ashman, Allers carefully studied the intricacy of the musical genre. "He helped us see the connection between stage musicals and animated musicals. He really educated us, in a huge way; he helped us understand the structure and purpose of songs."
To pen those songs, Disney hired one iconic pop star and Aladdin's Oscar-winning lyricist. "Really, right when I started, they told us we were going to get Elton John and Tim Rice," said Allers. "I had always liked Elton John's music. I would never have thought of him for The Lion King, but it worked out very well."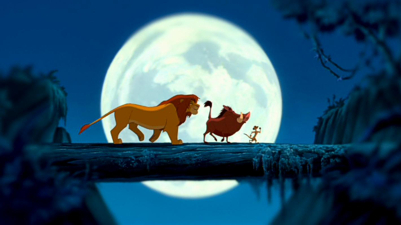 Production on The Lion King took place at Walt Disney Feature Animation in Glendale, California, and the Feature Animation satellite studio at Disney-MGM Studios in Lake Buena Vista, Florida. Minkoff and Allers balanced directorial duties via trips and phone conferences. "Roller Coaster Rabbit was made entirely in Florida, so I had actually spent six months there, working in Orlando at that studio. I got to know everybody quite well," said Minkoff. "So, it wasn't too difficult. Although we would have to use the phone a lot and do long-distance communication, since there wasn't much of a way to do video conferencing, it was still a fairly seamless way of working."
Interestingly, Allers differed slightly about the experience. "That was hard, directing over the phone sometimes. The animators would send out tapes of their work to us. We'd be looking at their work on the monitors here, while talking on the phone to the animators there. Would not want to have to do that again. That was awkward," confessed Allers. "It was much better when we were sent to Florida. Rob and I would take turns going to Florida and working directly with them. But we just couldn't be there all the time."
Still, both directors agreed on the overall quality of the animators' work. "The people who were there, leading on the artistic side, were really experienced," said Minkoff. "Mark Henn, I remember, was one of those based in Florida. He was the supervising animator on Simba and was such a good animator."
After approximately four years, Allers and Minkoff completed The Lion King. Eagerly, they waited to see the results of their labor.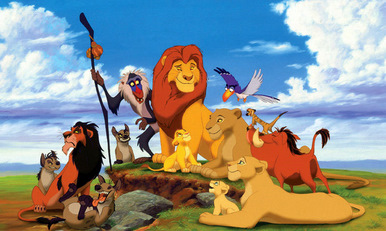 On June 15, 1994, The Lion King opened domestically with a limited release in two theaters. The film grossed $1,586,753 for a per theater average of $793,377, a record for largest per theater average during a weekend. Reviews praised the film's mature story, humor, and majestic animation.
On June 24, 1994, The Lion King opened nationwide in 2,552 theaters and collected $40.9 million, achieving the record for biggest opening of an animation film. By the end of its run in spring 1995, the film had earned $312.9 million domestically. Worldwide, the film collected $784.7 million, becoming the #1 movie of 1994 and the biggest animated film of all time.
Among the praise, The Lion King also found controversy. The film shard multiple similarities with Osamu Tezuka's 1950 manga Jungle Emperor, more commonly known in the U.S. as Kimba the White Lion. While their stories were different, the works shared similar character designs and names. When he was hired, actor Matthew Broderick, the voice of adult Simba, actually believed The Lion King was a Disney retelling of Kimba. However, Disney's official stance on the matter was that the similarities were merely coincidental.
The Lion King was celebrated with numerous accolades. John and Rice won an Oscar for "Can You Feel the Love Tonight", with "Hakuna Matata" and "Circle of Life" also landing nominations. Composer Hans Zimmer received an Oscar for his musical score. At the Golden Globes, John, Rice, and Zimmer were likewise honored for their music, while Hahn earned a statue for producing the Best Motion Picture – Comedy/Musical. The Annie Awards selected The Lion King as the Best Animated Film of 1994, and also honored Brenda Chapman for her story.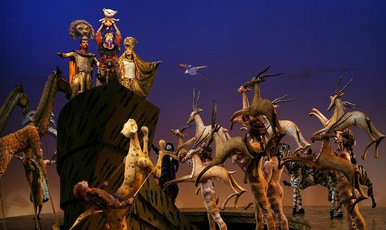 Disney Theatrical considered adapting The Lion King for Broadway, as they had successfully done with Beauty & the Beast in 1994. Allers and Mecchi wrote the book for the musical, which featured new music by John, Rice, and Lebo M. Directed by Julie Taymor, The Lion King opened on November 13, 1997, at the New Amsterdam Theater.
Like its animated predecessor, The Lion King won numerous accolades among its critical acclaim. The show received six Tony Awards, including Best Musical. Taymor was honored for her direction and costume design, the latter with Michael Curry. Garth Fagan earned a Tony for his choreography, as did Richard Hudson for his scenic design and Donald Holder for his lighting. Interestingly, much of the talent who transferred from the film to the show were left with only nominations, including Allers and Mecchi. Other nominees included the Best Original Score team of John, Rice, Zimmer, Lebo M, Taymor, Mark Mancina, and Jay Rifkin. The Lion King would go on to deliver 5,754 performances by September 25, 2011, becoming the seventh longest-running show on Broadway.
Disney wanted other ways to extend the Lion King franchise. The same year the film broke box office records, the studio found another goldmine: direct-to-video films. Hitting store shelves on May 20, 1994, the Aladdin sequel Return of Jafar was expected to sell two million copies total. Instead, it sold nearly 11 million copies, collecting close to $100 million. Meanwhile, The Lion King arrived on VHS on March 3, 1995, ultimately selling 32 million copies to become the top-selling VHS title of all time. Thus, DisneyToon Studios began production on a direct-to-video sequel to The Lion King.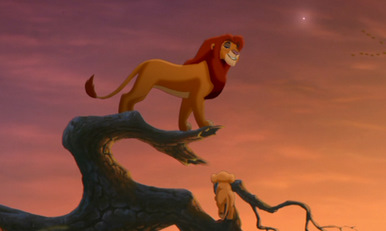 Directed by Darrell Rooney and Rob LaDuca, The Lion King II: Simba's Pride hit store shelves on October 27, 1998. With a plot loosely inspired by Romeo & Juliet, the sequel also followed Simba's parental relationship with his cub, seen briefly in the first film. Many viewers were caught off-guard when the cub was revealed to be a girl, Kiara. After all, Disney had portrayed Simba's cub to be a male, Kopa, in the 1994 book anthology The Lion King: Six New Adventures. Minkoff and Allers, having created the cub for their own film, were likewise surprised by the revelation. "It was not our idea that it was a female cub," said Minkoff. "They decided they needed a different angle on the story." Disney sold more than 13 million copies of Simba's Pride.
Around the same time, Disney began to show interest in IMAX, a theater format with a screen size, resolution, and sound far greater than that of a typical cinema. On January 1, 2000, the studio released Fantasia 2000 for an exclusive run at the theater chain. By the end of its four-month engagement, the film had gathered $64.5 million – a respectable total but nowhere near the usual gross a Disney animated feature made in regular theaters.
But Disney realized another way to utilize IMAX. Rather than release new films in the format, the studio used IMAX to re-release classics, offering audiences a new way to experience some of their favorite films. Beauty & the Beast was the first of these re-releases, treated to an extensive restoration. Hitting IMAX theaters on January 1, 2002, Beauty also contained a new musical sequence, Human Again, which had been deleted from the film's original release. By the end of its IMAX run, the film had added $25.5 million to its lifetime domestic gross, bringing the total to $171.4 million.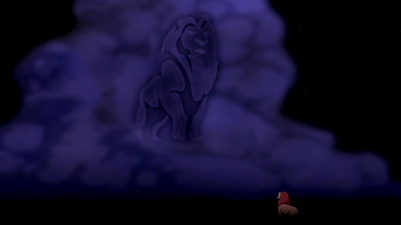 Hence, Disney decided to bring The Lion King to IMAX. Allers and Minkoff returned to help restore the film. "We had to go through the movie and clean up certain scenes again, for the IMAX screen," explained Allers. "Blown up to such a large scale, things that were drawn smaller – like elephants in the distance – might have appeared wiggly on a large screen like that."
Allers also took the opportunity to make a few changes to the "I Just Can't Wait to Be King" musical sequence. Overall, he was pleased with the character design. "Chris Sanders was our character designer of all those animals in "I Just Can't Wait to be King"," acknowledged Allers. "He did such a fantastic job."
But Allers was unsatisfied by the design of one particular set of animals in the original sequence: the crocodiles. "I think, in the rush of trying to get the film done, the scene kind of fell through the cracks. They wound up just using a story panel," he explained. "It might have been my drawing; it might have been someone else's drawing. Whoever's drawing it was, it had never really gone through a proper design path. But they wound up just doing the designs from the story panel." Hence, animators reworked certain elements of the original film for the IMAX release. "When we went back in and re-cleaned up some of the smaller work," he said, "I used that opportunity to have those crocodiles redesigned."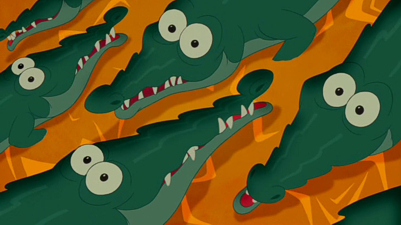 Just as "Human Again" had been added to Beauty & the Beast, a new musical number was also added to The Lion King: John and Rice's "Morning Report." The song was deleted during production for the 1994 feature but recycled for the Broadway musical. "Morning Report" partially replaced the film's spoken pouncing lesson between Mufasa and Simba, with Zazu singing about the latest news in the animal kingdom. Voice actor Jeff Bennett provided the singing voice of the "king's majordomo." As he did with Simba's Pride – and would later do with The Lion King 1 1/2 – Rowan Atkinson opted not to reprise his role as Zazu. "It was not because of unwillingness, because he's a fantastic guy," said Allers. "I just think he wasn't available at the time."
"Morning Report" was considered a controversial change by many fans of the original film. Still, Disney considered it a way to entice audiences to revisit The Lion King on the big screen. "I think the question is, 'If you're going to re-release it, why?'" asked Minkoff. "Doing a new sequence can certainly be a reason the audience may want to come back to see the film a second time. If they've seen the film before, would they go back to see it if it were just on a giant screen? They might. But if there's something they've never seen before, it becomes worth investing further into the film."
"In all honesty, I think we did a good job integrating that song from the Broadway show into the movie," added Allers. "But I have to say, I'm partial to the original version."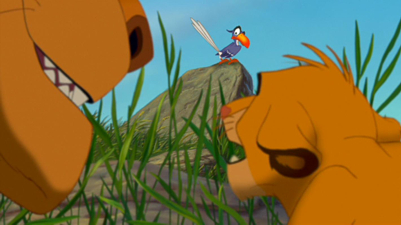 On October 7, 2003, The Lion King arrived on DVD, moving more than two million copies. Its marketing was used to herald the film's next sequel – or, in this case, "inter-quel." In The Lion King 1 1/2, Timon and Pumbaa revisit the first film, explaining how the meerkat and his porcine pal were actually involved much more than audiences realized. The film seemed loosely inspired by the Tom Stoppard play Rosencrantz and Guildenstern Are Dead, which showed the title characters in every major event of Hamlet.
Unlike Simba's Pride, The Lion King 1 1/2 had more involvement from the behind-the-scenes talent of the original classic. "Irene Mecchi and I would go to the story meetings at the Frank Wells Building, for the video division," said Allers. "We worked with them, made suggestions, came up with gags – that sort of thing." When it hit stores on February 10, 2004, The Lion King 1 1/2 received arguably the best reviews for a Disney direct-to-video sequel, including a 79% approval rating at RottenTomatoes.com. Like Simba's Pride, the film won the Annie Award for Best Animated Home Entertainment Production.
During the mid '00s, Disney became enamored with 3D. The studio experimented with James Cameron's documentary Ghosts of the Abyss (2003) and the animated flick Chicken Little (2005). Certainly, audiences were intrigued by new releases being shown in 3D. But Disney wondered how they would respond to classic titles being re-released in the format. On October 20, 2006, the studio issued The Nightmare Before Christmas in 3D to theaters, beginning an annual event. In its first 3D release, Nightmare collected $8.7 million. In 2007, it grossed $14.5 million, followed by $1.1 million in 2008. Simultaneously, other studios began utilizing 3D to increase earnings for their films. In 2010, the format reached an all-time high of popularity, helping Cameron's Avatar and Disney's Alice in Wonderland achieve worldwide totals of $2.8 billion and $1 billion, respectively.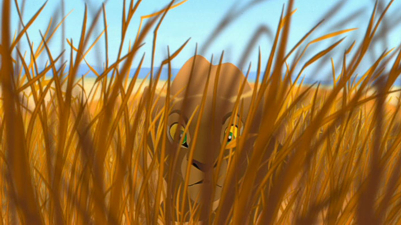 With a history of successful theatrical re-releases, Disney decided to try their next ambitious 3D effort, converting a traditionally animated classic. For this process, the studio went with the same lineup as their Broadway and IMAX ventures: Beauty & the Beast, followed by The Lion King.
"I got a call from Don Hahn. He said the studio had been talking to him about possibly doing a conversion. We all ended up meeting together – me, Roger, and Don – with Robert Neuman, who was heading up the artistic effort on the 3D conversion," recalled Minkoff. "We looked at the movie and talked about it; we talked about 3D and what things we liked and didn't like. We talked about how we hoped to see The Lion King's presentation come across."
To help the filmmakers visualize their film in 3D, Neuman had already prepared converted footage. "He showed us some of the tests they had done," said Minkoff. "He showed us that the results would actually be quite good. We were very excited about how it would impact the film."
"He also showed us the process, which was fascinating," added Allers. "It's an incredibly labor-intensive process where, in every frame, the parts of the character and the background are assigned different focal lengths."
Roughly four months later, Minoff and Allers were pleased with the conversion. "I thought it worked really well," praised Allers.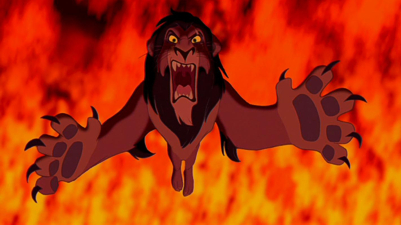 "I've seen it a couple of times, projected on the big screen, and I think it's really successfully done," reviewed Minkoff. "It brings a dimension to the film that makes it a more visceral experience."
Box office returns suggested audiences agreed. The Lion King 3D was released nationwide on September 16, 2011, scheduled for a two-week engagement. Analysts' expectations for the first weekend were modest, predicting an opening less than $15 million. Instead, The Lion King 3D became the top film at the box office for two weeks, with $30.1 million and $21.9 million. Disney responded by extending the film's theatrical run.
On October 4, 2011, The Lion King made its grand debut on Blu-ray. Simba's Pride and The Lion King 1 1/2 were likewise released, albeit only in a trilogy package.
Curiously, Minkoff and Allers have not teamed again for another movie, unlike Clements/Musker and Wise/Trousdale, the other most popular directorial duos of the Disney Renaissance. "Based on circumstances at the time, I ended up doing a live-action feature, Stuart Little, after The Lion King," explained Minkoff. "But we've talked about working together again. We're very good friends; we see each other quite a lot. I'm hoping we find the right project to do and get a chance to work together again."
For Allers, the feeling is mutual. "Rob has asked, 'Would you like to do this again?' I said, 'Sure!' So, who knows," concluded Allers. "It is not precluded from the future by any means."
---
The 3D Conversion of a Classic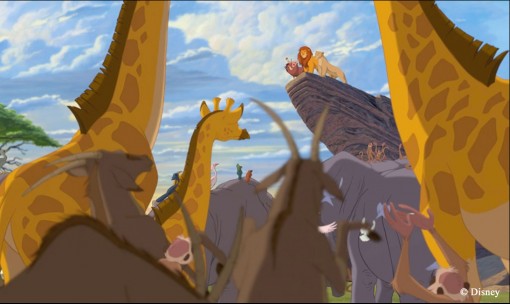 The original film image.
The 3D Depth Map created by Robert Neuman, the 3D Stereographer on the film.
Positive numbers refer to the pixel amount the image will come out of the screen.
Negative numbers refer to the pixel amount the image will go deeper into the screen.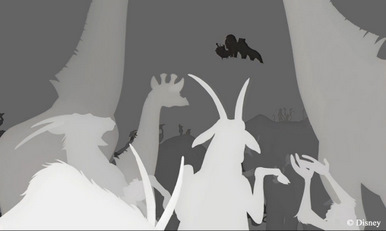 Grey Scale – The final image in the computer representation of depth.
The darkest images will be furthest away.
The lighter images will be closer to the viewer.
---
Disney's The Lion King
is now available to own.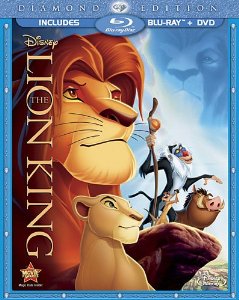 Two-Disc Diamond Edition Blu-ray / DVD Combo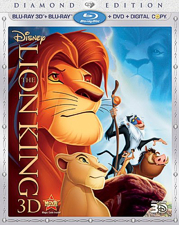 Four-Disc Diamond Edition Blu-ray 3D / Blu-ray / DVD / Digital Copy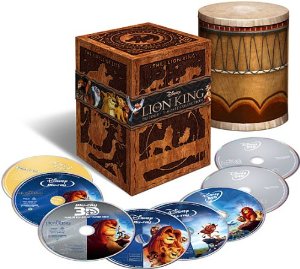 Eight-Disc Combo: Blu-ray 3D / Blu-ray / DVD / Digital Copy
---
Special thanks to Roger Allers, Rob Minkoff, and Darrell Borquez at WDAS!
"Minkoff and Allers at the The Lion King 3D premiere" photo is courtesy of Kevin Winter / Getty Images North America.