DisneyToon Studios (February 7 2006), Walt Disney Home Entertainment (August 23 2011), 1 Blu-ray Disc and 1 DVD, 73 mins plus supplements, 1080p high-definition 1.78:1 widescreen, 5.1 DTS-HD Master Audio, Rated G, Retail: $39.99
Storyboard:
Return to the forest to follow Bambi, post-parental loss in the original movie, but before he copes with growing up.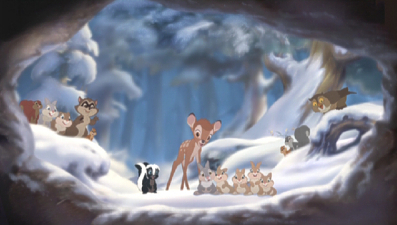 The Sweatbox Review:
Unlike its recent counterpart to The Fox And The Hound, which shares a great deal with this film's predecessor in terms of story structure, Bambi's sequel – or again, rather, "mid-quel" – finds itself not tied to a release of the original film or even bundled in as an extra, but given a new lease of life in a new Blu-ray hi-def upgrade, with "Special Edition" markings for good measure. And in many ways, it's one of the few direct-to-video titles that may warrant such attention.
Not so long ago, the DTVs had a very bad name amongst Disney aficionados, and with good reason: the plundering of Walt's original characters and their "starring" in a new generation of pointless and uncalled for sequels may have been, for a long while, the only place you could catch hand-drawn animation from the Studio that had built its name on such entertainment, but they also diluted the art on which they were based. The lack of story-based boldness and original plots also hampered these films, even if their styles, design and cartooning eventually became more comparable to the output of Disney's 1990s renaissance thanks to the ever improving boys and girls at the Mouse House's custom studio down under.
A case in point on its original release to DVD five years ago was Bambi II, which is not actually a sequel or a follow up, and would have worked much better with its announced Bambi And The Great Prince Of The Forest title. For, following the tried and tested DisneyToon formula, the movie is another in the long line of "mid-quels"…essentially filling in "missing" scenes from their respective original Disney movies, even if the question – especially with the films that inserted themselves in Walt's original classics – surely must be…if Walt had wanted such scenes to be seen, they would have ended up in the original movie, right?
Now, to be fair, I have enjoyed the occasional DTV: the linear Peter Pan continuation Return To Never-Land was a delightful surprise in theaters after a poor run of sub-TV styled "features" such as Pocahontas II, Hunchback II and the downright frankly awful Cinderella II (notice a theme here?). Somewhere in the middle stand such timewasters, if not classics, as Mulan II, Lilo And Stitch 2, and Kronk's New Groove, with The Lion King 1½ perhaps the unit's most ambitious achievement so far, often matching the quality of the original movie perfectly.
Early word on Bambi And The Great Prince was such that suggested that even that Lion King spoof had been topped, and long-time Disney animator and technique guru Andreas Deja, who was on tap to the artists as they toiled away at the Australian studio, expressed that they had really come on and was truly impressed with the levels they were reaching under the tighter-than-usual DTV budgets and time constraints. In fact, in the supplements on the disc, he even goes so far as to suggest that this one-time animator on such characters as Jafar, Scar, Hercules and Lilo, had even found himself joining the DTV team (he's credited as a Consultant on the movie) to continue in his chosen traditional art field (there's certainly the implication that he animated at least one scene in this movie) while classical animation took a sabbatical at the Studio before The Princess And The Frog restored the art form to its rightful place.
Starting out with a mysterious greyed-out Disney castle logo, which sets up the atmospheric beginnings, it has to be said that Bambi II boasts a masterful opening that replicates the closing moments of the scene from the original in which Bambi loses his mother. Once this hard-hitting fact has been established, the film moves all-too predictably to an overly cheesy montage sequence that finds the animals waking up and enjoying life in the evergreen forest. Getting past this, it should be said that the designs of the animals themselves scream perfectly of classic animation, being the closest Disney has come to the feel of real, old-school Walt in years.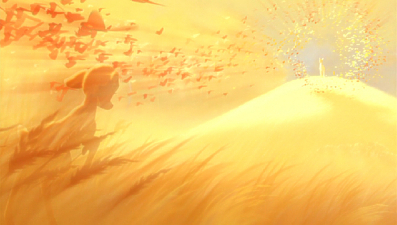 That the plot is equally concerned with the Great Prince, Bambi's father who unwittingly takes on raising the boy until a suitable doe can be found to take on the job, also somewhat helps to overcome what could have been some very limited story potential. Over the course of Bambi's adventures, which bring old friends Thumper, Flower and Friend Owl into the mix, he also comes up against competitive deer Ronno, who takes a dislike to Bambi when they both show an interest in Faline, the young doe Bambi had just been introduced to when his mother was fatally hunted by Man. That, in a nutshell, is the plot, and though it may sound slim, it skips an hour or so by in an extremely enjoyable, almost-truly classic fashion.
True, the voices sometimes stray into modern Hollywood brat territory, and Bambi certainly is surer of himself this time out, but they are by turns only slightly contemporary as well as being delightfully sweet, and as close to the intentions of the originals as possible. As with the animation, techniques in sound reproduction mean that things perhaps sound better and cleaner than we remember them in Bambi's world. Joining the cast is Patrick Stewart as the Great Prince, bringing weight to the role as only he could. Though his presence does little to "legitimise" the project (as some may have felt), the character does feel as if it has been carried lock, stock and barrel from the original and loses none of his majesty, which should be considered the main importance.
Things are certainly helped by the musical score, which features an occasional contemporary track here and there, but nothing that blotches the otherwise spotless report card. More importantly is that Bambi II marks the return of Bruce Broughton to the Studio after his fantastic work on the theatrical sequel The Rescuers Down Under and the musical pastiche of the character franchise continuation Mickey, Donald, Goofy: The Three Musketeers. His weaving of new themes with the established musical phrases from the original songs and score by Frank Churchill, Larry Morey and Edward Plumb, really helps place the entire project back in time to when Disney animation meant great music and visuals.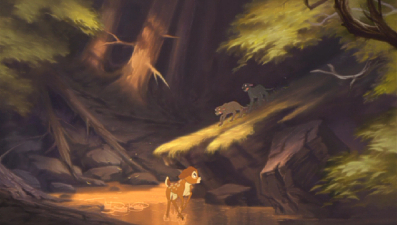 And what visuals! There are some seriously choice moments here that easily match those found in Disney's 1990s animation boom. That's testament to the high levels eventually achieved by the DisneyToon Studios artists in Australia – for a while the Mouse's only outpost for traditional cartooning, though now (and unfairly) a CGI factory churning out Tinker Bell after Tinker Bell movies. If you're of the opinion that Lady And The Tramp II: Scamp's Adventure, Peter Pan: Return To Never-Land and The Lion King 1½ represent the apex of Disney's direct-to-video output, then you'll be wowed and amazed by the animation on show here, which is, thanks to some sneaky computer trickery, as lush in look as Walt's original.
This is, however, very much the product of modern Disney with its attitude and nods – intentional or not – to the Studio's recent animal and environmentally friendly features Pocahontas, The Lion King and Brother Bear. But there is an underlying sweetness and simplicity to the tale that could only disarm those ready to pounce on it. As a "mid-quel", the story is perhaps weaker that it could be, essentially stretching what could have been around ten minutes of screen time devoted to such scenes in the original out to just-about feature length (and a handy 90 minutes for television with commercials, making it perfect filler).
Taking one of cinema's greatest moments of loss as its starting point offers up enough scope to develop an often wondered about time in the young fawn's life – namely, bridging the gap between his mother's death and finding love as a young adult. Whereas there could never be a full feature grown out of, say, how Carl Denham and those explorers managed to bring Kong to New York from Skull Island and keep him cooped him until his Broadway debut, there is a seemingly missing piece of the puzzle that's always felt like a giant leap from serious and cold Winter to the happy sounds of Spring in the original Bambi. Whether it actually needed a full-length outing to fill the gap, though, is open to debate!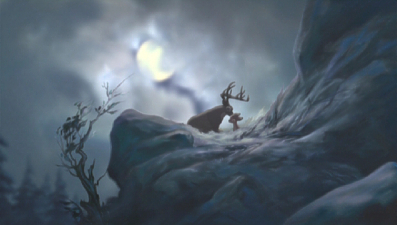 Things are in danger of slowing down at the half way mark, with an extended log bridge sequence featuring director Brian Pimental as a grouchy hedgehog, and a song-accompanied bonding montage between father and son feeling a little like padding and overly predictable, respectively. However, an interesting flashback episode expertly resurrecting Bambi's Mother brings things full circle in a way, and if one is reminded of The Lion King, then let's not forget that the first Bambi was the original Circle Of Life.
Predictably going for the younger, rounder, cuter and much more marketable version of Bambi for this second, years-later outing, Disney just about managed the improbable and produced a film which, while not totally needed, does nothing to diminish the impossible to touch original and doesn't embarrass itself either. A properly exciting climatic chase is particularly worthy of mention which, well paced and, coupled with the muted color palette as opposed to the overly bright and usually colorful DTV look, articulate musical score and somewhat chilling sound design, deserves to be noted among the long line up of good old-fashioned scary Disney moments.
Ultimately, Bambi II was another in the line of unasked for "franchise extensions", but it's one that had its heart very much in the right place and came out, for all the expectations weighted upon it, with hardly any egg on its face. Those still out to bash the DTV films won't particularly find themselves persuaded by the argument, but those who accept that Hollywood is a number crunching business that will endlessly put stuff like this out may find that Bambi II is actually much better than it has any right to be.
Is This Thing Loaded?
Disney's DTV movies were not usually treated to an overabundance of supplementary materials, nor even a usually packed disc, with most of the extra space given over to a DTS soundtrack option, but Bambi II's original DVD contained a little more than most and, now with the extra space awarded to the title on Blu-ray in this combo pack, adds a couple more supplements to the line-up, though promoting this reissue as a Special Edition may be pushing things a bit and the included DVD seems to have less to share.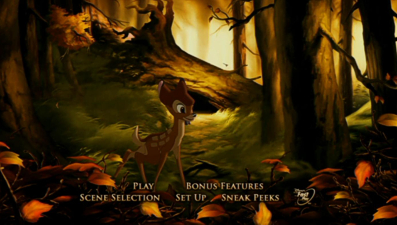 New to this edition is the previously unreleased deleted song Sing The Day which, at just over two minutes, was eventually shortened and replaced with Broughton's score before final animation was. Presented in storyboard form and covering the sequence in which Bambi, Thumper and Flower frolic in the forest pretending to be other animals, the song really is genuinely awful and, as recoded here, wouldn't have been well placed in the musical texture or classic approach that the rest of the film uniquely has. Completed animation from the shots that appeared in the film have been used where possible, though it was a good call to cut this: the song swamps over the charming humor and, if anyone is interested in this new edition just to hear this, save your bucks and believe me it isn't worth it!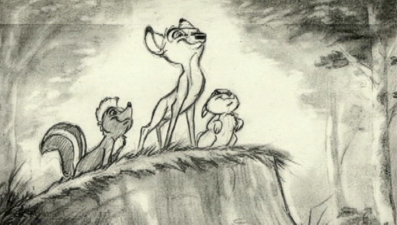 Also new is Friend Owl's Fun Forest Games, "three interactive learning adventures" that thanks to the BD format are a little more involving than the often pointless set-top games featured on the Disney DVDs of old. Good for youngsters, the challenges promote mathematic skills (no, I'm not sure how that fits into Bambi's world either), even if they do prod the disc towards the younger demographic as opposed to collectors. Going even further in this direction is the recycled Thumper's Hurry and Scurry Game, in which the player must aim their remote and help Thumper's sisters find the hidden bunny in the forest. Featuring nice set-ups and recycled animation from the movie, there's not much more to this than that, though the unending possibilities at where Thumper could be hiding could have one playing for hours!
Also returning is Disney's Sketch Pad: Learn How To Draw Thumper, where animator Andreas Deja is forced…oops, sorry…pleased to reveal the tricks of his trade and demonstrate how easy it is for a top flight Disney artist to draw the little bunny. It's a feature that has become more and more common on such kid-friendly titles, so presumably little ones are grabbing the sheets of paper and starting out on their Disney careers. Though brief, this four-minute piece is not unwelcome, as it's always magic to hear Deja talk his craft and how he goes about bringing such icons to life.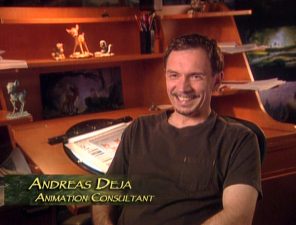 Still the most substantial supplement is the 4:3 making-of featurette, Bambi II: The Legacy Continues, which features talking heads such as director Brian Pimental and the production team discussing what an undertaking it was in living up to one of Walt's favorite pictures. Best of all is meeting the precocious kids behind Bambi and Thumper's voices, most notably Alexander Gould, who also brought a rounded performance to his role of Nemo in Pixar's Finding Nemo. We don't learn an awful lot in its eight minutes, but it packs a ton in and most scary was the fact that Gould is already looking ahead to when he can tell his kids that he was Bambi (though he does recognise that he could never top the original – good kid).
Lastly, Bambi's Trivia Track promises to "reveal fun facts about the movie", but is actually again for the little ones, being a subtitle that plays throughout and throws up the occasional bit of info on Bambi's animal world – one for the grown ups interested in the actual making of the movie to give a miss, though there are one or two interesting points of reference to the original. On the DVD, the Sing The Day song, Legacy Continues featurette, Thumper's interactive game, Sketch Pad and the Trivia Track are carried over, though a previous DVD-ROM feature has been dropped.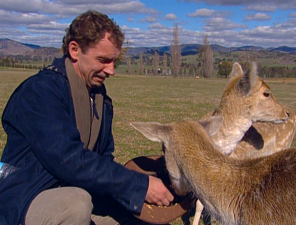 Across both discs, previews are included for The Lion King on Blu-ray and stage, Spooky Buddies, Tinker Bell And The Pixie Hollow Games / Secret Of The Wings, Prep & Landing's new outing, Dumbo, Disneynature's African Cats, Beauty And The Beast: The Enchanted Christmas (exactly the kind of mid-quel that gave the DTVs a bad name), Lady And The Tramp's anticipated BD debut, and the Disney Movie Rewards program. There isn't much else that could have been included…but look on the bright side – at least we haven't been fobbed off with a Disney tween pop video of Little April Showers!
Case Study:
A foil-embossed outer slipcover comes with initial pressings and basically replicates the original DVD box art and international theatrical posters if I recall correctly. There's no chapter insert as before, but a sticker does offer up savings of $8 when you purchase Bambi and Bambi II together, while inside are the usual Blu-ray and Movie Reward code inserts.
Ink And Paint:
If there was anything that was too perfect about Bambi II on DVD, it was the pure digital source of the image, which didn't sit too well against Walt's analog original and only played up the modern nature of the film's visual creation. Here, if anything, that instance is only amplified more by the jump up in resolution. Bambi II stays away from the usual too-bright levels of a DTV title and sticks with a darker intention, but blowing the frames up as with the DVD doesn't have the same effect of softening the image. Bambi II did actually get a theatrical release in Europe, and I suggested back then that this enlargement would help the images feel a little more classic, but this super-detailed Blu-ray is just too clean, with perfect animator's lines that feel a little flat and lifeless, even if, technically, it's absolutely stunning.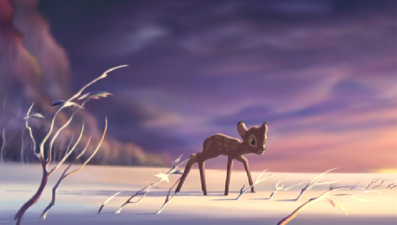 Scratch Tracks:
With only a 73 minute run time (actually closer to 72, with seven of those devoted to the end credits), the audio compares comfortably with the impressive picture. Presented in DTV-friendly 5.1 DTS-HD Master Audio, I would presume this is the same DTS track as featured on the original DVD, albeit less compressed. As before, it really is a quality mix, outshining the Dolby track on the DVD over more than just the usual extended bass. Not that the Dolby track is lacking, but the DTS simply sounds like a theatrical quality track – surely the benefit of the movie going to some countries theatrically – with a tingling top end and terrific clarity. Fully enveloping stuff, with French, Spanish and English subs and dubs additionally offered.
Final Cut:
If you already own Bambi II on DVD from its release just five years ago, I can't really see the need for anyone to get too excited about upgrading to this new edition. If you're worried about HD, then the digital perfection of that disc should upscale without major concern while the "new" extras don't amount to enough to warrant the higher than normal suggested retail price. But, if you don't have Bambi II on disc at all – or are a Disney completist who must have everything – then this reissue, while not particularly "special", serves the film up with an enhanced, sometimes too clinically perfect, image that should largely please.
Animated Classic or Back To The Drawing Board?