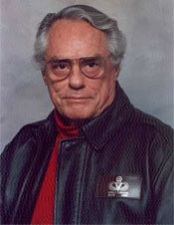 If you look up research on Donnie Dunagan, you'll certainly find the following official biography:
"Born in Depression-era Texas, Donnie (Don) Dunagan moved with his parents to Memphis as a young child. There, as a three-year-old, he was taught to tap dance by a neighbor and entered a talent contest at the local Orpheum Theatre. Donnie won the $100 prize that day and caught the attention of a movie talent scout in the audience, who arranged for the family to come by train to Hollywood. The blonde moppet made seven films between 1938 and 1941, making his film debut in Mother Carey's Chickens (1938), playing the son of the Son of Frankenstein (1939) and providing the voice of young Bambi for Walt Disney in the studio's 1942 animated classic.
After leaving entertainment, Dunagan attended the University of Alabama on a football scholarship before transferring to Virginia Tech to broaden his focus to Science. As a freshman, facing the Korean War Draft, he volunteered as a marine. Years later, the Marines sent him back to college and he completed his education, graduating with honors with a degree in Civil Engineering. After graduation, finishing boot camp as a new Private, First Class, Donnie was honored to be invited to become a boot camp Drill Instructor himself, becoming the youngest Assistant Drill Instructor in U.S. Marine Corps history, then the youngest Senior Drill Instructor (a Marine Sergeant by age 19), and into the Navy's Military Law-Justice School for JAG officers at the War College in Rhode Island, followed by the Army's training program for CIC special agents. While serving his country, Dunagan was combat wounded twice while leading patrols and commanding units in Vietnam.
Dunagan received a Masters degree in Engineering Management, with honors, from the University of Vermont at Burlington, after which he was a candidate for a Ph.D. in Mathematics, before leaving the U.S. Intelligence Agency for the private sector.
After leaving the Marines as a Major and battalion commander, Dunagan lent his knowledge of intelligence and the law to management positions with corporations including New York Life, Gerstenhaber, Jacks Company and Rose Hills Memorial Parks Corporation.
The recipient of numerous U.S. Military combat and valor awards, Dunagan is most proud of carrying a wounded Corporal off the battle filed under heavy fire during his tour of duty in Vietnam, and for being awarded "Citizen of the Year/Military Sector" by the City of San Diego in 1977 for his part in pushing the U.S. Department of Defense to allow dispersement of food from service warehouses to widows of WWII servicemen. During his rise to the rank of Major in the Marines, before leaving the military in 1977, Dunagan didn't often speak about his childhood role as the voice of Bambi.
Now at age 76, Dunagan's ceaseless energy continues in semi-retirement as he keeps a busy schedule of mentoring, tutoring, physical fitness, consulting and aiding the underprivileged. He finds great pleasure and new notoriety in talking
about his young life in Hollywood, working with Walt Disney, and his role as one of the most endearing characters ever to come from The Walt Disney Company. Dunagan currently resides in Central Texas, with his wife of 19 years."
But if you every meet Donnie Dunagan, what you'll remember is a man full of enthusiasm, energy, humor and incredible wit, and most of all, forever enlighted by the few weeks he spent at Walt Disney's studio, along with the man who created that timeless masterpiece that Bambi is, now given back its original beauty thanks to the restoration of the Disney engineers and the magic of Blu-ray Disc.
---
Roundtable Interviewer: What started your career in the film industry?
Donnie Dunagan: In Memphis, TN, late 1938. My parents and thousands of other in Tennessee were poor as dirt. My Mother entered me into a talent show contest. The theater was loaded with people. There was no TV yet and talent contests and even spelling bees drew large gatherings. I had learned to do some fun tap dances and songs. At not quite age 4, I won the contest. A real talent-scout was in the Memphis theater. He visited with my parents and a couple of days later we were put on a train to Hollywood. Within a month I was acting in the film Mother Carey's Chickens for a wonderful director named Mr. Rowland Lee, who then took me into two other movies with co-star billing within half a year.
RI: What memories do you keep from your first theatrical experiences?
DD: It was great fun. I have specific memories of that initial event. First, it took my parents out of grim economics of 1938. I sensed that and I was proud to know that I helped change that. Walter Brennan treated me like a grandson. Ruby Keller was a gentle queen. I think she just played her normal gracious and kind self.' Fay Bainter contacted my mother several times after the release and we went to a top-end hotel for dinner with her and others. I do not have reportable memories of the others.
RI: How did you get chosen for the role of Young Bambi?
DD: Mr. Disney has seen me in other films and still photos and wanted to use my eyes and facial expressions to help draw animations on little Bambi. So, he called my mother in Westwood, California….near UCLA, and told her he would like me to come to the studio and talk about being the facial model for an animation story of a little deer. My mother was thrilled. Then the two of us laughed about how I would try to look like a deer. I had been in the following previous films, from age 4 & 1/2: Mother Carey's Chickens, as Peter, 1938; Son of Frankenstein, also as a Peter; Peter von Frankenstein, 1939 (released in early '40); Fixer Dugan, 1939; Forgotten Women, 1939; Tower of London, 1939 as Prince Richard; Vigil in the night, 1940; Meet the Chump, 1941, and to top that off, Bambi in 1942.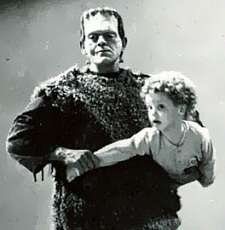 RI: What do you think was the reason why Disney cast you?
DD: I was told specifically that it was my eyes and expressions in other films, and of course a great deal of luck.
RI: At the time, as there were not as many cartoons as today, what kind of work did you think you were going to do when you first heard you got the role of young Bambi?
DD: My mother and I had no idea how animation stories were filmed. I heard the news through media that was published, Mr. Disney had picked me to be the facial model for the deer. Before we got to the studio, my Mom and I teased each other about maybe having to put on deer skin and move around on all fours.
RI: How long did it take to do the recording of the Bambi´s voice?
DD: I am not too certain. My Mother drove me there at least four times slow LA city traffic. We would be at the studio for no more than two hours each recording session.
RI: Did you shoot any live-action reference footage for the film? Did you model for any of the animators?
DD: No live action camera involved. Initially, as the facial model, what I called 'drawing men' (animators) at the time sat around as asked me to look happy, look up, look sad, etc. Then voice work was offered.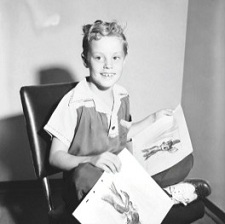 RI: Can you tell us what it was like working at Disney in the late 1930s?
DD: It was the thrill of my young life. Of the six films I was in– many with co-star billing, and even for a rogue kid, the most recent two films were not as exciting as Bambi, at least for a kid that wanted to be playing baseball. When we got the casting to pitch-in for Bambi, I was re-excited about being in film again…forget baseball.
RI: How did you work on your lines?
DD: That is a bright question that I wish I could answer very specifically. As a candid man, let me share this, first, a very nice man who was gracious to my mother and me talked me through some of the words and script. But I had no clue of the story line; had never seen a deer. At age 6, I was not jaded or ever rude to anyone, but he and my mother could tell that I was bothered by some of those unknowns, in my first voice-over. Then a wonderful lady took me and the girl that played my sweatheart in Bambi to a small room and coached us on the storyline, using a book and some drawings. My mother rushed me to a Zoo, I think the LA Zoo. I saw one deer. He looked dull and lazy to me. My mother as I remember this well said do not say anything about a lazy deer at the studio, she is a wise lady. I never met the wonderful voice actor that put so much charm and laughs in all characters in Bambi, including Thumper.
RI: How was the recording itself?
DD: It was a relaxed atmosphere in the sound booth with one or two Disney crew people there, plus my Mother. It was easy does it. I thought it would be harder, since there wasn't any on-camera work. I recall there was very little pre-recording rehearsal time. The microphones were rather basic back then, one was in a small bird-cage on a stand. It was easier than one might suspect.
RI: Of what scene in Bambi do you have the best memories of recording?
DD: When Thumper was teaching me (Bambi) a word during our speech lesson like "Flower," or "Bird", I started laughing during the practice of that which slowed things down.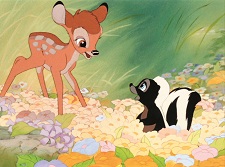 RI: Do you have a quote from the film you like the most?
DD: It was little Flower saying…"That's ok, he can call me Flower if he wants to." I have seen children understand that real well. It says a lot if we pause and reflect on it.
RI: Can you tell me about the direction you got for the recording of Bambi desperately calling for his dead mother?
DD: I remember this well. When I was told to say, with some stress, "Mother….Mother," I must have not had the tone of fear that the story needed. A coach, I think it was a nice lady at the studio, asked me how I would cry out loud if my own real Mother was lost and in great danger. That made it easy…..thus, the fear-tone of ""Mother…Mother…"
RI: How much did you deal with Walt Disney and the Disney artists?
DD: Saw Walt Disney many times. He talked with me at least three sharing moments I can remember. He was interested in my being reported (press) as reading news clips at age five. He was a leader; all over the place, helping, coaching, laughing, and even a kid like me then could sense that he was keenly respected by the air and production people. That was not always the case in other studios when the "Boss" came around.
Mr Disney was a Class By Himself. In half of my prior six movies, on-camera roles, I came to understand the differences in crew and actors, responding to the Boss coming around. Many were clearly in fear of the Boss coming in and work being done. This was not so with Mr. Disney. You could see the positive reactions, all the time – of workers, the 'drawing men,' all would say "Here he comes, ask Walt, he is coming…he will know what to do, Walt is here, show him that…." Etc. That is what real leaders do. He built a major company during a grim economic time in America, and the people at Disney were his family.
Mr. Disney was a joy to be around. My sense is that the studio had not had many children on lot before doing voice-over work. They were wonderful. There was one exception though, a single man who I called 'Grump'. I took a water gun shot at him one day and got in a bit of trouble. Disney still has my water gun that I was given on the set of Frankenstein Christmas of 1939. I would like to have it back!
RI: How did the Disney artists manage to get you into that universe that you had only seen as static drawings? How did they inspire you to give life to your character?
DD: While coaches would tell me what mode or senses to say certain things, no one tried to change my age or my natural voice. Mr. Disney wanted real kids to be the kids in the forest. I suspect Thumper had the same instructions given to him, be honest, natural kids. If you listen to Thumper, he sounds just like some kid playing second base on a dirt field in New Jersey, very real…wonderful. Walt Disney was way ahead of his time in respecting the use of age appropriate voices for his characters.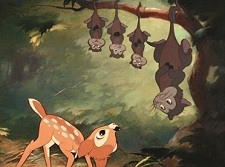 A fun example, view the kiss scene given to Bambi by the female deer. When Bambi was sitting in a thicket feeling sorry for himself, being foolish, I was asked by the "Drawing Men" to look like something real bad had just happened to me that made me mad. I was having the time of my life then, so really I had a hard time putting on an 'unhappy face'. The men drawing me were waiting for me to do it better. Then one man ask me about any recent bad experience such as a spanking, bad food, etc. I told them that my Mom had given me something called Castor oil last week….it was grim – grim. "Donnie, pretend that you just had a double-dose of Castor oil. And I did, my face crunched up and eyes grew mad. So when you see that cute scene in Bambi, the thicket kiss, you can call that the Castor oil kiss.
RI: Were you able to attend the film premiere of Bambi?
DD: Yes. In 1942, my mother took me to what I thought was some Los Angeles, California nearby desert town and we saw it. I was overpowered. I was so bright as a child that I thought I had it figured out. I was wrong. Nothing could have prepped me or anyone for the grand visual and happy and emotive story of Bambi. My Mother cried.
RI: Did you like Bambi the first time you saw it as a child?
DD: Loved it. The first time I could not believe anyone could make animations and backgrounds like Bambi. As I have grown older, I've listened to people talk about it when they did not know I was a part of it. I grew to realize that Mr. Disney had let me become part of a never ending love story in this world. My debt to him is great.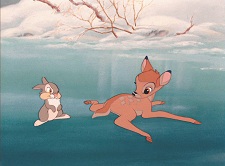 RI: Why do you think Bambi has stood the test of time?
DD: The caliber of animation in 1942 is absolutely stunning. It would not achieve that without being a story that is realistic about the cycle of life. Look at the closing emotions of Bambi. He stands on the rock platform next to his dad, who then retires the responsibility of the forest to Bambi. And, after lots of comedy, laughter, love, adventure, courage, life goes on. We all see some of ourselves in Bambi's story.
RI: What's your favorite message in Bambi?
DD: Bambi tells the story of life in realistic cycles of which evokes comedy, adventure, fantasy, courage, danger, emotions, laughter. Very much like the score, Bambi is a song that will never end. Bambi has a unique persona in the sense that he embraced something different in human values, laughter, lasting feelings about life like nobody else in this world has experienced or has ever seen. It is really a pleasure to view the movie in Blu-ray. My children, grandchildren and my 88 year old neighbor have all seen and savored the story. It's a refreshing tale that still is a beloved classic. Mr. Disney insisted on all the backgrounds in the forest being done in actual oil-paints, that vs. the convention of water colors. It is that original visuals of Bambi that allows the engineering of Blu-ray to just put you in a different atmosphere when you watch it.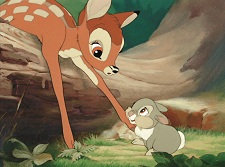 RI: Any final thoughts?
DD: Bambi, the Diamond Edition Blu-ray will extend this love-story to many generations, with colors never seen before and the story. It is, after-all, Mr. Disney's visual sense of the classic story, Bambi, that is with us now 70 years 'young.' Bambi is laced with emotions and joys we all have in our natural life. That is the magic bond with us and Bambi. We are there, in the forest with him and his friends. Thanks for letting this old warrior and Disney lover share this with you.
---
---
---
Our thanks go to Mr. Donnie Donagan and also to Brigid D'Arcy.