DisneyToon Studios/Walt Disney Home Entertainment (February 7 2006), single disc, 73 mins plus supplements, 1.78:1 anamorphic widescreen, Dolby Digital 5.1 and DTS Surround, Rated G, Retail: $29.99
Storyboard:
Return to the forest to follow Bambi, post-parental loss in the original movie, as he copes with growing up. The plot is equally concerned with the Great Prince, Bambi's father who unwittingly takes on raising the boy until a suitable doe can be found to take on the job. Over the course of Bambi's adventures, which bring old friends Thumper, Flower and Friend Owl into the mix, he comes up against competitive deer Ronno, who takes a dislike to Bambi when they both show an interest in Faline, the young doe Bambi had just been introduced to when his mother was fatally hunted by Man. And that, in a nutshell, is the plot, and though it may sound slim, it skips an hour or so by in an extremely enjoyable, almost-truly classic fashion.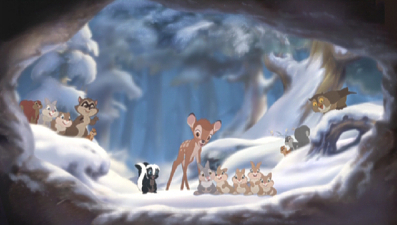 The Sweatbox Review:
Following in the grand tradition of follow-ups to Disney classics…wait, excuse me and let's start again. Following the direct-to-video plundering of Walt's original characters and their "starring" in a new generation of pointless and uncalled for sequels, the DisneyTooners come out to bat for the last bastion of traditional, hand drawn animation at the Studio that built its name on such entertainment with Bambi II, a movie that's been on the cards for almost 65 years.
Okay, I'm being flippant, but can you blame me after the onslaught of cynical, made for the money cash cows that Disney have made a bad habit of dumping on our favorite movie-on-a-disc format? While they are the only form of "old-school" animation favored by the purists coming out under Uncle Walt's name, the lack of story-based boldness and original plots have hampered these films, even if their styles, design and cartooning have become comparable with the output of Disney's 1990s renaissance thanks to the ever improving boys and girls at the Mouse House's DTV studio down under.
Case in point is Bambi II, which is not actually a sequel or a follow up, and would have worked much better with its original Bambi And The Great Prince Of The Forest title. This "all-new" movie is another in the long line of "mid-quels"…essentially filling in "missing" scenes from their respective original Disney movies, padded out and stretched to a babysitting friendly hour or so, also making them perfect television fillers where commercials make up a more respectable running length of 90 minutes. The question is…if Walt had wanted these scenes to be seen, they would have ended up in the original movie, right?
Now, to be fair, I have enjoyed the occasional DTV when forced to sit down and review them: the linear Peter Pan continuation Return To Never-Land was a delightful surprise in theaters after a poor run of sub-TV styled "features" such as Pocahontas II, Hunchback II and the downright frankly awful Cinderella II (notice a theme here?). Somewhere in the middle stand such timewasters, if not classics, as Mulan II, Lilo And Stitch 2, and the recent Kronk's New Groove, with The Lion King 1½ perhaps the unit's most ambitious achievement so far.
Early word on Bambi And The Great Prince was such that suggested that even that Lion King spoof had been topped, and long-time Disney animator and technique guru Andreas Deja, who was on tap to the artists as they toiled away at the Australian studio, expressed that they had really come on and was truly impressed with the levels they were reaching under the tighter-than-usual DTV budgets and time constraints. In fact, in the supplements on the disc, he even goes so far as to suggest that this one-time animator on such characters as Jafar, Scar, Hercules and Lilo, has even found himself joining the DTV team (he's credited as a Consultant on the movie) to continue in his chosen traditional art field (there's certainly the implication that he animated at least one scene in this movie).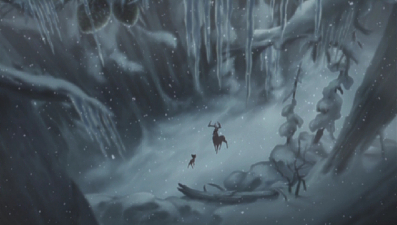 Starting out with a mysterious greyed-out Disney castle logo which sets up the atmospheric beginnings, it has to be said that Bambi II boasts a masterful opening that replicates the closing moments of the scene from the original in which Bambi's mother has been shot. Once this hard-hitting fact has been established, the film moves all-too predictably to an overly cheesy montage sequence that finds the animals waking up and enjoying life in the evergreen forest. Getting past this, it should be said that the designs of the animals themselves scream perfectly of classic animation, being the closest Disney has come to the feel of real, old-school Walt in years.
True, the voices sometimes stray into Hollywood brat territory, and Bambi certainly is more sure of himself this time out, but they are by turns only slightly modern as well as being delightfully sweet, and as close to the intentions of the originals as possible. As with the animation, techniques in sound reproduction mean that things perhaps sound better and cleaner than we remember them in Bambi's world. Joining the cast is Patrick Stewart as the Great Prince, bringing weight to the role as only he could. Though his presence does little to "legitimise" the project (as some may have felt), the character does feel as if it has been carried lock, stock and barrel from the original and loses none of his majesty, which should be considered the main importance.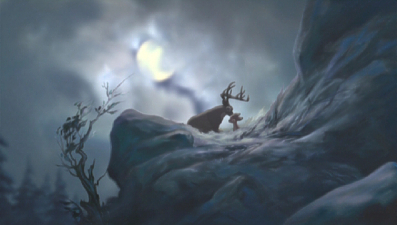 Things are certainly helped by the musical score, which features an occasional contemporary track here and there, but nothing that blotches the otherwise spotless report card. More importantly is that Bambi II marks the return of Bruce Broughton to the Studio after his fantastic work on the theatrical sequel The Rescuers Down Under and the musical pastiche of the character franchise continuation Mickey, Donald, Goofy: The Three Musketeers. His weaving of new themes with the established musical phrases from the original songs and score by Frank Churchill, Larry Morey and Edward Plumb, really helps place the entire project back in time to when Disney animation meant great music and visuals.
And what visuals! There are some seriously choice moments here that easily match those found in Disney's 1990s animation boom. That's testament to the high levels recently achieved by the DisneyToon Studios artists in Australia – currently the Mouse's only outpost for traditional cartooning and now very much under an unfairly uncertain future. If you're of the opinion that Lady And The Tramp II: Scamp's Adventure, Peter Pan: Return To Never-Land and The Lion King 1½ represent the apex of Disney's direct-to-video output, then you'll be wowed and amazed by the animation on show here, which is, thanks to some sneaky computer trickery, as lush in look as Walt's original.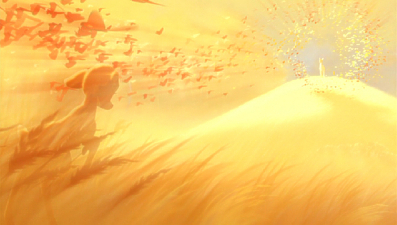 This is, however, very much the product of modern Disney with its attitude and nods – intentional or not – to the Studio's recent animal and environmentally friendly features Pocahontas, The Lion King and Brother Bear. But there is an underlying sweetness and simplicity to the tale that could only disarm those ready to pounce on it. As a "mid-quel", the story is perhaps weaker that it could be, essentially stretching what could have been around ten minutes of screen time devoted to such scenes in the original out to just-about feature length.
Taking one of cinema's greatest moments of loss as its starting point offers up enough scope to develop an often wondered about time in the young fawn's life – namely, bridging the gap between his mother's death and finding love as a young adult. Whereas there could never be a full feature grown out of, say, how Carl Denham and those explorers managed to bring Kong to New York from Skull Island and keep him cooped him until his Broadway debut, there is a seemingly missing piece of the puzzle that's always felt like a giant leap from serious and cold Winter to the happy sounds of Spring in the original Bambi movie. Whether it needed a full-length outing to fill the gap, though, is open to debate!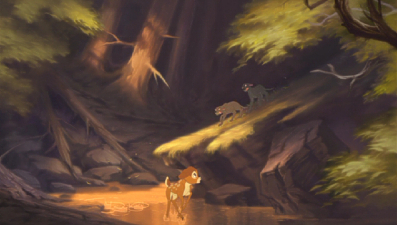 Things are in danger of slowing down at the half way mark, with an extended log bridge sequence featuring director Brian Pimental as a grouchy hedgehog, and a song-accompanied bonding montage between father and son feeling a little like padding and overly predictable, respectively. However, an interesting flashback episode expertly resurrecting Bambi's Mother brings things full circle in a way, and if one is reminded of The Lion King, then let's not forget that the first Bambi was the original Circle Of Life. Finally, things work their way up to a properly exciting climactic chase that should find its way into the long line up of good old-fashioned scary Disney moments. It's a tense ending, which is well paced and, coupled with the muted color palette (as opposed to the overly bright and usually colorful DTV look), articulate musical score and somewhat chilling sound design, definitely places this in the more-thought-out-than-most bracket and certainly makes Bambi II worth a look.
Is This Thing Loaded?
As a DTV movie, we're not usually treated to an overabundance of supplementary materials, nor even a usually packed disc, with most of the extra space given over to a DTS soundtrack option. As such, Bambi feels a little lightweight for its fairly high list price and low volume content, but such is the price to pay for brand new direct-to-video content, and with record sales of well over two million units in its first few days on sale, what am I to know?!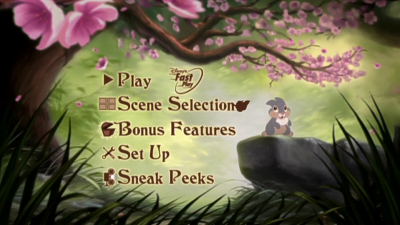 Utilising Disney's Fast Play system, the disc can be left to babysit the kids while it spins through the feature and a selection of video-based, non-interactive material. Leaving this option to run, we're treated to previews for the Lady And The Tramp Platinum Edition, a Disney Channel Movie Surfers look at The Wild/The Shaggy Dog, and a first look at the theatrical-quality Brother Bear 2. Via the Sneak Peek menu, you'll find additional trails for Pooh's Grand Adventure, Leroy And Stitch, the live-action AirBuddies, TV's JoJo's Circus, and another "mid-quel", the fluffy Fox And The Hound II.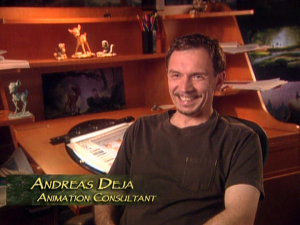 Onto the extras proper, and most meaty is the full-frame Backstage Disney offering Bambi II: The Legacy Continues, which features talking heads such as director Brian Pimental and the production team discussing what an undertaking it was in living up to one of Walt's favorite pictures. Best of all is meeting the precocious kids behind Bambi and Thumper's voices, most notably Alexander Gould, who also brought a rounded performance to his role of Nemo in Pixar's Finding Nemo. In a featurette-sized eight-minute look behind the scenes, we don't learn an awful lot, but it packs a ton in and most scary was the fact that Gould is already looking ahead to when he can tell his kids that he was Bambi (though he does recognise that he could never top the original – good kid).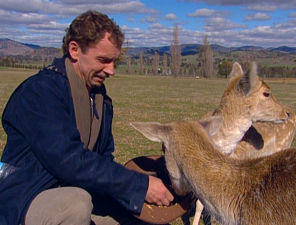 Next up, in Games And Activities, Disney's Sketch Pad animator Andreas Deja is forced…oops, sorry…pleased to reveal the tricks of his trade and demonstrate how easy it is for a top flight Disney artist to draw the little deer. It's a feature that has become more and more common on such kid-friendly DVDs, so presumably little ones are grabbing the sheets of paper and starting out on their Disney careers. Being much like another feature that had Deja recently speaking to Leonard Maltin in the Walt Disney Treasures line, this four-minute piece is not unwelcome, as its always magic to hear Deja talk his craft and how he goes about bringing such icons to life.
If the movie is aimed at a younger audience, then goodness knows how young one must be to truly appreciate Thumper's Hurry and Scurry Game, in which the player must aim their remote and help Thumper's sisters find the hidden bunny in the forest. Featuring nice set-ups and recycled animation from the movie, there's not much more to this than that, though the unending possibilities at where Thumper could be hiding could have one playing for hours! Lastly, Bambi's Trivia Track is again for the little ones, being a subtitle that plays during the movie and throws up the occasional bit of info on Bambi's animal world – one for the grown ups interested in the actual making of the movie to give a miss.
The Platinum edition of Bambi last year provided first looks at this new chapter by way of having voice member Patrick Stewart play up the film. It would have been nice to have those two segments handy again on this disc, as well as the film's trailer that has appeared on recent Disney discs, but they are all absent here. There isn't much else that could have been included…but look on the bright side – at least we haven't been fobbed off with a Disney tween pop video of Little April Showers!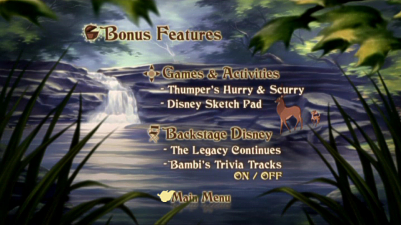 And, in a welcome and unexpected touch, and while only indicated on the inside of the packaging, this little disc has been touched with that rare DVD-ROM offering from Disney, even if it is only a Learn To Draw Thumper feature for the teeny ones. Sufficient instructions are given so that even the most art-phobic can create a passable version of Bambi's bunny friend, with a step-by-step guide option or printable help available.
Case Study:
A foil-embossed outer slipcover comes with initial pressings (don't forget that Bambi II is going into the vaults after only 70 days on sale), while a chapter index card provides the stop points. Most frustratingly, and while I have no qualms with the movie itself, the back cover sates over and over that this is "the eagerly awaited next chapter", and words to the effect that "Bambi's magnificent tale continues", when really this is nothing of the sort.
Ink And Paint:
Though it was completed late last year, Bambi II gets a 2006 copyright date – and we're only a month or so in! So, the image should not look anything less than stunning, and I can report that this is the case, with colors locked into place and a strong, shimmer-free digital transfer that stays away from the usual too-bright levels of a DTV title and sticks with its darker intentions. Unsurprisingly, the feature looks great blown up to larger proportions, and will work well in Europe, where Bambi II is set for release on the big screen.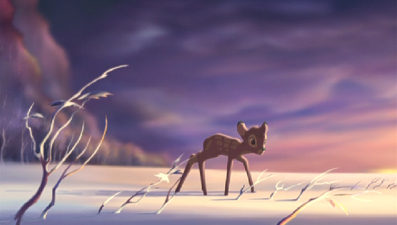 Scratch Tracks:
With only a 73 minute run time (actually closer to 72, with seven of those devoted to the end credits), the audio on the disc sits comfortably with the impressive picture. Presented in Dolby Digital 5.1 and DTV-friendly DTS, I will, on this rare occasion, talk up the DTS track here, since it really does outshine the Dolby mix over than just the usual extended bass. Not that the Dolby track is lacking, but if you have the equipment, the DTS simply sounds like a theatrical quality track – surely the benefit of the movie going to some countries theatrically. Fully enveloping stuff, with English subtitles additionally offered.
Final Cut:
Predictably going for the younger, rounder, cuter and much more marketable version of Bambi for this second, years-later outing, Disney seems to have just about managed the improbable and produced a film which, while not totally needed, does nothing to diminish the impossible to touch original and doesn't embarrass itself either. As such, it's another in the line of unasked for "franchise extensions", but one that has its heart very much in the right place and comes out, for all the expectations weighted upon it, with hardly any egg on its face. Those out to bash these films will find numerous things wrong with it, while those who accept that Hollywood is a number crunching business that will endlessly put stuff like this out may find that Bambi II is actually much better than it has any right to be.
Animated Classic or Back To The Drawing Board?