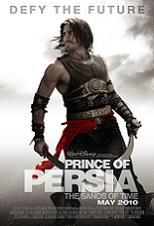 Julian Caldow has been working in art departments for over twenty years, spanning features, commercials and pop promos. Among his movie work, he also provided storyboards for films such as Batman , Tomb Raider, and Harry Potter 2 and 3. He's also reaching completion of a short film, S-N-A-F-U, which he wrote, directed and produced.
But today, we're talking with him about Prince Of Persia: The Sands Of Time, Disney's blockbuster adaptation of the hit video game, for which Caldow was involved as a production illustrator.
---
Animated Views: How would you explain your role on Prince Of Persia: The Sands Of Time?
Julian Caldow: I was one among a team of illustrators on Prince Of Persia: Peter Popkin, Kim Frederiksen and Neil Ross. It was my job to take Wolf Kroeger's sketches and apply them to the locations found for the production. Through the sketches it could be determined what needed to be physically built and what would be added in post production. I also worked on the layout of the palace and extensively on the subterranean section at the films finale most closely with Art Director Rob Cowper.
AV: How did you come on the project?
JC: I had been originally assigned as a storyboard artist working out of London offices but out in Marrakech they desperately needed some visuals and knew I did illustration as well. So they asked that I work on location for a couple of weeks. Four months later I was still out there.
AV: How did you work with production designer Wolf Kroeger and weave yourself into his vision?
JC: You don't weave yourself into his vision. You quickly align to it. Wolf had a very clear vision and an excellent team. His office had carefully organized tables of reference and he takes you through each set idea meticulously. He is very exacting. You know very soon if you've got it wrong. He'll let you know in no uncertain terms. I think he got some of my best work out of me.
AV: Did you work on any scenes that were ultimately deleted?
JC: One scene I was involved in that was cut was the Piston Room, a vast stone engine that Dastan had to negotiate. I worked on it for a long time, it was quite complex and covered in Indian style detail, all mapped out in 3D, textured, rendered etc. This scene was replaced with the Sand Room which I also worked on extensively.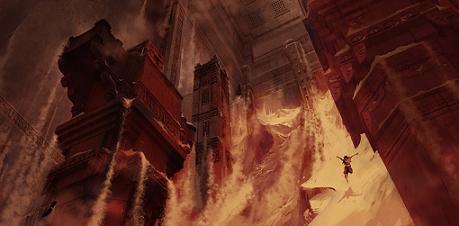 AV: About Alamut: can you tell me about your approach to that sacred city?
JC: Again, this was really born out of the locations and Wolf's sketches and ideas. I did some early sketches really to give a sense to production of what they were getting but Peter Popkin and Tino Schaedler really figured out the layout among others. But the look was all Wolf's. A famous painting of the Tower of Babel by Brueghel was a big inspiration.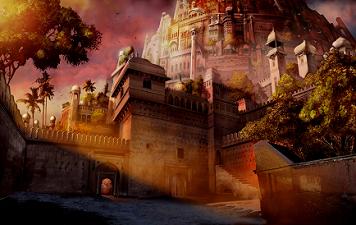 AV: It seems as a mix of actual ancient Persan architecture and Indian influences.
JC: The city of Alumut was supposed to be geographically closer to India so that's where those influences came from. From their amazing water palaces. From detail of the Red Fort in Delhi, the hilltop Fort in Jodpur and the Saraswathi Temple in Rajasthan.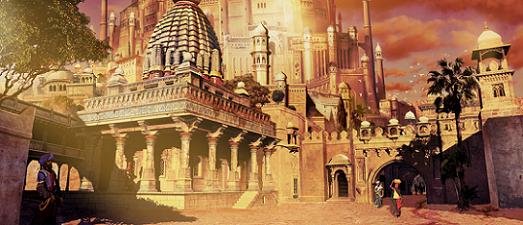 AV: How did you find the right balance between a fantasy environment and a realistic environment?
JC: The key to that I think was the scale but keeping the detail real. Nothing was really invented stylistically as far as I was concerned. It was really a question of applying real ancient detail to structures on a fantasy scale.
AV: Did you refer in any way to the original video game?
JC: I didn't look at the game at all. By the time I could have, I had no access to a console. I saw some screengrabs but ultimately it was Wolf's ideas. I think the game makers were pretty happy with what they saw. The characters of course were much closer to the game.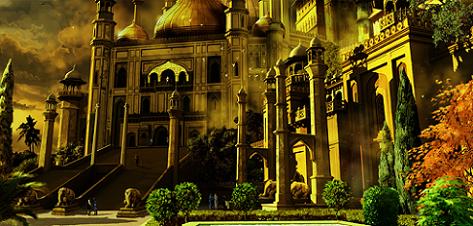 AV: What is your favorite illustration of yours on this film?
JC: Difficult to say. As a body of work I was generally happy with it. I will always go straight for the mistakes here and there when I look at them. I leave that for other people to decide. I suppose it was an early 3D render of the Piston Room. Mainly because it got a very positive reaction from the Wolfmiester.
AV: What was the most challenging one to do?
JC: The Piston Room in terms of complexity. The Sand Room in terms of the time we had to do it. That dagger would've come in handy toward the end of the shoot.
AV: Just a word on Clash of the Titans. What do you keep from that experience?
JC: Nice experience. Short schedule but a lot of freedom. Martin Laing was designing. Very nice guy; we met way back on Tim Burton's Batman. I was mainly doing Olympus on Titans, which changed quite a few times. Originally Martin wanted an Olympus open to the elements but that was deemed prohibitively expensive FX wise. Strange because it changed radically in post production!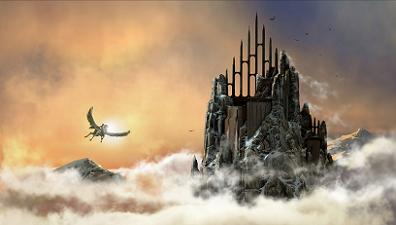 ---
---
We Make Our Own Destiny: Behind the Scenes of Prince of Persia:
The Sands of Time
is available to order now from Amazon.com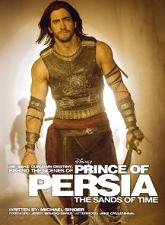 ---
Artwork by Julian Caldow, ©Disney. All rights reserved.