Dawn Brown is a designer and artist in the film industry. Born and raised in the suburbs of Kansas City, she moved to Hollywood in search of fame and fortune in the movies. She is now an established set designer and concept artist, frequently working on big-budget feature films like Transformers, A.I., Ocean's Eleven and many more, with award-winning designers and directors.
In between film projects, she indulges her passion for comic books and has created two critically acclaimed titles, Little Red Hot and Ravenous.
On Disney and Tim Burton's Alice in Wonderland, she took part in the conception of the sets for the Red Queen's Castle and tells us about her approach to the environment of that unforgettable, mean character…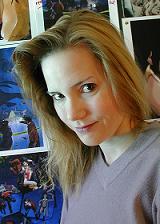 ---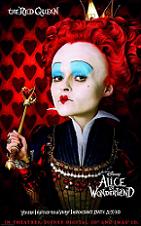 Animated Views: How did you become an illustrator?
Dawn Brown: All my life, I have wanted to draw. After graduating from college, I moved to California to pursue a career in animation. As hard as I tried, I just could not make that happen. I just didn't have the chops. After a few years bouncing around entry-level jobs, I ended up as a production assistant in the art department on a television program called SeaQuest DSV. This was my first exposure to the various crafts in a television art department. Set design, Illustration, Model making, Storyboarding, Graphic Design, etc. I knew this was a good fit! I knew I could make a home for myself here. I have experience in all of these crafts, and in 1995 I had the opportunity to join the Set Designer's branch of the union. I focused on my drafting skills and learned from the very best draftsmen and women in the industry. But over the last several years, computer technology has really taken over set design, And I have no interest whatsoever in computer drafting. It has always been about the drawing for me. After years and years of persistence, I finally had the opportunity to join the Illustrator's branch of the union in 2007. I am grateful for a new direction to develop my skills as an artist and designer.
AV: May you tell me about your first collaborations with Tim Burton?
DB: I first worked with Tim Burton on Superman Lives back in 1998. It was loosely based on the Death of Superman story arc that was popular in the comics some years earlier. I was working on Superman's Tomb.
Then I worked on Planet of the Apes a couple years later. I enjoyed watching the actors in full ape makeup trying to eat lunch in the cafeteria. They had to feed themselves by looking in a mirror to guide their forks through those giant prosthetic mouths. It was a kick to see these big giant gorilla soldiers with forkfuls of food hunched over dainty little hand mirrors, trying negotiate their lunch through these thick rubber lips they couldn't feel and could barely move.
In 2002 we went to Montgomery, Alabama to shoot Big Fish. Working on location is probably quite similar to being in a traveling circus. You're working in a different place every day, and at night, the whole crew hangs out together. The crew becomes your second family. In 2008, Tim returned to Los Angeles for Alice in Wonderland after several movies in London. It was nice to see familiar faces from the Big Fish and Apes crews. Of course, I hope to be involved with Tim's future projects, whatever they may be.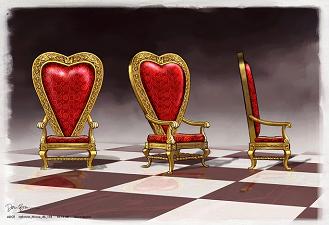 AV: How and why did you come on to the Alice in Wonderland project?
DB: The Supervising Art Director, Stefan Dechant, invited me to join the team. I have worked with Stefan before, and he has been a friend for many years. I worked on Alice from July to December, 2008. I have quite a bit of experience designing furniture for films, and I was brought on Alice specifically to work with the Set Decorator, Karen O'Hara.
AV: How did you work with Karen?
DB: Karen is fantastic, working with her was truly a pleasure. She knows what she wants, and also allowed me enough room to incorporate my own ideas. I would prepare concept sketches for Karen based on her direction, and then she meets with Tim and with Rob Stromberg, the Production Designer. Then she comes back to me with revision notes, or if it's approved, it goes to the set designer for blueprints and then it goes to the shop to be built.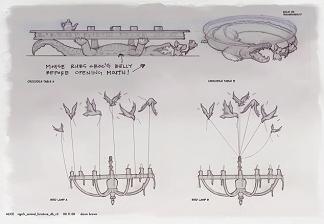 AV: Some of your furniture integrate animals. Can you tell me about that and how furniture can help tell a story?
DB: That was all in the script. There were different animals for everything. Way, way more than what ended up in the film. The point was that the Red Queen accumulates all these exotic creatures and makes them her slaves. To illustrate her obsession with control and power, and that these creatures are really afraid of her and very unhappy. It's the small unspoken details that are so important in telling a story like this. You can watch the movie again and again and keep finding these little details. I really wanted to make that clear in the body language of these animals. Imagine two wild, strong crocodiles being reduced to holding up a table top. What does that say about how incredibly strong and scary the Red Queen is? She's stronger than a croc! She can summon a wild pig beneath her feet! Creating this world full of these savage beasts under her thumb not only illustrates how evil she is, but how strong Alice has to become to defeat her. Unfortunately, most of what I did was cut from the film. They ended up using one monkey in a bellhop suit for most of the furniture. It just doesn't make the same statement. Oh well, that's showbiz!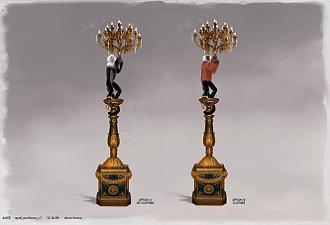 AV: Can you tell me about your Wonderland version of classic master paintings?
DB: That was a really fun assignment! Karen wanted lots of artwork in the Red Queen's castle. I was given the original images to adapt. I don't know on what basis those images were chosen. I approached the portraits with the intention that these people were members of the royal family, some of them would have large heads, or heart-shaped hair, or other general quirky features that tied this crazy family together. For the landscapes, I added the Queen's Castle to the backgrounds. Always with the intention of matching the original artist's style. I did over 25 paintings, but only saw one in the movie. I do not know where the others came from, not sure what happened there.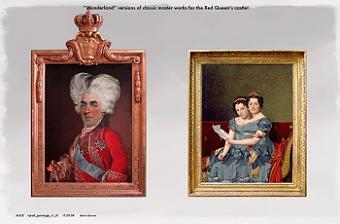 AV: How did you create an environment specific to the personality of the Red Queen?
DB: I read the script, and I've worked with Helena Bonham Carter in Tim's other movies. I really wanted to do something fun and quirky that was in line with where her character was coming from.
AV: Did you reference Sir John Tenniel's illustrations for Lewis Carroll's original Alice?
DB: John Tenniel's wonderful illustrations were among the many many resources we referenced and drew inspiration from.
AV: What kind of memories will you keep from your experience on that production?
DB: I remember working very fast! Six months is a very short amount of time to design an entire world like this. We were rushed so post-production could have enough time to do their thing. Personally, I don't think we had enough time to do our thing, but hey, something's got to give. I will also remember working with some of the finest artists and designers in the film industry, and they inspired me every day.
AV: Did the fact that Tim Burton was part of it influence your approach to it?
DB: Alice in Wonderland was my fourth project with Tim. Each project had it's own vibe, it's own artistic direction. Sometimes I think people assume that because it's a Tim Burton film, it's going to be filled with curly-cues, spirals, and black and white stripes. People assume it's going to be whimsical, dark goth. And I feel that is kind of an unfair expectation to be saddled with. It is the Production Designer's job to lead the look of the picture, and it is an added challenge to incorporate the director's visual trademarks.
AV: Did the fact that this was Disney's second attempt at Alice (after the original Walt Disney classic) influence your approach?
DB: No.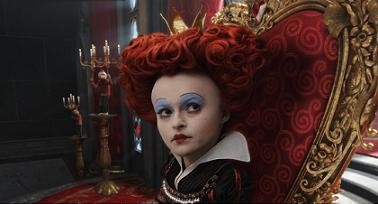 AV: You've also been working in the field of comic books, and you once met Bob Kane, the creator of Batman. Can you tell me about that meeting and how it inspired you in your work?
DB: I was working as a set designer on Batman & Robin at Warner Bros. The prop master, Brad Einhorn, told me that Bob Kane would be visiting the set and offered to introduce me to him. Brad knew I was really into comics and really into Batman. I kept a copy of Frank Miller's The Dark Knight Returns in my desk, and I asked Bob Kane to sign it. He was very kind and gracious. He seemed sincerely awed by the scale of our production. Regardless of what people say about the final film, those sets really were incredible. To this day, I have not worked on another film with so many sets of that scale and scope. It was inspiring to see how one person can create something that can grow into something so big. I was motivated to pursue an idea I had been developing, a story about a bounty hunter married to the devil. That idea became a comic book series called Little Red Hot, which was published by Image Comics in 1999 and 2001.
---
All artwork by Dawn Brown ©Walt Disney Pictures.
---
---