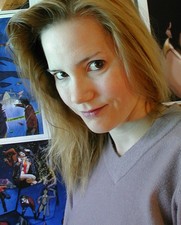 It all started on a Halloween night in 2011. Illustrator Dawn Brown transmogrified from concept artist (Oz, The Great And Powerful ; Tim Burton's Alice In Wonderland) into director.
As she had taken a good bite of that Midnight Snack, she wanted to renew the experience in creating a brand new web series called House Of Monster, which made its debut on July 28, on Vimeo.
In this series, Christopher Lloyd stars as Dr. Gaulstone, the patriarch of a dysfunctional monster family, which includes werewolves, mummies, zombies, and vampires. Best described as Nightmare Before Christmas meets Looney Tunes, House Of Monsters follows these creatures and their friends through adventures in an ominous castle and its neighboring village.
Dawn Brown kindly talked with us to explain how she moved behind the camera to start telling stories of her own, wearing many hats and serving not only as a director, but also as a designer, animator and editor for House Of Monsters.
---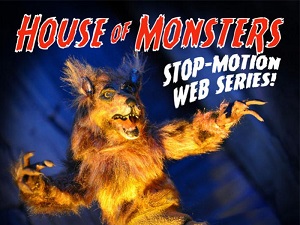 AnimatedViews:
How did you get from the first idea to the awarded short and to the
House of Monsters
web series?
Dawn Brown: A friend of mine hosts a Halloween-themed art show every year, and I was thinking of a piece for the 2011 show. I was just getting into stop-motion at the time. I've always loved the art form and wanted to take a break from working for the big studios and create something of my own. The art show seemed like the perfect motivator for jumping further into my interest in animation and creating something with monsters for Halloween. What resulted was a 2 minute short called Midnight Snack about 5 hungry monsters clamoring for the last bit of food in the castle. I made it in 3 weeks. It was great fun. People reacted so strongly to the mummy character, I wanted to keep developing this world. In 2012, I made the first House Of Monsters short about an itchy mummy trying to find some relief. It was well received and won a few awards on the festival circuit. Again, I was encouraged to keep building this monster world. Given my limited resources, making short films seemed like the best way to go. In 2014, we ran a successful Kickstarter campaign and raised the funding to get started on two more shorts. Hence, the House Of Monsters web series!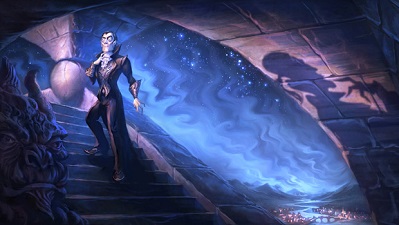 AV: How did you come from designer to the idea of creating your own movies?
DB: A designer always has to consider the context of any given assignment and how it relates to serving the story and the characters. When I was designing the animal furniture for the Red Queen's castle in Alice In Wonderland, I had to consider the emotion, the body language of these enslaved animals, and what that says about how powerful the Queen was. Who was this woman who can command crocodiles and apes to hold still and serve as her table for tea? Who is this woman who can command such fear and obedience from these creatures? Everything that is designed for the screen has to continue to tell the story. I have always been immersed in that kind of thinking, and it seemed natural to take the next step and start developing stories of my own.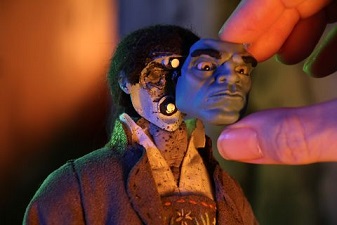 AV: What challenges did you face in changing like that?
DB: It was wonderful! I loved every day. My greatest challenge moving forward is that I need to find enough financing to properly hire a full crew. Warren and I did almost everything ourselves and it has taken quite a toll. I am exhausted! The Kickstarter funds just barely covered the cost of supplies and equipment. We had a few friends volunteer here and there, but it is unreasonable to expect anyone to volunteer the amount of time and commitment required to make these shorts.
AV: Can you explain the choice of that thematic about monsters?
DB: I'd like to keep it open for people to interpret the themes however they like. Clearly there are broad messages about love, sacrifice, freedom, and inhibition. Using monsters to explore these themes provides for some fun opportunities!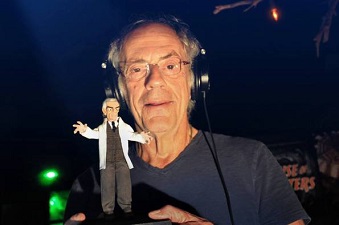 AV: Why did you choose stop motion?
DB: I've always enjoyed stop motion. I grew up with the Rankin/Bass holiday specials. There is something so charming and enchanting about the art form. After years of developing designs for other people's movies, I wanted to do something of my own. I just jumped into stop motion, and you can learn just about anything with the help of the Internet!
AV: How do you explain that, often, stop motion is associated with monsters (Nightmare Before Christmas, ParaNorman, etc)?
DB: That is definitely true! I don't know why it works out that way. Maybe because the staccato feeling of this technique naturally adds a little creepiness that serves monster stories very well.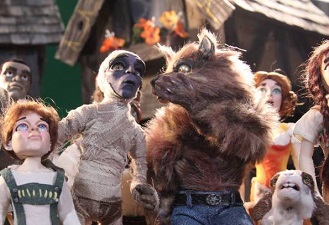 AV: Since horror has often been treated by stop motion techniques, can you define your personal touch?
DB: I would like to believe my background in live action fantasy films serves very well in stop motion. Because everything in stop motion is real, you have to consider designing a real space. The sets, the props, the lighting all have to come together and work with the characters. I've seen a lot of stop motion films where it is obvious all the attention to detail is put into the puppet, but their world is disregarded as an afterthought. That's not me at all.
AV: There are some important differences between the short and the series in terms of the presence of dialogue or not, and of design. How did you evolve from one to the other?
DB: The 2012 short did not have any dialogue or narration, and as my confidence in my animation skills has grown, I decided to add a little dialogue to the new shorts. I wanted to keep pushing my skills as an animator and as a filmmaker.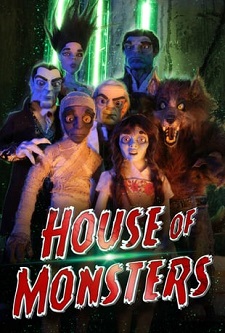 AV: Why did you choose a web series, as a form?
DB: Mostly due to limited resources of time and money, shorts seem to be the most logical choice.
AV: How did you build your crew, and how did you collaborate with them?
DB: In regards to Mansart studios, specifically, Warren Manser is my husband. He is a concept artist as well, and this is our first real collaboration together. He handled the character designs and the digital sculpting for the replacement faces. The rest of the art department was comprised of friends who briefly volunteered their time here and there. The sound team was recommended to us because they had specifically worked with Christopher Lloyd. They were fabulous!!
AV: Did you face specific challenges during the production?
DB: Honestly, it was a real pleasure. Being your own boss has its privileges! We were very lucky that there weren't any major problems or challenges. The biggest challenge was simply that it was a lot of work for two people. That is something that can easily be remedied in the future.
AV: How do you see the future of House Of Monsters?
DB: It is such a joy to create something that is connecting with the audience. The feedback from the viewers has been so humbling and inspiring. We are motivated to take House Of Monsters to the next level, whether that is a feature film, or more episodes, or whatever. We need to find a studio or financial partner who can see the potential of House Of Monsters, and wants to join our team. I see a future filled with lots of fun and lots of monsters!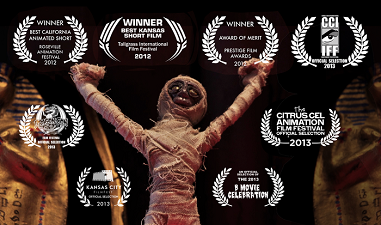 For more details about the making of House Of Monsters, visit Dawn Brown's You Tube channel here!
---
---
Our thanks to Dawn Brown!