We previously met composer extraordinaire Harry Gregson-Williams when he scored the first and second opuses of the Chronicles of Narnia saga, bringing an unexpected poetry and density to the universe created by both C.S. Lewis and Andrew Adamson.
That unexpectedness of Harry Gregson-Williams' style is definitely one of his signatures, using music not as a mere decoration but as bringing a unique light, offering a unique point of view to the movie. Now, he strikes again with two major movies of this summer, Disney's Prince of Persia: The Sands of Time and DreamWorks' Shrek Forever After, films that wouldn't have been the same without his unique touch…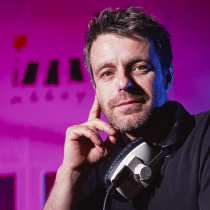 ---
Animated Views: What were the challenges of scoring Prince of Persia?
Harry Gregson-Williams: First and foremost, the challenge was scoring a Jerry Bruckheimer film. It's a very specific thing. When I was kind of starting in Hollywood, I worked with Hans Zimmer on a couple of movies like The Rock and with Trevor Rabin on Armageddon. A few years later, I have done a couple of movies myself with Jerry, Veronica Guerin, which wasn't a very typically Jerry Bruckheimer movie, and then Déjà Vu, which I kind of did by default because I was working with Tony Scott and it happened to be a Jerry Bruckheimer film. So, I guess this is the first action film I did with Jerry. I was kind of concerned about it, that it wouldn't suit me at all. But the challenge was too attractive to miss, really; the geographical nature of the film.
AV: You taught music sometime in Egypt and North Africa in general. Did that experience help you in any way in scoring a movie like this taking place in Persia?
HGW: Not really. I did Kingdom of Heaven a few years ago. That probably helped me more, because I researched quite widely about Middle East instruments. I took a lot of time, many, many months struggling with whether I should be writing a Middle Eastern tune with a more conventional Western arrangement or whether I should be writing a Western with a Persia arrangement around it. So, I had to deal with very similar puzzles on this film.
It's part of the unique challenge working in Hollywood as a film composer: we are always looking for different challenges and I knew that Prince of Persia would be the kind of score unlike anything else I have been asked to do. When I had my first meeting with Jerry Bruckheimer, he said: what we are looking at here is a big, epic romance like Lawrence of Arabia. I don't have to say anymore. My score doesn't look like the one of Lawrence of Arabia, but it meant to me that I could use a kind of a large canvas like this one.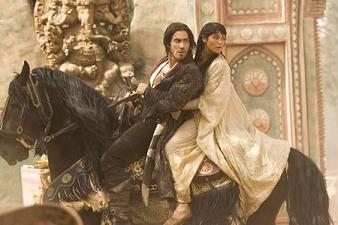 AV: Indeed, when thinking a priori about a Jerry Bruckheimer movie like Prince of Persia, we expect a large, action score and in fact your score has a very lyrical and romantic aspect to it.
HGW: That's why I mentioned Hans earlier. I'm a realistic person. I'm sure if Jerry could have waved a magic wand he probably could have Hans to score Prince of Persia. It's a bit like when I did Kingdom of Heaven: I couldn't torture myself to come up with "Gladiator 2". I had to be myself, to try to do what I can do not worry about the standards and conventions set by my colleagues in other Jerry Bruckheimer films or the Ridley Scott films. So I looked at Prince of Persia and, clearly, the relationship between Dastan and Tamina was the jumping-off point for me musically, not the action scenes at all.
AV: How did you go from Kingdom of Heaven to Prince of Persia?
HGW: The two scores have little in common, really, just the location of the movies. Kingdom of Heaven was based on historical events – it was about the Crusades, so there were a lot of religious overtones. There is nothing like that in Prince of Persia, it's completely fantastical. It's all pretend, it's all made-up. And I think you can hear that in the music. For the main themes of Prince of Persia, I wanted to try something that, if you closed your eyes, you might be watching a film from a long time, I don't know, from the fifties or sixties, even if the movie had to catch and keep the attention of young kids. So, there were action cues to be done, but the overall score remains a sweeping, romantic score.
AV: Just like in your Narnia score, there's a beautiful and most effective association here of ethnic instruments, large symphonic orchestra and electric instruments like Hugh Marsh's electric violin.
HGW: This kind of a hybrid score fusing different elements, organic, electronic, orchestral, non-orchestral – that's really part of my process. It's just part of my sound. My music is always character-driven and driven by what the music seems to require.
AV: Did you happen to get to the original videogame?
HGW: Not at all. The director, Mike Newell explained to me what he had sort of picked up from the game and brought into the movie. Really, that's two very separate things. I had very little to do with the game and I can assure you there was enough for me to do dealing with the movie itself. The script for Prince of Persia was my first port of call and then an early cut of the film that was over three hours long. It took a while for the director and the editors just to find the movie. During this time, I was writing a score for a longer movie.
But that's often the case. I'm going through exactly the same process on Ben Affleck's movie right now. It's a movie called The Town. We're in post production and he hasn't quite locked the film, he hasn't quite final cut it. So that means that music cues that once were fitting perfectly within the film now will need to be re-examined to work with the latest editing of the film. As a film composer, you've got to be aware of that and embrace it as opposed to try to work against it.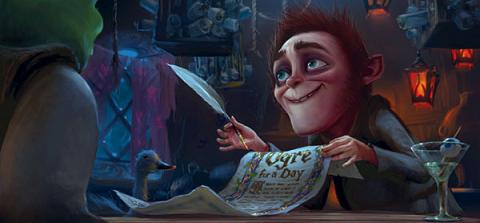 AV: Now, with Shrek Forever After, your score for that last chapter seems the deepest of your Shrek scores.
HGW: I hope so. Again, with Shrek Forever After, when it was presented to me, I looked at the film for the first time and I worried about how I was going to contribute to the film and how my contribution would be significant but set apart from the other Shrek movies that I've done. By the time I finished watching the film, I was completely taken in by the emotion and the friendship of the main characters. They're so endearing, they're such strongly written characters now. So, I figured that if I could stay true to the original breath from the very first movie that John Powell and I did, I would be able to track the emotional ark of Shrek and Fiona. If I could continue along this path, everything would be fine. And I think that was the case.
AV: Indeed, your music fits the movie perfectly, but at the same time is able to speak for its own and bring a unique view to the film, different from the humor and irony the Shrek movies are so well-known for.
HGW: Donkey does not need too much help in making the audience laugh. It's not part of the score to underline that. Because the characters are so strong, it's been a pleasure to let that side of the movie, the humorous side of the movie play and kind of track the emotion ark of the characters.
AV: The story is also driven by this new character, Rumpelstiltskin.
HGW: When I first watched the movie, one of my first questions to the director was: who the heck voiced that character? And the director, very proudly, let me know that at this stage – we were like a year before the film was finished, so there was still enough time for something to change if it had to change – it was one of the storyboard artists of the crew, Walt Dohrn. He had done this voice in a temporary way, so that perhaps the filmmakers would go out and get a named actor to do this. But there was no way anybody could do any better and they kept coming back to Walt. So, he was a great character to write for. On every Shrek movie, there's usually one or two new characters and they're usually my starting point to write the film.
AV: The Shrek scores are also beautiful fairytale scores. How did you approach that aspect of that universe?
HGW: I've never really been the kind of person who looks back at things or reference. I tend to look forward and just reach forward for whatever the character seems to need. But yes, I particularly enjoyed scoring the Shrek movies because of that fairytale angle. But what has been so cool about it is that it's always been irreverent. You believe you're in a classic fairytale, then something happens to make you realize that it's not the case at all! But, again, it usually comes back to the relationship between Fiona and Shrek which has always been fascinating.
AV: Will you be part of the upcoming Puss-in-Boots spin-off that is being produced?
HGW: No, I think the directors are looking for a new, fresh approach. But I look forward to seeing what DreamWorks does with that one!
---
---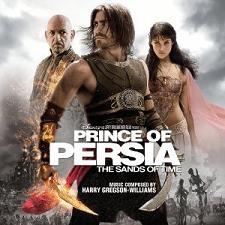 ---