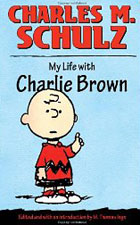 My Life With Charlie Brown
By Charles M. Schulz
Edited and Introduction by M. Thomas Inge
University Press Of Mississippi
April 1, 2010
Hardcover, 144 pages
$25.00
---
---
One tragedy of Charles Schulz's death in 2000 was that he had never written a full-length autobiography. Of course, he really didn't have the time. For fifty years, his were the only hands that worked on his multiple award-winning Peanuts comic strip, an achievement never approached by another cartoonist. He did manage the odd vacation, but it would take him many months to work far enough ahead to allow that to happen. And really, he poured so much of his soul into the strip that we all probably felt like we knew him already. Maybe we really didn't need all the details of his life.
Still, it would be nice to know more about the most successful cartoonist of all time, and it would be nice to hear it in his own words. Fortunately, he was often called upon to share his thoughts in prose. Whether it be for book introductions, speeches, or magazine editorials, he managed to produce a nice inventory of writings that serve to shed light on his background and his ideas. University Press Of Mississippi and editor M. Thomas Inge have assembled many of these writings into a new book, My Life With Charlie Brown, which has recently been published. Though many of the pieces have seen publication previously, it has been many years since they have found their way into a new printing of any kind. Plus, many of the pieces have never been seen (or heard) by the public.
An Introduction by the editor gives his own views on Peanuts and then explains the purpose of the book. Rather than printing every little thing that Schulz ever wrote, the book focuses on developing a portrait of Schulz himself, and his thoughts on his famed comic strip. Therefore, one will not find such items as the many introductions he wrote in compilations of other comic strips for his illustrious friends in the field. An interesting Chronology of major events in Schulz's life follows the Introduction.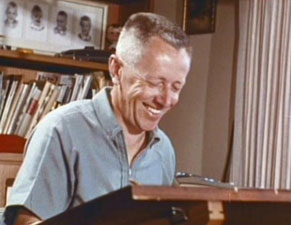 From there, the book is divided into themes, eschewing any chronological order. For those looking for an autobiography, they will be well served by the first section, My Life. In particular, the first piece, My Life And Art With Charlie Brown And Others (first printed in a 25th anniversary book), sees Schulz discuss his upbringing and the major events in his life at the half-way point of his fifty-year run on Peanuts. He describes his many influences, ranging from his parents, the newspaper funnies, to art instructors, and to colleagues at the correspondence school at which he taught. He also brings up his time in World War II and various moves he made with his family. This little fifteen-page essay is packed with information. Next, Peanuts As Profession Of Faith has Schulz baring his feelings on using theology in the strip. He was often careful to say he wasn't pushing a religious agenda, but this piece brings his motives into good focus. He knew what he wanted to say, but he also knew how to make it palatable to the masses (and his editors), and avoid being too preachy. He then gets bolder yet when giving a Commencement Address To St. Mary's College, where he knew his audience would be receptive.
More details of his life, and his work on his Peanuts films, comes in a piece he wrote for Cartoonist Profiles. Next up are articles giving details on his ice rink, his anxieties (nothing too heavy, though), sports, travel, and more; and most of these writings also give further information about his history. After reading this section, one gets a pretty good idea of who Schulz was, and roughly how he ticked. The details are illuminating, such as where some of his characters got their names from, and the writing is sure. It is also pretty positive. Never does Schulz sound depressed, bitter, or resentful. He does own up to a few faults and disappointments, but one always knows that Schulz feels pretty lucky overall to have led the life he did, and to have great success in a field that he loved.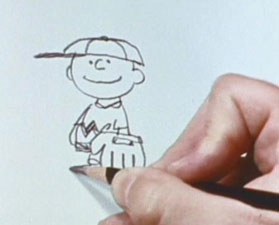 Speaking of which, the next section is titled My Profession. For those fascinated by the art of cartooning, this is the section to read. As much as I enjoyed the autobiographical chapters, this is the part with which I had the most interest. Developing A Comic Strip was a piece he wrote for the correspondence art school, and within a few pages he spills his philosophy of getting started in the profession, both in terms of attitude and logistics. The advice is practical and realistic, but would still be positive for someone in the proper frame of mind. Further chapters touch on creativity, inspiration, and the details of how he arranged his workday. For the Schulz enthusiast, this is gold. Once again, the longest and best piece in this section comes from the 1975 book Peanuts Jubilee: My Life And Art With Charlie Brown And Others. Anyone with that book on their bookshelf probably has the best that this present book has to offer, but other pieces he wrote for Liberty, The New York Herald Tribune, Writer's Yearbook and more prove to be indispensable, featuring his comments on the television specials, the best-selling books Happiness Is A Warm Puppy and The Gospel According To Peanuts, and even a little on the Broadway musical.
Schulz is sometimes portrayed as being a quivering mass of anxieties who could scarcely enjoy his success; but quite on the contrary— I was left with the impression that he was extremely (and justifiably) proud of his accomplishments, though he did remain humble. He always sought to improve himself, but mostly out of a sense of professionalism, not due to insecurity. One of my favorite pieces in this section was a lengthy address he gave to his peers at the National Cartoonists Society Convention. It is true that Schulz did not always feel comfortable with people, but he knew where he belonged. He admired his fellow cartoonists and it was with them that he may have felt most at home. His advice to them was that they should recognize their work as a business, but still remember that they love it too. He could not relate to anyone who found the profession overly stressful. He saw many advantages in being a cartoonist, and like many it was something he had aspired to all his life. He also loved the medium itself, and warned against trying to ape other media when doing a strip.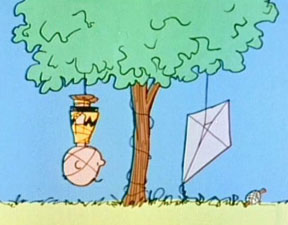 In the section My Art, the lengthiest piece again comes from the 1975 Peanuts Jubilee book. This one addresses the themes in Peanuts and how he saw some of the characters in the strip— both the successful and unsuccessful. A 1969 article for Saturday Review sees Schulz discuss how a comic strip must be willing to grow in both its cast and its themes in order to survive and remain popular. Finally, a TV Guide article entitled What Do You Do With A Dog That Doesn't Talk? has Schulz talking about the trickiness in adapting his strip to television specials. As I was reviewing this book for an animation website, this seemed like an appropriate place for the book to end.
All that is left in the book is an Appendix containing an essay that Schulz wrote for a literature class, and a poem to his second wife, Jeannie, which is the only piece of poetry found amongst his writings. An Index then provides the opportunity to track down particular topics in the book.
I have admired Schulz for a long time, mostly for his accomplishments in a profession that I have long held an interest. This book has only made my admiration grow. Admittedly, one wouldn't expect to find anything negative in this collection of writings, but how someone expresses himself can be very informative, regardless of whether or not he is "spilling dirt." It became clear while reading this book that Schulz was a consummate professional who loved what he did and was grateful for the life he led. His work ethic, common sense, and strong moral core served him well. He does allude to some rough times in his life, but I felt no need to intrude further. We all have low points over the years, but we are defined more so by our response to them. As he wrote in one essay, he used those times to push the strip in new directions, with ideas and themes that could not have ever come from a happy time. There's the lesson that we can all use, be we cartoonists or not: Schulz knew that we do best when we can turn defeats into victories. We should always aspire to succeed, even when life seems determined to beat us down.
I have written about Peanuts many times over the years, and yet is has always puzzled me a bit why I love it so much. Reading this book gave me the answer. The man behind the strip was quite remarkable, and his strip was a true reflection of him. Charles Schulz had a strong perspective on life that bled into the strip, and it is laid bare in this series of articles and essays. In life, there are a few truths that don't change, despite society moving towards cynicism and selfishness. Schulz always insisted that his strip reflect those truths that stay constant, and he believed that there was always a market for decency. His creation Charlie Brown, the perpetual loser, never gave up on being a decent person. No matter how his friends teamed against him, no matter how many kites he lost to the kite-eating tree, he remained true to his ideals.
Repeatedly in the book, we hear Schulz say that he was always surprised that people admired the philosophy in Peanuts, as he himself didn't know what philosophy they were referring to. This book brings that exact philosophy into perfect focus, and the good feelings the strip engendered are done the same trick by this book. It's a wonderful read for Peanuts lovers, and not a bad textbook for anyone on how to live his or her life.
---