Melendez/Mendelson Productions (1985), Warner Home Video (January 26, 2010), 1 disc, 49 mins plus supplements, 1.33:1 original full frame ratio, Dolby Digital 1.0 Mono, Not Rated, Retail: $19.98
Storyboard:
Clark Gesner's musical adaptation of Charles Schulz's Peanuts comic strip in turn gets adapted into animation.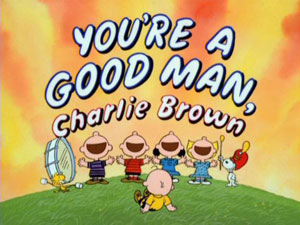 The Sweatbox Review:
Peanuts was never more popular than in the 1960s. Already a hit in the newspapers, the successful animated TV specials further fuelled the public's love of Charlie Brown and his fellows. The strip became a merchandising bonanza, but it also received one accolade in particular given to only the rarest comic strips. Like Li'l Abner previously and Annie a few years later, Peanuts got itself a Broadway show in 1967.
It's not quite as simple as that, actually. The musical show's songs were first featured in an album, with songs written by Peanuts enthusiast Clark Gesner, under approval of a delighted Charles Schulz. It was not long before Gesner steered his ideas towards an off-Broadway show starring Gary Burghoff (later M*A*S*H's "Radar") as Charlie Brown. A book for the musical was formed during production, by Gesner, the production staff, and members of the cast. Four years later, in 1971, the play made it to Broadway, where it played for almost 1600 performances. And since then, practically every school and drama company in America, and quite a few internationally, have put the show on. It is said to be the most-performed musical in history. It even had a prime time special performance on NBC in 1973. It's just another feather in the cap of Peanuts creator Charles Schulz. Though he had no involvement with the musical, it did have many familiar sequences from the strip, and he reportedly enjoyed it a great deal.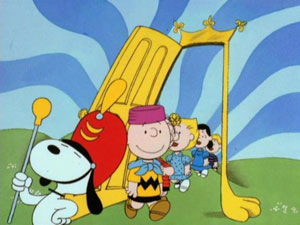 Eventually, cartoon producers Lee Mendelson and Bill Melendez agreed that it was feasible to produce an animated version of the musical, to be directed by Sam Jaimes. (This would be their 29th Peanuts TV show.) Thus, the comic strip begat an album, which begat a Broadway show, which begat a TV special. The one-hour special aired on CBS in 1985, with a predominantly child cast, as was traditional with the Peanuts specials. Despite being a fourth-generation adaptation, it still maintained the essence of the comic strip. It is a typically episodic affair, built around several songs sung by the various characters, reflecting typical themes from the comic strip. Watching the special reminds one of everything you have ever loved about Peanuts.
This is a musical, so be prepared for lots of songs, but there is dialog interspersed too, and it's all from the strip. The songs, being written by Gesner and only inspired by Schulz's work, come off as having a slightly different sensibility, but there is nothing that contradicts the Peanuts we love. It is only jarring to realize that the special had no room for the music of Vince Guaraldi, which was what always made the TV specials stand as their own phenomenon. At least the voice cast for the kids was kept young; the actors' young voices strain slightly during the songs, but it wouldn't seem right otherwise. Snoopy, by contrast, is voiced by an adult, albeit an adult with a whimsical voice. Snoopy always seemed worldlier than the kids, so it feels right. And don't worry— Snoopy's lines are all internal monologs, and the singing works just fine.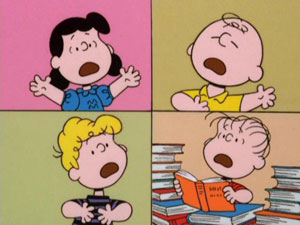 The strip has sometimes been accused of being melancholy or even despondent. Well, sometimes that was true; but it also could cascade with joy. The special starts appropriately, with a character study of Charlie Brown provided by himself and his friends. Despite their unflattering appraisal, the show proceeds with a rousing chorus of You're A Good Man, Charlie Brown that reveals that his friends really do respect him for all his good qualities. From there, Lucy serenades Schroeder while fantasizing about getting married, and later tells Linus what she will do when she is queen. Charlie Brown tries to fly a kite, worries about his lack of Valentines, and frets that the Little Red-haired Girl is watching him eat his lunch. There are baseball game miseries. The kids harmonize about a book report on Peter Rabbit. Lucy explains the world to Linus and gets everything wrong, which causes Charlie Brown to bang his head against a tree (Lucy suggests he is helping the tree loosen its bark to enable it to grow better). And, of course, Snoopy sings of his true love— Suppertime.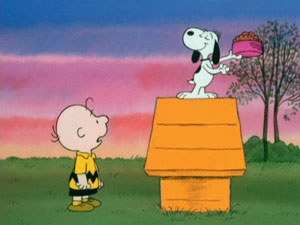 The complexities are remarkable when you stop to analyze them, but they are fully indicative of Schulz's take on humanity. Charlie Brown is an eternal loser who is constantly ridiculed by his friends, yet their affection for him is just as evident. Children are revealed as our greatest philosophers, even as they demonstrate a certain gentle (or not so gentle) brutality. Great joys come in small moments of simple observations. This latter point is most seen in the final number, Happiness Is, which puts everyone in such a good mood that even Lucy is moved to tell Charlie Brown that she actually thinks he is a pretty decent guy. Happiness is your worst enemy revealing her admiration.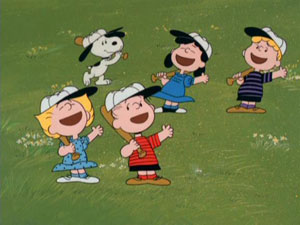 My own admiration for Charles Schulz knows no bounds. I've said it before, and will probably continue to say it anytime I discuss Peanuts. This man, the only one to work on the world's most humanistic strip during its nearly fifty-year run, was a genius cartoonist, touching many lives during and after his lifetime. I still see him as a deceptively mythic figure, whose life and life's work died at the same time; he passed away the evening before his last strip saw publication in 2000.
I watched this special with my son, not yet three years old. I worried he might find the songs boring, the action not sufficient. But wouldn't you know it— after watching You're A Good Man, Charlie Brown, my little guy looked up at me, beaming, and said, "That's a cool movie, Dad!" I dare say it brought a tear to my eye. He then asked politely if he could watch it again. And then again. He just loved it. Schulz's legacy lives on. And that makes me happy.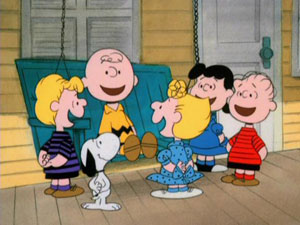 Is This Thing Loaded?
To no one's surprise, the disc begins with some promos for other Charlie Brown DVDs, but only ones already out— no sneak peeks. The only other Trailer on the disc can be found in the Special Features menu, and it is for Scooby-Doo! The Mystery Begins.
Animating A Charlie Brown Musical (14:43) is just the featurette you would hope for. Of course, longer would be better, but we do get a pretty decent overview of the special's genesis, beginning with Lee Mendelson describing how he was first contacted by Clark Gesner, and how he introduced him to Charles Schulz. Jeannie Schulz provides further remarks on how much Sparky liked the musical, as well as its success. They even found Broadway's first Charlie Brown, Dean Stolber, in order to provide commentary. Best of all, they included— this is so cool— footage of Charles Schulz on the The Tonight Show, chatting with Johnny Carson.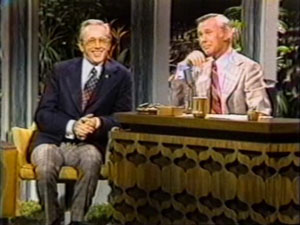 The special does have several chapter stops, though there is no menu for them.
With this being a double-length special already, we don't get any bonus specials this time out.
Case Study:
Warner has broken form a bit with this release, as it is the first of their remastered Peanuts discs to not rate a slipcover. Though I have always found them basically useless, now that it's gone I miss it, if only for wrecking the uniformity of my collection. The standard Amaray case has no inserts.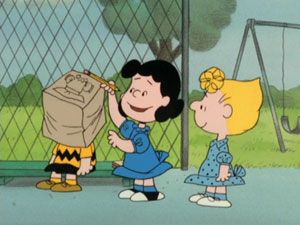 Ink And Paint:
The remastered special looks nearly pristine, with only very occasional dust showing. The print is in great shape, and the image is as solid as one could hope. No artifacts are evident.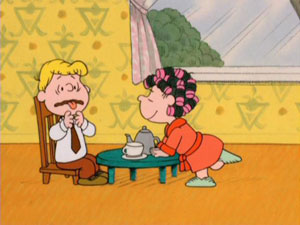 Scratch Tracks:
It is unfortunate that this special was only recorded in mono, but that is apparently the case. The audio is therefore limited in what it can do, but sounds fine for what it is. In addition to English, there are Portuguese and Japanese soundtracks available, though all songs are in English regardless. Subtitles can be found in the same three languages, as well as Chinese and Thai.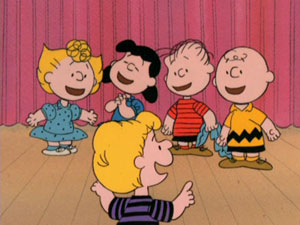 Final Cut:
Of all the specials, this one may summarize Charlie Brown and his Peanuts cast the best. It cannot be said to be the ultimate Charlie Brown show, however, due to the unfortunate but necessary absence of any Vince Guaraldi music. Nevertheless, fans should find this to be an entertaining and even uplifting entry in the Peanuts animated pantheon, one that properly presents Charles Schulz's creation in a positive and respectful light. The bonus featurette is short but otherwise perfect, making for a most satisfactory DVD.
Animated Classic or Back To The Drawing Board?