Mike Young Productions/Dong Woo Animation – Korea (2003), BCI (August 5, 2008), 3 discs, 286 mins plus supplements, 1.78:1 ratio, Dolby Digital Stereo, Rated TV-Y7, Retail: $26.98
Storyboard:
He-Man and the other Masters have to protect Eternia not only from Skeletor, but also King Hiss and his Snakemen, while yet anther ancient evil threatens.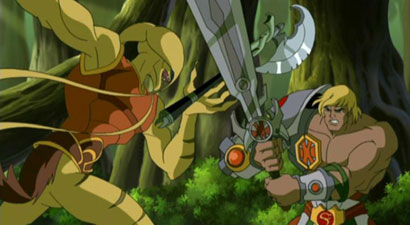 The Sweatbox Review:
Near the end of Season One, viewers were introduced to the deeper mythology of Eternia, with the reveal of a race of Snake Men (no word on where the Snake Women were) and a hint of their leader King Hiss. This final volume of the 2002-2003 remake of the classic Eighties show dives into that vein of mythology further yet, while bringing He-Man and his colleagues into direct opposition with King Hiss and his serpentine followers. This volume includes all 13 episodes of the show's second season, which was re-titled The Masters Of The Universe Versus The Snake Men in the opening. Like the first season, this one emphasizes action, but still tells relatively compelling stories, though veering away from any in-depth characterization. This makes it an exciting show for younger fans or those who might enjoy a better-animated version of a childhood favorite, but getting through all the episodes may be a bit of a slog for more sophisticated viewers or those that have no special fondness for 1980s series based on toy lines.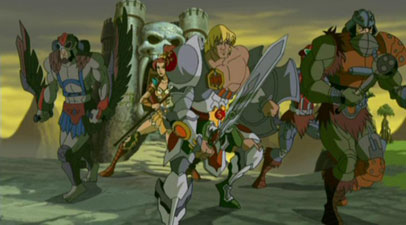 Disc One
The Last Stand is the second part of the story that began in last season's cliff-hanger. With Skeletor and his new Evil Warriors approaching Castle Grayskull, and all of the Masters either gone or captured, it is up to Price Adam and his beefy alter ego to defend the realm. Oh, and the old Evil Warriors also have escaped from their imprisonment and look ready to battle someone. But whose side shall they take?
To Walk With Dragons – King Randor forms an Eternian Council that bands together the various peoples of Eternia in order to plan its defence against Skeletor. Skeletor recognizes the threat to his plans, and arranges for Serpintaurs to attack the Council.
Out Of The Past – Teela finds herself in an unfamiliar village, where the denizens take her to be a returning heroine that has come to them again in their hour of need. Meanwhile, The Sorceress tells Man-At-Arms a related story from her past that relates to Teela.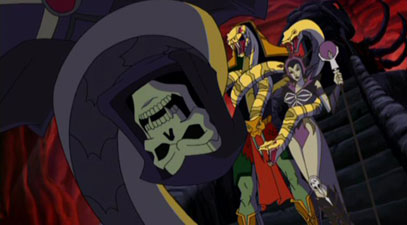 Rise Of The Snake Men – Part 1 – The Masters try to broker a truce with Skeletor in order that they can together repel the return of King Hiss and his Snake Men. This "truce" goes about as well as could be expected, allowing Kobra Khan and Rattlor to travel to the void within Snake Mountain in order to free King Hiss, in addition to other ancient Snake Men. The Sorceress recognizes that He-Man will need to be at his best in order to deal with the threats plaguing Eternia, so he is given new "Snake Armor". When King Hiss eventually joins the program, he shows Skeletor who's boss, and Evil-Lyn's treachery is revealed.
Rise Of The Snake Men – Part 2 – Snake Mountain returns to its ancient glory as the home of the Snake Men. Evil-Lyn, still stinging from the betrayal of Skeletor, seeks to further ally herself with King Hiss. The two then enter Castle Grayskull, where they are opposed by He-Man and Zodak.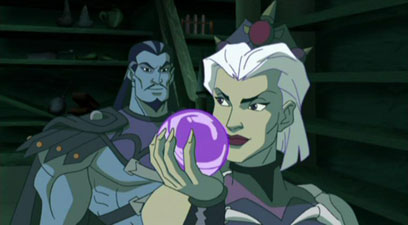 The Price Of Deceit – Skeletor decides to deal with the treachery of Evil-Lyn in a typically dastardly way. Her father, The Faceless One, petitions the Masters for help. A showdown between Skeletor and the Masters results at The Pool of Shadows in the Forsaken Realm. This episode is also notable for its use of flashbacks to detail the history between Skeletor and Evil-Lyn, including the transformation of a bad dude named Keldor into the very evil and skull-faced Skeletor.
Of Machines And Men – An old scientist named Sortech seeks the aid of both He-man and Skeletor, using a power outage across Eternia to get their attention. Naturally, He-Man and Skeletor are not too happy to see each other.
Disc Two
Second Skin – The Masters discover that their apparent defeat of King Hiss and his Snake Men did not include their demise. King Hiss has new plans to gain The Serpent's Ring, which will allow him to transform people into Snake Men. The Masters learn first hand how this works.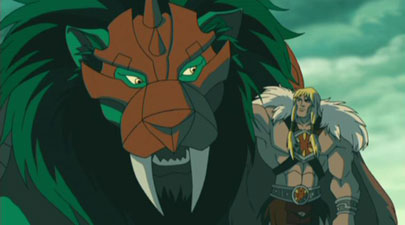 The Power Of Grayskull – Dreams of an ancient warrior lead Prince Adam to seek the Sorceress. She tells him of King Grayskull's last battle, and how Grayskull's death led to the birth of He-Man years later. In the present, the evil entity Hordak seeks to have Skeletor repay his debt by freeing him from his imprisonment.
Web Of Evil – Man-At-Arms' brother Fisto (his right fist is, like, really big) is introduced to the show, complete with a brotherly conflict that centers on Fisto's actions during The Great Unrest. Ultimately, Fisto shows his worth when the Masters go up against an Ambrosia-powered Webstor, who has turned into a giant spider monster. And just when things start to look good—- more Snake Men!
Rattle Of The Snake – Two peoples are in conflict with one another due to the unseen actions of Snake Men. King Randor tries to broker peace, but when the Snake Men show themselves, everyone must join the fight.
History – Evil-Lyn and her accomplice Count Marzo use the distraction of the Snake Men to try to free Hordak from Despondos. King Hiss doesn't approve, and this all leads into a three-way conflict, with the Masters caught in the middle.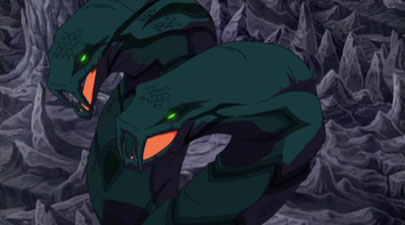 Awaken The Serpent – Snake Mountain is transformed into the snake god Serpos, who goes to attack the Royal Palace before heading for Castle Grayskull. The threat is too much for just the Masters, but Zodak joins with He-Man to achieve ultimate victory. The only disappointment her is that Skeletor and his crew only make cameos. Considering this was the series finale, it feels like Skeletor got shorted in this one.
There's lots of action, plenty of weird-looking characters, more action, and even a few interesting plot points. At its best, it reminds me much of Flash Gordon, with its varied races of Eternia and almost romanticized action. At its worst, though, it shows its roots as a gaudy toy line. For a show of this type, it's well done, but I think I'm getting too old for prolonged toy commercials disguised as cartoon shows. Still, I'll rate this one while keeping its audience in mind, and for those that love He-Man, I feel reasonably comfortable saying that this is a very decent remake of the classic show. I probably enjoyed this season more than the last one, largely due to the greater emphasis on learning about the history of Eternia and its characters. The writers obviously enjoyed creating the mythology behind the show, even if they were hampered by having to include some— let's face it— silly characters in their stories. I mean, Mechaneck? Fisto? I do give them credit for spending time on some of them in order to develop distinctive, if often one-dimensional, personalities, and the stories do follow in the tradition of the original series by including moral messages (although the moral tags at the end often come off as trite). Ultimately, this show shall stand up well over time because it manages to keep an overall serious tone, with positive messages, that makes you forget how goofy some of the characters are.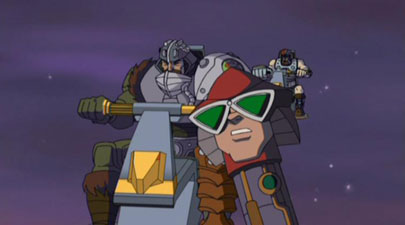 Is This Thing Loaded?
Making these episodes fully complete, each one has End Of Episode Morals, which were apparently left out of the original US broadcasts. As I said, they often come off as unnecessary add-ons, either oversimplifying the message of the episode or forcing a moral into a story that didn't have much of one. Still, given that they were animated, it's good that they were included on this release.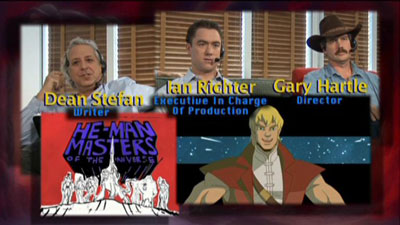 This set includes five Audio Commentaries, featuring series creators. Two of these also appear as Video Commentaries on the third disc (The Price Of Deceit, which also has an extended conversation, and The Power of Grayskull). For show fans, these are great gateways into the thinking of the creators and the genesis of the show.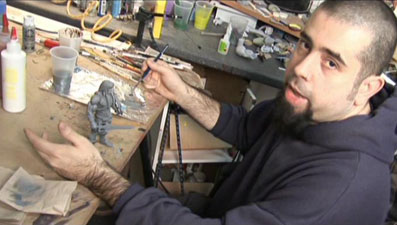 The third disc in the set carries the other bonus materials as well, including three Extensive Interviews With Toyline Artists, totalling a whopping 80 minutes! Getting approximately a half hour each are looks at The Making Of The King Grayskull Action Figure, Interviews With The Four Horsemen (the sculptors), and Interviews With Mattel Toy Designers And Marketers. Truthfully, at times I found these interviews more interesting than the series itself, so those who like the toy line will undoubtedly find these interviews a real treat.
Those who enjoy art will further like to see 3 Extensive Image Galleries. These include Character Profiles, a sketch gallery of Season Two characters, and selected backgrounds. But that's not all! You also can watch Animatics for three episodes, which are basically the episodes in storybook form, with some camera movement.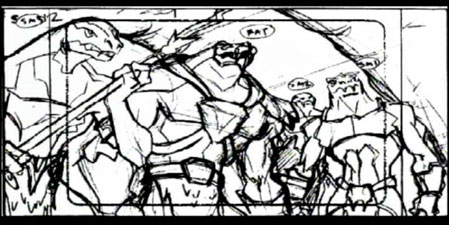 DVD-ROM: Using this disc in your computer will also allow you to read Scripts for every episode on this set. This includes a bonus script of an episode that was never actually filmed. A 40th episode was written for the show, but never produced. However, fans can now enjoy the story in two different ways thanks to this DVD set. Not only does it have the Complete 40th Episode Script, but also a Full-Length Comic Book Adaptation. Now, that is really going the extra mile for fans. The comic's artwork is very nice, and the story is good too, telling of Skeletor's surprising rescue of King Hiss from an Eternian prison.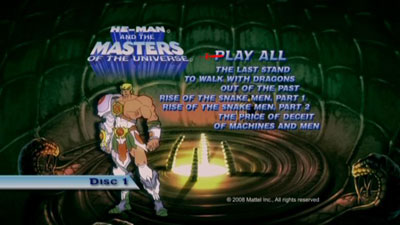 Case Study:
This has got to be one of the more handsome sets that I have seen. First of all, using a clear slip-sleeve over top of painted art underneath, giving the set a "cel" look, is always a smart-looking move. But the fact that the artwork all over the digipack is just gorgeous makes it all even better. Paintings of Castle Grayskull and a statue of King Grayskull are highlights. Inside, there is a triptych of Snake Men beneath a sleeve holding more goodies, plus two trays of DVDs, with the first tray having overlapping discs. The extra goodies include a spiffy episode guide (with trivia), two art cards (with art by Chris Bachalo and Jason Shawn Alexander), and a Mattel ad for their new MOTU Classics line.
Ink And Paint:
I sure have no complaints about the video on this release. To my eyes, it could not be any better. Colors are bright, the picture is sharp, and I could see no digital or physical artifacts. There is nothing here to hinder your viewing pleasure. Plus, we get the full 16:9 picture in all its anamorphically enhanced glory.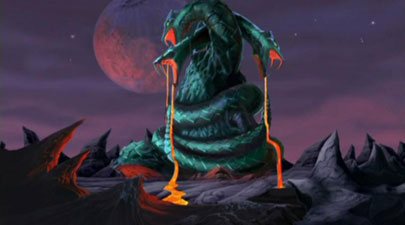 Scratch Tracks:
An upgrade to 5.1 would have undoubtedly been fun for this action-packed program, but the 2.0 audio does just fine. Appropriately, there is plenty of punch in the audio during fight scenes, and overall we get a satisfactory to good audio experience. No other languages or subtitles are offered.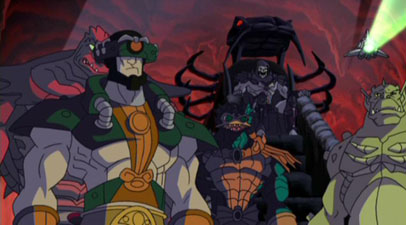 Final Cut:
While a few of BCI's recent cartoon releases have been less spectacular than they had started out as (notably with their original He-Man sets), they recaptured glory with their three volumes of the 21st century He-Man And The Masters Of The Universe. The show itself features somewhat interesting stories for those that enjoy such types of shows, dynamic animation, and above-average video and audio. The packaging and special features go above and beyond, making the whole of this set even better than the sum of its parts.
Animated Classic or Back To The Drawing Board?