Warner Bros. (October 26 1978), Warner Home Video (September 7 2010), single disc, 25 mins plus supplement, 1.33:1 original full frame ratio, Dolby Digital Mono, Not Rated, Retail: $14.98
Storyboard:
You're in for a spooktacular time when Bugs, Porky, Sylvester, Daffy and more favorites from the Looney Tunes gang get up to some trick or treat treats!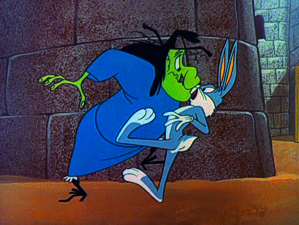 The Sweatbox Review:
I know it's probably sacrilege to admit, but I have always rather enjoyed the 1970s compilation specials that saw Warner Bros. Television repurpose their classic Looney Tune and Merrie Melodies libraries for the small screen. The Warner cartoons had, by this time, already been sampled numerous times on such vehicles as The Bugs Bunny Show or The Porky Pig Show, which did little more than staple the shorts together with the minimal amount of new animated material, and usually the same interstitials each week at that!
But by the 1970s, with interest in the Loonies fuelled by the feature documentary Bugs Bunny Superstar, Warners saw the potential in producing part old/part new specials that would include much more new material along with sequences from the classic shorts, but this time instead of the somewhat random "best of" collections, each program would be themed to a specific topic, with the new material providing the coherent "glue" to the show. Thus we had the likes of Bugs Bunny celebrating Easter, or Daffy not-celebrating Thanksgiving.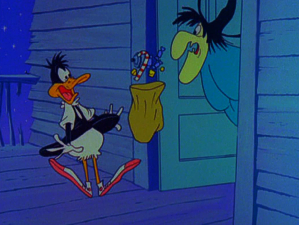 We learned how Bugs Bunny won the west (a favorite, with Dukes Of Hazzard's Uncle Jesse, Denver Pyle, as host, a treat!) and many more, all of which ended up on a much worn off-air VHS recording that packed in three hours' worth of these shows. And why did these programs mean so much to me? Well, back in the dark days before home video was widespread, this was pretty much the only way to see Looney Tunes on television, and such was my introduction to Bugs, Daffy, Tweety, Sylvester and company. Even now, when I see a cartoon in its original form, I expect it to divert off into the format I remember as a child, wrong as I now know that to be!
Well…to an extent…because there's not actually anything to take umbrage with in these specials, which can routinely match up the classic animation pretty well at times, and at others the years between the material is glaringly clear. Until Chuck Jones returned to reclaim some kind of part ownership over the Looney Tunes, previous animation unit co-director Friz Freleng was the self-appointed guardian of the characters, and took it upon himself to supervise these shows, produced under the aegis of his partnership with David DePatie (the popularity of these half-hour programs led to Freleng suggesting the feature compilations such as The Looney, Looney, Looney Bugs Bunny Movie and Jones' own later The Bugs Bunny/Road Runner Movie).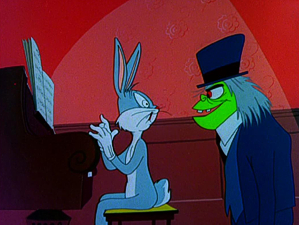 But whatever one feels about the way the newer material was added, there's no denying that it was pretty cleverly done, with the regurgitated versions of the original cartoons re-cut and re-voiced to emphasize the intention of the new overall half-hour plot. The animation can be pretty spot on, but more often than not, long-time fans will easily pick up on the differences between Mel Blanc's characterizations of the 40s and 50s, and his lower-pitched approximations of the characters in the 1970s, when his Daffy and Sylvester were virtually indistinguishable.
However, with that said, these are still the same characters and, even if they aren't as sprightly as we remember them vocally, shows such as these are valid examples of the Looney Tunes legacy, and the new material, given the stylised Halloween/horror pastiches in the original cartoons, is better intertwined here than on some of these compilations. The basic "plot" is simple: it's trick or treat night, allowing for numerous shorts (ranging from 1948 to 1966) to be sampled, the main ones focusing appropriately on June Foray's Witch Hazel, who popped up in several cartoons, most if not all of which are referenced here.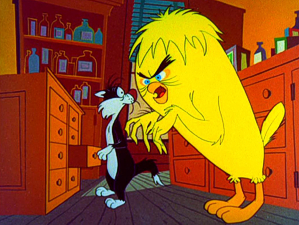 Some (A Haunting We Will Go, Hyde And Hare) are wittily broken up so as to provide an interesting narrative that runs throughout the special, and it's fun to see how Hyde And Go Tweet has been inserted in as a breakaway from the action. Of course, classics from the genre feature heavily too, most notably, Broom-Stick Bunny, Transylvania 6-5000 and Bewitched Bunny, but that these join a further three sampled shorts will give you an idea as to how short those respective sequences are.
The purpose is not to repeat cartoons you have already seen, but to present appropriate scenes from them in a new fashion, where the fresh animation provides the links that actually do a pretty good job of creating a half-hour whole. As such, perhaps releases such as these are more for the generation of young kids that remember them, like me, though they'll work just as well for children of today who might otherwise be starved of enjoying the company of these personalities. Yep, there's something to be said for sitting them down in front of the Golden Collections instead, but that kind of exposure can become tiring.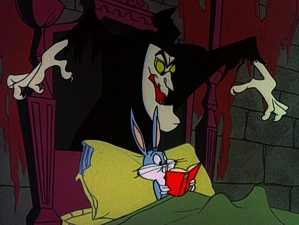 These kinds of shows still retain the bite-size convenience, but also a natty way to squeeze in several shorts that will probably, like me, lead them on to want to discover more. And with its good and coherent mix of old and new footage, Bugs Bunny's Howl-Oween Special is a fun way to be scared silly!
Is This Thing Loaded?
It seems releasing these specials on their own discs is a precedent Warners are eager to continue, even if they don't represent very good value for consumers. Also released this year have been Bugs Bunny's Easter Funnies, Bugs Bunny's Cupid Capers and, via The Essential Bugs Bunny collection, How Bugs Bunny Won The West, the last of which at least has a two-disc collection of cartoons, though most of which have been issued before on DVD. But WB really do need to provide more on each of these stand-alone titles: it would be great to own two, three or four of them on a single disc, or pack a two-disc set full of them so that I can retire my taped collections of old!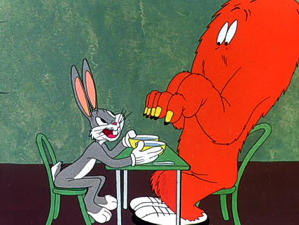 At the very least these discs should offer a couple of hours of content given the price point and quality on offer, but as always, on this occasion we're only presented with a single extra short, Hair Raising Hare, from 1946, and presumably here because its set in a spooky castle as opposed to being directly Halloween themed. This is the one that introduced the big ball of fluff later known as Gossamer, and Bugs' hysterical turn as an effeminate manicurist, taming the monster with a makeover. It's turned up on DVD before, in the first Golden Collection if memory serves, and appears to be the same remastered print, but is unnecessarily compressed within an inch of its life, with a bit rate reading that hovers around four per second and rarely hitting five or six – on a disc with a shade over half an hour of content on it!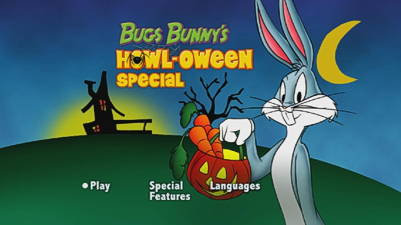 There's also one of those token Interactive Puzzle things included, "for all-family fun", which is so basic and like other similar "bonuses" on other discs that there isn't even any gameplay explanation. Of course, it's simple enough (place the pieces of the puzzle into the desired place to watch a snippet of a cartoon), but putting out basic discs like these won't really entice long-time fans or result in decent sales for the company. There's still much material once destined for the Golden Collections that could be spread about on titles such as these, which wouldn't require the Studio to splash out on new features, but would give fans a reason to continue collecting.
Previews for Tom And Jerry Meet Sherlock Holmes and a Scooby Doo! And The Spooky Swamp videogame are also to be found as the disc starts, and there's a Kids WB.com promo mistakenly placed in the Special Features, too.
Case Study:
A basic disc gets a basic cover treatment, too, and this isn't really anything more than it needs to be: a decent sleeve that slaps the elements (haunted house, half moon, pumpkin and Bugs) on the front and some appropriate blurb on the back, along with a not-so on model, 70s Freleng Bugs. The disc art features Tweety-Hyde looking menacing, though it's a bit cheeky to suggest the running time is a solid 35 minutes when the special is barely 25. Add in the 7 minute short and the preview trailers and you'd still only stretch to 33, and since when was the total contents of a disc listed as the running time!?
Ink And Paint:
If there's one thing that can usually be counted on with a Warners disc, it's that whatever the age or source, they'll do their best in the audio and video departments. However, with a surprisingly low bit rate, some of the two titles (the special and the added short) can look very compressed, even at well less than the maximum hour in length that the disc could take at maximum quality.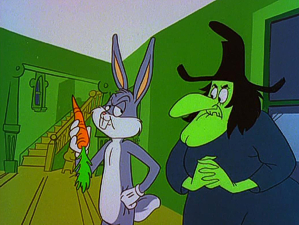 The special gets off much more lightly in terms of artefacts, but has visual imperfections in other areas: since many of the cartoons were duped in order to be spliced up in these shows, we're seeing copies of copies, and only then of what shape the material was in during the 1970s. Then again, it's probably better than an off-air taping, though only plays up the fact that these aren't premium-grade offerings in content or quality, and should be bunched together to provide better value. With some other questionable choices by those selecting classic WB animation recently, one really does have to ask who's running the joint over there?
Scratch Tracks:
Although Blanc and Foray's vocals are softer and less characteristic (at one point, "Porky" sounds like a 70s era Bugs), there's nothing actually problematic with the quality of the soundtrack, which mixes in the new material with the old without any musical jumps. Only Blanc's lower register makes the differences really audible, and even then one can forgive the years inbetween (even if I also wonder why Freleng didn't speed up the recordings to give the appropriate higher pitch). A lack of any background noise makes sure everything sounds as direct as possible, and for a television mono mix, there's nothing to really pick apart. French and Spanish dubs are also included, as are English and Spanish subtitles.
Final Cut:
As mentioned above, you've got to either be someone who fondly remembered these kinds of shows or a rabid (rabbit?) Looney Tunes fan who has to collect everything, but $15 for around a half-hour of playing time is expensive. These specials should either be priced at under $10, or a bunch of them should be included to make up the value: three or four shows at $15 sounds about right considering that they're not exactly "classics" are only reuse material that you probably have in full elsewhere. But although these 1970s television specials may not have been the most frivolous of Looney Tunes fare, they were still created by the old masters and contain the odd gem scattered in among other memorable moments. They certainly kept me entertained as a child, and now as an adult collector I may see the stitching between the old and new, but they're still a slice of old-school Looney Tunes fun, even if you wish there was more to see on each disc.
Animated Classic or Back To The Drawing Board?