Aardman Animations (1989-2009), HiT Entertainment/Lionsgate (September 22, 2009), 1 disc, approx. 100 mins plus supplements, 1.33:1 original full frame ratio/16:9 ratio, Dolby Digital 5.1/PCM 5.1/2.0 Stereo, Not Rated, Retail: $29.99
Storyboard:
An eccentric and somewhat bumbling inventor relies on his dog to get him out of various scrapes. In this collection of four entertaining short features, they go to the moon, take on a criminal penguin, battle a diabolical sheep woman, and engage in warfare with an aging advertising icon.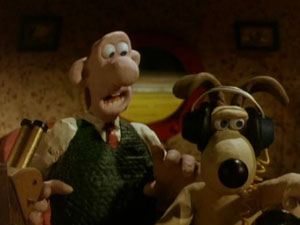 The Sweatbox Review:
(Note: Parts of this review previously appeared in our review of one of three previous Wallace & Gromit DVDs, The Incredible Adventures Of Wallace & Gromit. That DVD was loaded with special features, but this Blu-ray collection is even more complete, with a caveat or two…)
Nick Park's seminal creations, Wallace & Gromit, starred in three Oscar-nominated featurettes (two of them won) before DreamWorks signed up Aardman Animations to have W & G star in their own movie. Wallace & Gromit: The Curse Of The Were-Rabbit's 56 million dollar gross in the U.S./Canada market in 2005 was a bit disappointing, but that was a disproportionately small part of its worldwide gross, which neared 200 million dollars. Obviously, the world at large loves Wallace & Gromit, enough to have them star in their fourth featurette, 2009's A Matter Of Loaf And Death. The first three featurettes have been released three times before on Region 1 DVDs, and now all four have gotten separate DVDs from new home video rights holder HiT Entertainment and their distributor Lionsgate. The past DVDs were much better deals than these separate releases, particularly the bonus feature-packed second one, but now the best way to see all these fine films is on Blu-ray, marking the first time that the duo has appeared on disc in High Definition.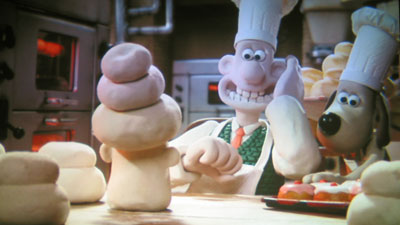 The two characters got their start in Park's sketchbooks, years prior to their cinematic debut, and their first story came out of an idea he had for a children's book. Wallace is a dim yet inspired British inventor, whose success is due more to enthusiasm than expertise. His dog Gromit is actually the cleverer of the two, despite the fact that he never utters a word. You can see this by watching their eyes— although both characters can be extremely expressive, Wallace's eyes maintain a somewhat vacant look, while Gromit always appears to be thinking about something. Gromit's reactions to events are also consistently more reasoned and insightful than Wallace's. The irony inherent in this master-dog relationship is one of the pleasures of watching their films.
Park, who started the pair's first film while attending the National Film And Television School in the United Kingdom, brought the duo to Aardman. A Grand Day Out was actually begun in 1982, but production delays forced Park to make a deal to complete his graduation project while he started part-time with Aardman. A Grand Day Out would not be released until 1989. Wallace & Gromit have always been animated in the stop-motion manner, similar to that seen in King Kong, Jason And The Argonauts, or Coraline. Each character has a jointed skeleton, or armature, that allows them to be posed in a great variety of positions. In the case of the Wallace & Gromit films, the armatures are covered by simple Plasticine, which provides the external appearance of the characters. These doll-like miniatures measure about nine inches for humans, and half that for Gromit. These figures are placed into realistic, miniature sets and photographed on film one frame at a time.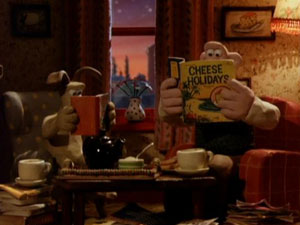 Once the first film was completed, it was apparent to all why Park had labored so long on the film. It was a work of gentle genius, featuring characters that felt like old friends, having a fantastic adventure in a surreally mundane way. In this case, mundane does not mean boring; it means that Wallace and Gromit are completely accepting of the plot and their role in it, despite the science fiction and fantasy elements of the story. Extremely successful sequels in 1993 and 1995 followed, creating a pop culture phenomenon that has swept through much of the world.
There is almost no point in describing the plots of these half-hour films for two reasons: One, they are deceptively simple and can even sound cliché-ish so as to risk turning you off of seeing them; and two, to go into greater detail in order to go beyond the simple descriptions could ruin the surprises that you have waiting for you. Nevertheless, I will provide some information as to the general nature of each film.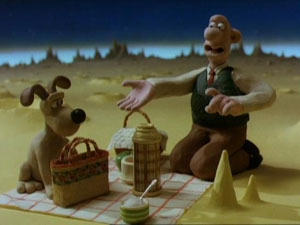 A Grand Day Out introduces us to Wallace & Gromit, but it feels like we have known them for years. Even in their first film, they already seem iconic. The big story point here is a trip to the moon in order to replenish their supply of cheese. Highlights include the delightful construction of their ship in their basement, and meeting a surprising moon resident. This film is not quite as zippy as the others, being slightly quieter in comparison. You only feel that way, however, if you have already seen the more polished ones first. On its own, this one is still a real treat to watch.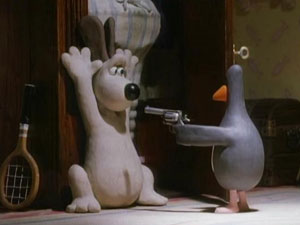 The Wrong Trousers finds our heroes strapped for cash, and Wallace decides that they should take in a border. This all occurs as we are introduced to several wonderful inventions in the Wallace & Gromit household. Colliding plot points make for a terrific tale, as we discover what is unique about Gromit's new birthday trousers and have our worst suspicions confirmed about their new houseguest. The sight gags become more frequent and cleverer, and Wallace & Gromit seem to go from cult favorites to movie stars before our eyes. A tour de force chase scene involving a toy train makes this film especially memorable.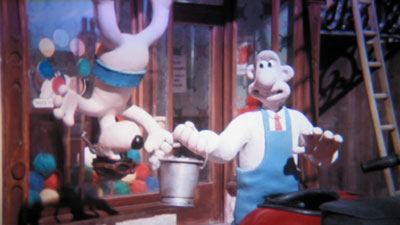 A Close Shave sees Wallace & Gromit taking on a new career as window washers, since like Donald Duck they tend to enjoy trying out a new job for every new adventure. Wallace finds love as the duo becomes caught in the middle of a sheep-rustling scheme. Gromit is even framed for the crime, and they both take turns rescuing each other from the real villain. The highlight for me here is Gromit's Snoopy-like piloting of a flying apparatus. Thunderbirds fans will also enjoy a musical reference to that series as Wallace uses a ridiculously complex means to get onto his motorcycle.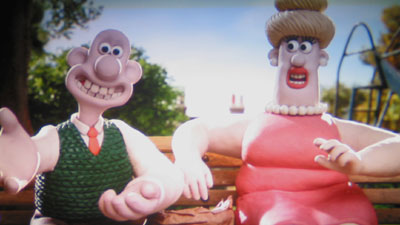 A Matter Of Loaf And Death is their latest adventure. Here, Wallace & Gromit live in their bakery, providing bread for the denizens of their English town. One day while they are out for a drive, a seemingly chance encounter with a cyclist leads to Wallace making the acquaintance of an aging advertising spokeswoman, who in her younger days had been a pretty model who represented a best-selling bread. Wallace is smitten, enchanted by the woman's frankly fading charm and good looks, and only Gromit sees the malevolence that lurks beneath her perky exterior. This is largely because Gromit takes more notice of the woman's dog, who is perpetually jittery. With a serial baker killer on the loose, there's really not much of a mystery here, but there is still plenty of excitement and fantastic visual gags at play when the murderer shows her hand. The frantic pacing of the exciting finale makes this one just as much fun as any of the previous entries. In fact, I think these just get better every time out.
A trip to the moon, foiling a crook, stopping a frame-up, and escape from a murderess are the simplest plot points of what happens in these four stories, but that is just the barest of descriptions. What makes these tales supremely entertaining is a combination of many things. The characters themselves are delightful, with many comic potentialities in the idea of an inventor and his smarter dog. From there, we go to writing. The scripting is sublimely British, complete with the dry humor and quirkiness you might expect. The characters are so well developed right off the bat, that we feel they are old friends. They not only have personalities, they have quirks, which adds much more to a personality description than something like "he's the brave, smart one, and he's the clueless dumb one". Finally, we get to the big one: execution.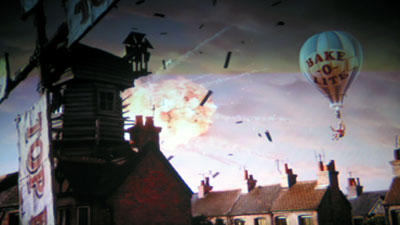 At every step of these productions, ingenuity and creativity are the most important ingredients. Some of the most impressive technical moments are when we are shown fire or rain. I mean, how do they do that with stop motion animation?? The effect is just plain cool. When asked about special effects in his films, Nick Park likes to say that the whole film is a special effect. That is true not only visually, where double exposures are as fancy as the techniques get, but also for everything else. The set design is incredibly detailed, and it is hard to believe that these sets are only miniatures. A tremendous amount of thought obviously goes into every aspect of designing this world, which truly brings it to life. In a sense, Nick Park has taken over from Gerry Anderson in showing three-dimensional miniature worlds that have a deep sense of verisimilitude. The comedic nature of the Wallace & Gromit films also lends itself to the implementation of many sight gags, encouraging the viewer to pay attention to every detail.
Aiding the reality of their world is the lighting used. Park and his creative staff do not shy away from using extremely theatrical lighting, in a manner of sophistication worthy of a Hitchcock film; this is fitting, as they use lighting to create suspense and mystery in a similar manner to Hitch. The lighting does not just vary impressively in harshness, but also in color. The music is used in a similarly effective way, often creating a contrast between the silly-looking characters and a melodramatic score. Still, the creators do not forget that they are creating a cartoon, and the composer is allowed to get silly at times with the music, such as when the penguin in The Wrong Trousers keeps playing peppy organ music in his room.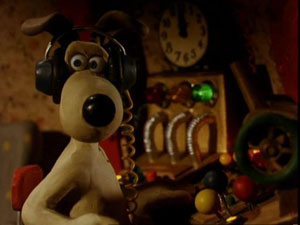 The animation itself is also masterful, showing that "personality animation" isn't just a product of pencils or computers. The Aardman animators are supreme creators of personality as well as technique. Witness Gromit, whose inner emotions are expressed entirely by the movement of his eyebrows. While personality animation gives the emotional payoff, it is often the other little touches that can truly impress the viewer and bring big laughs. A good example would be how Wallace's ears flap when he moves, as well as various idiosyncratic movements that occur to make the characters seem so natural.
One will notice that the animation techniques get more expert over the course of the four films, as the Plasticine comes to remain more rounded and less squashed, and the animation itself becomes more fluid. Park actually likes the slightly cruder look of A Grand Day Out, and I have to agree that it has a character that is not as evident in the more polished episodes. Overall, though, the sleekness of A Close Shave helps to make it my personal favorite, though A Matter Of Loaf And Death now gives it a run for its shillings. And even with all the polish, I still love that I can make out fingerprints on the models.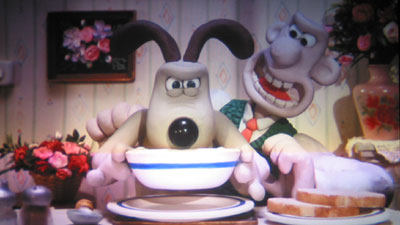 Is This Thing Loaded?
The earliest DVD release of the first three Wallace & Gromit films was available from 20th Century Fox, with a humble but nice smattering of extras. Ignore that release. The third DVD was a disc released by Universal in conjunction with the Aardman/DreamWorks Wallace & Gromit: The Curse Of The Were Rabbit movie. That disc was better, and included the Crackling Contraptions shorts;, but it is the second release, the BBC/Warner DVD known as The Incredible Adventures Of Wallace & Gromit, that really poured on the extras— complete with all the features you would expect from a special edition. That puppy came loaded. And now, the Blu-ray is here to make all previous versions obsolete… almost.
The bonus materials on the Blu-ray disc are presented in a 4:3 ratio in standard definition. First up are Trailers for Shaun The Sheep: Off The Baa! and Thomas The Train: Heroes Of The Rails – The Movie. These, as well as the other extras, are also selectable from the main menu.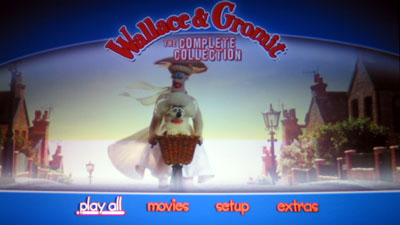 Each film gets a bonus featurette associated with it. How They Donut: The Making of A Matter Of Loaf And Death (20:20) is obviously a new featurette, giving a beefy behind-the-scenes look at the production of the latest Aardman classic. Several contributors are interviewed, and there are lots of shots at the production in process. The other featurettes have been seen previously on the Warner disc. A Close Shave: How It Was Done (8:27), and Inside The Wrong Trousers (7:50) are similarly great, though shorter in length. Finally, though the packaging lists The Amazing Adventures of Wallace And Gromit (15:23) as going with A Grand Day Out, it is really a 1999 BBC piece that looks at the whole Wallace & Gromit phenomenon, including merchandising, some commercials, and even a meeting between Nick Park and the Queen. Cool stuff.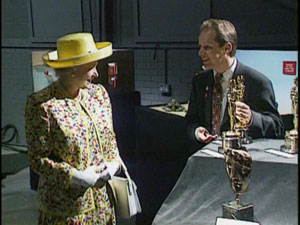 In the "Scrapbook" section of the special features, you can see a set of eight Blueprints Of Inventions, and a Gallery of stills and behind-the-scenes photos.
There are ten Crackling Contraptions shorts (25:21 total), showcasing various inventions from Wallace and their effects on poor Gromit. These interstitials did appear previously on the Universal DVD (and were available for download from Atom Films), and like the other bonuses here are shown in standard definition. Though each one is brief, they all are worth a chuckle or five. Also fairly amusing is a Shaun The Sheep short (7:05) from Aardman, helping to promote the separate DVD release.
There are also Commentary Tracks for all four films. Many fans believe that audio commentaries are absolutely required for special edition DVD's, and these commentaries by Nick Park and his team show why. They are filled with wonderful explanations of the creative process that went into each scene, as well as pointing out inside jokes and small details you may have missed.
Lastly, there is a Game Demo for Wallace & Gromit's Grand Adventures. You can only use it, however, if you have a Blu-ray drive on your computer.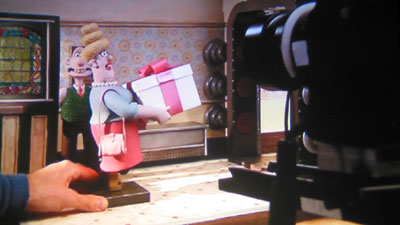 So what's missing? The Incredible Adventures Of Wallace & Gromit DVD had a couple of items that are absent from the Blu-ray. There was a minute-long introduction by Nick Park that is now dated, so I can see why it was dropped. More unfortunate is the loss of some of Park's early work, which though they were boring made for a nice archival quality for that DVD. Likewise, the BBC interstitials seen on the Fox and Warner discs are missing, as well as biographies and a text studio history, some storyboards and other stills, which is too bad. However, we won't really miss some out-of-date trailers.
Case Study:
The disc comes in a standard Blu-ray keepcase with identical non-enhanced o-sleeve. There are no inserts. The back cover shows all four covers of the separate DVD releases, so that you don't miss out on any artwork. The disc art shows off a less-cropped version of the cover art, showing what is to me a nicer, less zoomed composition. But man— that is one boring cover! Surely something more interesting could have been done?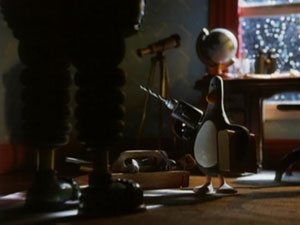 Ink And Paint:
Watching the Blu-ray, I initially felt like the image upgrade from the standard DVD was minor… until I actually watched the DVD again. Turns out that the Blu-ray is a noticeable upgrade. While the first two films are still a little lacking in detail compared to the others, all the films benefit from the high def transfers. Images are just that much more solid and bright, and by the time we get to A Close Shave, we really get treated to a sparkling image. A Matter of Loaf And Death is even better, with razor-sharp detail that borders on three-dimensional.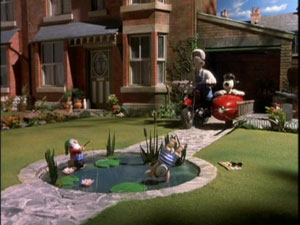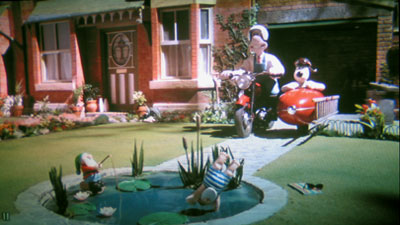 Now here is where we get a little controversy… A Close Shave has only ever been shown on DVD in the 4:3 ratio. However, for the Blu-ray, a decision was made to crop the image to 16:9 for a widescreen presentation. You can clearly see from these screenshots that image information is lost from the top and bottom. (Please ignore any color or resolution differences. These are not straight screen captures, and do not give a true representation of the Blu-ray's video quality.) To me, the framing still looks just about as fine, though a little cramped; and it is quite possible that A Close Shave was produced with the 16:9 ratio in mind, given the promised emergence of widescreen televisions at the time, not to mention the planned theatrical projection (after all, it qualified for an Oscar, so it had to have been shown in theaters). So, the 16:9 presentation doesn't bother me too much; but if you want the full picture, stick with your old DVD.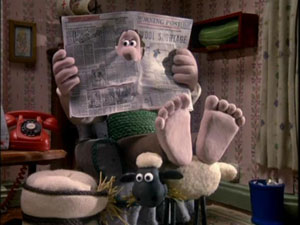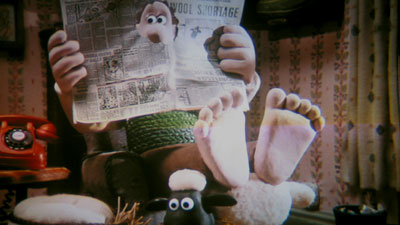 Scratch Tracks:
All soundtracks this time around are in 5.1, a nice upgrade from the older DVDs. Though stereo mixes were presented previously, these new soundtracks are surprisingly well done. The 5.1 is more than a gimmick to promote the Blu-ray, as the rear speakers are used to good effect. This is mostly true of music, but a few discrete effects are also heard, adding even more life to the proceedings. For an example, check out the thunder in The Wrong Trousers. Even better news is that, in addition to the Dolby Digital 5.1 soundtracks, there are also 5.1 PCM soundtracks, in addition to the old Stereo ones.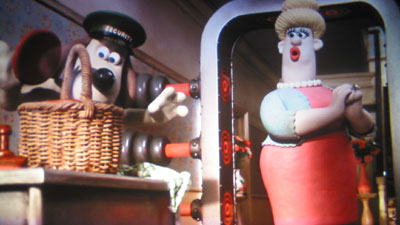 Unlike previous DVDs, there is only English available on this release, as well as English subtitles for the hearing impaired.
Final Cut:
While this isn't the absolutely ultimate release of every single item available, it's pretty darn close. I never tire of watching these films, and the newest one is just as good as the first three. Some may balk at the cropped widescreen image for A Close Shave (which may be arguably satisfactory), but I don't think that should discourage them from wanting this disc— especially since it has the new film, for a price barely above what it would cost to get it on standard DVD. Plus, you get all of them in high def, with practically all the previous bonus features and a couple of new ones. In my book, all that makes this disc more than worth a purchase. And if you've never seen Wallace & Gromit, and have a Blu-ray player, this is a must-get release.
Animated Classic or Back To The Drawing Board?