Ruby-Spears Enterprises (1979-1980), Warner Home Video (October 20 2009), 4 discs, 564 mins plus supplements, 1.33:1 original full frame ratio, Dolby Digital Mono, Not Rated, Retail: $44.98
Storyboard:
DC Comics' goofiest criminal turned superhero crime fighter stretches into his own animated program from the golden age of Saturday morning cartoons, facing a number of wild and wacky foes through a series of wisecracking adventures.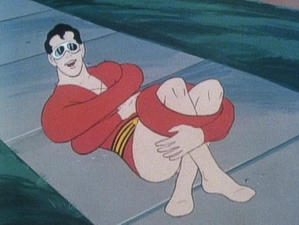 The Sweatbox Review:
When I was a kid, I just didn't really warm to the television animation offerings of the 1980s. I enjoyed the various "comedy" shows of Hanna-Barbera, and fondly remember the likes of Scooby-Doo, The Flintstones, The Kwiki-Koala Show, The New Schmoo, the list is endless. Added to that was my interest in superheroes, though the only place that catered for that side of me were the original comic books, where I read Spider-Man and made the not-so-smart move of following Superman right up to just before John Byrne and Marv Wolfman reinvented him in 1986, and the various animated series like Spider-Man And His Amazing Friends, The Fantastic Four and little odds and ends I could find, such as Filmation's kitschy but fun 1960s and '70s versions of Superman, Batman and Aquaman.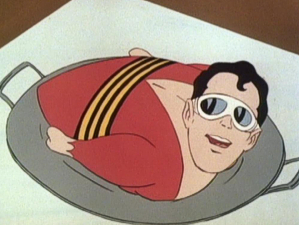 Apart from that diet of screen gems, I watched the regular Disney shows, naturally, but never had much time for many of the programs that came from DIC Animation, which usually catered to merchandise-driven low-cost and creatively-low animation to push whatever toy was hot that month, though their Inspector Gadget was always enjoyable. I guess I was just too old to appreciate the toy boom early in the decade, when He-Man and Transformers ruled. One of the companies producing TV animation during the era was Ruby-Spears Enterprises, a mini-Studio who managed to churn out some decent shows among the stinkers (I'll let you decide which is which among Heathcliff, Alvin And The Chipmunks (83-87), Mister T, Chuck Norris: Karate Kommandos, Rambo and Police Academy: The Animated Series).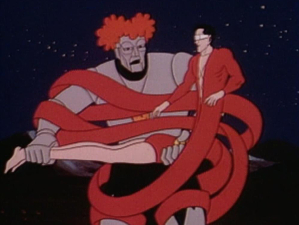 Originally members of the editing team at Hanna-Barbera team, Joe Ruby and Ken Spears moved into the writing department of that Studio, and are now rightfully credited as the creators of Scooby-Doo among their other achievements while at Hanna-Barbera. Contributing to other producers' work (such as the more serious animated science-fiction series of Planet Of The Apes, with Spears as story consultant on a handful of episodes for DePatie-Freleng) they eventually launched their own company, initially to compete with Filmation and their old employers, though a healthy relationship remained where some projects (The Mork & Mindy/Laverne & Shirley/Fonz Hour – yes, that was a real program – and a return to their biggest character in The Scooby And Scrappy-Doo Hour) were bounced between both facilities.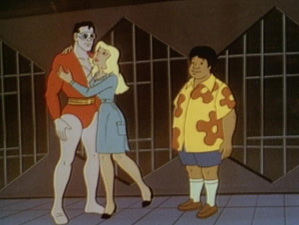 Theatrical animation was never an ambition, but the made for TV movie Scruffy, directed by Disney veteran Charles Nichols, who had met Ruby and Spears when they had all joined Hanna-Barbera after theatrical animation faltered in the 1950s, was a noted early success. Scruffy, though produced in limited animation to television budgets, was intended as a one-off episode of ABC's Weekend Specials, but a dramatic tone, reminiscent more of Bambi and Lady And The Tramp than the typical Saturday morning cartoons, a longer than usual length, and sterling vocal performances from another Disney stalwart, Hans Conried, among others, gave the film life outside of its television airing and it became something of a cult hit on home video, where it still has many fans today.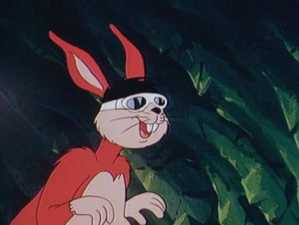 Aside from the occasional breakout hit like Scruffy, Ruby-Spears' bread and butter work, like that produced by Hanna-Barbera, consisted of the usual action, comedy and comic book characters, although as opposed to the out from DIC, for example, the Ruby-Spears shows always attained a quality level that often harked back to classic animation in their sensibilities and put the other television producers to shame, even if there were still clear limits on the abilities of the Japanese animation factories used. A show which somewhat combined the strengths of Ruby-Spears' action animation together with their knack for good comedy writing came in a 1979-81 series whose title literally gives away the intention: The Plastic Man Comedy/Adventure Hour. For some reason, I never really got around to watching this even though I was well aware of the character from other DC Comics and always thought that being able to bend one's body with limitless flexibility would be a pretty cool super-power.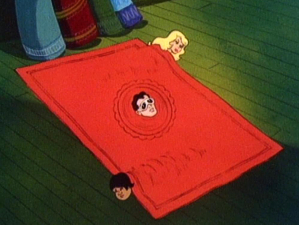 Of course it sounds pretty goofy, and that's just what creator Jack Cole thought as well, adding a layer of humor and straight out slapstick into the character's stories from his debut in the early 1940s. I'm not aware of an wisecracking superheroes to come before Plastic Man, which alone makes him something of a trailblazer even if he never quite became a huge hit with the public, but there were certainly a number of them afterwards, and the influence on a young Stan Lee is very clear in the resulting creations of smart-aleck Spider-Man and the just as rubbery Mr Fantastic. However, what works in the comics doesn't always work quite so well on screen and if Plastic Man has a fault, it's in an inconsistent tone that is neither focused on action or comedy at any one time.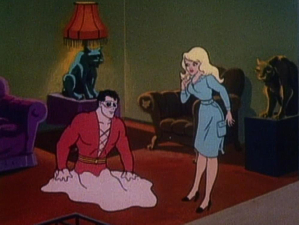 Even at times of danger, Plas always has a one-liner ready to quip, instead of switching tact to providing a few moments of genuine action, and it can become quite tiresome. Even if they're still amusing, this doesn't help any definition of the character, which is obviously an ironic thing to try and force upon a character who is by nature as undefined as they come! This is mostly to do with the genesis of the character, originally a criminal who ends up in the old chemical vat and finding his genetic make up altered as to be flexible as plastic. This isn't explored in this animated show, though the comics provided several reinventions to the backstory, resulting in a quite fragmented history, though the basic plot remains the same.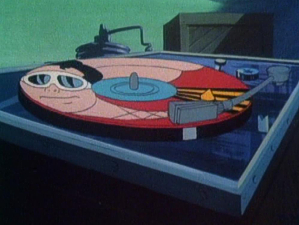 This release jettisons the Hour from the original show (where a live-action Plastic Man would introduce Plastic Man, Baby Plas, Plastic Family, Mighty Man And Yukk, Fangface And Fangpuss and Rickety Rocket cartoon segments), but retains the comedy and adventure, presenting Plastic Man's 35 original animated stories (presumably leaving 13 Baby Plas and 13 Plastic Family cartoons still to come) in combinations of two, resulting in one 22 minute story and one 11 minute story per "episode". On Disc One, the ten cartoons whose fun titles usually reference the story's villain and reveal the crazy tone of the show, are titled The Weed / Dr Irwin and Mr Meteor; Wham-Bam – Beware Of The Clam / The Day The Ocean Disappeared; The Horrible Half-Ape / Hugefoot; The Minuscule Seven / Moonraider and Superstein / Dogmaster.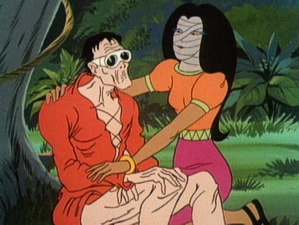 On Disc Two (menu title inaccuracies aside!), the double-story episodes are The Diabolical Dr Dome / Honey Bee; The Dangerous Dr Dinosaur / The Spider Takes A Bride; Empire Of Evil / The Corruptible Carrot Man; The Maniacal Computerhead / The Hippotist and Badladdin / Toyman. Disc Three's double-acts are Ghostfinger / Highbrow; The Kitty Kat Kaper / The Colossal Crime Of Commodore Peril; The Terrible 5 + 1 / Joggernaut; Dr Duplicator Strikes Again / Thunderman and Count Graffiti Meets Plastic Man / Sale Of The Century. Disc Four finishes up the 1979 programs with the two-story episode Plastic Mummy Meets Disco Mummy / City Of Ice, and the remainder of the disc presents three shorter, eleven minute individual Plastic Man segments from the revamped Plastic Man/Baby Plas Super Comedy Show of 1980: Plastic Man Meets Plastic Ape; The Crime Costume Caper and The Royal Gargoyle Foil, though the Plastic Family do not appear.
I found Plastic Man to be great fun, and about just what I'd expected for a "comedy and adventure" superhero series from the early 1980s. It contains many of the trademark elements of that era, with the many stock company voice artists (Susan Blu, Melendy Britt, Peter Cullen, Daws Butler, Casey Kasem, Laurie Mann, Don Messick, Janet Waldo, Alan Oppenheimer, Hal Smith, Alan Young and, yes, the indispensable Frank Welker) led by Michael Bell, playing Plastic Man with a distinct Don (Get Smart) Adams influence before the later success of Inspector Gadget. A strong writing line up including Mark Jones, Cliff Ruby, Mark Evanier, Steve Gerber, Buzz Dixon, Jeffrey Scott, Ted Pedersen, Shelly Stark, Larry Alexander and Larry Parr (again, among others) provides the storylines – a series of the usual scuffles with mad criminals and an ever-expanding number of fun and quite simply bonkers masterminds – and quips, ably served by veterans such as director Nichols, Don Christensen, Jerry Eisenberg and Dean Elliot.
The character seemed to disappear back to the comics again after the original airing of this show, though in recent times an attempt was made to bring him back to the television screen by Tom Kenny, who also voices the character in his occasional appearances in the current DC show Batman: The Brave And The Bold. Rumors of a feature-film persist, but in the meantime, this could well be an overlooked character's opportunity to enjoy something of a minor, fanplastic rebirth of interest.
Is This Thing Loaded?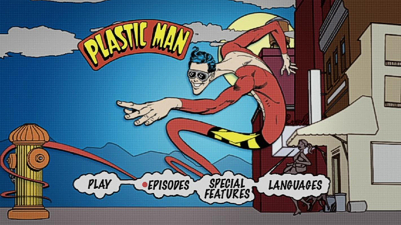 Going by Plastic Man's mixed up packaging (more on which below), you'd think that all the extras would be found on the fourth of this four disc set, but they are, in fact, spread across all the discs. On Disc One, played at start up, are previews for other WB animated product Green Lantern: First Flight and Superman/Batman: Public Enemies, but the real supplement, and the standout of the set, is an excellent retrospective Plas-tastic: A Brief History Of Plastic Man featurette which manages to cover an extensive history and speak to some prime players in Plastic Man's past and present, including Tom Kenny and Jerry Beck, who likens Plas to the Looney Tunes version of a superhero. The many various incarnations of the character are briefly explored over the 14 minutes, from his comic debut to recent Brave And The Bold appearances, and unlike the Lex Luthor featurette on the concurrent release of Ruby-Spears' Superman, this is totally relevant to the title and a very well produced mini-documentary.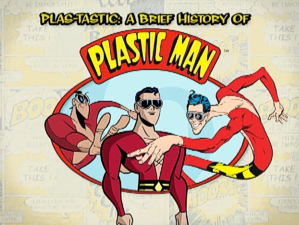 The goofier aspects of this series of Plastic Man were obvious influences on later comic-spoofs, especially noticeable in the included 2006 Plastic Man Pilot Episode Puddle Trouble, a ten minute attempt to bring Plas back to screens by Spongebob's voice artist Kenny and director Andy Suriano. Although it was much seen online by rabid fans when it did the YouTube circuit a couple of years ago, here it is in pristine DVD quality, and with its typically Cartoon Network designs, and rapid fire wit, this Plastic Man makes for a entertaining spin on superheroics, with a neat hint of a UPA feel to the visuals. The only reason I could think of as to why the show wasn't picked up is that it might have been too close to other such comic slants of the time.
However, developers Kenny and Suriano do well within the confines of their budget and having to "sell" a potential show (opposing forces for future episodes being played out visually very nicely), even if it strays from the character's comic roots as much as it references them and is more than a little frantic. Perhaps fearing it would just sit in a vault somewhere, it's decent of Warners to fork out the cash to transfer it to disc, even if they probably thought it was better off being bundled in as a DVD extra that might result in a few extra copies being sold on curiosity value. Kenny, of course, went on to reprise the character for Batman: The Brave And The Bold, and perhaps the wider exposure of this pilot might lead to renewed interest in the idea.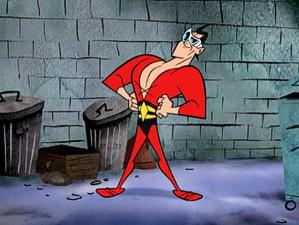 Also on Disc Two, playing on start up is a teaser for DC Universe's Wonder Woman feature, with an additional trailer for Star Wars: Clone Wars optional from the menu. Disc Three follows suit, with previews for Saturday Morning Cartoons 1960s and 1970s Volume 2, Scooby-Doo: Where Are You? and Batman: The Brave And The Bold, either playing up front or menu optional, and the same applies to Disc Four, which contains spots for the quite awful looking Scooby-Doo: The Mystery Begins, Peanuts 1960s Collection and Saturday Morning Cartoons 1960s and 1970s Volume 1 playing again either on the front of the disc or via an optional menu.
Case Study:
Marking the package as both a DC Comics-branded title and attributed for some reason to Hanna-Barbera, the packaging ends up being a little of nothing on both sides. The artwork is decent enough – Plas bending his way around the cover and most amusingly on the disc art – though there's a coloring discrepancy on the front in that his legs are painted red, when of course they should be flesh color. "The Complete Collection" is a little misleading too, since this doesn't contain the Baby Plas and Plastic Family segments, only the original Plastic Man segments from the hour-long show. Links to DC aren't expanded upon to file this as a "genuine" DC release, and since it wasn't a Hanna-Barbera show either, it doesn't come properly branded with their usual design.
Though the show was drawn in a slightly more cartoony, Hanna-Barbera fashion rather than Ruby-Spears later, straighter approach to action shows, the cover is a bit of a mis-mash, which is unfortunate and odd, especially since this release comes as a companion to Ruby-Spears' 1988 Superman series, which does match previous DC titles. Underneath the very basic non-glossy, non-embossed slipcover, the clear plastic case marks a welcome return of Warners' double-sided sleeves, with all the episodes listed on the reverse, although even here the arrangement is confusing: am I the only one to think that it looks like all the bonus features are on Disc Four?
Ink And Paint: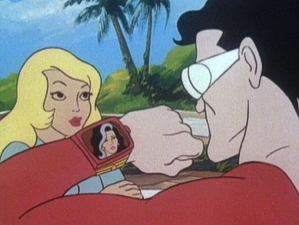 While we can usually point to a 1980s television transfer and suggest that is the best we're likely to ever see, that's something of an unfortunate comment for Plastic Man, which looks as if it has had no remastering or quality control aspects applied. The original source masters were probably not the best kept tapes in the library – and it does look better than we would have seen it on 1980s TVs, but the low production value in the continuously speckly film stock and a larger than usual amount of color fluctuation and bleed do not suggest a great deal of time or care was a consideration in bringing Plas to DVD. Adequate for the age, but not much more than that even if, instead of Disney's attempting to squeeze everything onto three highly compressed platters, WB commendably allows four artefact free discs for the spread.
Scratch Tracks:
Only somewhat making up for the lack of image stability is a decent if not too dynamic mono mix track. The show was only ever mixed this way and it's not the kind of thing that would sound better in 5.1 surround anyway, but though it sounds okay, there's a hint of compression that I can either be put down to the original tracks, pushed for the television speakers of the time (most likely), or the narrow frequency encoding used for this disc (most unlikely). It doesn't sound particularly "flat" or "thin", but often feels like a 2.0 stereo mix has been squeezed into the center speaker. Dialogue is consistently audible, however, so there are no problems following the script, and the 2006 pilot (in Dolby 2.0) is naturally more alive and dynamic. English and French subtitles are included.
Final Cut:
Given the usual attention WB's classic animation properties receive on DVD, it's a shame to report that Plastic Man feels a little rushed together. Perfectly fine, nothing out of the ordinary, but sometimes poor transfers and lacklustre packaging suggest this was a quick way to get these requested cartoons out there, but the new retrospective featurette and inclusion of Kenny's recent remake pilot attempt do look like attempts to add some genuine bonus interest. The series itself hinges on the character, who himself is not one thing or the other, being as flippant with his humor as he is flexible with his muscles. As such, it's a little hard to outright recommend Plastic Man as a straight superhero program or as an outright comedy take. I enjoyed the mash up of each element, but ultimately this is probably one for the fans.
Animated Classic or Back To The Drawing Board?