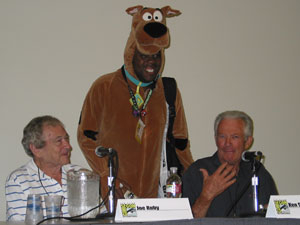 Debuting in 1988, the Ruby-Spears Superman series brought back some familiar foes and new unfriendly faces for battles against the Man of Steel.  In addition to the thrills of Superman's weekly adventures, each episode included a mini-segment called Superman Family Album that told the "real" story of what it was like to grow up as the most powerful boy in Smallville.
Produced at Ruby-Spears Productions right next door to Hanna-Barbera Studios, and animated in Japan and Korea at Toei Animation and Dai Won Animation, the series benefited by a stellar production team of writers and artists (including supervising producer John Dorman, story editor Marv Wolfman, and production designer Gil Kane), solid voice acting, and an immediate link with Christopher Reeve's popular films via an opening theme score that was remarkably similar to John Williams' acclaimed Superman music.
Ruby-Spears Productions was founded in 1977 by veteran writers Joe Ruby and Ken Spears. The team started as sound editors at Hanna-Barbera Studios, branched out into writing, and eventually went on to create Scooby-Doo, Where Are You! (as seen top right from their appearance at the San Diego Comic-Con in 2008). In total, Ruby-Spears produced 36 different TV series and continue to be a creative force in the industry today.
More than two decades after its television premiere, the popular Ruby-Spears Superman animated series returns to screens via Warner Home Video's two-disc DVD collection, available November 3, 2009.
Joe Ruby and Ken Spears took a few minutes to reminisce about the creation, development and production of their landmark 1988 series in a recent conversation, distributed as a promotional article by Warner Home Video and reprinted below.
---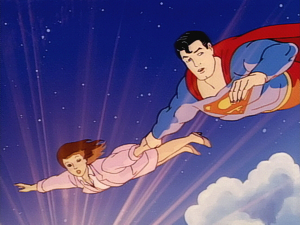 Question: How was the title character developed for your Superman series?
Joe Ruby: We went through a lot of different directions in development as to what kind of Superman we wanted. We had several different models – the crying/feeling Superman, the lecturing/do-gooder/save-the-day Superman, then there was the hip Superman and even the long-haired Superman. And, of course, there was the old straight-as-an-arrow Superman. Ultimately, we settled on the Christopher Reeve model – he had personality and a sense of humor, and yet he was still Superman. We figured that it worked for the films, so it would work well for us.
Q: Why were there only 13 episodes to the entire series?
JR: I think the problem for us was our timeslot. It turned out 8:30 in the morning was a killer for Superman. Only the little kids were up, and they don't understand Superman as well as the older kids. It wasn't for 4-to 5-year-olds.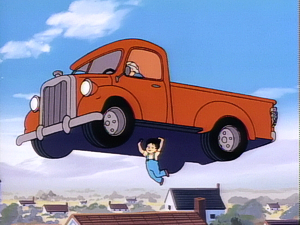 Q: Was there a guiding theme to the series?
Ken Spears: I think we were true to Superman to begin with –  we produced a show that the audience expected Superman to be. He was the tried and true Superman. That's who they wanted to see – that's the feedback that we continue to get today.
JR: We basically had Superman tackling anything and everything, with the marching orders to have bigger-than-life fights.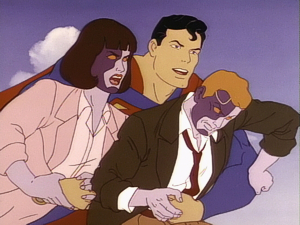 Q: What did you see as the strength of your Superman series?
KS: We had the best talent in the business at the time – that was our strength. They were excellent. When you first create a show, you hope your talent will be able to plus it – and they really plussed it.
There are so many shots in the show that weren't written into the script – those kind of great additions come straight from the artists and the storyboarders.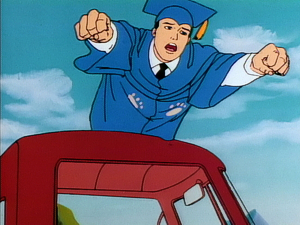 JR: We had a pretty amazing crew – and an especially great crew of artists – including some of the best comic book guys in the business, and that made for good filmmaking. Guys like John Dorman and Gil Kane – we had an army of great talent on that show. Give credit to John Dorman – he's a filmmaker and that's the difference. He made sure the show had all the creative shots, the movement, some of that great left-to-right or down-angle camera moves. The show was well paced, well boarded, and I think John really put these things together well.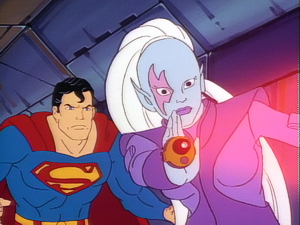 Q: Did splitting the production between two overseas studios in Japan and Korea cause any problems?
JR: It was an experience for us, from a production standpoint, traveling overseas and working with two different interpreters having to translate in three different languages. They'd be answering before I'd get done with my question. It was the worst torture I ever had in my life!
Q: Looking back now, can you see how Ruby-Spears Superman fits in the canon of productions surrounding the Man of Steel?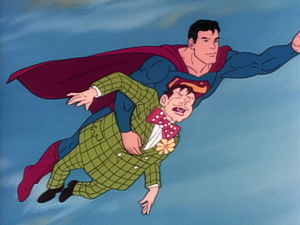 JR: As a kid, we all grew up with Superman. He's the favorite, always. Your heroes stick with you. So we wanted to make the best Superman show we could, to really set it apart. I think everyone that worked on it felt that way. He's Superman.
KS: It was like an honor to do something that classy and classic as Superman. He's the No. 1 guy. We wanted to do it justice.
---
Ruby-Spears' Superman: DC Comics Classic Collection
is available to order now from Amazon.com

[AMZ]B002K0WBDM[/AMZ]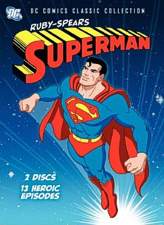 ---
With thanks to Gary Miereanu at Warner Home Video