Filmation (1967/1968), Warner Home Video (October 23, 2007), 2 discs, 216 mins plus supplements, 1.33:1 original full frame ratio, Dolby Digital 1.0 Mono, Not Rated, Retail: $26.98
Storyboard:
A half-Atlantean superhero guards the Seven Seas with his control of marine life and the aid of his young pal Aqualad.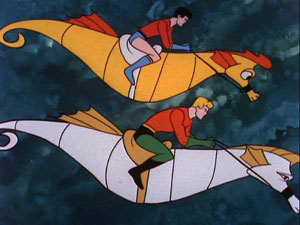 The Sweatbox Review:
CBS and Filmation had huge success with The Adventurers Of Superman in 1966, so naturally they sought to expand that success by adapting more DC characters. Many different properties were considered, with an underdog getting the nod. Aquaman had been a minor player at DC since 1941. He was so minor, in fact, that despite being in print continuously in the back pages of comic books for many years, he did not appear on the cover of a comic book until joining the Justice League Of America in 1960. He had one thing going for him, however, as far as CBS and Filmation were concerned— he was a lot different than Superman. CBS and Filmation wanted the new show to have adventures much different than The Man Of Steel's, in order that the two series could be complementary rather than repetitive. Whereas Superman flew in the air and battled crooks and aliens, Aquaman swam in the ocean and, well, battled crooks and aliens. At least the settings were different.
The two features therefore combined into The Superman/Aquaman Hour Of Adventure in 1967. In addition to the two headliners, several other features were prepared to fill out the hour. These included solo efforts for Hawkman, The Flash, The Atom, and Green Lantern, as well as team-up stories with The Justice League Of America (which oddly did NOT include Aquaman in the cartoon) and The Teen Titans (featuring sidekicks Aqualad, Kid Flash, Speedy and Wonder Girl). Each of these features' stories seemed to have the exact same alien invasion plot, but they are still notable for being the first animated incarnation of these characters. (Assumedly Batman and Robin were not yet available to Filmation due to the concurrent Batman live action show, though Filmation would create their own Adventures Of Batman And Robin show in 1968.) Interstitials also appeared on The Superman/Aquaman Hour Of Adventure, with secret codes and the like. Aquaman's part of the show was spun off into its own entity in 1968.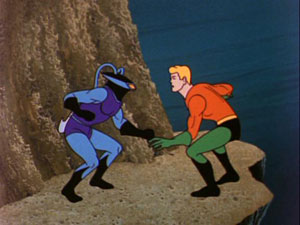 Aquaman stuck fairly close to its comic book roots, but made a few additions and kept things simple. Aquaman was ruler of Atlantis and King Of The Seven Seas. He patrolled the oceans with his young partner Aqualad, coming into contact with a variety of menaces. Naturally this included his arch-foe Black Manta, but also a plethora of underwater adversaries including monsters and aliens as well as interloping bad guys from the surface world. Specific menaces are described in these colourful titles: The Rampaging Reptile Men, The Crimson Monster From The Pink Pool, The Ice Dragon, Vassa – Queen Of The Mermen, The Sinister Sea Scamp, The Mirror-Man From Planet Imago, and The Sea Sorcerer. These are just some of the fun 36 cartoons on the discs. The plots are fairly repetitive, but they make up for it with style, similar to Space Ghost. Typically, Aquaman and Aqualad encounter a threat (usually an alien or monster) while out patrolling with their giant seahorses Storm and Imp as well as a pet walrus named Tusky; they engage the threat, one of them is captured, and the other gets some help from their fish buddies. Aquaman is most powerful in this department, as he has control over sea creatures, but both of them have a deep camaraderie with undersea life. Aquaman's girlfriend Mera frequently appears, and viewers get glimpses of the underwater city of Atlantis, but otherwise there is little to distinguish the stories aside from the striking visuals of Aquaman's enemies.
In addition to commanding marine life, Aquaman also naturally is a strong swimmer and possesses great strength. He also has a neat trick of swirling water to create a concentrated "ball" of water that he can hurl toward his enemies. And, aside from patrolling the water personally, he also monitors ocean activity from his sanctuary, the Aquacave. Yes, the Aquacave.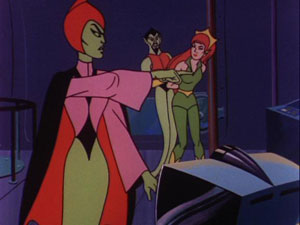 This is old school, goofy comic book fun, thanks largely to employing comics writer Bob Haney to write a number of the stories. The series has an easy charm that, despite utilizing cardboard characters, manages to entertain at a delightfully basic level. It certainly carries none of the nuances of the later and better superhero shows, but has a lovely innocence that perfectly reflects its comic book Silver Age origins. The brevity of the stories makes for some lean storytelling, yet the economical nature of the stories makes them all the more easily digestible. Just like the similarly programmed shows of the 1960s from Hanna-Barbera, The Adventures Of Aquaman knows its limits and does what it does well. Filmation's animation is actually quite nice, having a professional and polished look, though of course you may expect the usual reliance on stock animation footage. In fact, I would say that no other Filmation show looked better for at least a decade.
The DVD set includes the Aquaman segments as they appeared in the 1968 Aquaman show. Each "episode" therefore includes the Aquaman opening and closing credits, and two 7-minute segments. There are unfortunately no interstitials, nor any of the other superhero features, so these "episodes" are not themselves complete even if the DVD set does include all of the Aquaman segments.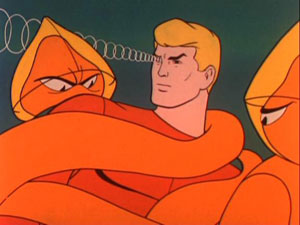 Is This Thing Loaded?
There is only one supplement here, but it is a good one. Aquaman: The Sovereign Of The Seas (26:10) gives us something I never thought I would see— a retrospective on Aquaman that is respectful and positive. The gilled one has endured many jokes at his expense, owing to the limitations of his powers in a super-team setting, but this featurette shows just what a great character he can be in his own series. Various DC Comics creators, Warner Brothers Animation people, and comic historians join Filmation boss Lou Scheimer and Filmation artist Michael Swanigan in praising the character and the cartoon show, while still identifying the weak points in his history. From his comic origins to his own cartoon, and from appearances on several DC cartoons as well as Entourage and Smallville, to his recent pilot, it's all here. The only thing really lacking is any context for explaining the format of the cartoon itself, as we never do get a glimpse of the show's other superhero subjects.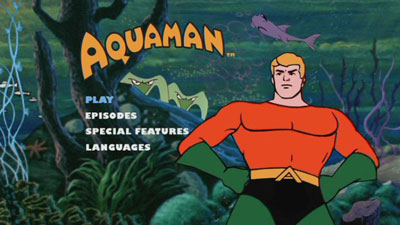 Trailers appearing on Disc 2 include those for Looney Tunes Golden Collection Volume 5, Smurfs, and the Tom & Jerry Spotlight Collection Volume 3.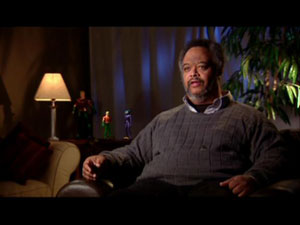 Case Study:
The ultra-slim digipack is comfortably seated inside a slipcover with the same image on the front. The rest of the digipack has attractive original artwork. Both discs, in an overlapping disc configuration, are single-sided with unique disc art.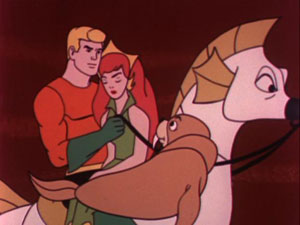 Ink And Paint:
While not as pristine looking as more recent animated programs, I was impressed with the transfers for this release. I found the image generally distinct and colourful, with the main blemishes being those attributable to the original cel photography. Dust is certainly present, but is less than expected. Scratches come and go, but overall the elements were in better shape than I thought they would be. Compression problems are absent and I noted no edge enhancement. On the other hand, colors do sometimes get wonky, with flesh tones becoming redder than intended, and the image is sometimes a little blotchy as well.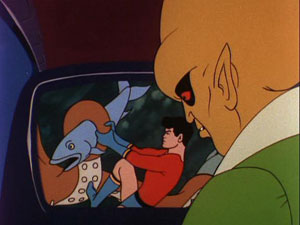 Scratch Tracks:
The mono soundtrack is naturally limited but is perfectly fine. The audio does sound a bit hollow, yet it suits Ted Knight's bravado narration very nicely. No alternate language tracks are available. There are English subtitles for the hearing impaired.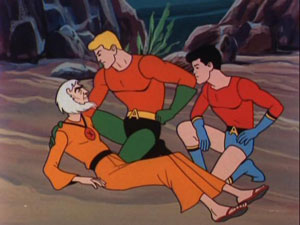 Final Cut:
Better than expected, I would place this show on a level perhaps a notch below Space Ghost but a notch above Birdman in the 1960s superhero cartoon sweepstakes. It has all the fun and innocence of comics' Silver Age, with solid animation even if Filmation was certainly utilizing its method of repeated footage use even then. With a solid video transfer and a great little featurette, Aquaman fans can't go wrong with this package. Now, hopefully this will sell well enough to convince Warner Home Video to put out the other segments from the show!
Animated Classic or Back To The Drawing Board?