Aardman Animation for the BBC (2010), Lionsgate (March 13 2012), single disc, 174 mins plus supplements, 1080p high-definition 1.78:1 widescreen, DTS-HD 5.1 Master Audio, Not Rated, Retail: $14.99
Storyboard:
Nick Park's award-winning claymation pair Wallace and Gromit return to the small screen, broadcasting from their self-built TV station and casting their eyes across the globe to discover a variety of new and amazing inventions at use in the real world…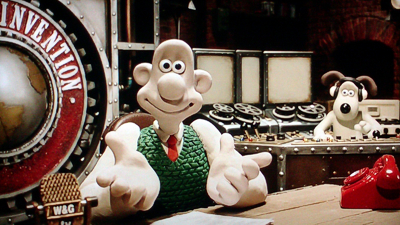 The Sweatbox Review:
Immensely popular with young pre-schoolers (see spin-off Shaun The Sheep) as well as parents and even grand and great-grand-parents, it seems creator Nick Park is just as reluctant to let his beloved and critically-acclaimed Wallace and Gromit go missing from our screens for too long as much as audiences are always pleased to see them. Theirs is a unique universal appeal, built on a classic double-act dynamic: there's Wallace the mad inventor, all great ideas that often don't quite work as planned, and his supposedly inferior sidekick, his dog Gromit, who continuously turns out to be the actual brains behind the operation!
Their relationship has been clearly defined since Park's initial student animation film A Grand Day Out got him noticed and a place at Britain's answer to Pixar, Aardman Animation, where he developed two further half-hour films featuring the pair, The Wrong Trousers and A Close Shave, before DreamWorks came a calling. Aardman turned out Chicken Run, but it wasn't long before Wallace and Gromit made their big-screen debut in The Curse Of The Were-Rabbit (its original title, The Great Vegetable Plot, was so much better!) and quickly appeared again on television, in A Matter Of Loaf And Death.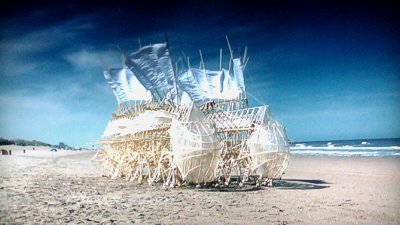 Premiering on the prestigious BBC in the UK, this was more than suitable: the network has always been home to Park's characters and in recent years Aardman itself has become a main supplier to the BBC's younger channels since switching their early allegiance to the UK's Channel Four, where Park's ground-breaking and noticeable Creature Comforts made its mark. The BBC are never too keen to let Wallace and Gromit slip from viewers' minds for too long – hence the series of "filler" shorts of Cracking Contraptions between the movie and their TV return – and Park, although also eager to work on other projects, is always willing to return to his signature characters.
Wallace & Gromit's World Of Invention turns out to tick most of the boxes: fans get to see some new animation of the pair, while they are also uniquely used in a way I have personally been waiting for for some time. A terrifically entertaining couple, the joy in Wallace and Gromit's partnership is in how they bounce off of each other, with Gromit often setting Wallace right, and I have thought for a while about how great it could be if they were used in a somewhat educational fashion. The dynamic is perfect, and yet the tomfoolery they would sure to be tangled up in would provide an entertaining cushion to take away from the fact that we were, in fact, "learning".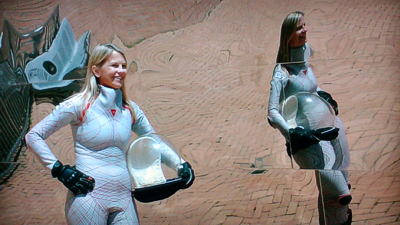 Although World Of Invention is not a straight educational show, it isn't an all-out, usual Wallace & Gromit kind of spoof-noir caper, either. We do learn, about a huge array of fascinating, important and obscure devices and innovations, but it is all done, as anticipated, with a great sense of fun. The setting is the same for each program, of which in typical UK fashion there are six half-hours (and a BBC half hour means just that: instead of a commercial 22 minutes' worth of programming, the norm is closer to 29 minutes on the commercial-free UK channel). With Gromit on technical duties, Wallace is our host as the pair turn to television hosting from their workshop in the basement at West Wallaby Street.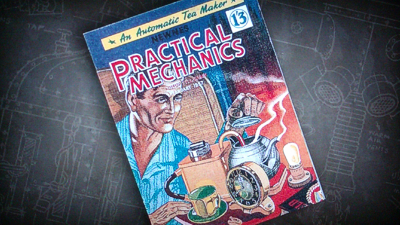 Featuring new animation in each program, it must be stated that the majority of the running length is made up of live-action inserts, usually narrated by actress Ashley Jensen (known on both sides of the pond for her supporting role on Ugly Betty among others). Taking the form of a pop-doc, these are snappily paced sequences and feature people not only from the UK but from all over the world, meaning that there's always something of interest to be found. You can probably even work out what we can expect from the titles: first episode Nature Knows Best, for example, looks at how the mechanics of the natural world have been adapted to our modern technological time (most impressive is a fly-powered robot).
Reach For The Sky is a series highlight, exploring the skies and beyond and especially interesting for a new type of space suit, while also fun is Home Sweet Home, which offers up everything from auto tea-makers to a housecleaning robot that I would love to put an order in for! Come To Your Senses looks at some more fantastical ideas and whether they could ever hope to become reality, and Better Safe Than Sorry examines how independent creators take care in their endeavors, as well as ways they have developed to make general life safer. Finally, transportation from the genuinely innovative to the down-right wacky, designed for Getting From A To B, puts several varied ideas on the map.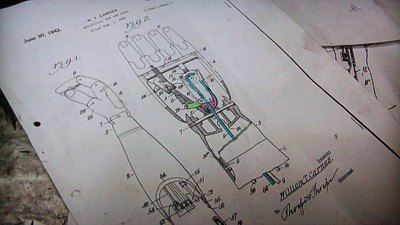 Each program is incredibly informative, but those expecting a wealth of new Wallace and Gromit adventures will surely be disappointed. Imagine a live-action popular science show featuring the pair as interlinking hosts, and you'd pretty much nail what Wallace & Gromit's World Of Invention is. What keeps it light and interesting are the many different gadgets and creations on show – some of them quite awe inspiring – even when Wallace isn't onscreen (which is the majority of the show).
There is only perhaps a scant five or so minutes, approximately, per half-hour program, the rest of it taken up by the Jensen-narrated sequences and two other regular spots: a "Contraption Countdown" of inventions based on the episode theme featuring (in voice only), Wallace's "archive librarian" Goronwy, and an insert hosted by Wallace's "man in the field", Jem Stansfield. This isn't to take away from the quality and informational nature of the series, but fans should be aware of what the program is and balance up their possible expectations.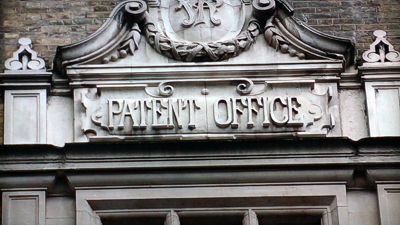 That said, I did find the amount of different personalities, possibly as numbered to keep things feeling fresh, actually took something away from Wallace as a host. The idea to use him as a guide is a good one, but perhaps it's something the producers would have been good in leaning on more and, instead of switching between Peter (Wallace) Sallis' links and Jensen's narration, it might have been beneficial to keep with Sallis, who could have narrated in a slightly more jovial and pun-filled approach, maybe even learning some extra facts he didn't know along with the audience.
But World Of Invention isn't really that kind of show: it's essentially a kids' science program dressed up with Wallace – and occasionally Gromit – featuring at the beginning and end (as well as several times throughout) to lend it a friendly pair of faces and (if we're being cynical) a reason to watch. As such, it's the kind of show that would work just as well without them, although there's no doubting that they do add an extra bit of magic, and Aardman's animation is as top-notch and super-detailed as ever.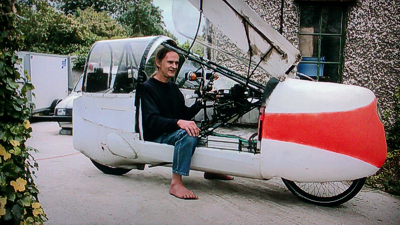 Is This Thing Loaded?
Although not brimming over with invention, the disc – after getting through a very loud main menu! – does offer up a handful of token bonuses, which is much more than I was expecting. Hosted by Ricky Martin (no, not that Ricky Martin!), Your World Of Invention is a series of six projects that we can attempt ourselves (with the unusual proviso of "do try this at home", although with some safety aspects to observe).
Tied to the episodes themselves by way of being inspired by an invention seen in the show, the self-build cracking contraptions include an Atmospheric Railway, a Wind-powered Sprinkler (something I may well try myself), a Fin Ray Grabber, an Air Rocket (something I already did try once myself, when I was very young!), a Spy Camera and an Upside-down-o-scope, with some funny results.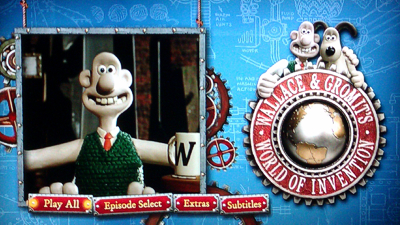 Martin makes for an affable host and, although these extras are just that, they're done in a light-hearted way, and he makes sure there are enough genuinely amusing moments for them to be worth a watch. Running around 38 minutes in a Play All option, it's nice to see some level of interaction or stimulation arising from the kind of show that's all about inspiration and creation, and which parents and their kids can get together to try out.
Case Study:
A bare-bones standard eco-Blu case holds the Wallace and Gromit picture-heavy sleeve, although admirably there's no attempt to hide the kind of show this is and that there are live-action sequences. There are no inserts, but the show's circular logo lends itself nicely to being replicated on the disc art, which is a nice touch.
Ink And Paint:
With both the digitally created animation and live-action scenes produced in native HD, Wallace & Gromit's World Of Invention looks suitably eye-popping, and even the archive material, sprinkled in throughout the episodes, has been upscaled pleasingly. Production value is high, with the inventions naturally shown in their best light and looking good in bright and colorful photography, which the disc has no trouble in reproducing energetically.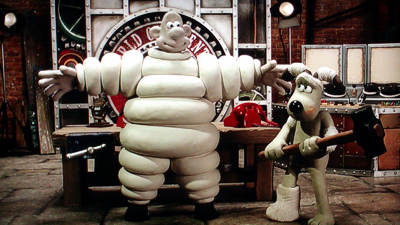 Scratch Tracks:
Wallace & Gromit's World Of Invention's production value is also reflected in its sound mix, which one would expect given the close-mic'd majority of the studio-recorded voiceovers. Some of the live, location shot sound can occasionally sound a little distorted, but this could arguably be put down to logistics and doesn't dampen any enjoyment or ability to understand the dialog.
Final Cut:
Although globe-trotting in nature, there's still no disguising Wallace & Gromit's World Of Invention's very British nature, from some of the focus on UK-based creators and the quirky choice of background music selections (often obscure and classic British TV themes), but conversely the international inclusion of the rest of Europe and America means its not simply a closeted, localized program. Those expecting, or hoping for, a substantial amount of new Aardman animation along the lines of Cracking Contraptions will be disappointed, but anyone with an inquisitive mind should enjoy spending these few informative hours with our favorite animated inventor and his brainy canine.
Animated Classic or Back To The Drawing Board?