As we wait with baited breath for the next feature-length project to emerge from the UK's Aardman Animation studios, which will be their first collaboration with new distribution partners Sony, Britain's answer to Pixar returns to their small screen origins for their latest series. A spin off from a spin off, Timmy Time sees Aardman producing their first show specifically for the pre-school audience, premiering on the Disney Channel's Playhouse Disney programming block today, September 13, 2010.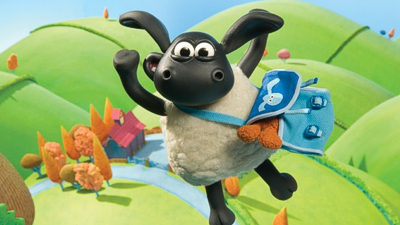 Of course, the Bristol-based studio is rightfully famous for Nick Park's wonderfully inventive duo Wallace & Gromit, in a series of relentlessly entertaining short films that routinely pick up Oscar nominations and wound up with the studio enjoying an ultimately rather short-lived run of feature success with Disney's rival DreamWorks. Whether Disney's picking up of this latest show indicates a partnership that may continue in other ways remains to be seen, but it can be said that, just as previous Aardman animated films have appealed to adults just as much as children, Timmy Time may well end up playing just as well to parents as it will undoubtedly do for their children.
In fact, Timmy the little lamb will be familiar to anyone who's seen any of the very funny films featuring Shaun the Sheep, himself spun off into his own show following a comically mute debut in the Wallace & Gromit featurette A Close Shave. Park's characters often work best when they have nothing to say verbally and their faces express a thousand words, and Shaun continued the tradition perfectly with his series of farm-set escapades. I'm a fan of "silent" comedy, and with Timmy now at the fore, the stage is set for another round of delightful adventures as the little lamb enters pre-school to learn more about the world around him, accompanied by scores of children – and their parents – just as audiences have already enjoyed in Timmy's native Britain.
The two episodes we've been given for review, Go Kart Timmy and Timmy's Plane, make up the sneak peek episode shown last week and the series premiere that airs today, and look to be solid examples of what the show will have to offer as Timmy wanders through an average pre-school day. In the first show, Timmy learns to wait his turn when an over-eagerness to jump on the playground's new pedal go-kart sees him causing a mess – which he is then told to clean up! The trademark attention to character animation in Aardman's films is evident even from the catchy opening song titles, even if the backgrounds are naturally (and actually very suitably) simplified down from their eyewatering usual detail from the likes of Wallace & Gromit or even Shaun The Sheep.
This opening sequence clearly sets out the intentions of the program in a concise way, leading Timmy away from the farm and into school, along with visually introducing his new animal friends alongside the music, which will have younger children calling out "Timmy, it's Timmy! He's the little lamb with a lot to learn!" for the rest of the day (it was in my head for a good few hours too)! Creator/Producer Jackie Cockle (an award-winning British kids TV veteran of similarly age-directed fare as Bob The Builder and The Wind In The Willows) astutely sets up Timmy as one of the core-aimed audience, in that his lessons will be appreciated by viewers even if they don't realize they are learning while enjoying the fun.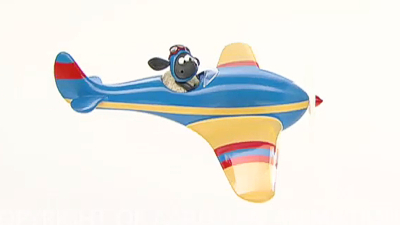 On more than one occasion I was reminded by Sesame Street in that these are very gently told stories of a clear quality, much more than simply being babysitter programming. It's a testament to Aardman's production process that the silent nature of the show – actually, as you have probably guessed, a series of animal vocals and comedy sound effects – still manages to unmistakably relay its "dialogue" and messages, all while providing subconscious clues that children will identify with: indeed, we first meet Timmy as he completes a painting lesson in school, something that any child will have experienced first hand.
It's visually stimulating, too, with the usual bright coloring for such shows not coming over as overwhelming, and no discernable "animation budget" getting in the way of animating several characters on screen at once, and stretching to several big shots that will impress those animation fans taking a curious peek. And apart from the educational value inherent in the tales, adults will also appreciate the teacher characters, who are firm without being killjoys, and also just plain amusing –- Timmy's stork teacher's vocals will no doubt send you chuckling! –- while there's plenty that will kick-start discussion between parent and child as they follow each storyline.
The pace is even, too, and an average ten-minute episode is suitably packed with good set-ups and central action sequences before the lesson of the day has been learned, with a light and breezy musical accompaniment that keeps the mood bright even when little Timmy may find himself in "trouble". Timmy's Plane is a good example in that it shows off the lamb's character perfectly: overly enthusiastic and ambitious to the point of having to experience failure in order to ultimately achieve his goals…and who hasn't been there!?
It's storytelling like this, simple or otherwise, that I think will mark Timmy Time out as a pre-school series to watch for both sets of audiences, and I'm sure it will play to excited audiences on Playhouse Disney as it has done already elsewhere. Timmy already looks to be a hit character in the making: after the show run on television, Lionsgate will issue a DVD compilation in 2011, with Timmy toys set to join Aardman's merchandising ranks next spring. Timmy Time may not be pushing the boundaries in the way that other pre-school properties have done in the past, but it does prove that Aardman remains a strong brand in the US, and a serious player with projects of remarkable quality reaching all areas of the family market. You'll have a fun time with Timmy!
Animated Classic or Back To The Drawing Board?
Timmy Time
Aardman Animations/Playhouse Disney
2009-2010
10 minutes approx per episode
Not rated
created and produced by Jackie Cockle