South Park Studios/Comedy Central (March 12 – November 19 2008), Paramount (March 10 2009), 3 discs, 308 mins plus supplements, 1.33:1 original full frame ratio, Dolby Digital Stereo, Not Rated (parental advisory for explicit content: this program is recommended for mature audiences only as it contains adult language and situations), Retail: $49.99
[WARNING: THIS REVIEW MAY CONTAIN REFERENCES TO MATERIAL FOR MATURE READERS ONLY]
Storyboard:
All fourteen episodes from Trey Parker and Matt Stone's 2008 run of their groundbreaking comedy institution, now uncut and uncensored!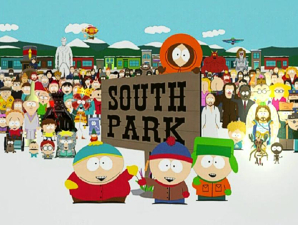 The Sweatbox Review:
About to head into their thirteenth year of aggressively funny, always poignant and terrifically topical episodes, South Park shows no signs of slowing down based on the evidence served up by this three disc set of its most recent season. The power to shock is relatively easy even in this day and age, but where Parker and Stone continually manage strike most effectively is in their dressing up the topicality of the issues they explore under such lunatic and off the wall frontages.
And even with the likes of Family Guy still coming over as random but essentially warm and fuzzy at the end of the day, and the increasingly tired The Simpsons now seemingly a permanent fixture even though the magic only shines intermittently these days, South Park still raises questions, pushes barriers and makes those that can appreciate where it's coming from laugh very, very hard, even when sometimes it's uncomfortable.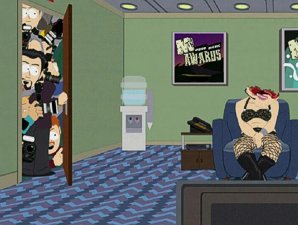 For some reason, I'd actually missed many of the episodes from this collection, but the magic of DVD (and now Blu-ray: Season Twelve marks the debut of Cartman, Kyle, Kenny and company in high-definition) means any and all fans can catch up in one head-spinning session. During this year's worth of encounters, the boys will fight AIDS, meet a troubled Britney Spears, go up against the Chinese "invasion" of the Olympics, and discover the new president elect is a world class jewel thief, among many others. All this, plus spoofing Heavy Metal and High School Musical, converting Ms Garrison back to "the man she was always meant to be" too, and attempting to save Indiana Jones from his greatest threat: his own creators!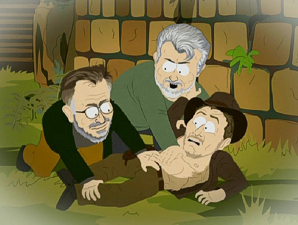 Actually, it's this episode, illustrated on the set's inside artwork, that I leapt to first, being sympathetic with Parker and Stone's undoubted views on Indiana Jones And The Kingdom Of The Crystal Skull and being unable to wait and see how they handled it. By the end of the show, I was left in absolutely no doubt how they felt, and in no uncertain terms: they depict Spielberg and Lucas (interestingly Harrison Ford is let off lightly) as a pair of Deliverance styled rednecks all too eager to literally rape their celebrated character for all he is worth. Kudos to Paramount – distributor to both Indy IV and South Park – for not censoring Parker and Stone, for at times like these a million armchair critics can waffle on all they like about an extremely disappointing movie outing, but only these two can really send the message home and be heard in an equal-levelled arena.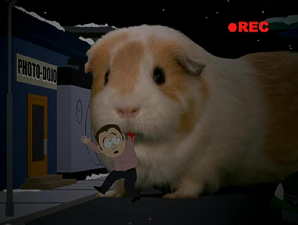 Of the other shows, the genius of what I feel are two of our premiere satirists working today is felt in the way they weave in the issues of the day often as parables to what happens to the characters living in South Park. Sometimes it's more subtle such as the writers strike of last year (Canada Goes On Strike), the prevalence in our lives by the internet (the Grapes Of Wrath journey Over Logging) and sometimes it's more head on, especially with popular culture (Cloverfield is given a prime roasting in a two-parter), though it can be just as biting to the hand that feeds and, indeed, its audience: there's no hiding the fact that a tabloid hungry public is just as guilty of encouraging the Britney Spears situation (Britney's New Look) as the poor girl is herself ("first you shave your head and now this!).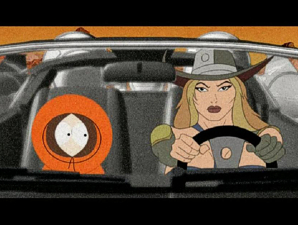 Of the highlights, Major Boobage has to be one, and is easily on the level of a Good Times With Weapons or Cartoon Wars for not only the basic outline but the oh-so accurate lampooning of the 1981 Heavy Metal movie's artwork. Eek, A Penis! features perhaps the funniest, most spot-on single moment in the entire season (I'll just say "An American Tail"), while giant guinea pigs provide the horror in Pandemic and Pandemic 2: The Startling, a ruthless pastiche of Hollywood blockbusters. Super Fun Time is perhaps the weak-point, though the random choice of the Die Hard bad guys who wreck a school outing is so bizarre that there's still a fun factor.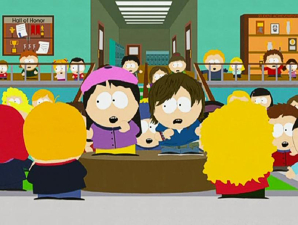 The remaining shows essentially continue the spoofing: guess what Elementary School Musical rifts on, brilliantly switching around the roles and having a young lad wanting to play basketball against the wishes of his musical-loving father as the boys discover the latest craze ("Well, if this is what's cool now, I think I'm done…I no longer have any connection to this world"). The Ungroundable comes bang up to date by attacking another current hit, Twilight, with the always off kilter Butters believing that vampires have started coming to South Park Elementary, though for anyone who hasn't seen the movie, the allusions to films from horror's past, most notably The Lost Boys, will still raise a chuckle.
True to form, Matt and Trey never take the obvious angle: in About Last Night it would be all too easy, and as we have seen elsewhere, to simply ridicule the presidential candidates; instead, they put another off the wall spin on things, turning the whole event on its head as "the truth" behind Obama and McCain is revealed while admiringly refraining from projecting their own political bias onto the characters. But it's The China Problem that remains the series highlight, mixing the dual hot topics of last summer – the Olympics and Indiana Jones – as only South Park can.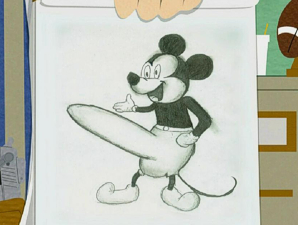 After twelve seasons, lesser shows have certainly buckled under the pressure to remain fresh or even more offensive. South Park succeeds best when it's reacting to current issues and sticking to its roots. Yes, there are the moments that play so near the edge that even long time viewers will be amazed that they can get away with this stuff, and the usual disclaimer is to say that this isn't for everyone. But while The Complete Twelfth Season may push the envelope and cross the boundaries further than in previous years, there's just no denying that with episodes like The China Problem's butchering of Indiana Jones, South Park absolutely illustrates how right the program can be when it's being so wrong!
Is This Thing Loaded?
For the first time, a South Park season has concurrently arrived on Blu-ray, but in terms of extras both formats would seem to offer the same bonus packages, and as such fans might be excited at the "two hours of bonus features" a sticker promises.
As usual, Matt and Trey drop in for the beginnings of each episode for their very welcome Mini-Commentary remarks, during which the pair speak for around the first five minutes of each program, making their intentions clear for the purpose of that show's story and events before moving on to the next one. Again, the Indiana Jones episode is a highlight in this regard: we're really left without any uncertainty as to how much they hated the Crystal Skull movie, and how they worked in the fact that their show came un-typically late (after a summer break) but still made its impact. As well as the frank language, both are also very honest about their work processes, and it's refreshing to hear two obviously very creative people simply speaking frankly about their work without elaborating endlessly about nothing. Super concise, and all the more better for it.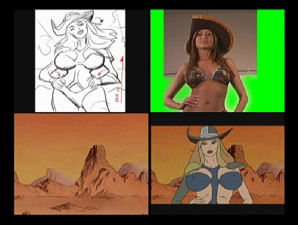 On Disc One, Behind The Scenes: The Making Of Major Boobage breaks down the four Heavy Metal parody scenes from the episode, with producer Eric Stough and art director Adrien Beard providing commentary explaining how these full animation moments – unique to South Park's production – was achieved. All four clips explore concept, storyboard, computer generated animatic and final composited shots, and the surprising amount of work, including live-action reference, is very interesting to see. In a Play All configuration, all four sequences run for over thirteen minutes.
If you're expecting an episode length video diary documentary by the sounds of Disc Two's supplement Six Days To South Park you'll either be excited or uninterested in what this turns out to be. Essentially running various versions of scenes from the same Super Fun Time episode as it progresses over the six-day production process that brings South Park together, this might have been more fascinating on a more visually appealing episode (Major Boobage would have been the natural choice, one would have thought, though the point is to depict the crammed schedule). It's effectively a commentary track (from Stough and other crew members) that runs over the same basic material multiple times, with the participants becoming less interested or able to come up with anything new to say until we're fundamentally watching the final episode, and not the best from this season, again. Playing for over an hour and twenty minutes, this proves a more isn't always better.
Behind The Scenes: About Last Night, on Disc Three, continues the commentary angle, this time on a rough cut of one of the more smart episodes. Mixing the tone of the recent Ocean's Eleven remake with the tense conventions of 24, remarkably this show was largely completed on the last day of production, with the creators having to wait until they knew who won the election so that they could include the result in the episode, which aired the day after Obama was voted in. Being one of the most entertaining shows in the season, this translates into a solid extra, though interestingly it's presented in a letterboxed widescreen aspect which does indeed show more left and right than the final version included… The set is completed with a preview for the separate "best of" compilation The Cult Of Cartman: Revelations, which opens the first disc.
Case Study:
Another reason long time collectors may want to stick with the regular DVD edition of Season Twelve's shows is so their South Park DVDs match up on their shelves: the Blu-ray edition still coming in a boxed set but nudging in around an inch shorter than all eleven previous sets. As usual, the three discs come presented in a slipcased five-fold digipack, with episode listings including production number, synopsis and air date for each surrounded by glossy production art that's repeated on the discs. The images chosen are often as hysterical as the episodes themselves, though Spielberg and Lucas approaching Indiana Jones can only hint at the depravity within!
There's been some talk that the Digital Copy is only available with the Blu-ray edition; this isn't true as the regular DVD includes not only a sticker on the front of the pack but an insert inside that promotes the hi-def version on one side and lists the instructions for downloading the episode files (in standard definition and without any extras) on the other.
Ink And Paint:
Coming to DVD and Blu-ray, we opted for the standard definition collection since the digital transfers of the show have been excellent in the past few sets and, really, I already find the hard artwork lines of South Park sharp enough without needing to see every vector up close. Also, there's a charm to South Park in that it's supposed to be slightly cruddy, and being that I'm more likely to watch this type of material on a standard sized TV as opposed as to in my home theater, I just can't see the value in splashing out extra cost on a show that's mainly made up of blocked out colors anyway, and still framed for 4:3.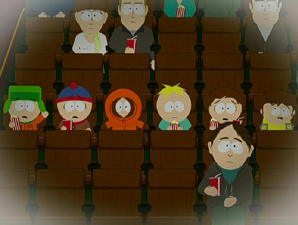 I'm sure there are some that will leap at the chance to grab Season Twelve in high definition, but as it is DVD owners shouldn't feel they have anything less in terms of quality: the discs come with barely more than 90 minutes of episodes on them and the clarity is so clean – albeit in interlaced format (on both DVD and Blu-ray) – that you can make out the construction paper styled textures as much as you would want or need to. Lo-tech and terrific.
Scratch Tracks:
Although South Park is only created with a stereo mix, I would again question whether it ever needs anything more: it's a purposely lo-tech show and the feature-styled mixes always sound bigger than they are. One trend I'm not too sure about is the "uncensored" badge that Comedy Central seem to boast on all their disc packages nowadays: a lot of the charm of South Park's excessive profanity was having it bleeped out on TV, which actually made the use of such words as the f-bomb funnier in context. Quite often, knowing that they would be bleeped, Parker and Stone would pepper scenes with an never-ending onslaught of such words, making the Morse Code like blips and bleeps an asset to the comedy. With those filters now uncensored, some of that extra layer is now sadly missing, replaced with the actual words that, while sometimes amusing, ironically don't seem to have the same effect as when we couldn't hear them. My biggest question: given the technology, why not the choice of which track we want to hear?
Final Cut:
South Park continues to pack a punch on many levels as much as ever. It may not be the water cooler speaking point it once was, but when the show hits a subject hard it does so without holding back anything whatsoever, and this is why it remains an important voice on television. As Season Thirteen begins, this is a fine chance to catch up on the previous year, and by now the audiences for these box sets is out there to automatically pick them up on release, so the chances are this will line itself up on the shelf with the eleven other seasons already on disc. I would say to think twice before shelling out extra on the Blu-ray version (the DVD goes for around $30 online while the BD could be anything up to its $70 list price) for the minimal benefits that brings, and while the uncensored bad language seems more thrown in for shock value than comedy, there are still some very outrageous laughs to be had in almost every episode.
Animated Classic or Back To The Drawing Board?