Hanna-Barbera Productions (June 3 1964), Warner Home Video (December 2 2008), single disc, 89 mins plus supplements, 1.78:1 anamorphic widescreen, Dolby Digital Surround, Rated G, Retail: $19.98
Storyboard:
Yogi Bear and Boo-Boo star in their – and Hanna-Barbera's – first animated feature length movie! When Yogi's pic-a-nic swiping gets too much for Ranger Smith, he prepares to ship Yogi and sidekick Boo-Boo off to the San Diego Zoo. Hearing of this, Yogi's sweetheart Cindy volunteers herself to be sent off too, but is unaware that her actual destination is the St Louis Zoo and, when she attempts an escape, winds up being captured by the snivelling Chizzling Brothers Circus! Realising he is to blame for the whole mess in the first place, Yogi breaks out of Jellystone Park to journey cross-country to find the circus – and rescue Cindy – followed by Boo-Boo, followed by Ranger Smith!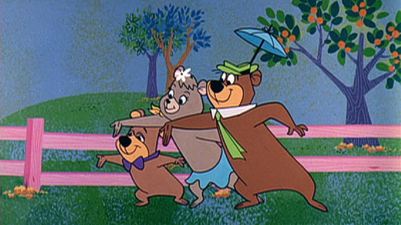 The Sweatbox Review:
With all their success with multiple television hits on the small screen, Bill Hanna and Jo Barbera never really made much of a dent in theaters even though they never gave up their big screen ambitions. The pair had, of course, made their name in the short subject arena, winning an incredible seven Oscars for their Tom & Jerry series at MGM. With distributors finding they could reissue their shorts instead of producing new ones, Hanna-Barbera found themselves setting up their own Studio to create animation exclusively for the new medium. Previous to the enormous accomplishments to come, the duo had provided half an hour of non-Tom & Jerry animation for the Gene Kelly dance anthology trilogy Invitation To The Dance, but otherwise their feature work had been restricted to cat and mouse cameos in Anchors Aweigh (with Kelly again) and the Esther Williams vehicle Dangerous When Wet.
Hanna-Barbera had kept something of a hand in theatrical shorts during the early 1960s with their now sadly forgotten Loopy De Loop cartoons, but it was the huge popularity of The Flintstones that had seen a theatrical feature emerge as something of a series capper for the original run, which ended in the same year, 1966. A year later, Hanna-Barbera teamed again with Gene Kelly for a prime time Emmy-winning television special of Jack And The Beanstalk that combined animation and live-action and got some limited theatrical engagements in some territories (what a fine pair this and Invitation To The Dance would make in a double-feature DVD offering). Many other feature-length television specials would follow, but it wasn't until 1973 that their most popular film, Charlotte's Web, made its way to theaters, with songs written by Disney's legendary writing team the Sherman Brothers.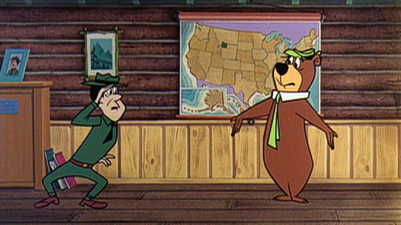 The 1970s would be a prolific period of iconic television classics, a mixture of holdovers from the 1960s, the return of old friends, new creations and more feature-length specials – usually Christmas outings – and it would close to a decade before Heidi's Song, perhaps their most ambitious production, came to theaters in 1982. The fondly remembered Jetsons made a comeback to movie screens in 1990, by which time Disney's grip on the feature animation market was such a tough nut to crack that, after the 1993 environmental misfire Once Upon A Forest, eventual Hanna-Barbera owners Warner Bros. decided to refrain from any further theatrical attempts and focus on exhausting the library for their Cartoon Network channel. Adventures on the big screen continued with others taking Bill and Joe's properties, most notably The Flintstones and Scooby-Doo, creating live-action/animation hybrid films that proved, if nothing else, that the characters were robust enough creations to withstand anything.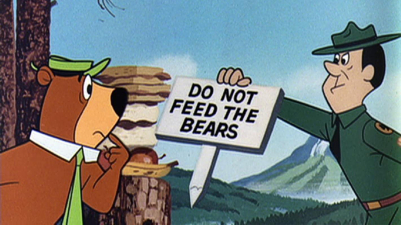 Currently up for the "live-action" treatment is Yogi Bear, one of the Studio's most popular of its early and original creations, but it won't be the first time the pic-a-nic swiping bear has appeared on the silver screen. Back in 1964, before even the Flintstones feature, the huge popularity of The Yogi Bear Show prompted Hanna-Barbera to take a shot on featuring the smarter than the average bear in a full-length adventure. Yogi had debuted on TV in 1958, as a recurring member of The Huckleberry Hound Show cast, but such was his popularity that he landed his own program in 1961. The attraction is both easy and tough to define: each episode is essentially a one-joke gag; Jellystone Park residents Yogi and sidekick Boo Boo's appetites get the better of them, leading them to swipe visitor's picnic baskets, under the nose of park Ranger Smith. It's a simple set-up, and while playing out the same routine show after show may beg the question of how the characters became so popular, it must also be pointed out that Yogi is just such a lovable, innocent thief that one can't ever accuse him of doing anything other than following his stomach.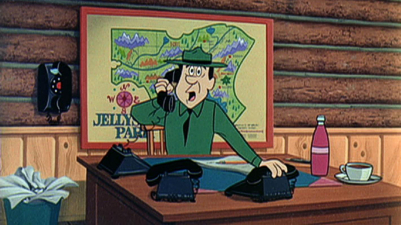 Although Hey There! It's Yogi Bear came during the original run of the television series, thus allowing perfect transition from the voice cast to continue their then very recognizable roles, Hanna and Barbera knew they would have to up the stakes for a theatrical film to be a success over simply stretching out the television gag for 90 minutes. As such, the story synopsis described above actually chops out a fair share of the film's twisty, quite elaborate plotting, which pulls off a number of switcheroos quite convincingly, if sometimes a little over convolutedly. We open, naturally, in Jellystone, just as spring arrives and Yogi is on his the pic-a-nic basket prowl. Amusingly, the movie accepts that we're aware of the bear's shenanigans from the television program, with the long-suffering Ranger Smith now ready and armed to foil Yogi's attempts!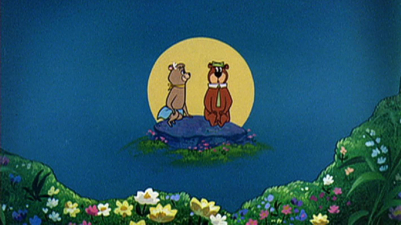 So far, so business as usual, but along comes a real plot: Smith receives word that San Diego Zoo is looking for bears, and they'd appreciate one from the Park, leaving the Ranger with no small idea of who he'd care to ship out. Meanwhile, Cindy Bear is ready to open up her heart to Yogi, who has gone into hiding so that another bear is chosen for the Zoo instead, but mistaken identities ensure that both Yogi's pal Boo-Boo and Cindy think it was Yogi who was sent away, hence his no-shows. With Yogi "gone", the picnic poacher, now calling himself The Brown Phantom, arrives on the scene, causing the Ranger much consternation. Smith announces that whoever the Phantom is found to be will also be shipped off to the Zoo and, seeing a way to be reunited with Yogi, Cindy puts herself forward as the culprit. As Boo-Boo says goodbye to Cindy, Yogi reveals himself and his attempts at skipping being transferred to Ranger Smith, who tells the bear that Cindy is destined for another zoo altogether! Before Smith can make further arrangements, Yogi and Boo-Boo are on Cindy's trail, but then things get really complicated when Cindy finds out where she is headed and makes a run for it, only to be captured by a seedy circus as a high-wire performing bear!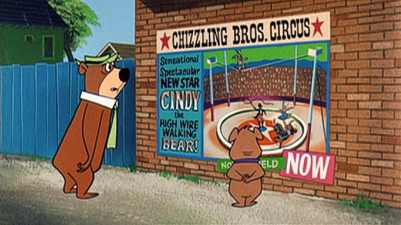 Everything turns out for the good, of course, but this is a lot more story than one might be expecting and I'll admit it kept me hooked for the most part as a kid when we ran this on VHS. I do mean "for the most part" but I say it because, although there's a packed amount of plotting going on, Hey There, It's Yogi Bear does succumb to the odd pitfalls of the time. While there's only a slight padding out of the TV format for a feature-length story, much of this is taken up with some overly syrupy songs: a romantic ballad here, a sentimental dream sequence there, which may have pleasantly washed over the audiences of the time but nowadays will probably come over as "fast forward moments", as we used to call them as kids. These were the sequences in movies, like Lovely Lonely Man from Chitty Chitty Bang Bang, which indicated a good couple of minutes where one could grab a drink if it was playing on TV or, when home video came along, that one would literally whiz through. Naturally in later years I've come to appreciate the beats and context of such placings in movies – I now even enjoy Lovely Lonely Man! – but here there are one or two moments that lend the film a lethargic quality that's quite melancholy and representative of non-Disney feature animation at the time (also noticeable in the Flintstone movie and UPA's Gay Purr-ee).
However, against these slight marks, Yogi Bear also contains some of Hanna-Barbera's best work from this era: there are some very fun, toe-tapping songs too. The opener Hey There, Yogi Bear has stuck with me all these years, and the circus escape and New York building construction-set climax are genuinely more involving than you might expect, thanks to the veteran team they assembled. The scripting is credited to directors Bill and Joe themselves, who also produced with Alex Lovy and wrote with Looney Tunes' Warren Foster (who, it's said, brought another Looney alumni, Friz Freleng, on board for an uncredited polish) crackles along with the usual well-written flair. Usually in these productions, it's the script doing overtime that detracts from the limited style routinely employed on the television cartoons, but under directing animator Charles Nichols there's no need to try and gloss over any such inadequacies; certainly this wasn't going to threaten Disney's artistic stronghold, but it's a noticeable step up that retains a fine balance between Yogi's usual appearance and the needs for more movement and characterization on the motion picture screen.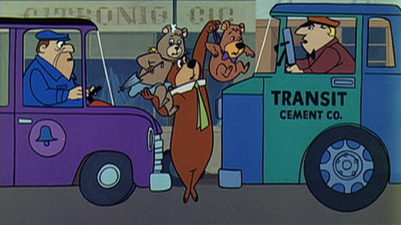 Where the movie succeeds too is in its expansion from being a simple feature-length escapade around Jellystone, to opening up as a country-wide quest, which elevates the overall scope and places Yogi and company in new situations that offer opportunity for comic and dramatic moments, as well as the unique sight of Yogi placed in some unfamiliar locations. The visual artists – a host of celebrated studio animators – are joined by the vocal artists from the small screen: our star is of course Hanna-Barbera legend Daws Butler, who brings an energetic zest to Yogi, while reprising his dual roles of Boo-Boo and Ranger Smith is Don Messick, another veteran of the Studio's output, with Julie Bennett sweet if a little cloying as Cindy. The rest of the cast is filled out with recognisable names from animation's roster of talents: in Hey There! you're sure to be able to make out Mel Blanc, Bill Lee, J. Pat O'Malley and more Studio stalwarts: Hal Smith and Mrs Flintstone herself, Jean Vander Pyl, with James Darren even contributing, in a romantic Italian-set dream sequence, towards Yogi's surprisingly finessed singing vocals (wink-wink)!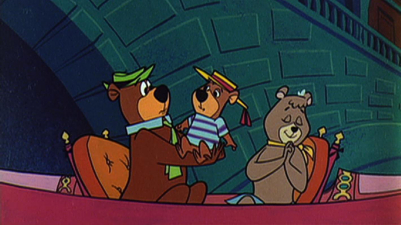 As well as being Hanna-Barbera's initial foray into feature animation, Yogi Bear is also notable for another first: the Chizzling Brothers' canine cohort Mugger's sniggering laugh proved so infectious that the character was developed and renamed Muttley! Of course, he not only went on to become a classic foil for Dick Dastardly in Wacky Races and Dastardly And Muttley In Their Flying Machines, but as a bona fide star in his own right, also providing the basis for countless other sneaky animals in the Hanna-Barbera cartoon menagerie. Yogi himself would return to the feature format for Yogi's First Christmas in 1980, which at 98 minutes spread a little of Yogi a long way and, at times, feels lost in direction.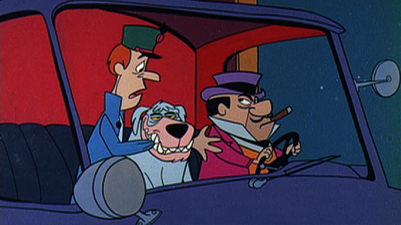 Other specials would follow, but none of them quite captured the playfulness exhibited in the original 1960s television cartoon episodes and this original feature film. The character is currently being primed for a return to the big screen as part of a re-energising of the now Warners-owned Hanna-Barbera library, which has so far seen live-action interpretations of The Flintstones and Scooby-Doo and is set to continue with The Jetsons and Tom & Jerry. Quite what these "live-action" versions bring to the table is anyone's guess: though the second Scooby movie was the best of this bunch, they still fail to hold a candle to the originals. And, as such, Hey There, It's Yogi Bear! is perhaps one of the very best examples!
Is This Thing Loaded?
In a word: no, but continue reading for some other unexpected reasons to consider picking up this disc. Although it's free of even a basic theatrical trailer, there's a bit of extra content, though it's all promotional: the kitschy Wizard Of Oz anti-piracy spot and previews for Smurfs Season 1 Volume 2, the Looney Tunes Golden Collection Volume 6, and Popeye The Sailor 1938-1940 Volume 2, playable from their own menu option individually or in one grouping.
Case Study:
A standard keepcase houses a bright and colorful sleeve. Original poster art, as sported on my old VHS, would have been more than welcome but I assume the marketing is gearing up to make Yogi a recognisable face for the upcoming movie and so it's this feature that almost fills the front of the sleeve, pushing Boo-Boo, Cindy and Ranger Smith to the back. Though this is all what looks to be new art, it doesn't look particularly "lavish", and the somewhat budget look doesn't help sell the higher than usual quality of the Hanna-Barbera animation to be found within. Inside the actual case, there's an appropriate insert for Jellystone Park Camp Resorts, while Yogi pops up again in all his airbrushed colorful glory on the disc art.
Ink And Paint:
Well, well, well – Hey There, It's Yogi Bear! has astonishingly but very pleasingly been presented in its original widescreen format as seen in theaters in 1964! With The Man Called Flintstone making its disc debut some time ago in an open matte edition, one would have assumed that Yogi would have followed suit, so this is a pleasant surprise. While the light contents of the disc would normally have me complaining that both intended and negative aspect ratios should really have been offered, this comes as such a shock (albeit a delightful one) that I'm willing to cut them some slack. As with the Flintstone feature and all theatrical Hanna-Barbera animation to follow, the cinema screen ratio has been adhered too comprehensively, and where one gets the notion that Disney's films were perhaps always intended to be seen forevermore on television, there's such an attempt to make this work on the wider screen that one simply has to believe that this framing was always the intended or preferred ratio to be seen.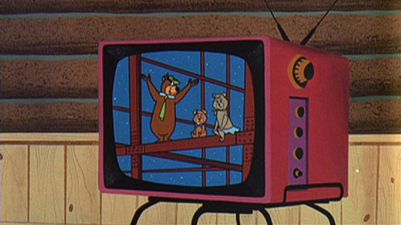 This is even more prescient given that this was the Studio's first animated feature, for which they no doubt had high hopes for and an ambition to be recognised as feature creators and not simply television producers with jacked up ideas. As the sleeve notes, the film has been "remastered", though a fair amount of speckling and old-school cel scuffs may slightly detract from the image for those who regularly watch animation from this vintage. But therein lays its charm, and the layer of unobtrusive grain offers a authentic film experience. But more than anything I was impressed with that wider framing and a generally higher level of cartooning than we might expect from Hanna-Barbera's television properties. Though it retains the simplicity from Yogi's hugely popular small screen appearances, Hey There! pulls out all the stops neatly.
Scratch Tracks:
Whatever has led to Hey There, It's Yogi Bear being given such a royal treatment on disc? Otherwise barren of features or – it has to be said – any really striking cover art, the film not only looks pretty neat but sounds really, really nice too, thanks to a Dolby Stereo Surround track. I'd have expected a standard mono track for a film of this type, but it appears this is an original theatrical track which, given the expectations from their first feature, Bill and Joe could well have sprung for. It wouldn't fool anyone as a new remix but it's lively, especially with the spot effects, and reproduces Marty Paich, Ray Gilbert and Doug Goodwin's music and songs very warmly, and with a wonderful spaciousness that the film probably didn't even enjoy back at the time. For a taste as to what a dated, overloaded and tinny mono mix might have sounded like, just such a Portuguese track is optional (with songs in English), as well as subtitles in both languages.
Final Cut:
Perhaps the finest of the original Hanna-Barbera features, it's clear that a lot of good work went into making Hey There, It's Yogi Bear! the best it could be. With a mix of some delightful song sequences, very funny comedy shtick and scenes of real excitement, this isn't the kind of film that could demolish Disney's sense of timing or adventure, but was never meant to be: Bill and Joe simply wanted to put out a feel good kids movie that would appeal to older audiences as well. Now finally available on DVD, the $20 list price could be considered steep if it wasn't going for nearer to $15 online, but those of us who have tattered and worn VHS or LD copies can retire those safely: while a total lack of extras is a bit of a let down if not a surprise, the presentation is bright, cheerful and certainly smarter than the average disc!
Animated Classic or Back To The Drawing Board?