Hanna-Barbera (1982), Warner Home Video (December 7, 2010), 1 disc, 24 mins plus supplements, 1.33:1 ratio, Dolby Digital 2.0 mono, Rated G, Retail: $14.98
Storyboard:
Yogi's friends come to Jellystone Park for Christmas, just in time to find out that Yogi went to the city to be with them for the holidays. While in the city, Yogi tries to help a little girl who has run away from her rich but neglectful father.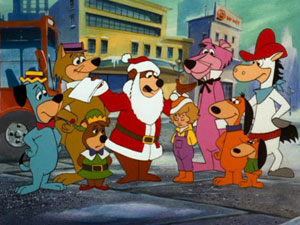 The Sweatbox Review:
Sometimes Christmas specials are just stories with your favorite characters doing things at Christmas time. But sometimes they can actually be special. Having not seen this particular one before, I was very pleased to find that it fit in the latter category.
Writer Mark Evanier recently reported on the special's history in his blog. Apparently, he wrote it in just two and a half days, after numerous scripts had been written by others, all deemed unsatisfactory by either the network or executive producer Joe Barbera. One wouldn't think that writing a Christmas special would be so hard, but then lots of things seem simple until you actually try to do so— especially when you have to satisfy a number of other people, each with their own takes on what your script should be. Anyhow, the special was eventually delayed for a full year, which you would (again) think would be plenty of time to find a suitable script; but wrong again.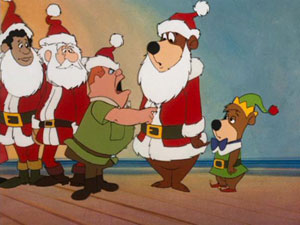 In the end, with an Animation Union strike looming, Evanier was called in at the last hour and was asked to rush a script. Then the special had to be recorded and boarded in less than a month, before being sent off to Australia for final animation. All in all, it was a pretty hectic schedule— maybe even impossible. It had to be done, though, because otherwise Hanna-Barbera would be in default and would lose their deal. Veteran director Alex Lovy reportedly had to board the special at the last minute when the original job was found to be… less than good. But you wouldn't know any of this, as the special turned out pretty darn good, even if a couple of scenes were never completely finished (which you'd only know from reading Evanier's blog).
Evanier, consummate pro that he is, managed to write a script that brought together a large group of classic characters, and place them into a story that was not only funny, but also managed to have a heart. Critics might find the story a little too syrupy or maudlin, but hey— it's a Christmas special! Just go with it!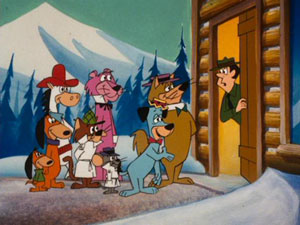 Christmas time is here, and a group of Yogi Bear's old friends is making its way to Jellystone Park to surprise him. The festive gang includes Huckleberry Hound, Hokey Wolf, Snooper and Blabbermouse, Quick Draw McGraw, Snagglepuss, and Augie Doggie and Doggie Daddy. When they arrive, they find a relaxing Ranger Smith very unenthusiastic about waking Yogi during hibernation time. Of course, if he had recalled 1980's Yogi's First Christmas , he would know that Yogi loves Christmas now, and wouldn't waste his holiday time snoozing. Everyone is in for a surprise, though, when they discover a message on Yogi's answering machine, explaining that he and Boo Boo have left for the city in order to see Huckleberry Hound and their other friends.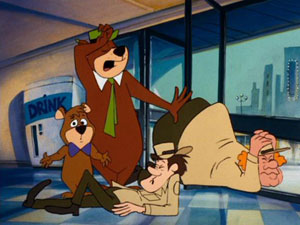 The gang heads back to the city, hoping to find Yogi before the holiday is over. Yogi, meanwhile, is with Boo Boo in the luggage compartment of a bus. Boo Boo is naturally wary of Yogi's plan, citing the regularity with which Yogi gets them both in trouble. Arriving at the bus depot, they find that they are wanted bears, as Ranger Smith has already raised the alert. After eluding their would-be captors, they duck into the receiving dock of a department store, and make their way into the store. Their pursuers, however, remain on their trail. Ending up in a Santa Claus line-up, Yogi accepts the disguise and continues on his way with Boo Boo. At the same time, a little girl named Judy Jones has been dropped off by her father, a rich and busy man who cannot even be bothered to accompany her inside. Despondent over his lack of interest in her, little Judy decides to not return to the limousine.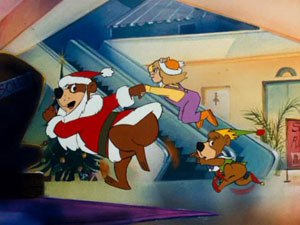 Judy finds Yogi and Boo Boo, and immediately takes a liking to them. As Yogi talks with her, her father enters the store and demands that security conduct a search. When a guard shouts at Yogi, he naturally thinks that he is the target of the search, and the three of them flee the store. Outside, Judy still refuses to tell Yogi her address, as she has no desire to return to her uncaring father. Hunger sets in, and Yogi miraculously finds a way to pilfer a "pic-a-nic" basket in the city in the middle of winter, just before his friends spot him and join in his effort to find Judy's home. With "Jones" being a fairly common name, there are a whole lot of Jones-es to search through in the big city, but they all set out to find which family belongs to Judy.
A great deal of the fun in the show is seeing the gang come across numerous other Hanna-Barbera favorites. Snagglepuss finds Fred Flintstone and Barney Rubble ("three million years away from Bedrock) collecting money for charity. Quick Draw finds himself at the residence where Mr. Jinks always chases Pixie and Dixie. Magilla Gorilla, Wally Gator, and Yakky Doodle all join the search too.
Eventually, everything comes together as Ranger Smith has heard news reports and figured out what happened. At the same time, Judy has begun to miss her Daddy and is ready to go home. With the police closing in, Mr. Jones upset, and Yogi in very big trouble, only the spirit of the season may allow for a happy ending for everyone.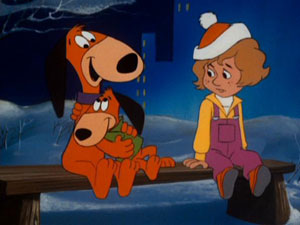 It all could have gone too far towards cliché, but Evanier's script and the direction of Steve Lumley manage to keep it all sincere and heartfelt. The special is genuinely touching, nurtured along by faithful depictions of our Hanna-Barbera favorites. Everyone acts in character, aided by the classic voice talents of Daws Butler, Don Messick, Henry Corden, Allan Melvin, and others. I have an awful lot of Christmas specials in my DVD collection, but few get watched every single year. This is one I may have to put into the regular rotation.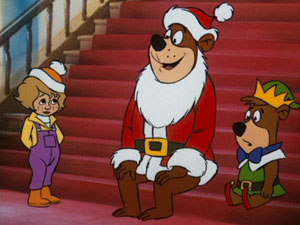 Is This Thing Loaded?
At least as enjoyable is the bonus special included on this disc, Yogi's Birthday Party (23 minutes). This syndicated special from 1961 (though it may have only aired at the beginning of 1962) was actually the finale for The Yogi Bear Show. As such, it was also presented on the complete series DVD set of a few years ago. Regardless, it's great to see it get a wider audience here. This is old-school Yogi, when the drawings were loose, the backgrounds often abstract, and the voice actors were at the top of their game. Somehow, though the older H-B cartoons are less polished than the 1980s specials, they are simply more fun to watch. There is a freshness and vitality there that got lost somewhere along the way to the characters becoming corporate icons. Even the more limited animation suits the material well, forcing the animators to up their game in terms of posing and broad acting.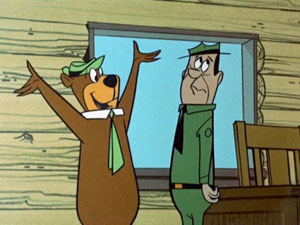 Written by animation great Warren Foster, this special broke with The Yogi Bear Show's usual format of three separate character cartoons, and told a full-length story. Ranger Smith is phoned by the sponsor, who wants to give Yogi a birthday party at a studio in the city. Ranger Smith doesn't know how he will keep the secret from Yogi, especially since Smith has a big mouth. Yogi overhears him worrying, and knows something is up. Smith decides to delude Yogi into thinking that Yogi will star in a TV special, where he will be a performer. Yogi is initially very excited… until he realizes that he has no talent.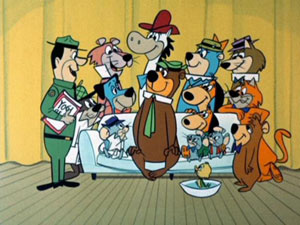 Yogi's efforts are then focused on taking classes to become a better musician or performer, as he visits a few teachers based on personalities of the day, including a spoof of Liberace. He has decidedly unfortunate results. Discouragement sets in, so that Yogi decides to go AWOL, and has to be captured and forced to go to the studio. Once he is there, the surprise nature of the event becomes known, and he is subjected to a very pleasant This Is Your Life type of presentation. This gives the story the chance to introduce an assortment of Hanna-Barbera stars, all eager to pay their respects. This special is filled with laughs, terrific voice performances, and some classic, fancy cartooning. You'll also get to see Cindy Bear when she was still colored blue, and Yogi gives his best Ed Sullivan impression. If you've ever loved old-time Hanna-Barbera, this will prove to be a nostalgic joy.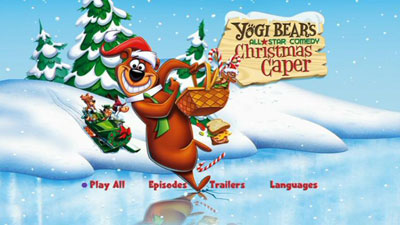 Upon loading the disc, Trailers show for various Peanuts holiday DVDs, the Classic Christmas favorites set, and the Yogi Bear theatrical film. Off the menu system, you can also find Trailers for the video games Scooby-Doo And The Spooky Swamp and LEGO Harry Potter.
Case Study:
The standard eco keepcase comes with an insert advertising Yogi Bear's Jellystone Park Camp Resorts. I had no idea there were 70 of them now!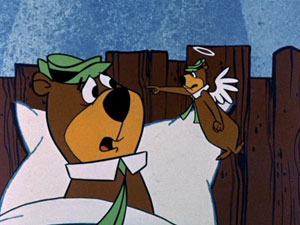 Ink And Paint:
The 4:3 image appears un-restored, but is very decent. Only a few specks of dust are evident (more so in a few particular scenes), and the typical cel smudges can be seen. There are only hints of shimmer in the image at times, but overall the compression work is quite good. The Birthday special looks even better, oddly enough. The negative image may have been cleaner, due to the lack of overseas handling during production; but the image even looks a little sharper than the newer special. Perhaps it underwent some restoration when the series' box set was produced.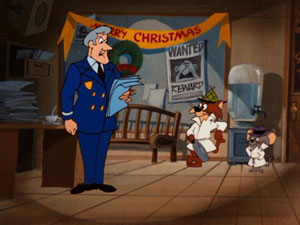 Scratch Tracks:
The mono sound is just fine on both specials. No significant distortion is heard, and one can safely enjoy the stylings of Daws Butler and company without any hissing heard. Well-trained ears may notice a small dialog glitch that occurs in a line of dialog delivered by Snagglepuss. Oddly enough, the network objected to the use of the word "Chanukah" in the Christmas special, and they deleted it. With no time left to dub the line, the special aired with what sounds like a quick drop-out. That edit is still on the DVD.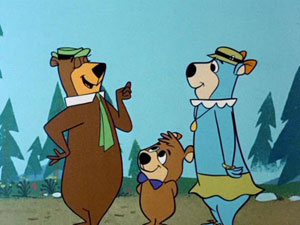 You may also listen to this special in Spanish or Portuguese. Offered subtitles include English, French, Spanish, and Portuguese.
Final Cut:
This DVD proved to be a pleasant surprise. The 1982 special is a treat, a holiday show that brings back a large group of favorites and even manages to tell a heartfelt story. This may have been one of the last times where the classic H-B characters really felt like themselves. The bonus special on the disc could have easily been the headliner itself, with the 1960s versions of many of the same characters showing how it was done in their prime. Aside from the Yogi Bear series set, this is probably the best DVD out there to showcase our favorite bruin.
Animated Classic or Back To The Drawing Board?