Hanna-Barbera (1987), Warner Archive (December 7, 2010), 1 DVD-R disc, 94 mins plus supplements, 1.33:1 ratio, Dolby Digital 1.0, Rated G, Retail: $19.95
Storyboard:
Yogi faces a huge dilemma when Jellystone Park is slated to be shut down due to being over budget. This means… no pic-a-nic baskets!!! Yogi and Boo Boo escape the park, and with them are three orphan cubs. On their journey across the United States, they encounter a few familiar faces.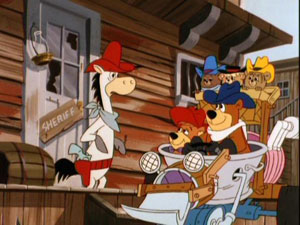 The Sweatbox Review:
Yogi Bear debuted as a segment on The Huckleberry Hound Show in 1958. Having proven extremely popular there, he was spun off into his own program in 1961. By then, he had acquired a small supporting cast, including his little buddy Boo Boo Bear, and the often exasperated Ranger Smith, who patrolled Yogi's home of Jellystone Park. Yogi's scheme to snatch campers' picnic baskets ("pic-a-nic" baskets in the bear vernacular) was his most famous shtick, but Yogi had an assortment of recreational pursuits and harebrained plots that would both infuriate Ranger Smith and challenge the loyalties of Boo Boo. That show was a hit as well, and spawned numerous Yogi Bear shows over the next twenty-plus years, often featuring other Hanna-Barbera favorites as well.
As the glory years of Hanna-Barbera came to an end in the latter 1980s, they produced a series of ten made-for-television movies, under the umbrella of Hanna-Barbera Superstars 10. These syndicated movies included three Yogi Bear titles, all of which have now been released through the Warner Archive service. Naturally, this is a result of the premiering of the new Yogi Bear live action-CGI combo film. Some may snort that the video release of "classic" Yogi Bear is the best thing to come out of the new film, though Yogi enthusiasts may want to keep their expectations in check when deciding on a purchase of these new DVD-R titles.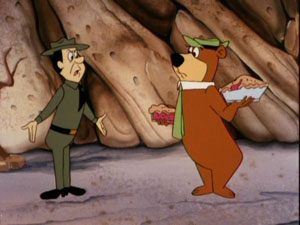 The 1987 telefilm Yogi's Great Escape was the first of the syndicated ten-movie block to air. It had a script by Neal Barbera, and had the classic H-B voice cast. Principal of these was of course Daws Butler, who provided the voice for Yogi, as well as Quick Draw McGraw, Snagglepuss and Wally Gator; and Don Messick, who played Boo Boo and Ranger Smith. After over twenty years, even these masters did not sound exactly like their 1960s selves, but they obviously added authenticity to the final product. Current cartoon regulars like Scott Menville and Tress MacNeille also participated, under the guidance of casting director Andrea Romano.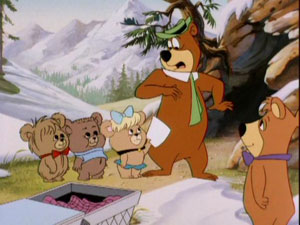 The story begins with Yogi and Boo Boo waking after their winter hibernation. Yogi is slow to perk up, but his attention is immediately more focused after the discovery of a basket at the front door of his cave. Naturally, he expects it to contain food, but instead he and Boo Boo find three orphan bear cubs. Yogi and Boo Boo are anxious to care for them, but quickly find that the cubs have appetites almost as demanding as Yogi's. Meanwhile, Ranger Smith is called by his boss, and is informed that Jellystone Park is about to be closed, due to being over budget. (It seems very odd that this would only be decided on the day that the park is opening for the year, but whatever.) So, just as Yogi needs to ramp up his efforts to procure food from campers, his meal ticket is about to vanish altogether.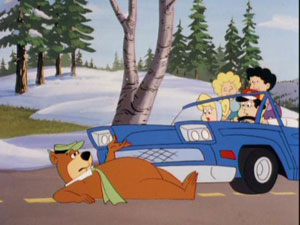 Prior to finding this out, however we do get a couple of glimpses of Yogi snatching the ranger's pie, and fooling a family out of their picnic basket, so those bases do get covered. Just after that, though, Yogi is told the bad news. Not only is the park closing, but he and Boo Boo are to be relocated to a zoo! Though he would be well taken care of there, Yogi has no intention of spending his days confined in a cage. He quickly constructs a road vehicle he dubs his Supercar, and takes Boo Boo and the cubs with him on the road, escaping the park.
Yogi remains the responsibility of Ranger Smith until the zoo can get Yogi, so Smith launches a bear-hunt. His boss knows that Smith may be overmatched by Yogi in this instance, though, and a tracker named Trapper the Scrapper is called in to assist him, somewhat against the wishes of the ranger. Worse, Trapper turns out to be somewhat incompetent, and his snickering canine assistant Yapper (where have we seen that before?) is no help either. Nevertheless, the trio set out to find Yogi and company, and bring them back to the park.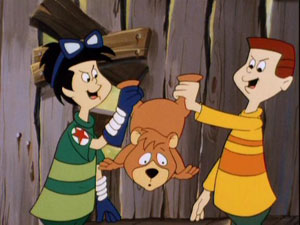 The episodic nature of the teleplay becomes more evident once Yogi hits the road, as his adventure seems designed to be chopped up into individual chapters, in case Hanna-Barbera ever decided to air the segments into 4 half-hour blocks. The bears' first stop is at a treehouse they find, which turns out to be owned by three kids. After an initial misunderstanding, the kids recognize Yogi and promise to help him with his escape. They contact other kids across the country, and everyone pledges to look out for the bears. This plotline is used to varying degrees in Yogi's future stops, which see him encountering Quick Draw McGraw (in a small western town), Wally Gator (in a swamp, of course), and Snagglepuss (at a circus). Every step of the way, Ranger Smith and Trapper are on their tails. The chase ends atop the Empire State Building, where everything is solved by a classic deus ex machina phone call from a VIP.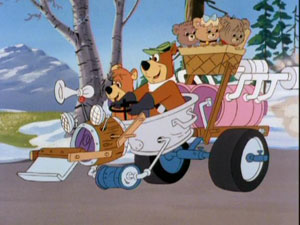 The whole endeavor might be best described as bland. Not terrible, really, but bland. The script is bland, the direction is bland, and the repetitive stock score is bland. The couple of brief songs that are introduced sound more like lousy radio jingles. The three cubs contribute nothing to the story, as the plot is not in the least changed by their presence, and they have no distinct personalities— one really wonders why anyone bothered having them in the story in the first place. (I don't think they were even given names!) A few smiles emerge during the proceedings, but in all this looks and feels exactly like what it is: a low budget, syndicated TV movie. The episodic nature of the story also discourages any plot momentum, and the welcome appearances by the other H-B favorites are largely wasted. Getting the worst of it is Quick Draw, who is portrayed as so stupid that he never does recognize his old friend Yogi, even if the "evil doppelganger" plot that runs in this segment is moderately entertaining.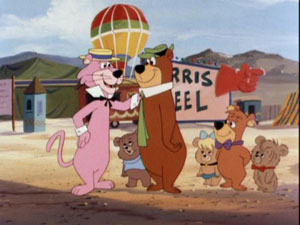 On the positive side, the movie is without anything that might be considered otherwise offensive or controversial, so at least it has that going for it. The animation is a step above what could be afforded by Yogi's show in the 1960s certainly, but is far from inspiring. The backgrounds are classier, too, but the movie still lacks a creative spark. Maximum enjoyment will be found by those who already love Yogi and Boo Boo, as I cannot see this movie making anyone a new fan. For those with nostalgia for the characters, though, you may enjoy the small charms this movie provides.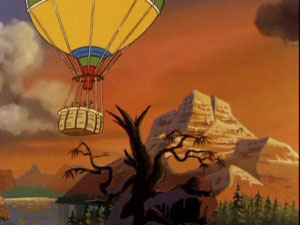 Is This Thing Loaded?
There is no title-specific menu for this Warner Archive release, and no bonus material.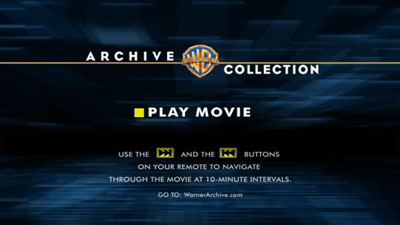 Case Study:
Basic keepcase, with no insert. The cover art is rather uninspiring, and the back cover incorrectly refers to the ranger as Ranger Tim! The Warner Archive guys were asleep at the switch on that one.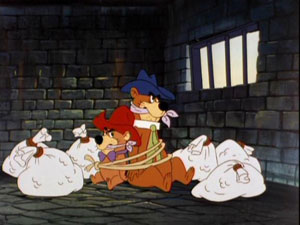 Ink And Paint:
The print used for this DVD was actually in pretty good shape, considering the lack of restoration. Some dirt and scratches do appear, but they don't intrude on one's enjoyment. The 4:3 transfer is top notch, with no notable artifacts. Colors are stable, and there is no ghosting or macroblocking.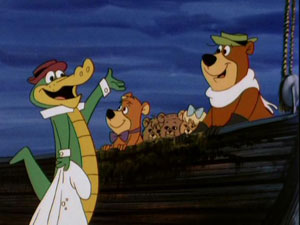 Scratch Tracks:
The mono audio is presented in two channels. It is clear and sounds likely as good as it ever did. There are no other audio or subtitle options available.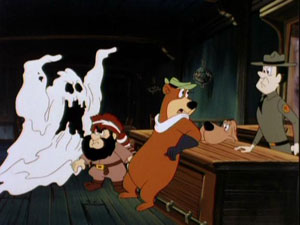 Final Cut:
This is a minor movie for the lovable bear, and best appreciated by those in a nostalgic mood. Today's kids may not even be too interested, but parents can at least count on the material to be inoffensive and safe. For those most keen to relive their childhood memories, I would perhaps recommend the Huckleberry Hound Show or Yogi Bear Show DVD sets.
Animated Classic or Back To The Drawing Board?