Walt Disney Pictures (December 25 2008), Walt Disney Home Entertainment (April 5 2009), single BD plus DVD and Digital Copy, 99 mins plus supplements, 2.35:1 high definition 1080p and anamorphic widescreen, DTS-HD 5.1 Surround, Rated PG, Retail: $39.99
Storyboard:
Babysitting his sister's kids, Uncle Skeeter (Adam Sandler) finds the stories he tells them starting to come to life in his real world.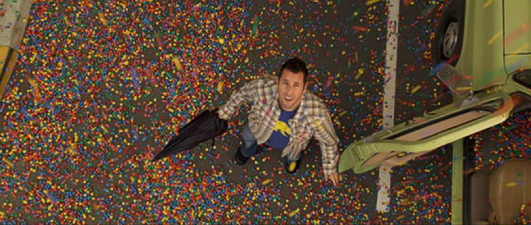 The Sweatbox Review:
Bedtime Stories is so desperate to play as a boisterous version of Enchanted or replicate the real magic of Night At The Museum that it is ultimately crushed under the weight of its own ambitions. And apart from an Enchanted-styled pop-up book opening and a similar character capping at the end, the film again shares the same basic conceit of drawing upon stock characters and situations and turning them on their head in a mix with the live-action world: here, instead of a fairytale princess having to deal with the nitty-gritty in New York, the life of an average Joe is suddenly filled with gladiators, knights and spacemen. Or so it would be if the film was anything like its marketing. Not all of these come leaping from the pages of classic books, of course – now that is a movie that could have been really cool, and more along the lines of what the similar Inkheart sounds like it could be – with Bedtime Stories more happy to settle for vague ideas rather than a sure footing.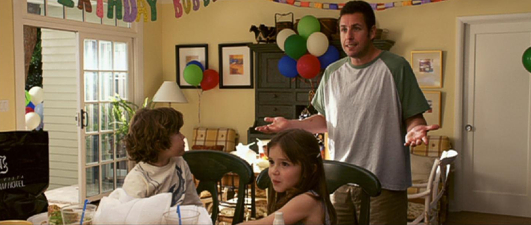 I've never been a big fan of Adam Sandler. As with Charlie Chaplin – and let's be clear I'm certainly not comparing these gentlemen's talents – I find it hard to invest in the somewhat simpleton characters he usually plays when we know the real Sandler is a very shrewd businessman who has fine tuned such an image to project away from the fact that he's a very smart cookie (and a producer of this very film). Unlike, perhaps, Steve Martin, whose persona in The Jerk was very cleverly letting the audience in on the act, Sandler almost seems to be laughing to himself at the audience for making him so rich on a wave of ultimately very poor and obvious material. Playing to the masses is no crime, of course, but I have just never found the man likeable in any of the three or four pictures I have attempted to watch him in.
What he's very adept at, however, is picking projects with a great hook, though the results usually never aspire or hit the lofty heights of comic genius that they could. I find it amusing that his often on-off director is Dennis Dugan, a Disney performer himself back in the day, most notably in the classic Unidentified Flying Oddball, also known as The Spaceman And King Arthur, but that Sandler has never really made an all-out family movie even though a fair few of them (in which he has starred or produced) have been put out through Disney's Touchstone Pictures banner. Perhaps growing older has settled him down, but he's taken a few more chances recently and even drawn some critical kudos for his dramatic performances. Most intriguingly, to me at least, Bedtime Stories promised to deliver Sandler in his first family role and – being greenlit soon after Enchanted's success – suggested it might have a hook that could really work.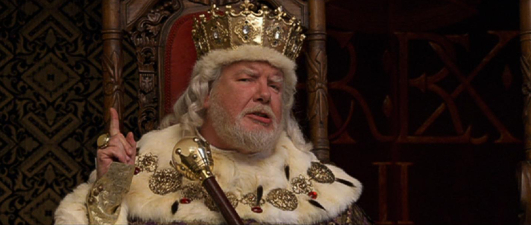 Unfortunately, Bedtime Stories is as confused as the fudged logistics that allow Sandler's character's niece and nephew's imaginations to apparently run riot in his private life. Its main failing are the incessant attempts to take the story in various directions, but director Adam Shankman – who also delivered the otherwise hilarious race relations comedy Bringing Down The House for Touchstone and was, lest we forget, at one time attached to Enchanted itself before jumping to Hairspray – can't quite get a grip on Matt Lopez and Tim Herlihy's screenplay, which is all too happy to go for a simple boy meets girl story and just embellish it every now and then with flights of whimsy, to the detriment of any reality.
Often, I was hoping that the "magic", such as it is, would be real, even in that rather dubious Liar Liar way, but there isn't even much fun to be had with the onset of the various situations coming to life, which the marketing would have you believe almost take over Sander's character's life. They don't, and the total screentime for the bedtime story elements in the whole picture can't amount to much more than ten minutes. It's a very slow and long half hour before the first story comes to life, which makes Bedtime Stories feel weak, watered down and more than a little at a loss of focus. At one point, there's even a randomly thrown-in attempt at a lacklustre mini-musical number, apparently for good measure.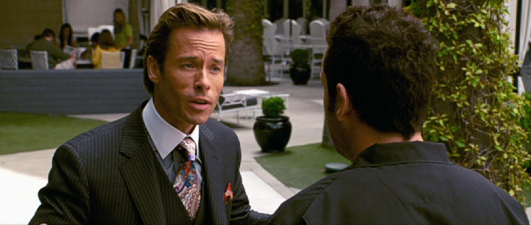 I don't know how much of the script may have been toned down in order to make the film a broader effects piece that would pull in the family audience, but Sandler himself comes over as being self-consciously reserved, as if he and Shankman have either received notes to stay in check and are well aware that they need to behave. At times I really wanted him to break out and go for it, because at the end of the day, Bedtime Stories has an intriguing central concept that could have really been great, and a supporting cast to die for, headed up by Guy Pearce (undeservedly pegged down from leading man status after the excellent but poorly received remake of The Time Machine and Memento) deliciously sending himself up, and joined by celebrated British thesps Richard Griffiths (the Harry Potter series) and Jonathan Pryce (Pirates Of The Caribbean and Bond's nemesis in Tomorrow Never Dies). Griffiths seems to be having a lot of fun, with an off the cuff performance that throws some lines away so randomly that they can't fail but to be among the funniest things in the movie (the mark of a very experience scene stealer!), though Pryce is wasted in a prologue and narration only role.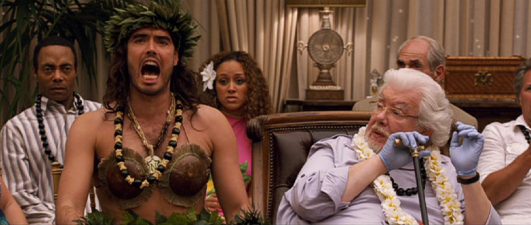 They're joined by another Brit, comedian Russell Brand, overexposed in the UK and now known for all the wrong reasons after making some obscene phone calls on his radio chat show. He's a take him or leave him taste – and many Americans decided to leave him after his MTV Awards hosting turn – and his involvement surprised me as he's certainly not Mickey Mouse's cup of tea (not that he let us forget that in interviews during the film's shoot). But again, being trapped in a PG-rated family comedy has neutered his sting (seen more convincingly in Forgetting Sarah Marshall where he basically played himself), and the choice of trying to alter these two rough-edged comedians' acts to a family audience smacks of them attempting to convert to Eddie Murphy-styled family wholesomeness just to make a packet of moolah rather than because there's anything more worthwhile in it. But while Russell comes off as being more bland than Brand, Sandler's character is that most odd creature in a family film: he's actually obnoxious and unlikeable, totally at odds with the kind of guy that we should be feeling for by the film's denouement.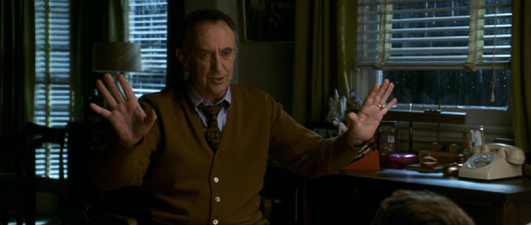 Of the rest of the cast, Griffiths and Pryce seem to be appearing to pay off their mortgages and are along for the ride simply so that some familiar faces from the Potter and Pirates franchises pop up (the producers perhaps hoping that they would bring some of the magic with them, but it's sorely lacking here). Courtney Cox, as Sandler's sister, does what she can in the handful of lacklustre Mom role scenes (gone are the days of singleton Monica from Friends it seems, though one hopes she doesn't just slide into throwaway parts like this), and perhaps unsurprisingly Sandler's protégé Rob Schneider is also thrown into the mix if only to further unintentionally emphasise that this is a bunch of usually cruder comedians trying to pass themselves off as family fare. Only Rupert Gregson-Williams' old-school orchestral music provides some real hint of the film this could have been, but even then it's merely a good score for the kind of rom-com it is. While it wastes a couple of hours without much incident, one could easily nod off to sleep and not worry too much about missing out on these Bedtime Stories.
Is This Thing Loaded?
With a stack of movies in theaters over the recent holiday period, Disney saw more success from other films playing at the same time as Bedtime Stories' theatrical run and, perhaps recognising the rather lacklustre reaction, hasn't seen fit to grace this release with too many supplements, though I wouldn't hold out much hope for any eventual double dip. The Blu-ray set comes packed with three discs, but don't get too excited: one is the BD, naturally, while a Digital Copy is added for portable device playability and there's a standard definition DVD of the film for those that can only playback that format for now but that are intending to upgrade to Blu-ray in the future.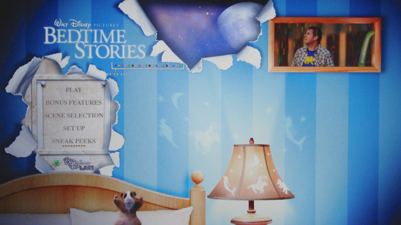 Being a Disney disc, the BD swings into action with a heap of Sneak Peeks for upcoming product, including a "more entertaining" Snow White And The Seven Dwarfs Platinum Edition, a first real look at Disney/Jerry Bruckheimer's Cats & Dogs-styled rodent actioner G-Force (the G apparently standing for guinea pigs) which looks to feature a combination of both terrific and so-so CGI animation comped into your standard animal espionage agents story, Monsters Inc, the Disney Blu promo, Movie Rewards and, from their own menu option, Hannah Montana: The Movie, Roy Disney's sailing documentary Morning Light, Tinker Bell And The Lost Treasure and the DisneyXD gaming platform.
First of the slim – and short – bonuses presented is Until Gravity Do Us Part, a four minute look at how a blue-screen stage is transformed, via computer graphics, into the alien space palace that Sandler and Pearce have their intergalactic showdown. VFX Supervisor John Andrew Berton Jr injects some interest into what's going on, but really this is just a few minutes of on-set footage cut in with the final scene clips, with the effects wire work aspects and the usual odd sight of the "boys in blue" holding most of the fascination. To All The Little People (5:24) highlights Laura Ann Kesling and Jonathan Morgan Heit, the two children who portray Cox's kids, and the fun they and the other youngsters had on set while Sandler keeps goofing off. More shoot footage and what looks like a fun, relaxed set doesn't, unfortunately, translate into a too fun experience for the audience of the completed movie.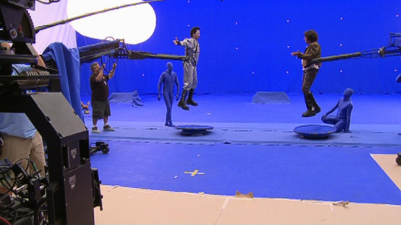 It's Bugsy (3:24) could well have been another in the now saturated "mockumentary" stakes, but instead of profiling the kids' guinea pig as if he were a real star this is a more reality based look at how the trainers managed to coax a performance from the three animals used. Of course, a lot of his shots were computer generated, or at least CG enhanced (with quite obviously superimposed bug-eyes), but quite why he's promoted as a "scene stealer" and gets so much attention in publicity and on the discs' menus is beyond me for a creature who's in the movie for a few minutes total, and just what is with Disney's current penchant for guinea pigs? With Rhino hijacking the recent Bolt and the gadget loaded stars of G-Force on the way, you'd think the Mouse was trying to wean audiences off dogs, or something!
A 6:48 mix of Laughter Is Contagious: Outtakes and bloopers from the set finds the cast in various states of dedication to their craft, often with Sandler being the instigator for the funny flubs, though more often than not it's other things going wrong on the set that provide the most excuses to cut. At almost seven minutes there's time to hear soundbites from the cast and director Shankman on how funny everyone else is, but leave it to Rob Schneider and Russell Brand to lower the tone and take things back towards the kind of comedy they and Sandler are better known for. Most substantial of the bunch is a whole heaping of Cutting Room Floor: Deleted Scenes, running over ten minutes and comprised of nine excised moments (including a cringe-worthy Shankman cameo) plus three extended sequences, the best of which is easily a longer version of Marc Shaiman's Broadway Musical number, which reveals more of the very witty lyrics and really should have been left in. Apart from that, there's nothing else here that feels lost and, if anything, it's the opening half-hour of the movie that would have benefited from having even more cut.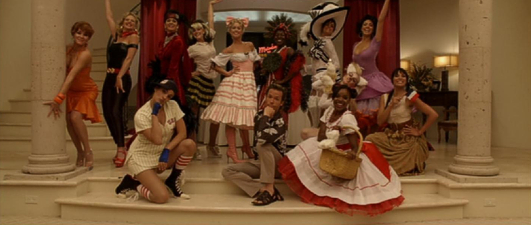 On the DVD, everything is pretty replicated lock, stock and barrel, albeit in standard definition, from the very same basic main menu and previews to all the bonus features. The featurettes and deleted scenes remain intact, the most notable differences being a couple of extra Disney Channel trailers and a family-friendly plug that Blu-ray Is Suite! from The Suite Life's Dylan and Cole Sprouse, which is quite neat but overlong at almost six minutes. Fun info slightly distorted from reality is the speed the discs take to load, and the advice that "all you need is one cable" to hook yourself up, the suggestion of "internet access" quietly slipped in later.
Finally, a third disc contains the DisneyFile Digital Copy edition of the film, sans any bonus features. Digital Copies are all well and good, but the activation code has the usual expiry date and I just don't see the point in putting a time limit on these things…folks are likely to want to alternate their portable device content and that the discs are useless after six months seems redundant to me, especially when also packing in a regular DVD that would allow the owner to make their own, more conservatively spaced transfer. Better to offer download codes, which could possibly be updated, if anything, me thinks. The Blu-ray Disc also comes ready for BD Live interactivity, and contains the motion code for the D-Box system for those with interactive seating, though quite how excitable that would be with a drab movie like this is anyone's guess.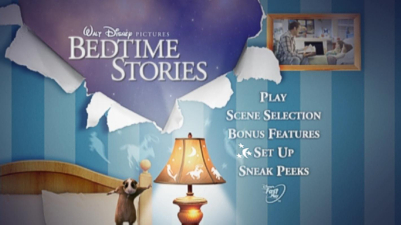 Case Study:
As mentioned, the BD set isn't overly packed with extras but it gets a pretty deluxe treatment. Disney's infatuation with promoting their Blu-covers with a literal blue bordering continues, and that's a lot of blue when you factor in the naturally blue tinge of the theatrical poster artwork that's reproduced here both on a glossy embossed slipcover and the sleeve underneath. There's a lot of the blurb handed over to announcing this clearly as "a family film", as if at pains to stress this is Sandler-lite, while the back suggests it's a better film on Disney Blu-ray: "spectacular picture and sound make it more magical than ever" it reads, enchanting "your family like never before in Blu-ray High Definition". Basically, even the clearest image can only make you see the lack of lustre in a movie all the more obviously.
Amusingly, the specs take on a Tarzan syntax in describing the added regular disc included in the bundle, with the description "DVD Of Film!" seeming like an afterthought, while the Digital Copy disc is otherwise given almost as much space as the Blu-ray. A sticker on the front suggests an almost $70 cost if these three discs were bought together – I say you're being ripped off if you're paying more than $20. Disney's pricing structure on their sticker, however, proves all too much that we do indeed "pay" for these extra DVDs in these bundles, irrespective on if they are offered "free" or not.
Ink And Paint: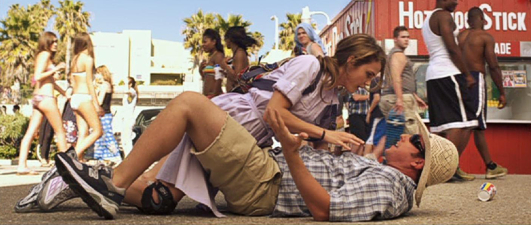 Whatever else can be leveled at Bedtime Stories, the quality of Michael Barrett's cinematography and its conversion to digital video is not one of the complaints. Having probably been mastered to disc before the theatrical prints even went out, the movie naturally looks nigh on perfect, with not much else to say than that.
Scratch Tracks:
I'd love to say ditto on the soundtrack, offered in DTS high definition audio, but I found it surprisingly muffled, and far from a high energy mix that would throw your speakers around the room. It doesn't help that Sandler mumbles all his lines, zapping any personality he might have from the screen, and it's a shame the two or three more energetic scenes in the movie couldn't offer more in terms of punch. French and Spanish subs, and dubs in 5.1 Dolby Digital, are also offered, sounding even less dynamic.
Final Cut:
The memory of Enchanted lingers on and casts a long shadow over Bedtime Stories. If it was more its own movie and less inclined to simple rest on the vapid shoulders of its star it may have made more of a lasting impression on audiences. For me, I found the diluted aspects of Sandler's act to be even more nauseating, the wannabe family nature of the script neutralising any bite and fun he might otherwise have had with the concept, resulting in an unfortunately insipid screen outing that seems to have been too wet to appeal to his legion of fans and probably didn't succeed in bringing in too many newer, younger ones either. It still surprises me that this was the Studio's Christmas Day offering, the lack of magic or even a film that was half of what was promised in the advertising being too much to overlook – this is nothing like the "stories come to life" movie hinted at in the posters and trailers. Disney's disc doesn't bother with even the basic features and seems happy to get the title out there with a moderate fanfare, but nothing too memorable. Perhaps it's best to forget these Bedtime Stories and make up your own?
Animated Classic or Back To The Drawing Board?