Warner Bros/MGM/Fleischer Studios (1936-1965), Warner Home Entertainment (February 12 2008), 3 disc set, 323 mins plus supplements, 1.33:1 original full frame ratio (selected shorts in original 2.35:1 letterboxed widescreen), Dolby Digital Mono, Not Rated (nothing offensive but this edition is "for the adult collector" and may contain stereotyped caricature), Retail: $44.98
Storyboard:
Also released as a single disc that compiles just the 15 Oscar-winning cartoons, this three-disc, 41-title collection adds an additional 26 Nominees to the mix and brings together the likes of Bugs, Pepe, Speedy, Tweetie, Droopy, Tom & Jerry and many more, in a celebration of Golden Age cartoons from across the libraries of a handful prolific producers, including oddities, rarities and several new-to-DVD titles!
The Sweatbox Review:
In a unique use of the various libraries Warner Home Video controls and is able to plunder, this three-disc collection crosses many old-time Studio boundaries, mixing and shaking the output from Warner's own Leon Schlesinger Productions, the Tex Avery and Hanna-Barbera units at Metro-Goldwyn-Mayer, and fine examples from the Fleischer Brothers' two leading character series, as well as a further few from later independents, for a breathtaking assortment of riches.
Now, of course it is true that many of these shorts have been previously released across the many Golden, Spotlight and whatnot collections over the past few years, but I think WB have played a strong hand here, presenting a uniquely themed collection that certainly plays the public domain game, but from restored and remastered prints. Where else could you bunch Bugs, Pepe, Speedy, Tweety, Droopy, Tom & Jerry and many more together legitimately, along with a grouping of new to DVD titles and special one-off shorts, backed up with the kind of quality packaging and extras (over an hour's worth, including a new featurette that focuses on the Animated Short category at the Oscars) that we've come to expect from major Studio releases, and come to love Warners for in particular?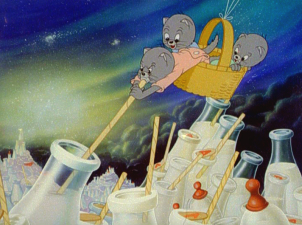 Disc One mirrors the stand-alone single disc release and presents, chronologically, 15 Academy Award-winning animated shorts from the Warner archives. First up, and making its DVD debut, is The Milky Way, an MGM cartoon from 1940 that's about as Disney as the unit could get and perhaps the very reason it wound up being the first short in the initial ten years of the category being introduced that wasn't won by a Disney cartoon. It is very Silly Symphony like, as were many of the Hugh Harman-Rudy Ising shorts of the time, this one following the dream of three little naughty kittens as they pilot their hot air balloon into the night sky, where they find the milk they have previously been denied as punishment. It's a sweet short, if a little derivative, though that it beat out the introduction of Bugs Bunny in A Wild Hare and Tom & Jerry in Puss Gets The Boot is somewhat perplexing – I just guess aping Disney (Walt's Three Orphan Kittens had won five years earlier) was just right for the time!
The first of the recognisable series characters pop up next, in Tom & Jerry's second "official" outing, their third Oscar nominated cartoon, and eventual winner, The Yankee Doodle Mouse, from 1943. As with an earlier LaserDisc release, this print comes from a reissue later in that same year that announces the Oscar win in the title card (the original is thought to be lost), and though I found it to be a quite routine short, the wartime bent, clever army parallels and simply hysterical sound effects probably had something to do with its success. 1944's Mouse Trouble comes very much in the style of stable-mate Tex Avery's films in terms of pace and gags. This time, Tom takes tips from the book How To Trap A Mouse (a Random Mouse publication, naturally) but finds it no use when up against a mouse of Jerry's strength and will as he tries to clean the house of his pesky and persistent rodent.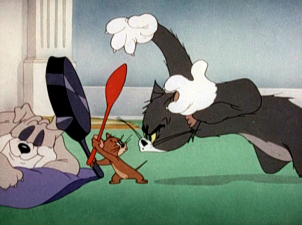 Hanna-Barbera's double-act enjoyed a remarkable seven Academy wins, so they feature fairly heavily in the first handful of cartoons here, and it's often amazing to see them picking up plaudits for generally routine outings or cartoons based on others' ideas, situations and gags. For instance, Jerry plays the old make as much noise as he can game when a sleepy Spike threatens Tom's life unless he keeps things silent in Quiet Please! (1945, again from a reissue that announces the win in the title card), which plays on a similar premise as Million Dollar Cat. Obviously with a set up like that, Jerry can only but try and wake the bulldog up and get Tom into more trouble! It's true that Hanna-Barbera also generated concepts that would be later used by others, or re-used by themselves, but the series is also notorious for "borrowing" much from other studios.
I've personally never understood why the next cartoon, 1947's The Cat Concerto, went on to win an Academy Award (their fourth!) and become one of the most cherished of all cat and mouse shorts when it is a direct copy of the Bugs Bunny cartoon Rhapsody Rabbit, directed by Friz Freleng the year before. The basic set up for both cartoons is simple: Bugs/Tom portrays an acknowledged master pianist primed to give his greatest performance of Liszt's Second Hungarian Rhapsody (forever to be associated with the manic cartoon output of animation houses everywhere). As he prepares and finally settles down ready to play, a little mouse makes things impossible for him by pulling on the strings inside the piano, slamming the shutter on his hands and generally running amok. While I agree that the concept is best suited to the Tom & Jerry double act, the fact that this cartoon came out so close to Bugs' first and better effort and then went on to steal an Oscar puts me off the short, and however funny it may be, the Freleng version remains the more frantic and heated battle.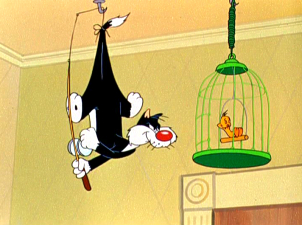 A cat of a different color altogether comes up against just as ingenious a small opponent in Warner Bros' first Oscar win, Tweetie Pie, the 1947 introduction of that little yellow bird and his always hungry but clumsy feline predator Tom (well, the Sylvester name came later)! It's very much a prototype cartoon for the duo and remains one of their best. Another Tom & Jerry winner, The Little Orphan from 1949, is next, again from the same uncut print as the previous LaserDisc release, with the noted Oscar win in the titles. It's a great example of a cat and mouse cartoon working well on all levels, also featuring little mouse Nibbles, who had been introduced in the 1946 short The Milky Waif, and once again bringing food into the equation as the catalyst for another battle of wits. A number of animated characters owed their continuing series shorts to Oscar winning introductions, and the WB debut of Chuck Jones' Pepe Le Pew came in For Scent-imental Reasons (1949), which set up the joke – the amorous skunk mistakes a regular female feline for a mate when she unwittingly gets struck with a white paint stripe – that would essentially play the same way for the rest of the series.
So Much For So Little is new to DVD from what I remember: I certainly don't recall seeing this before. A Public Service Announcement cartoon by Chuck Jones, this pointer on how federal health authorities should be keeping babies healthy and disease free won the Best Documentary Short award of 1949. Reminiscent of wartime propaganda and other animated PSA subjects of the era, this Warner Bros. effort's strengths are good animation, clear advice and a line of humor that keeps the film fresh and entertaining; indeed, it's perfectly suited to this collection even if it is a film of a very different type.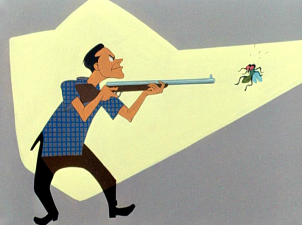 Jerry is joined again by Nibbles the mouse for The Two Mousketeers, a 1951 Hanna-Barbera production for MGM that spoofed the Studio's then-recent Gene Kelly version (though it is also available on the Ivanhoe disc from the same year). One of the most lushly designed of the T&J cartoons, it again features a fight over a table choc full of food, this deserved Academy Award winner has our principal cast – including Royal Guard Tom – all dressed up in Musketeer outfits for an epic banquet battle!
The cat and mouse are back once again in the following year's Johann Mouse, another piano-playing Academy Award winner, and one that has extraordinarily exquisite watercolor production values for the series (and Hans Conried having fun as the narrator). Set in the very home of the composer of The Blue Danube, it's also no surprise that this is what Tom decides to play in a bid to lure Jerry from his mouse hole – in a style only he can, of course! Another Warner Bros. character makes his official debut in 1955's Speedy Gonzales, when the fastest mouse in all Mexico has to sneak across the border to raid a cheese factory to feed his famished friends. A similarly rapid rodent had made an appearance in Bob McKimson's Cat-Tails For Two two years before, but this Friz Freleng short was the first time we saw Hawley Pratt's revised Speedy in his white vest and yellow sombrero, and being paired here against Sylvester the cat as his opponent began another long-running feud between cat and mouse, of which this one is still perhaps the freshest.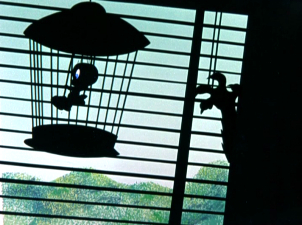 Sylvester is back in perhaps the most sublime Tweety & Sylvester cartoon, 1957's Birds Anonymous, in which the cat joins the eponymous group in order to try and crack his addiction to fine food of the yellow feathered variety. As a youngster, the parallels with Alcoholics Anonymous were obviously way over my head, but as I became more aware of such pitfalls and solutions in real life, this is one cartoon that developed more and more meaning for me. It's surprisingly light on true comedy, going for a much blacker approach that places it firmly as a piece for mature minds, with Sylvester's feline pal Sam – and Milt Franklyn's finely tuned music – ready to steal the show every time. The many layers evident in the short, from the scripting and Mel Blanc's often understated vocalisations to Freleng's skewered angles and melodramatic staging, this is an exceptional cartoon, and despite the edgy nature, it's still hilarious!
The disc rounds out with a couple of my favorite short subjects. Even when I was a young kid knee high to a grasshopper, I had a pretty good eye for animation and could roughly pinpoint whenabouts any cartoon I saw was made. Knighty Knight Bugs, which I first saw in the opening of Freleng's The Looney, Looney, Looney Bugs Bunny Movie compilation movie, always seemed to be more modern than most of the Bunny cartoons I ever saw, and it's because it came from 1958, when the graphically-influenced, more limited style of animation had come to Warner Brothers. Charged with finding a Singing Sword (a joke wonderfully wittily recalled for Who Framed Roger Rabbit), King Arthur's Court Jester Bugs must outsmart Black Knight Yosemite Sam, leading to the usual shenanigans. Amazingly, this was only the third Bugs Bunny cartoon (after A Wild Hare and Hiawatha's Rabbit Hunt, both included below) to be nominated for an Academy Award, and the only one to take home the prize. Part of this has to be down to Freleng's direction, seemingly channelling Chuck Jones for more than any other cartoon in his career, and filling it with clever puns ("Sir Osis of Liver") and visual treats (Sam's coal-feeding, sneezing Dragon is quite literally a blast).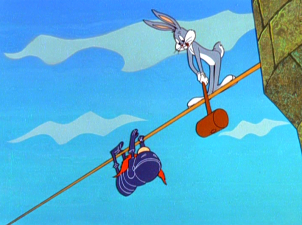 As theatrical animated shorts began to die out in the 1960s (replaced with reissues from the vast number of cartoons that had already been made), Chuck Jones himself had been able to stay in the game after Warner Bros. finally closed their animation Studio in the early 1960s, by contracting with MGM to produce new Tom & Jerry cartoons under his independent Tower 12 Productions outfit. One of the most prolific producers of the time, Jones wrote the screenplay for the UPA feature Gay Purr-ee, directed the Dr Suess specials How The Grinch Stole Christmas and Horton Hears A Who, and the feature The Phantom Tollbooth, the low grosses for which put the final nail in MGM's cartoon coffin. Amongst all this, Jones adapted his old Termite Terrace stable mate Frank Tashlin's 1946 children's book The Bear That Wasn't into a 1967 animated short, but the previous year, Jones (and credited co-director Maurice Noble) took home the Best Animated Short award for The Dot And The Line: A Romance In Lower Mathematics.
Released by MGM in 1965, this is another cartoon that might not work straight away on younger minds, but it's certainly one that I've found more and more appreciation in as I've grown. It's popped up on another live-action release as a supplement, but this is the first time The Dot And The Line has appeared in an all-animated grouping. Based on a 1963 book by illustrator Norton Juster (also of The Phantom Tollbooth), it's about as experimental as mainstream animation gets, coming from Jones' later avant-garde period when running his own Studio meant he could play with form a little more. Narrated by the terrifically British Robert Morley (Those Magnificent Men In Their Flying Machines), the short is an exploration of boring stiffness vs. reckless abandon, development and change, as a straight Line learns to gradually embrace evolution, impressing the Dot who previously only had eyes for the wild Squiggle. Apart from the philosophical musings, the many shapes and complex patterns the Line finds himself able to create leaves the animators much room to generate stunning designs of their own. And, in a line that will still resonate with graphic artist of today, the film closes with the luminous final motto: "To the vector belong the spoils"…exquisite!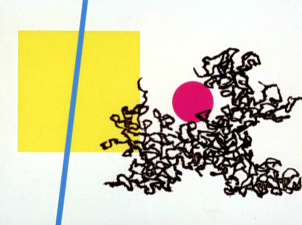 We all know that – quite often – the eventual winner at the Oscars isn't always the best choice, or even the one that will outlive its competitors, and as if to prove a point, Discs Two and Three pull together a further 26 Academy Award-nominated shorts that are every bit the equal of their more officially illustrious cousins – and sometimes infinitely more entertainingly so! What's also great here is that, unlike compilations such as those centered around one-note personalities like Woody Woodpecker or Donald Duck, the sheer variety of characters on parade means there's always something new or different around the corner. I have always been fairly surprised at how many times Tom & Jerry had actually taken away Oscars in their career, but a real eye-opener was the amount of generally routine cartoons that found themselves even nominated. Luckily, the Academy voters could see past the cat and mouse antics to nominate a number of other wonderful animated shorts, and its these two discs that really make the set worthwhile, holding the majority of disc debuts.
Last summer saw the much anticipated release of the truly classic Paramount/Fleischer Popeye the Sailor cartoons on DVD, and the fact that the cream of that crop, the Technicolor two-reeler Popeye The Sailor Meets Sindbad The Sailor, was nominated in 1936 means it can turn up here too! One of the three Popeye Color Specials, and now in the public domain, this is the officially released print, with the Paramount titles restored intact, and a restoration from the original negative – if you haven't seen this as part of the Popeye The Sailor Collection, this is as good a reason as any to pick up this set.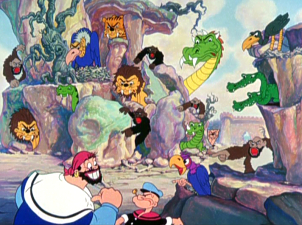 Despite Popeye's popularity at this time (he even often outstripped Mickey Mouse in the merchandise stakes), it's remarkable at how few nominations the Fleischer shorts received, even though they are among the finest and funniest cartoons you'll ever see. Sindbad The Sailor is a terrific epic (Bluto's Sindbad even gets his own song!), and it's testament to Art Babbit's finely detailed personality animation in Walt Disney's The Country Cousin that saw that film win over Popeye's color debut, because otherwise there's no accounting for why this didn't win.
Peace On Earth (1939) remains one of those strikingly effective cartoons that probably should have won out over the winning competition (Disney's The Ugly Duckling), though it's a very close call. From the Harman-Ising unit at MGM, the stunningly animated film finds two young squirrels being told what the word "men" refers to in the lyric "Peace on Earth, Good will to men". The reply, showing man destroying himself over many wars, chills the spine as much as the (largely rotoscoped) animation impresses. It remains a cartoon for which not many words can be found. A complete opposite is unquestionably the first official Bugs Bunny cartoon, Tex Avery's 1940 A Wild Hare – a suitably lunatic offering that lost out, not to the unofficial Tom & Jerry Puss Gets The Boot, but to the rather saccharine The Milky Way. As with the recent Golden Collection release, the short is presented with its original title cards, and sets up the dynamics between the wascally wabbit and befuddled hunter Elmer Fudd that would run an eternity!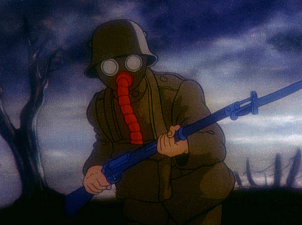 Puss Gets The Boot, the 1940 cartoon that A Wild Hare was up against and jointly lost to the other MGM short, saw the debut of a certain cat and mouse team. Bill Hanna and Joe Barbera had been at the Studio for a few years by this time, and had already produced a number of stand-alone shorts. This one was to be just like any other – in fact, the cartoon comes so early in their MGM careers that it is labelled as a Rudolf Ising production, and neither character is named as we know them (the cat is actually called "Jasper" and has a distinctly more tabby appearance, while the mouse already has the features that we recognise as Jerry, the character who, over the years, changed least). It starts off with a great gag: in close up we see the mouse running from his opponent. The camera cuts back and we see that the cat has already caught the mouse and he is running on the spot, his tail held by the cat's claw! While the cat toys with his prey, the mouse gets away, leading to a number of gags which result in the breaking of a vase. Mama, the housemaid (the print here is uncut, with the original track) chastises the cat, stating that if anything gets broken, he'll be sent out. Naturally, this is an opportunity that the mouse cannot pass up, and after the clear set up and pay off, it's easy to see how the Oscar nomination and immense success of the film led to pressure from distributors for more cat and mouse war, and the development of a phenomenally long-running series.
The next cartoon, Superman, is positively a winner, even if it did lose out to Disney's cute but routine Pluto cartoon Lend A Paw in 1941. Also known as The Mad Scientist, this is the super Fleischer cartoon that introduced the Man Of Steel to animation, creating a visceral and highly popular science-fiction cartoon series for Paramount that's still influencing screen translations of superheroes today. The short had stiff competition that year: up against no less than nine other titles, it no less should have probably won, and it's remarkably unbelievable that not one other short from this groundbreaking series was ever in competition again. Another cartoon that has sadly fallen into the public domain over the years, this at least comes from WB's fair restoration included in their Ultimate Superman Collection. Covering baby Jor-El's lucky escape from Krypton, his growing up as Clark Kent (which swerves from the usual interpretations assumedly for reasons of time) and final revealing himself as the big blue boy scout to battle a mad scientist – all within ten minutes – it's reasonable to say that you won't find another film in this collection like this one!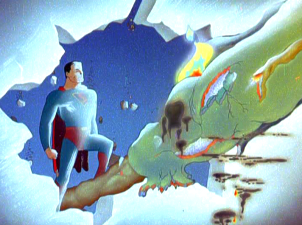 1941 was a banner year for the sheer volume of nominated animated shorts, and though we don't have Disney's winner here for obvious reasons, we've a good helping of the other releases that Superman was up against. Hiawatha's Rabbit Hunt, another disc debut, is the classic Freleng spoof (his first Bunny short) of both Longfellow's Song Of Hiawatha poem and an earlier 1939 Disney adaptation, here with a decidedly Egghead-Elmer amalgamated Hiawatha turning up on the hunt for a wabbit supper. Interestingly, the losing of this film at the Academy Awards provided a basis for the later Oscar spoof What's Cookin' Doc?, included in this set as a bonus. Also new to disc is Rhapsody In Rivets, again using Liszt's Hungarian Rhapsody as the springboard for a not always successful series of musically comical gags that eventually become rather repetitive. Here, a construction site chief imagines himself as the conductor of his noisy workers, getting them to build their skyscraper in tune, and probably providing a healthy dose of inspiration to Eric Goldberg, later the animator-director of Fantasia/2000's often similar sequence Rhapsody In Blue.
Finally from the 1941 selection, another Oscar nomination was due Tom & Jerry's way with The Night Before Christmas, a classic that still gets a lot of airings today. The film begins with Tom's usual pursuit of Jerry, this time under the Christmas tree, but ends happily when the grouchy cat is touched by the holiday spirit. The film has a great look to it, with some simply stunning pre-CGI snow falling and delicate animation throughout, also having fun with the classic title poem along the way! This short is also marks the first appearances of often unsung composer Scott Bradley's memorable Tom And Jerry Theme music. A number of his musical cues come to prominence in this cartoon, and they point out just how much Bradley's scores contributed to each film, pushing the action ahead and utilising the vast library of MGM catalog tunes to musically illustrate a point or hit a beat.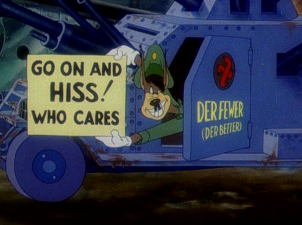 If that was a flagship year for the Animated Short, then the wartime parodies of 1942 made it a close second. Although Disney again took away the award itself, it was surely a coin toss between that win and Tex Avery's Blitz Wolf, a brilliant burlesque of The Three Little Pigs (Pinto Colvig even voices one of the porkers), and Avery's first cartoon as the head of his own unit for MGM after leaving Schlesinger's Warner Brothers outfit. Depicting Hitler as the Big Bad Wolf, it's very much a product of its time, and as such is often edited in television broadcasts – here thankfully we get the complete cut, with a "No Japs Allowed" sign of the times intact and the original animated end card. The plot revolves around Adolf Wolf's attempts to invade the state of Pigmania, a plan spoiled by Sergeant Pork, a practical pig. Very fast and very funny, it was nonetheless beaten out by Der Fuehrer's Face that year, a title brilliantly lampooned in Blitz Wolf itself: "Der Fewer (Der Better)"!
Also from 1942, Freleng's Pigs In A Polka features more swines and more pokes at the Disney style, crossing The Three Little Pigs with Fantasia in WB's own Corny Concerto style. Previously issued in the Looney Tunes Golden Collection: Volume 3, it remains an outrageous cartoon mainly for the raucous ribbing the Termite Terrace gang gave Disney – remembering that Freleng was a one-time employee of Walt's, that this was the year of the infamous Disney Studio strike, and that Fantasia hadn't exactly garnered favorable critical acclaim or set the box-office alight. That the Fantasia spoofs continued to come thick and fast means that it obviously had some effect somewhere…perhaps Walt did have the last laugh?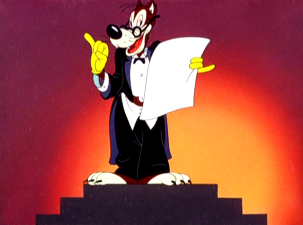 From 1944, Swooner Crooner is another Warner Bros. Hollywood pastiche (also previously released within the Looney Tunes Golden Collection: Volume 3), this time directed by Frank Tashlin. Such performers as Frank Sinatra, Nelson Eddie, Cab Calloway, Al Jolson, Jimmy Durante and Bing Crosby get caricatured as singing roosters auditioning for Porky Pig's farm when it's found egg production goes up when the hens hear music! It's presented, as before, uncut, and includes a number of appropriated Warners' song titles from their vast catalog (As Time Goes By, Lullaby Of Broadway, You Must Have Been A Beautiful Baby, etc). The Oscar-nominated success of Bob McKimson's Walky Talky Hawky proved to be another launching ground for a character: although nominal series star Henery Hawk had previously appeared, this cartoon marked the debut of Foghorn Leghorn, who went on to become a leading player in the Looney Tunes menagerie. It's a silly short (in a good way), with some clever plays on old gags and some pretty good scripting by Warren Foster.
There's a cartoon missing next, the 1946 Friz Freleng Bugs Bunny take on Liszt's Hungarian Rhapsody that lost out to Hanna-Barbera's Tom & Jerry award winner The Cat Concerto. Why the no-show? Who knows, but it's possible the placing the two cartoons side by side would only show up the similarities even more and reopen the controversy surrounding the two. Actually, there are more than a few shorts "missing" in this collection – I count around ten – that Warners probably control but did not see fit to include this time around. Perhaps it's because some of them are more readily available (Rhapsody Rabbit is available on the Looney Tunes Golden Collection: Volume 2) or that suitable transfers do not yet exist (many of them come from the earlier Harman-Ising MGM library which has yet to see any extensive restoration work). It could also be that including these films would have added a disc and hiked up the cost of the set, and while there are a couple of lamentable, perhaps salvageable omissions, the three discs here offer as good a selection as anyone could make.
Providing more cat and mouse, Dr Jekyll And Mr Mouse is another Tom & Jerry short, from 1947, when Freleng, possibly picking up the sympathy vote after the Rhapsody Rabbit/Cat Concerto storm, won for his Tweetie Pie debut. Here, the inevitable happens when Tom mixes Jerry a lethal potion and things don't quite work out as Tom hoped, with the concoction turning Jerry into a super-strong giant mouse who is only able to cause Tom more pain! Warner Bros' Mouse Wreckers (1948) completes the second disc. Here it's the turn of debut cat Claude to play cat and mouse against Hubie and Bertie, battling over the right to share a new home.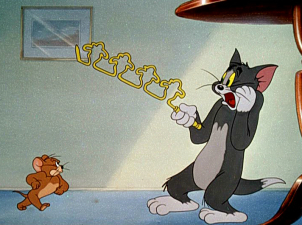 Disc Three picks up where we left off, with yet another Tom & Jerry cartoon, Hatch Up Your Troubles, from 1949. I still can't believe how many nominations the duo picked up over the years for what are often fairly habitual cartoons, at least seen in hindsight, and this one is perhaps most notable for being remade in CinemaScope as the later shot for shot copy The Egg And Jerry. The 1950 nominated Jerry's Cousin is a basic reworking of the Dr Jekyll And Mr Mouse short we've just seen, remarkable only for some hysterically sadistic gags and the fact that the mouse's relative, Muscles Mouse, is voiced by the always dependable Paul Frees. Both these cartoons quite rightly lost out to the debuts of Pepe Le Pew and Gerald McBoing-Boing, respectively.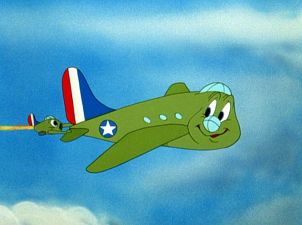 Tom & Jerry did win again in 1952, edging out MGM stable mate Tex Avery's much better Little Johnny Jet, an oddly sedate but no less entertaining cartoon from the director, that bares closer resemblance to a Disney-styled outing than any other from his output. The story of a baby jet that helps his old B-29 father find work after wartime is over, the windshield eyes and soft parable storytelling recalls Disney fare such as Susie, The Little Blue Coupe and The Little House rather than the outlandish fare Avery was otherwise known for. It's still a delightful short, with some more noticeable Avery touches during its final moments. Proving that Hanna-Barbera thought a good idea was always worth revisiting, their Tom & Jerry outing Touché Pussy Cat! again recalls past glories when the Mouseketeers of Paris are brought back for another duel against Le Tom Cat. Made at a time when Hanna-Barbera took on a number of remakes or used recycled elements, this could have been made with a desire to reclaim the 1951 success of The Two Musketeers, perhaps, even if Nibbles had been renamed Tuffy by this point.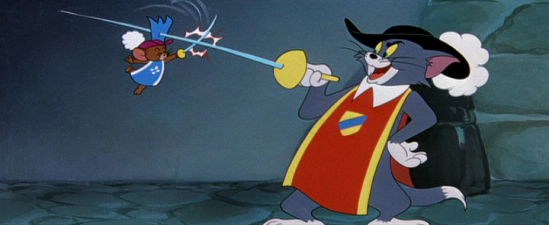 Although Chuck Jones' Warner Bros' short From A To Z-z-z-z is new to DVD in its entirety, it was previously included as a supplement within The Adventures Of The Road Runner television pilot found on the Looney Tunes Golden Collection: Volume 2), in which Wile E Coyote screened various older shorts to see where his schemes to catch the Road Runner went wrong. Director Jones kept things interesting in that show by throwing in a diversion or two along the way, too, such as the relatively offbeat inclusion of this Ralph Phillips-debut. Seeing Jones at the beginnings of his musings off into out of the ordinary cartoons, Z-z-z-z finds schoolboy Phillips daydreaming during lessons, and while it's a delightfully whimsical short, the eventual winner for 1953 was rightly Ward Kimball's Toot, Whistle, Plunk And Boom for Walt Disney. Tweety & Sylvester are back in Sandy Claws (1954), one of the better, fresher and more original angles on the old battle of wits, with Granny joining in the fun in this beach-set cartoon that lost out to UPA's When Magoo Flew.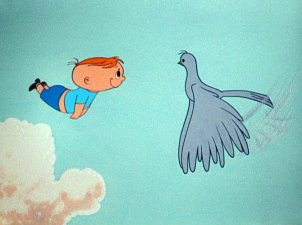 As the Tom & Jerry series eventually seemed to have used up every idea and cliché they could think up, Hanna and Barbera began pursuing other avenues for "inspiration" and with the introduction of CinemaScope, got into the remake business, stretching out older shorts to the wider frames. Taking the original concept of Hugh Harman's 1939 nominated classic Peace On Earth, the 1955 Good Will To Men presents a chillingly updated atomic-age account of war and, like the original, goes for the message rather than any laughs. In the wider ratio, this ambitious cartoon is perhaps artistically the most pleasing of the later films in this set, the extravagant backgrounds and well-handled serious theme marking it out for special mention. In comparison with the original, one is reminded what an impact the 1939 film must have made when it was first shown; it still has a sense of immediacy and heart which is slightly subdued in this later version, with more cartoony mice replacing the cuter squirrels of Harman's original. But if anyone could have remade Peace On Earth with the sensitivity of the original, then it was Bill Hanna and Joe Barbera, who of course were originally staffers at the Harman-Ising animation unit itself at MGM, and contributed to a number of shorts before their Tom & Jerry hit the big time in late 1940.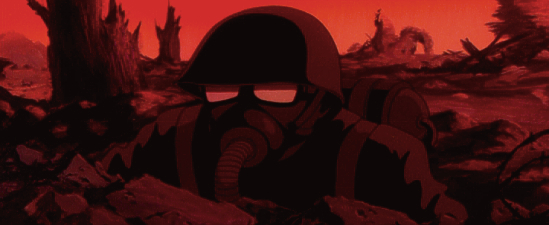 Tabasco Road (1957) is a Bob McKimson Speedy Gonzales short, in which the nippy mouse must save his tequila-smashed pals Fernando and Pablo from a butch cat. There's nothing wrong with it, other than being a by-the-numbers cartoon, but the most astonishing thing is that it just makes clear what a lottery the Academy Awards are: nothing against McKimson, who I find to be one of the most underrated of the Looney Tunes directors especially in the writing, but how is it he can be nominated multiple times for cartoons with pretty standard personalities when the genius of a Tex Avery or Bob Clampett went overlooked so many times? Were they too extreme for the conservative Academy? As if to prove a point, the next cartoon is One Droopy Knight, featuring Tex's outrageously influential bloodhound. But this isn't an Avery cartoon at all, it's a later CinemaScope effort by his collaborator Michael Lah, made after Tex had left the slowly winding down MGM unit. The later Droopy cartoons feature more setup and structure than Avery's gag-fests, and it's a wonder how it landed a nomination when so many better shorts had come and gone before. It does sport a very handsome look among these efforts, though, and had I not known Disney's Sleeping Beauty wasn't set for release for another two years after this cartoon's debut, one could easily mistake this in places for a pastiche of that film's lavish art direction. The storybook opening allows for the simpler artwork and slightly more limited animation to work well within its own confines, but knowing that this is the Oscar-nominated Droopy cartoon, and that Hanna-Barbera actually won the award numerous times (often by pinching Avery's gags) over Tex's couple of nominations, is a bit of a stinker.
Much better is Chuck Jones' High Note, making a long anticpated (at least by this reviewer!) debut on DVD. I first saw this cartoon in a musical compilation years ago, and was thrilled to see it again as part of the Bugs Bunny On Broadway show program, where a live orchestra performed the scores for a slew of Warner Bros. cartoon classics! With Jones halfway between the whimsy of the Ralph Phillips daydreams and his later minimalist abstracts, High Note finds Chuck in a little Fantasia mood. This time however he's not out for pastiche, taking things more seriously and cleverly setting the action on a musical stave, mixing in a little of The Band Concert in the plot as a rogue musical note attempts to disrupt the other note's playing of The Blue Danube by injecting a touch of Little Brown Jug. Highly amusing without being hysterically so, and full of brilliantly charming personality animation, this is note perfect.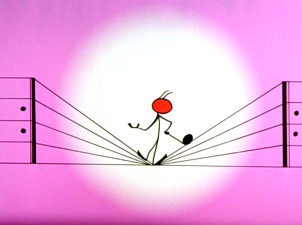 Chuck's penchant for growing surrealism in the 1960s can be traced through the final two cartoons in this collection. The new to disc Nelly's Folly is a rather downbeat look at the fame game, when a singing giraffe is transported back from Africa to become a performing sensation. But the price of celebrity is high, and when the attentions of a male giraffe result in him neglecting his family, Nelly is branded a home-wrecker, an accusation that dents her reputation and leaves her career in tatters. Reminiscent of Disney's The Whale Who Wanted To Sing At The Met from the 1946 feature Make Mine Music rather than Jones' own sometimes similar One Froggy Evening, this is very indicative of the sometimes transcendental direction Jones would follow under his own steam, leading to the somewhat experimental feature The Phantom Tollbooth in 1970.
One of the last pieces he completed for Warner Bros, before the Studio finally closed their animation department, is also very much along the same lines. Now Hear This, nominated in 1962, is an odd short for several reasons: it was the first to use the orange and purple abstract line opening for the Looney Tunes cartoons, and the soundtrack is often left silent for long stretches (also recalling Sh-h-h-h-h-h, Tex Avery's 1955 classic for Unversal). Bill Lava's music score is as abstract and the images, while long-time WB editor Treg Brown even gets credit for creating the sound effects. Very much the product of the surreal 60s, Now Hear This follows the fortunes of an old British gent who comes across what he thinks is a great hearing trumpet – it's actually one of the Devil's own lost horns, geared to produce a much amplified assortment of aural terrors and visual hallucinations. Surprisingly coherent for a stream of consciousness, Now Hear This marked the end of the classic Studio-produced "cartoon" and the beginning of a new, independently informed approach. The Majors' hold over the Best Animated Short award was over – from then on it was anyone's game.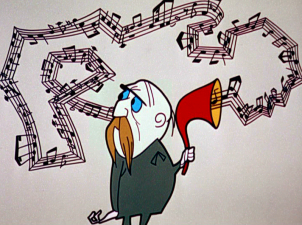 Naturally, many of these cartoons will find their way to disc on other releases, but that's going to take a while! This is one of the few non-public domain cross-pollinated collections I've ever come across, and the first time in memory that a major Studio has combined its product with those from other producers on DVD. What would have made it perfect would have been a collaboration with some of the other Studios out there (Disney and Universal in particular), but that was never going to happen and instead this is an excellent use of resources; an extremely impressive way to present a vast library of material uniquely. With the 80th Academy Awards season upon us – and Disney's own long announced but apparently dormant collection still awaiting release – not to mention Warner's own 85th Anniversary, this is a fine time and a great way of looking back at the apex of the animated cartoon medium in its prime.
Is This Thing Loaded?
One might have thought, and quite rightly too, that having three platters' worth of Oscar winners and losers in one set would have been enough, but this is Warner Home Video we're talking about here, and they continue to push the bar up as far as extras quality is concerned. No token five-minute featurette for these guys: sensing the importance of this release, and upping the attractiveness ante for those still on the fence over the 15 new to DVD cartoons contained within, is the new Drawn For Glory: Animation's Triumph At The Oscars documentary, the highlight of the very welcome supplement package offered here.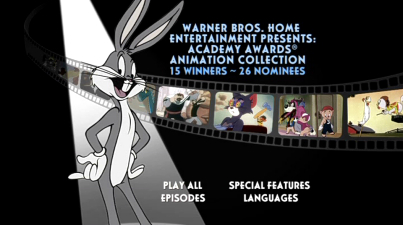 Running almost a full hour in anamorphic widescreen (with all ratios presented correctly within the frame), Drawn For Glory covers the history of the Best Animated Short Subject category in the Academy Awards line up, even from before its beginnings when animation started to hit big with characters with comic strip origins. Synonymous with winning the award in the first ten years, Disney is given his due with ample screen time (he remains the most awarded individual in the ceremony's history), and what is immensely impressive is that Warners have finally been able to license clips from pivotal Disney titles (Steamboat Willie, Flowers And Trees and Toot, Whistle, Plunk And Boom), so often a glaring omission in their otherwise extensively in-depth documentaries. I would love, for instance, to have seen Steamboat Willie correctly recognised in the recent documentary on the birth of sound in WB's The Jazz Singer set, but it went totally unmentioned. Here at least Disney's rightful contribution to the introduction of the Best Animated Short award is acknowledged, as well as Walt's final personal win for Toot, Whistle, Plunk And Boom in 1953 (the last Disney short to take the award until the consecutive triumphs of the posthumously-awarded Winnie The Pooh And The Blustery Day and Ward Kimball's It's Tough To Be A Bird picked up in 1968 and 1969 respectively).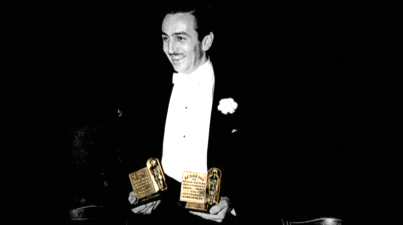 Narrated by actress and occasional voice artist Bonnie Hunt, Constantine Nasr's documentary is a great recap of animation's Golden Age in general, wrapping itself up around the birth of UPA's changing the face of animation, the end of the original Studio boom in the 1960s and the rise of the independents, with plentiful clips. Anyone who is anyone is soundbitten, including Chuck Jones, Friz Freleng, Tex Avery and Hanna-Barbera in archive footage. Pointing to some of the cartoons that didn't make this cut, Life With Feathers, Mouse And Garden and Beep Prepared are all referenced, as is Rhapsody Rabbit, which gets its own remarks balanced up against The Cat Concerto, making it more of a shame the full short isn't here for comparison. The politics of the Studio System and the frank discussion of MGM's vote rigging is touched on, which finally explains the rather haphazard wins and those that perhaps should have. There are even brief words on all-time classic cartoons that were not nominated (I think historian Charles Solomon means to credit Ballot Box Bunny and not the much later Box-Office Bunny). Much of the information may well already be known to the real hard core fans amongst us, but it's always nice to have things confirmed from the horses mouths, and everything has been so neatly presented here (the highlighted gold statuettes in the black and white stills is classy) that certain folks might even think Drawn For Glory is well worth the price of this set in itself.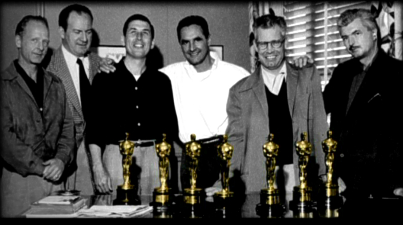 As if that wasn't enough, we're presented with Warners' usual alternate audio-only programs: isolated music tracks and commentaries. Expect to hear these tracks popping up in future Golden Collection releases where appropriate, but also be aware that this release is the only place that you'll be able to catch many of them. Since many of the shorts are getting their DVD debuts here, the majority of these conversations are brand new, as far as I can tell, and even the Jerry Beck-led discussion on Popeye Meets Sindbad is a new take on the one from the previous 1933-1938 Collection. There's quite a lot to wade through here, beginning with Disc One's Commentaries on Quiet Please! (with Mark Kausler), The Cat Concerto (Eric Goldberg), For Scent-imental Reasons (Greg Ford), So Much For So Little (Jerry Beck), and The Dot And The Line (Eric Goldberg), which is also treated to a Music Only track, as is Speedy Gonzales.
Disc Two's Commentaries include the aforementioned Popeye The Sailor Meets Sindbad The Sailor (with Beck, Leslie Cabargo, Ray Pointer and Bob Jaques), Peace On Earth and A Wild Hare (both Greg Ford), Puss Gets The Boot (Mark Kausler), Superman (Paul Dini), Blitz Wolf (Eric Goldberg) and Walky Talky Hawky (Jerry Beck). The Music Only mixes dominate Disc Three, with Little Johnny Jet, Touché Pussy Cat!, Tabasco Road and One Droopy Knight all treated to such, and Good Will To Men benefiting from Ford hosting a part-commentary and part newly-found isolated chorus vocals. Animation Blast's Amid Amidi provides surprisingly sparse commentary on From A To Z-z-z-z and Now Hear This, both of which fall neatly into his appreciation of the pseudo-UPA style the films employ.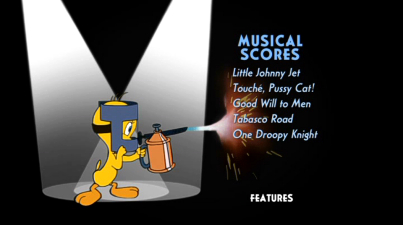 All the tracks are worth a listen, of course, and even the double-length Popeye proves a rewarding revisit simply for the amount of information on offer. Always providing valuable insights are Kausler, Goldberg and Ford (sounds like a bunch of animated lawyers!), though Dini's take on Superman is especially interesting given that he's the current custodian of the animated Man Of Steel. The music only tracks are a fair bunch (always fun to hear how Scott Bradley and his ilk were able to move story forward with their frantic scores) but the winner here has to be Eugene Poddany's The Dot And The Line. The film's success is down to Morley's narration, of course, but hearing it without turns it into something differently mesmerising altogether, and it's the purest demonstration as any of how Jones-Noble's direction and the score considerably handle the characters' emotions on their own, keeping the plot clear even without the added words.
Finally, a non-nominated or winning cartoon, What's Cookin' Doc? is presented as a totally appropriate Oscar ceremony spoof starring Bugs Bunny. This is a real gem of its vintage for a couple of reasons: one is the obvious lampooning of the Hollywood stars of the day (Edward G Robinson, Katherine Hepburn, Carmen Miranda, Charles Boyer, etc), but it's also a reminder that the Oscars were not always the razzmatazz spectacles we now see on TV, starting off as private celebratory dinners. The guests would be seated at their tables, with the awards given out between courses – much more organised and civil than the fixed smiles and surprise announcements of today! Not that you'd know that from this Bob Clampett cartoon: Bugs is yellin' and hollerin' all the way through the picture, making a case for his Little Hiawatha spoof to win, until it looks like the award may yet finally come his way… It's a little retrospect: this 1944 short's main point of reference is of course the nominated cartoon from three years before, and as before, Bugs has to make do with a booby prize. I love Hollywood lampoons, and this has been a favorite of mine for years – good to see it emerge on DVD at last, even if it is from a 1995 television master (ahh, well, it is a bonus).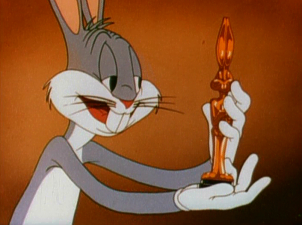 Disc Three (as well as, presumably, the single disc release) also takes the opportunity to promote some other WB animated titles: Looney Tunes Golden Collection Volume 5 and Tom & Jerry: Spotlight Collection Volume 3 both get attention here, with several more playable from their own menu: The Smurfs: Season One Volume One, Horton Hears A Who: Deluxe Edition, Justice League: The New Frontier and, presumably reaching out to the classic collector, the Bonnie And Clyde: Ultimate Collectors Edition, by way of a lengthy and predictably violent original theatrical trailer ("This is Bonnie. This is Clyde. They kill people").
Case Study: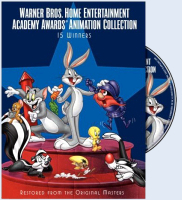 One of the negative aspects about the WB Animation Collection has been the rather haphazard pre-release buzz and the questions over which cartoons have or have not been included in the box. The Road Runner short Beep Prepared was mooted for a long time, though it doesn't show up here, and the lack of an official announcement list meant that many potential purchasers were still scratching their heads come release day.
The original announcement for the 15 Winners disc also mistakenly included Tex Avery's Blitz Wolf among the contents, nudging up the number of cartoons to 16, even though, of course, this 1941 film only garnered an nomination. The error seems to have been carried over to the 26 Nominees discs: Blitz Wolf is included in this set, but an Academy Award star next to the title suggests it actually won the Oscar – sadly an accolade that Avery, despite many nominations and the respect of his peers – never won (and for which stable-mate Bob Clampett was shockingly never even nominated).
When we come to the sleeve art itself, it must be said that there's been more praise for the 15 Winners cover than the supposedly more deluxe 15 Winners, 26 Nominees collection. The single-disc places Bugs firmly front and center on a typical statuette podium, surrounded by other Warner Bros. stars and Tom & Jerry.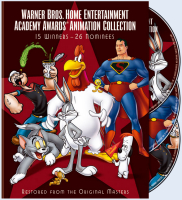 The three-disc digipack and embossed slipcover does add the attraction of the other studios – the Fleischers' Superman and Popeye jump on along with the later Mike Lah reversioned Droopy ("I'm A Nominee!") – but it drops the snazzy podium theming and reduces Bugs to second fiddle to an unusually large Foghorn Leghorn (!?) slap bang in the middle, whose pure white expanse seems to suck up all the color in the montage! One gets used to it, but it does feel like a better amalgamation of the two sleeve designs might have made for one much, much better deluxe set image.
On the back, Popeye gets undue attention considering he only pops up in one inclusion, and he's pretty off model in an ugly way. The small print also contains an error pertaining to the "enhanced for widescreen" presentations of three shorts (Touché Pussy Cat!, Good Will To Men and One Droopy Knight) – all actually 4×3 letterboxed transfers only (more below). The inside is much better: WB's usual digipack tri-foldout, adorned with more characters, a clear listing of what's on each disc, including the selection of bonus features, and Bugs, Superman and Popeye art on each platter.
Ink And Paint:
There seems to be many conflicting reports on the image quality on some of the cartoons in this collection, but none of it warrants the "bad" tag that's been banded about. The first thing that will strike animation connoisseurs and those that know what to look out for will be the question of the interlaced flagging that plagued the fourth disc of the second Golden Looney Tunes set (and there's a hint of the dreaded DVNR on Popeye Meets Sindbad). Checking through, it's certainly clear that many of the cartoons come from interlaced transfers, though these seem to be restricted to the first two discs only, and whether this is a quality control issue or from intentional use of selected masters is unclear. There is some understanding to be had on the earlier MGM films: a fire some years ago destroyed many of the required elements, but it is clear that some transfers here are in fact better than those that were previously released.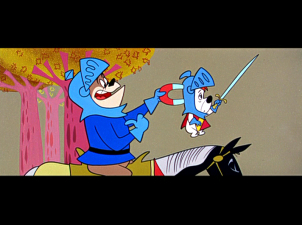 Especially vibrant from the 15 Winners are The Milky Way, Cat Concerto, Tweetie Pie, For Scent-imental Reasons, So Much For So Little, Johann Mouse, Birds Anonymous and a gorgeous The Dot And The Line, but even the worst looking prints (Quiet Please!, Superman, The Night Before Christmas) aren't as poor as the disappointments in the Droopy Collection from last year. I'm pretty confident the best available elements to Warners' have been used: Blitz Wolf even seems to have been stitched together from two prints, starting out scratchy and soft but soon fixing itself in the first couple of minutes when it switches noticeably to a finer print. Disc Three's more recent releases look virtually spotless in progressive mode, and fans will be pleased that the new-to-DVD shorts all look superb (especially Little Johnny Jet, High Note, Nelly's Folly and Now Hear This, which look amazing). Most of the shorts have their title cards windowboxed within a slim black border, preserving ratio and text information, but major points must be deducted on the letterboxed presentations of the three CinemaScope cartoons. I can understand the need to fix all the video content in one playback format, but this is frustrating given the promise on the cover and more so disappointing because these prints do look absolutely gorgeous.
I'm not sure any extensive digital makeover would work many wonders: on the whole the colors on the DVD debuts are vibrant, seemingly the result of some extensive grading and remastering, "restored from the original masters" as the packaging has it. The previously released shorts look as good (or not so good) as they did in their respective collections, though I've previously found fault with some of these too (think the bonus shorts in the Ultimate Superman Collection – surely I'm not the only one who felt they left quite a bit to be desired?), where the clarity of today only helps to pick up cel scuffs that much more perceptibly. Overall, however, we're offered pretty fine representations of these classic shorts, albeit with a few kinks in the material and its handling.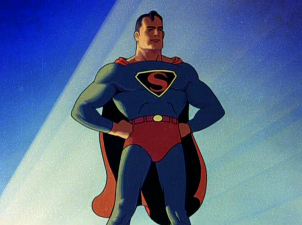 Scratch Tracks:
For all the concerns over image format and presentation, there's little to nothing to worry about in the audio department: each and every short here sounds clear as a bell. Particularly good is the Fleischers' Popeye The Sailor Meets Sindbad The Sailor, which offers some spinach-powered bass, while not quite hitting all the cartoon dynamics is their Superman, which sounds tinny, overly digitally processed and seems to have some sound edits that I've not noticed in other (public domain) releases. But overall there are no complaints, and the sweetening applied to warm these vintage tracks up for the systems of today has been expertly carried out. English subtitles for the Hard of Hearing have been included for the cartoons only, a glaring omission that will leave the commentaries and especially the excellent documentary untouched or enjoyed by those with aural difficulties. A word of warning on the menus (in 16×9 and irritatingly labelling the shorts as "episodes") though: watch your sound levels! While the chosen music is very rousing, it's much higher in volume than anything else on the discs.
Final Cut:
In one fell swoop, what the Warner Bros. Academy Award Animation Collection manages to do – and for a very reasonable list price for a multi-disc set that's sure to be much cheaper online – is to provide those who may usually stay way from such compilations with a healthy selection of great, classic era animation. That these examples can be viewed as a judging of goods before perhaps jumping into buying a couple of the bigger, more expensive sets works as a clever taster proposition. Tom & Jerry might sound as if they hijack the collection, but this is surprisingly never really apparent in practice as much as it's a decent sampling of "best bits" from their Spotlight sets, saving those without those (and their own technical issues) from having to pick them up.
But the Warner Bros. Academy Award Animation Collection also does appeal to the collectors of those kinds of sets, bringing a number of shorts to disc that might have otherwise hung around the WB vaults until the right kind of release came along. The potential issues surrounding some of the transfers may or may not be a hindrance (I didn't feel it was actually quite enough to dampen my enjoyment, and I'm as picky as they come), and the lack of a handful of additional shorts is unfortunate, but the Drawn For Glory documentary is as comprehensive as they come and the overall value on offer packs a solid punch. In the long run I'd suggest that, while this collection has a few flaws that could have derailed it to nominated status, it just about emerges a bona fide winner in its own right.
Animated Classic or Back To The Drawing Board?