Disney Brothers Studio (1927-1928), Walt Disney Home Entertainment (December 11 2007), 2 disc set, 234 mins plus supplements, 1.33:1 original full frame ratio, Dolby Digital 2.0 Stereo, Not Rated, Retail: $32.99
Storyboard:
Breaking out from Universal's vault and hopping back over to his rightful home at the Walt Disney Studios, The Adventures Of Oswald The Lucky Rabbit brings us the surviving original series of cartoons created by Walt, his brother Roy and lead animator Ub Iwerks that were released between the famed Alice Comedies and the eventual introduction of a certain Mouse, for which Oswald proved to have a major helping hand in developing…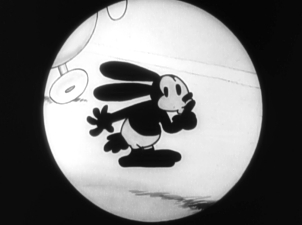 The Sweatbox Review:
Walt Disney's often recycled proclamation that his whole enterprise "started with a mouse" comes under scrutiny again when it might have been clearer to say it was actually started by a little girl and a rabbit! While Disney was obviously referring to his first sole-copyrighted superstar Mickey, the Mouse's debut in 1928 was preceded by the Alice Comedies and the Oswald The Lucky Rabbit cartoons.
Walt had first come to Hollywood to make his mark on the back of Alice's Wonderland, a short that switched the Out Of The Inkwell fascination of an animated clown in our real world by placing a live little girl – Virginia Davis – into an animated one. Producer Margaret Winkler was impressed enough to commission a full series from Walt and it eventually ran long enough to wind up featuring three actresses in the lead. When the Alice films had finally resorted to their cartoon character sidekicks out-populating the films rather than their nominal star, and had started running out of new ideas, a purely animated series was called for. Already rivalling Alice for attention in the cartoons was Julius The Cat, but Winkler had married Universal producer Charles Mintz, who thought that American cartoons were already over-stuffed with feline funnies, such as the likes of Felix and Krazy Kat. Walt suggested a rabbit, which Mintz was thrilled at and dubbed him Oswald. Walt's next star was born. Or so he thought…
Seen today, the Oswalds are of course very much of their time. Fortunately, this is an era I love to study, when these types of entertainment were truly unique, often made under tight conditions, and featuring brilliance the likes of which has only ever rarely been met since. This collection brings together all thirteen of the known surviving of the Rabbit's shorts from the original twenty-six that were supervised by Walt himself. Although the collection kicks off with a note from Treasures host Leonard Maltin that these early Disney efforts are fairly primitive, he's really protecting the release for those people who stumble on it or are expecting the full color and sound of perhaps the Silly Symphonies or even the Donald Duck shorts (this Oswald makes its debut next to a third volume of Duck shorts). Having been genuinely wowed by the early pre-Oswald work of Walt and the Disney artists, the high-level quality of the Oswald cartoons didn't jump out at me, since I was already well trained in what to expect, but even then there are some moments that bring a huge smile or are guaranteed to pop your eyes out at the sheer ambitiousness on show.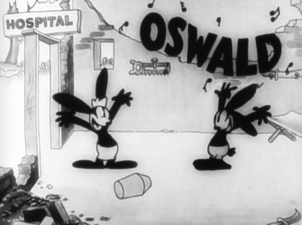 The attention to moving the story forward, developing character and never letting the action up is extremely evident, and it's no wonder why Oswald quickly became a big earner for Universal. What may look "crude" to us today still has a built-in way of drawing out laughter and involvement. Actually, I much prefer the "simple" look of these kinds of films over some of the loud and flashy examples of poor CGI that we keep getting served nowadays, and the characters hit their poses much more creatively and starkly than even the better, later Disney animation. Oswald is a playful chap – akin to the very early mischievous Mickey – though he's also very much bound to the silent cartoon conventions of the time, which is perhaps why he didn't break through to the same level of superstardom as the Mouse eventually did. The onus here is on gags, with the storyline merely playing as background to get from one to another, though with typically strong set ups and, mostly, payoffs. What's really interesting is the way the Rabbit telegraphs his thoughts to the audience, so that even small children could easily keep up with what's going on. Though I wouldn't be surprised to see Oswald bounce back as a Playhouse Disney character, some of the cartoons here are typically dated with the kind of toilet humor, barnyard antics and mild sexual innuendo that may confound kids of today as much as they may laugh at it.
Technically, the cartoons hold up as good as anything being produced at the time: it's no mistake that despite higher than average costs Disney was paid, he was nevertheless continually asked for "more!" product. As the cartoons progress, even over this short one year period, the same technical development as evidenced in the Alice Comedies comes into play here: almost immediately the earlier cartoons give way to more rounded sidekicks (including another pre-Peg Leg variation on the villainous cat Pete) and the forging ahead of exploring advances such as perspective animation and the shorthand that exists and is still used in creating animation today. Oswald himself isn't too much of an expressive character, but he comes across as someone with his heart in the right place, and if he can have a little fun while out to accomplish something, he will do!
After a warm introduction from the always genial Leonard Maltin, who provides some background and as-ever informative context, this particular collection begins with the second Oswald cartoon to be produced, but the first official one in the series that Universal was satisfied with for distribution, and therefore Trolley Troubles (1927) may well be known to many animation aficionados in name if not sight. Well, now's your chance to catch up on your history, as well as spotting the genesis for many of the ideas that would populate the black and white era Mickey Mouse shorts. Animated by Ub Iwerks, we're treated to his as-usual visually stunning and cleanly drawn perspective animation; the lack of having to accommodate the live-action Alice in locked-off optical effect shots meant a free roam with the camera and it's Ub's letting himself free from such conventions that makes this cartoon rather exciting!
There are some frankly dazzling moments here, from the establishing of Oswald's character as a bit of a fuddy-duddy, albeit a fun-lovin' one, and the little touches such as how the wheels of the trolley are animated, to the awesome uphill sequence and, especially the final, out of control trolley dash! Oh Teacher introduces a girlfriend for Oswald, who quickly becomes the one in need of a rescue after she's nabbed by a Felix-a-like, and in Great Guns! the Lucky Rabbit is in the Army, out to fight the enemies who have bombed a picture of his girl back home (an outstanding dissolve takes us from Oswald saying goodbye to the front lines). The Mechanical Cow shows off Walt and Ub's fascination with motorized entities, with milkman Oswald having trouble with the obstinate animal who first won't move from bed and then disrupts the Rabbit's attempts at romance before their tempestuous relationship proves to be one of mutual respect when the cow helps Oswald win back the girl from a kidnapper.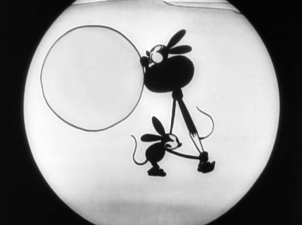 The Ocean Hop's basic premise – Oswald attempts to emulate Lindbergh's solo flight over the Atlantic – will be familiar to fans of Mickey's first screen appearance, but here it's played as more of an airborne Wacky Races, with Oswald's ramshackle flying machine up against the peg-legged competitor Putrid Pete for the $25,000 prize money. The debut of some visual puns as night falls and day breaks are topped by a hilarious sequence of two little mice finding many distinctive ways to blow up a balloon! In All Wet, Oswald is hot-dog vendor turned lifeguard hero when a pretty female rabbit takes his fancy on the beach but gets into trouble in the water. The cartoon is a pretty routine picture, but is enlivened by some typically surreal moments involving the live hot "dogs" and some wonderful pre-Jawsian shots that break the camera view up between topside and underwater to show an encroaching fish on the prowl.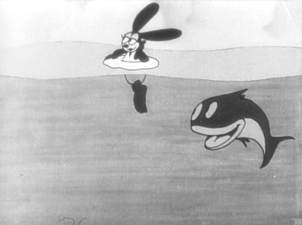 A second page of cartoon selections brings us into 1928 and Rival Romeos, another fairly regular outing for the time, in which Oswald and Putrid Pete battle to woo a pretty girl, though it's notable for the moment where a goat eats the Rabbit's sheet music only to be used as a hurdy gurdy, of course recycled in Steamboat Willie, while the cartoon plays as an early template for Mickey's Rival almost ten years later. Bright Lights finds Oswald sneaking past the stage door guard when he can't afford the ticket to see the vaudeville "Shimmy Queen" Mlle. Zulu (accompanied by an elaborate shadow that moves in perspective against its light source), a rather peculiar dancer who undertakes several surreal feats of fancy footwork, in a cartoon featuring the kind of gags that many of Walt's then staffers would continue to develop at Leon Schlesinger's Warner Bros outfit. Another mechanical animal – this time a horse – pops up in Ozzie Of The Mounted, when Canadian Mountie Oswald is assigned to capture wanted outlaw Pete (a playful poster has fun with the various names the character went under). Some wonderful expressional cartooning marks this one out, and the location provides for a good snow chase, inspiring a later Harman-Ising remake featuring their Bosko character.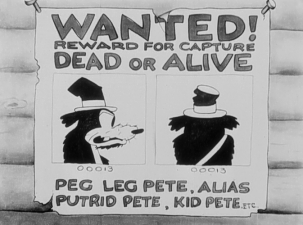 The convention of using an animated character as a "star player" much like any other actor in a period setting comes into play with Oh What A Knight, in which wandering minstrel Oswald attempts to serenade a fair young maiden, much to the chagrin of Sir Putrid Pete. A terrifically animated short, this has much pleasure in stretching characters' limbs to their rubbery limits and an exciting, Douglas Fairbanks-styled duel that not only uses shadow work dramatically but to amusing gag effect as well. Sky Scrappers, as you might imagine, finds Oswald on a high-rise construction site for some dizzying acrobatics when Pete makes another grab for the Rabbit's girl. Here it's the level of detail in the construction crew animation, the high-altitude backgrounds and camera angles that impresses.
Oswald has trouble with another horse, though of the mechanical kind this time, in The Fox Chase, a simpler cartoon that's seemingly more interested in going from crazy gag to crazier gag, irrespective of whether they make sense or not! Concluding this collection of Walt Disney's early work is Tall Timber, which expresses how far Walt's crew had come in being able to handle action and pacing in addition to more rounded personality acting and effects work. The sequence during which little Oswald finds himself squash and stretched out of all proportion is the wackiest cartooning we would see at the Studio of this type until the Pink Elephants of 1941's Dumbo, with a facial close up that could rival anything Bill Plympton could throw at a rabbit! Although not politically correct by today's standards, Tall Timber ends this collection on a smile-inducing moment of triumph for Oswald: a scuffle with a bear ends with the delighted rabbit wearing a genuine fur and puffing on a well-earned cigar!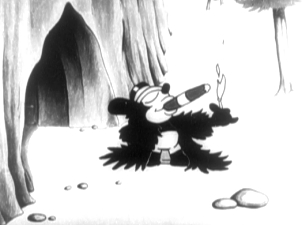 Even though Oswald pre-dates Mickey, there are many elements in these cartoons that could be said to beat the Mouse at his own game. The animation seems to have taken off leaps and bounds from what Walt and his team were even achieving at the tail end of the Alice Comedies and indeed nearly each of these shorts are more ambitious in scope than the early handful of simpler Mouse escapades (understandable since Universal was picking up the tab instead of independent Walt sinking his own money into his Mickey Mouse venture). Great Guns! features some wonderful cartoon dogfight shots which are more fluid than anything in the later Plane Crazy, Oh What A Knight takes the shadow detail that was an occasional flourish in the Alice Comedies and develops it to quite startling effect, and Sky Scrappers has great fun with Harold Lloyd-esque thrill shots. Quite often, the backgrounds suggest an epic setting, which the animators seem to enjoyed playing with: Tall Timber's rapids canoe ride makes the most of an expansive location and turns it into a sequence that almost matches Trail Mix-Up, the similar great outdoors cartoon made more recently by Disney and featuring another rabbit, Roger, for speed, ideas and continuous peril.
Over time, Walt increased his salary demands as the price of producing more and more elaborate Oswald The Lucky Rabbits mounted up, and it's here that Oswald turned out to be not so lucky for Walt, who fell out with Mintz over the final negotiations for payment. Famously, Walt asked for a few hundred dollars more to complete the next batch of Oswald cartoons, to which Mintz replied he was already one of the most expensive animation outfits in Hollywood and would have to take a pay cut. When Walt refused, suggesting he take Oswald away from Universal, Mintz dropped the double bomb: Walt did not own Oswald or any of the films…Universal did. He couldn't do anything with the character – Mintz had even been the one to name him. Secondly, Mintz had been spending more and more time at the Disney Brothers Studio, talking to artists about pay and conditions, and secretly offering them their own shot at producing cartoons for him. Walt was told that a group of his team was ready to up and leave, to work directly for Mintz himself. Disney was devastated, vowing to never work for anyone else again. On the train trip back from New York, on his way to telling his family and loyal friends the bad news, a mouse was dreamed up. On his return to California, Walt worked with his genius artist Ub Iwerks – often at night to keep other artists' prying eyes away from what they were working on – creating Mickey's first adventure…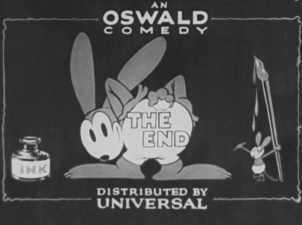 Flash forward 80 odd years and Oswald was in danger of becoming nothing more than a little known footnote in animation history, the most recent nod being an obscure reference as the nickname of the animated Oscar-type awards in Friz Freleng's late-1970s compilation feature The Looney, Looney, Looney Bugs Bunny Movie. Back in the 30s and 40s, the Oswald cartoons had continued under the auspices of the Walter Lantz unit at Universal, where he became something of a watered down version of his mischievous Disney persona. But while the Alice Comedies have fallen into the public domain, Universal have for some reason been very wary of doing anything with their animated properties – including Woody Woodpecker – until very recently, no doubt spurred on by seeing Disney's own success with their Treasures line, and Warner Bros.' Looney Tunes collections. And here is where a stroke of corporate political genius comes into play: Bob Iger, new CEO of The Walt Disney Company, needs to make his commitment to classic animation fact, and his dedication to the Studio's history a big deal. With Disney-owned ESPN anchor Al Michaels itching to join his old production team over at Universal's NBC sports program, Iger cut a deal to break the anchor's contract and allow an immediate dispatch to NBC – in return for the full rights to the Disney-produced Oswald The Lucky Rabbit cartoons!
Much rejoicing later, and this set brings us the "missing part" of the Disney legacy that only a few collectors and die-hards had been able to witness so far. The hoopla surrounding this announcement must have had someone at Universal scratching their heads at what they'd just let go…how come there was all this fuss over an 80-year old, obscure cartoon rabbit? If nothing else, I wouldn't be surprised if this movement was what prompted another look at Universal's dormant animated properties, paving the way for the terrific Woody Woodpecker And Friends collection this past summer, itself including several Lantz-produced Oswalds. But, this is the real deal, folks. The Disney-Iwerks cartoons that gave Walt his first animated success two years before Mickey Mouse steamboated his way across the screen and into the history books. These cartoons are simply essential for any Disney fan, or anyone interested in the development of early animation. Thanks to some swift corporate shenanigans, Oswald has come home and is already the focus of some heavy Disney marketing. Wherever he goes from here is anyone's guess, but right here is where he – and Walt Disney – started.
Is This Thing Loaded?
The Walt Disney Treasures have always seemed to exist in their own DVD world, free from all the usual Disney hyping that ties each product to each other. I was therefore surprised to find the first disc spin into action with the preview for Pixar's Short Films Collection, which I frankly found rather annoying and insultingly out of place. Yep, don't ask me why, but I really took offence to a few minutes of a disc as Walt as Disney dedicated on promoting another of the company's releases and one in which most of the content wasn't even produced by the Disney Studio! I can understand the reasons, of course, and even see the similarity in suggesting that the Pixar release is their own kind of Treasures collection, but throwing that preview on here against really vintage animation felt very oddly a wrong decision. Luckily, it's the only trail bundled into the set (I can't work out if that makes it better or worse), so go figure!
While thirteen is usually associated with being an unlucky number, Oswald has proven himself to be lucky for us by surviving at all! Only this number of cartoons from the twenty-six Disney-produced Oswalds are known to exist, with all collected here and making up the fair portion of this set. But the Treasures have routinely been two-disc affairs and the question of what else could be included to make this a worthwhile package – not that just having the Oswalds isn't enough – was asked and debated. We were all expecting some sort of documentary on the Rabbit's creation and how he was able to wind up back at the Mouse House (or should that now be the Rabbit's Hutch?), but when it was announced, the really big bonus here came right out of the blue. Disc One celebrates Oswald himself, but Disc Two is very much dedicated to one of the often-unsung men who helped make it all happen…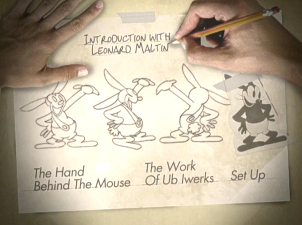 There are three feature length documentary films that were created fairly recently and quite closely together that I personally like to think of as an unofficial "Legacy Trilogy", covering the history of the Disney Studio and those who were important and worked there. Walt: The Man Behind The Myth was created as a celebration of the Studio founder's life to mark what would have been his one hundredth birthday in 2001, while the very sweet Frank And Ollie, coming some six or so years before, focused more on the animators and their processes. Following the same format, and seemingly made for no other reason than as a companion to her excellent book on her grandfather, was Leslie Iwerks' full length documentary The Hand Behind The Mouse: The Ub Iwerks Story. Given a limited theatrical release in 1999, Hand is a film well worthy of an individual release of its own, and was in fact previously available on VHS (as were Walt and Frank And Ollie). The second of these three films to be made, Hand is the final one to come to DVD and the only reason it might not have been made available on its own is because Ub just isn't as much of a draw (no pun intended) than Walt's more famous animators or the old Mousetro himself.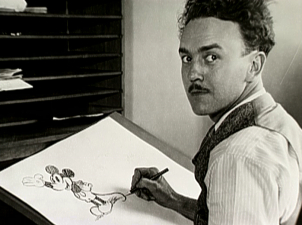 Narrated by Kelsey Grammar, the ninety-two minute feature is no less a prescient inclusion here, and actually does much to bring Iwerks – one of the most important figures in Disney history if ever there was one – back to the fore and stake a compelling argument for greater recognition. Hardcore animation fans and even perhaps solid film buffs will know the name, but little is known about the man himself; a German immigrant who set up shop with Walt even before brother Roy got involved, with their first "studio" being named Iwerks-Disney (Walt felt the other way around made them sound like opticians). Iwerks was instrumental in Walt's early success, perhaps more so than anyone, proving Disney's best draughtsman, creative thinker and, probably most of all, the visual creator of Mickey Mouse, whom Ub created with Walt when he proved to be the only artist to stick with the young Disney when Mintz took the Oswald series away from him.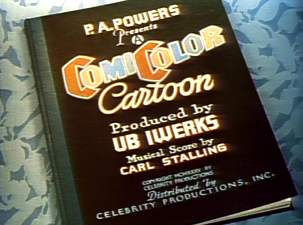 With Roy coming on board during the Alice Comedies era, the Studio name changed to Disney Brothers, and Ub took more of an animator's role, single-handedly churning out the drawings for Mickey's debut, suggesting cartoon ideas and playing a pivotal role in the development of the Silly Symphonies. A clash with Walt over the attention he wasn't getting as Mickey's co-creator led to Ub leaving the now Walt Disney Studio in the early 1930s, where he attempted to make stars of (the actually very funny) Flip The Frog and Willie Whopper, both for MGM. Such was the strong connection between the two contemporaries, a later return to Walt's fold meant their previous argument went unmentioned and Walt depended on his best friend from that point on for any technical dilemmas that arose, famously muttering, "Talk to Ub", whenever anything troublesome had to be overcome at the Studio (and, later, theme parks).
The Hand Behind The Mouse primarily concentrates on the early days of the Disney Studio, when it was a three-man team headed up by Walt, Roy and Ub, but it stretches far beyond that too, to take in a simply astounding amount of Iwerks' achievements for Disney and other studios. As head of "Technical Processes", Iwerks was Walt's "go to guy": the man who worked out how to convert one hundred and one Dalmatian spots from the animators' drawings to the photographic cels, who made possible some of the most amazing attractions at Disneyland, and who literally created the concept of travelling mattes to allow The Birds to terrorise Tippi Hedren in his famous thriller and for Mary Poppins to step into a chalk painting – the simple beginnings of a process that would be refined for such blockbusters as Star Wars and still very much in use today.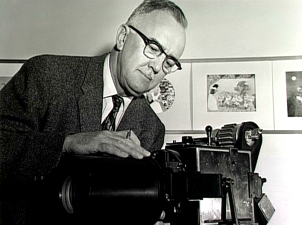 Interestingly, all three of these "Legacy Trilogy" films were created by the filmmakers' families: Ted Thomas shaped Frank And Ollie, while the Disney Family, headed up by daughter Diane Disney Miller, was the guiding force behind The Man Behind The Myth. As with those films, granddaughter Leslie Iwerks' portrait is an affectionate tribute but doesn't shy away from presenting the facts, and the exploration of Ub's later years as an effects and optical innovator will be truly enlightening even to those who have observed Iwerks' often unsung contributions to the Studio. Walt quite possibly wouldn't have gotten anywhere without him, and for that alone we should be thankful and more than interested in his story. For those who are fascinated, there's even more to be found in Leslie's accompanying biography, while she herself has continued to document animation's progress, being the writer/director of another recent book/film project, The Pixar Story, peeking into the history of an altogether different kind of mouse!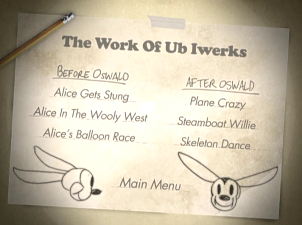 While we're speaking about Disc Two, which is where Hand resides, I may as well point out here that the disc could quite easily be released as a stand-alone, save for the Treasures intro and a few Oswald-themed design elements (including a problematic white-on-white glove menu highlighter). As with the documentary's release on VHS, Hand comes accompanied by examples of Walt's legendary animator in action. On tape, we saw Mickey's two debuts, Plane Crazy and Steamboat Willie, while on this DVD you'll also come across The Work Of Ub Iwerks: six early cartoon shorts that present a complete and unique look at his work before and after Oswald The Lucky Rabbit and add up to well over 40 minutes of animated antics in total. Three Alice Comedies are offered (Alice Gets Stung, Alice In The Wooly West and Alice's Balloon Race), which I believe are new to Disney DVD and provide a decent look at what Disney and Iwerks were up to just prior to launching their Lucky Rabbit.
Most impressive and advanced is Wooly West, which just features some lovely animation, but funniest has to be Alice Gets Stung, with some terrifically surrealist gags as Julius The Cat attempts to capture a more bunnified rabbit, actually more akin to Bugs' rascally attitude than Oswald's. The three post Oswalds are perhaps predictably the two early Mickeys again, and Iwerks' pet project, the very first Silly Symphony, 1931's brilliant The Skeleton Dance, which best display Iwerks' maturing as an animator. I never ever tire of watching Ub's skeletal characters hop about on screen (some of his greatest shorts always involved spooks and ghouls), but best of all here has to be Willie, spruced up in a gorgeous looking new digital restoration that has new Disney Animation chief John Lasseter's fingerprints all over it. Though there's still some gate weave and contrast fluctuations, there's nary a scratch in sight, and tellingly it's been windowboxed within a 16×9 anamorphic frame, pointing to a high-definition release on the horizon, perhaps? If only all vintage animation could have this lavish time, attention and money spent on it!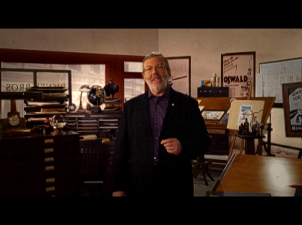 Back to Disc One, and a handful of the Oswalds are accompanied by authoritative audio commentary tracks by the usual suspects. Leonard Maltin jumps into the sound booth for a couple, and his co-participants Mark Kausler and Jerry Beck (doing double duty away from the Golden Looney Tunes) get to fly solo on others. Here's how things shape up, with Kausler on The Ocean Hop and Oh Teacher, joined by Leonard on Oh What A Knight, Maltin and Beck on Bright Lights, and Jerry on Ozzie Of The Mounted and The Fox Chase. As usual, all offer fascinating insights, though Kausler simply amazes with the sheer amount of information he's able to serve up, and Beck seems happy to simply revel in the enjoyment of the cartoons. The team ups are good value too, but my favorite insight have to be Kausler's intimate knowledge of who drew what and his explanations of the differences between these versions and the original longer silent cuts.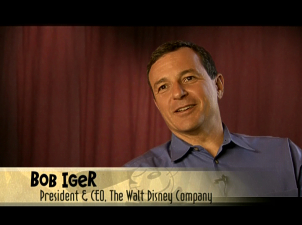 Rounding out this not-inconsequential package is the prerequisite and much anticipated documentary featurette Oswald Comes Home, which covers in just under 14 minutes the corporate shenanigans needed and employed to bring the Rabbit back to the Disney fold. Current CEO Robert Iger – I think here in his first major inclusion on any title like this – is presented as the hero and comes off as good as no doubt intended: like the acquisition of Pixar, the deal to snare Oswald was as much to do with restoring morale at Disney and with the fans as anything, though an astute move to use the character in new projects might yet see a handsome return that turns out to prove Iger's own Lucky charm. As well as the almost unbelievable trade for TV announcer Michaels, the featurette looks back on Walt and Oswald's early days, including speaking with Ub's son Don Iwerks, Walt's daughter Diane and Studio Director Emeritus Roy E Disney among others, and the first negotiations over Oswald which didn't turn out so favorably for the young Walt. With the Iwerks documentary on the other disc, there's really not a lot more that could have been added here, making this retrospective just right.
Completing our venture into Oswald's world are fragments from Sagebrush Sadie, a "lost" cartoon, running just under a minute and uniquely presented on an animators' desk from original drawings stored for almost 80 years in the Disney Archives. The progressive speed issue does raise it's head here (see Ink And Paint below) more so than on the cartoons themselves, as everything does seem to be moving faster than it should. Finally, some still frame Galleries present various trade ads, story sketches, animation drawings, model sheets, posters and – my personal favorite – original pencil layouts for promo art! Presented on a plain black screen, I'd have appreciated being able to read the small print on many of the advertising articles, but this is still good value, amounting to 60 historic images.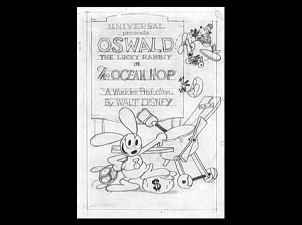 Case Study:
The Adventures Of Oswald The Lucky Rabbit, like the Disneyland Treasures tin that accompanies it on release, were originally destined to be part of Roy Disney's Legacy Collection line that debuted last year with the four True Life Adventures volumes (themselves first slated to appear in the Treasures). When word hit the web that the Treasures would then be ceasing and fan reaction caused a negative backlash, Disney switched the releases of the Oswald and Disneyland sets to be included into the Treasures fold, dropping the planned release of the short film Destino for the current third collection of The Chronological Donald. Confused yet? Added to this, Oswald has come to disc in a gold Treasures tin instead of the "film can" silver that's graced all previous volumes.
In a way, that's cool, since it really does differentiate the title from the others in the series, but then there might have been some good reasons to separate some of those out too: light red for the Mickey Mouse sets? Blue for Donald's cartoons? Pale green for the television anthologies, or orange for the Disneyland themed releases? Since that's never happened, and we have yet to have a logical answer as to why Oswald comes gold plated, my only conclusion can be that since the silver Treasures deal with product released within Walt's lifetime and created at the Walt Disney Studio, Oswald ranks even older than those and thus has attained this golden status, for being, officially, pre-Walt Disney Studio material. One can only hope that, in keeping with this ethos, post-Walt product like the later featurettes and animated shorts (such as Destino) could come to the Treasures line in a bronze covered line…that makes sense, doesn't it?
That outer change continues on the inside, with the gold pretty much replacing any silver that would have been seen before: on the cover sleeve itself and on the usual 8-page guide that contains liner notes from Maltin. The only other difference from previous Treasures is the inclusion – as well as a lithograph repro of some choice artwork (pencil drawings from the missing Sagebrush Sadie) – of a pin button badge. This is actually a very neat little idea, a carry over from the Legacy Collection origins of the title, though collectors will probably keep it safe in the box. The package rounds out with the COA, limiting the run to 120,000 and a Disney Movie Rewards code that, while very welcome for those in the club, thankfully doesn't infringe on any of the other outer artwork. At a time when the Platinum Editions keep changing their packaging, it's nice to see the Treasures remaining consistent even after seven years.
Ink And Paint: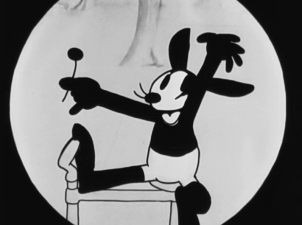 As Maltin's introduction states, Disney put out a call to search for the best available material to use in the restoration of the Disney Oswald films, even scouring the Universal vaults. 16 and 35mm prints from private collectors and established institutions were loaned for the effort, all providing pieces for the overall puzzles in putting these films back together. Over the years – particularly during the Lantz sound re-issues, the Oswalds were re-edited, with scenes shuffled about or shortened to accommodate the changes in pace that distinguished the often repeated gags in silent films to the shorter one-hit gags that sound helped to sell more succinctly. Even though Maltin explains that some prints may not be up to the usual standards, these are the best the Oswald cartoons are ever going to look, short of inventing time travel and bringing back mint copies for transfer (wow, think of the many lost films that could be saved that way)! So, considering the limitations of the footage and the elements the teams had to work with, the quality and in particular the stability of the image here is simply astounding, and it's not to say that these are unwatchable by any means: Oswald's first, Trolley Troubles looks s-u-p-e-r-clear!
My only question (and it's not a grumble as such) is one of the frame rate, here presented in progressive video that plays the cartoons at 24fps when I would have thought they should have been transferred in interlaced video to preserve the original 18fps speed they would have been created and intended to be projected at. Only a few of the titles (All Wet, Bright Lights, Sky Scrappers, The Fox Chase) may look slightly more worn than others, but for anyone interested in vintage animation, you'll know what to be on the lookout for and in fact many may well be pleasantly surprised with how amazingly great these prints come over. Universal's nitrate-based safeties almost shine, and even the dupes of dupes have been given some obvious digital touch ups that do nothing to detract from the original intention, but everything in bringing this almost lost portion of essential Disney history kicking and screaming into the 21st century.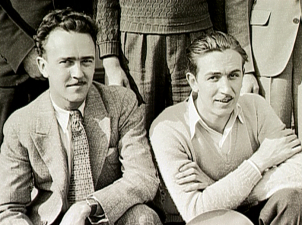 The original VHS of the added The Hand Behind The Mouse stated that "this film has been modified to fit your screen", but it's clear here that the film was edited on high-end video in the standard 1.33:1 television aspect. The nine un-named chapter stops (for the program start, early days, Alice and Oswald, the creation of Mickey, Flip The Frog and solo years, return to Disney's, technical innovations, and end credits) are even placed at what seem to be natural commercial fade-outs. Theatrically, it may have been shown with the top and bottom masked (the opening Disney logo is certainly open matte), but since it is documentary material, and one that deals predominantly with full-framed Academy ratio footage, the same framing as was on the tape never loses anything from the sides. Indeed, that the 2.35:1 glimpses of Sleeping Beauty are presented intact within the 4×3 screen area suggests that Hand was always intended for television exhibition and the fact that the credits reveal it was online edited to DigiBeta accounts for the stunningly clear digital transfer we get here. A "widescreen" edition would only crop image information away anyway, and this presentation correctly preserves the multiple instances of archival footage and the film clips' original ratios. With less than four hours in total spread over two dual-layered discs, compression is at a minimum and causes absolutely no complaint.
Scratch Tracks:
The Hand Behind The Mouse sports, surprisingly for a talking heads and narrative documentary, a fine 5.1 surround track that is otherwise fairly limited, but giving the cartoons themselves some boost are brand new scores, written by archivist silent film composer Robert Israel. Moving away from the jazz direction provided for Disney's Alice Comedies release, here he goes for a small orchestral ensemble or authentic sounding theater organ. The results are simply fantastic – Israel's scores sound like the kind of jaunty music that played on the early sound Disney shorts, and so are very much in keeping with tradition, though sounding every bit as good and clean as modernly recorded music, really giving one a taste of what it might have been like sitting in a darkened movie house where top dollar would have paid for such a live accompaniment.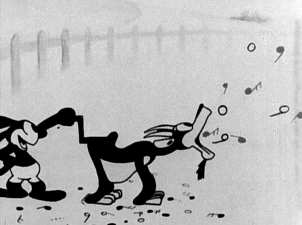 Unlike the Alice shorts on a previous Treasure, the composer's name has not been added to the credits of the cartoons themselves, saving that for a non-obtrusive added page which also rightfully and appreciatively lists the print gauge and sources for each cartoon (though some titles are mislabelled!). Subtitles have been added (redundantly for a handful of spots in the shorts) that really come in handy for those who wish to follow the Iwerks documentary or read what the commentary participants are saying. For being silent movies, these cartoons sure do sing!
Final Cut:
Is this, along with the previously released Disney On The Front Lines, the most important of the Disney Treasures series so far? There is certainly a lot of history contained herein, what with thirteen of Walt's premier cartoon series entries on show (disproving the amount to be an unlucky number for our Lucky Rabbit). And on top of that we get the complete documentary feature on his lead animator Iwerks, itself worthy of its own release, that is a must for anyone who was touched by the subsequent films in this unofficial series Frank And Ollie and Walt: The Man Behind The Myth. There really isn't anything extra I could have hoped to have been included here and though it may appear to be a simple package, it's a highly effective one, full of that overused word "rarities" – even better in that these are so rare most have never actually been seen in decades! The Adventures Of Oswald The Lucky Rabbit is an exceptional release that truly delivers on the excitement it will generate with certain animation aficionados. Get your hands on one now!
Animated Classic or Back To The Drawing Board?