Filmation (1980-1981), BCI (December 18, 2007), 2 discs, 357 mins plus supplements, 1.33:1 original full frame ratio, Dolby Digital 2.0 Mono, Not Rated, Retail: $14.98
Storyboard:
Two masked, historical heroes dole out justice in this two-disc set celebrating Filmation at its adventuresome best. The Lone Ranger and faithful Indian companion Tonto make things fairer in the Old West, while Zorro evens the scales in a California taunted by corrupt politicians and lawmen.
The Sweatbox Review:
Filmation was going strong heading into the 1980s. Aside from a number of other shows they were working on, they were still in production on Tarzan, Lord Of The Jungle, a series that had begun in 1976 before evolving into The Batman-Tarzan Adventure Hour and Tarzan And The Super Seven. Then, coming off of 1979's praised Flash Gordon series, Filmation had strengthened its reputation for bringing to the small screen classic adventure heroes in a dignified manner. Though Flash's's ratings were perhaps not what NBC had hoped, Filmation got the go-ahead to try another hero on CBS, who combined with the Lord Of The Apes to make The Tarzan/Lone Ranger Adventure Hour in 1980. (The half-hour Ranger segments were actually called The New Adventures Of The Lone Ranger.) Their version did not depart much from what was already well known about the character, seeming very much like a continuation of the fondly remembered Clayton Moore live action TV series, which itself was based on a long-running radio show. Though details of the origin were not delved into, The Lone Ranger still appeared to be the same former Texas Ranger who had given up his old life after a run-in with criminals and left for dead. The cartoon sees him continuing to defend the innocent with his faithful Indian friend Tonto, riding the white-coated horse Silver, and leaving silver bullets as a sort of calling card, while those he has helped lament the fact that they never learned his name.
The Ranger had appeared in a cartoon show back in 1966, from a different studio; and 1980 was actually the Ranger's second Filmation appearance, having appeared in an episode of The Brady Kids in a 1972. In The New Adventures Of The Lone Ranger, the main departure from previous versions was that Saturday morning standards of the day prevented the Ranger from ever shooting right at anyone. He performed all manner of ticks with his gun, but never injured anyone with it directly. Nevertheless, he remained an effective and commanding hero as he dealt with threats such as stagecoach robbers, Presidential assassins, and crooked railroad foremen. He even chases after someone who stole the manuscript for Tom Sawyer! The animation was naturally as limited as any seen on television those days, though the show did employ several rotoscoped shots that could be reused in order to give a more fluid bit of animation here and there. Aiding the cause was William Conrad, who did voice narration and the hero's own voice. If you've ever watched Rocky And Bullwinkle, you know what to expect, as he also narrated their segments; except this time, it's all done straight. Still, it's hard to not think of ol' Moose and Squirrel while watching The Lone Ranger. If you can get past that, however, Conrad does a masterful job of giving weight to the stories. His delivery for the Ranger is stiff at first, but improves over the course of the first few episodes. There was something of a stigma at the time about doing cartoon work, and even if his Cannon series had already ended a few years earlier, Conrad was still keeping busy with other projects— including narrating Buck Rogers In The 25th Century, as well as frequently guest-starring elsewhere. So, for The New Adventures Of The Lone Ranger, he was billed instead as "J. Darnoc."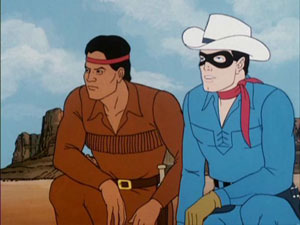 Another thing the show did well was to use historical references, which often became the point of an educational tag at the end of each episode. The Lone Ranger and Tonto also met several historical figures, including President Grant, Wild Bill Hickock, and Mark Twain. This managed to provide the show with a nice sense of importance. And, in true Filmation style, no opportunity to teach moral behavior was overlooked, whether it be Tonto remarking on a dangerous situation, or the Ranger showing how to properly treat others. Watching it today, it's all very positive; and though certainly a little preachy, it did not hinder my enjoyment of the show one bit. In fact, I found it… well, a positive thing, as the show's writers were generally able to show a good balance between action and instruction. The New Adventures Of The Lone Ranger was not all that groundbreaking, really, but it was a solid and entertaining half-hour of traditional Western adventure. Sixteen half-hours were originally produced, followed by twelve new quarter-hour segments the following year. This set has the first eleven shows, all appearing on Disc One.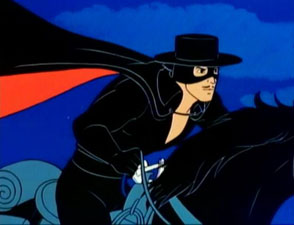 That year, 1981, brought The New Adventures Of Zorro into the mix, creating The Tarzan/Lone Ranger/Zorro Adventure Hour. Zorro was another long-standing hero of American popular culture, having initially appeared in the pulp series All-Story Weekly in 1919, before going on to star in innumerable movies, serials, and TV shows. His first of several animated appearances was on Filmation's show, where he broke new ground in several ways. Zorro and the rest of the cast were voiced entirely by Hispanic actors, a first for American television. Henry Darrow portrays Zorro here, just as he later would in Disney's live action Zorro And Son; he also played Zorro's father in an even later Zorro syndicated series.
In terms of Filmation history, this was a very significant series in that it was the sole time that they co-produced a show with an overseas partner. Yes, Filmation was so swamped with work that year— with seven series in production— that they enlisted Tokyo Movie Shinsha to do the finished animation. Even then, the show had a sped-up production schedule that did not allow either studio to do its best work, and yet it still came out quite well. In fact, having the animation produced overseas gave the show a different quality than it would have had if it were entirely done domestically. While rotoscoping was used for swordfights (using a CBS staffer who was on the American Olympic fencing team), the show avoided use of Filmation's "stock animation re-use" system.
Filmation's Zorro is much like other versions, with a couple of exceptions. Zorro is still seemingly bored socialite Don Diego, who dons a black mask and sword in order to fight oppression in a California that has not yet joined the United States. Zorro in any form has never been known for its historical accuracy, but the character can certainly be used to tell good stories. Typically, the people of California are being tyrannized by a greedy governor, or unfairly treated by the military or police. The cartoon also sees Zorro face off against a lady pirate named Lucia, though circumstances often see them on the same side. Captain Ramon is his more natural adversary, a cunning and heartless man who enforces unfair laws and taxation. His pudgy underling Sgt. Gonzales is much less of a threat, providing the show with most of its comic relief. A new addition to the mythos is his costumed sidekick Amigo, who by day is his houseboy Miguel.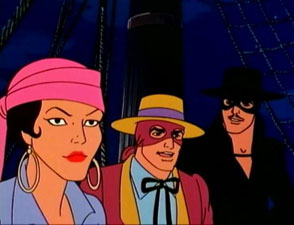 The New Adventures Of Zorro had thirteen episodes in total; this set has the first six half-hour stories, all on the second disc. Like The Lone Ranger, Zorro provides wholesome adventure, this time with educational tags at the end that focus on Spanish words. Both shows are simply good, clean fun for boys and boys at heart.
Though Filmation had issues with using TMS during the production of Zorro, the work they did helped them to land more American work, just as different studios were also looking to other Asian and Pacific countries to handle their animation. Costs were driven lower as a result, making it very difficult for Filmation to compete. Filmation had— prior to Zorro— always insisted in keeping their production in-house (literally, as the whole production of a show was typically done in one building). This made them somewhat heroic to domestic production staff, but ultimately it forced the studio out of business, along with some other factors. That was still a few years away, though. In 1981, kids could still enjoy Filmation's Zorro, and look forward to more adventures with He-Man and She-Ra.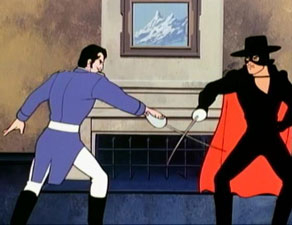 Is This Thing Loaded?
The budget seems to be wearing thin at this point in BCI's Filmation releases.
This time, we only get two interviews, which are both worthwhile in themselves, but I do miss the additional goodies to which we had become accustomed. Both spots only discuss Zorro, with The Lone Ranger waiting to be addressed in the next set. The Interview With Lou Scheimer (10:10) tackles the topic of using TMS for the finished animation. Scheimer praises them for doing their best under difficult circumstances. Then, the Interview With Robbie London (4:08) sees him discussing with pride his first job scripting his favorite hero, and his continued presence as a member of the Filmation family.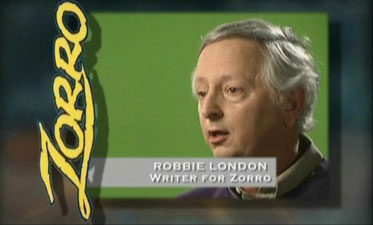 Case Study:
The double-thick keepcase opens in two places to present each disc separately. A four-page episode guide appears as a welcome insert. The keepcase is held by an almost identical slipcase that simply moves the company logos on the back and oddly omits the copyright warnings.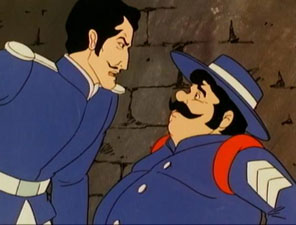 Ink And Paint:
This transfer has a few issues. Both shows demonstrate a softness that shows the age of the elements used, not to mention ghosting that likely signals continued use of PAL transfers for Filmation DVDs (not BCI's fault; they can only use what they're given). The first Lone Ranger story had what was the most apparent use of DVNR, as I saw lines on Tonto's face flicker in and out of existence, but this settled down after that. Still, there is an over-processed, sadly un-remastered look to everything, even if dust and dirt are at a minimum. Things are worse for Zorro, as skin tones fluctuate from pink to orange (even considering the different colorings used for the Spanish characters), colors bloom, and fine details are lost. A pity.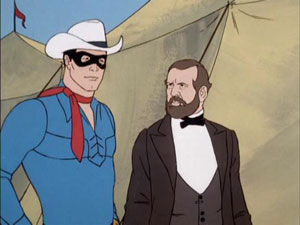 Scratch Tracks:
As you would expect, the William Tell Overture figures prominently in the soundtrack for The Lone Ranger. It and the rest of the soundtracks sound just fine in two-channel mono.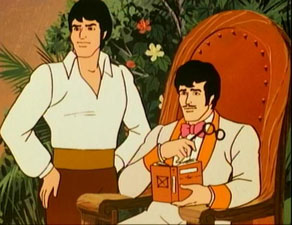 Final Cut:
Neither of these shows was groundbreaking in the sense of advancing the art of animation; but they both did solid jobs of adding to the legacies of each character. Though written for a children's audience, with only shallow characterizations, both shows provide adequate action and seamless storytelling that allows one to still appreciate them today. No one ever gets shot or stabbed, but the moral centers of these shows always ensure that good wins out over bad. It's been great fun watching these shows again after all these years. Now if only BCI could scoop up those rights for Filmation's Tarzan!!!
Animated Classic or Back To The Drawing Board?