Rankin/Bass (December 13 1979), Warner Home Video (October 7 2008), single disc, 49 mins plus supplements, 1.33:1 original full frame ratio, Dolby Digital Mono, Not Rated (nothing offensive), Retail: $19.98
Storyboard:
Cold-weather elf Jack Frost visits January Junction for his annual icecapades, but falls "head over snowflakes" in love with the maiden Elisa. Warmed up by the relationship, Frost loses his bite – as well as Elisa when she is lost to the evil clutches of Kubla Kraus the Cossack! Jack must find the cool factor within himself in order to take on Kubla's mechanical henchmen, rescue Elisa and save the day.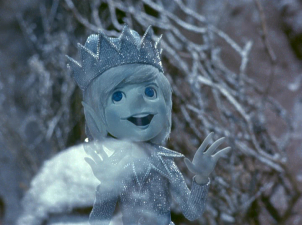 The Sweatbox Review:
The Arthur Rankin and Jules Bass produced stop-motion television specials of yesteryear have become staples of holiday viewing around the world, now brought back each year, it seems, in new DVD editions. Warners has been leading the pack with their series of Deluxe Editions, including those for other stables' work such as Chuck Jones' original Grinch and Horton outings, and Rankin/Bass' own The Easter Bunny Is Comin' To Town, released earlier this year. It seems to be something of a trend: this edition of Jack Frost – which I believe marks its debut on disc – even labels the package as being part of The Rankin/Bass Collection, so hopefully there are more in the works.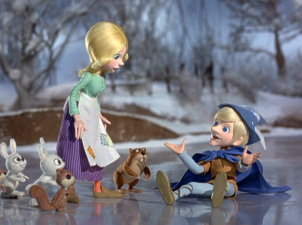 These specials weren't the smoothest or most luxuriously budgeted of productions, but they're not really treated with much respect, despite the good staging and excellent direction on tight budgets. Not that every one was a winner, but had these been Eastern European efforts there would no doubt be many more plaudits heaped upon the team than the recognition they received: these specials are filled with infectious fun, more than a few musical numbers, and a host of famous guest stars providing the spirited voices. Famously providing Narrator duties was Fred Astaire in the all-time classic Santa Claus Is Comin' To Town (sadly not, it seems, one of the Warners' controlled titles), but here we're offered the very funny Buddy Hackett – Benjy Benjamin himself from It's A Mad, Mad, Mad, Mad World, but probably best known for his raucous stand-up comedy and his roles in such Disney fare as The Love Bug and The Little Mermaid.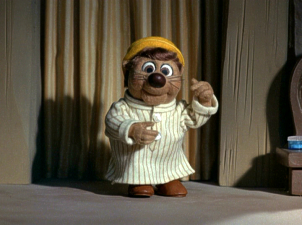 Here he's Pardon-Me-Pete, the narrator of course, telling the story in his inimitable style, tried and tested by the Rankin/Bass team over countless specials before it. The set up is same as always: we're introduced to our host (in animated form, naturally), who fills us in on some backstory (usually with a song…yep, check!) before things get rolling, the day is saved and everybody sings yet another song in celebration. Unusually, the special uses a few stock songs, including Me And My Shadow (made famous by Frank Sinatra and Sammy Davis Jr), so there's a fairly good recognition factor. Joining Hackett are a bunch of nostalgic named voice talent: musical star and comic actor Robert Morse is Jack himself, while legendary cartoon voice artists Paul Frees, Larry Storch and Don Messick provide backup.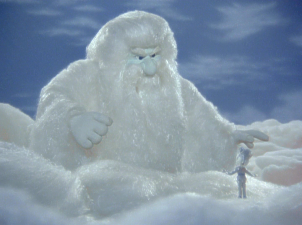 Not that there's actually too much to backup! Rather thinly stretched to fit its commercial hour length, the story, set somewhere between the fall and Christmastime so a little lost in the winter, deviates somewhat here and there instead of plodding along with the plot, confusing in itself as it ends up being more about the Groundhog Day shadow than about the title character. The course of true love never did run smooth, of course, but here things are overcomplicated by Elisa's fondness for a brave knight, which leads to a few story points that don't go anywhere and ends the story rather unluckily for Jack himself. This departure from the main plot, and a couple of standard song moments (for Jack's "I Want", and a lengthy spell spent with Kubla Kraus as he reflects on his life), don't do themselves any favors by feeling like padding, while the apparent need to pack in too many songs could probably fill its own soundtrack album!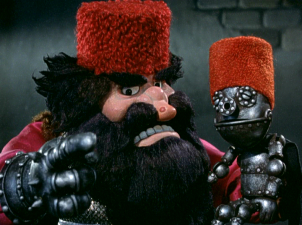 This isn't a criticism aimed at just this special, though; much of the later Rankin/Bass output, before they found firmer footing by going back to hand-drawn animation with the feature film The Last Unicorn and the franchise series ThunderCats, feel similarly lacklustre, which is to be expected after churning these kinds of shows out year on year for well over a decade. But there is also a lot of enjoyment to be had too, and many sweet little moments amongst some of the padding. Highpoints remain the voices: Hackett bringing warmth to the thing, while Morse injects Jack with a chirpy personality, and Frees is borderline genius – as usual – with his Kubla Kraus, doing what he can with the material but easily plussing the script simply with his Ruskie vocal intonations. Kubla's mechanical army is impressively done on a television budget, and his mechanical ventriloquist's Dummy (in name and nature) is in danger of stealing the show.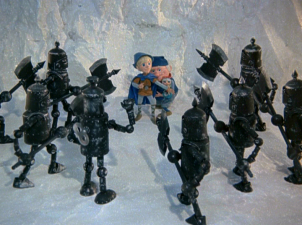 The animation, modelling, sets, costumes and effects (apart from one hideously matted castle shot) are likewise remarkable for the no-doubt tight conditions the program was made under, and there's a fluidity here that had been missing in some of Rankin/Bass other 1970s output. The fluffy bunnies' cold breath and Jack's frosty ice in the air, and what must have been double-exposure animation to achieve his "invisible" transparency, displays an expertise learned from extensive use of the processes. For kids in the 1970s, this was about as special and high-tech as things got back then, and after enjoying many of these specials myself over the years, their legacy is clearly felt in the inspirations for the likes of Tim Burton's stop-motion features and the very reasons that Burton continues to create films in that medium. While the pacing is less frantic than Burton's work, nostalgic value pulls Jack Frost through as one of Rankin/Bass' more fondly remembered favorites.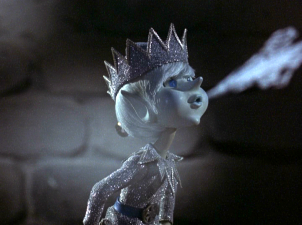 Is This Thing Loaded?
As a Deluxe Edition, the main nicety on offer is a remastered transfer of the main program (more on that below), as well as a small smattering of what feel like token extras. WB's Horton Hears A Who! disc surprised immensely by including a full 90-minute retrospective special on its author's like and work but here, as is otherwise often the case with these releases, Totally Cool Crafty Creations has little to nothing to do with the main program. Hosted by the intensely "enthusiastic" Francine Flake (not her real name, I'm pretty sure), it's an eight and a half minute "how to" on making snowflakes, snow globes, fake snow and snow sculptures (notice a theme here?). While the non-toxic safe aspect is referred to more than once, there are still a lot of messy components needed for these and the results might not be just the thing parents need sprayed around the house!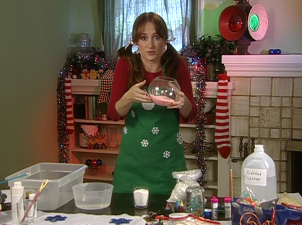 Snip's Snowy Singalong runs through three of the special's songs (Jack Frost, Just What I Always Wanted and The Groundhog Song) with a "follow the bouncing snowflake" highlighter picking out the lyrics…simple and effective, I suppose, if one would want to singalong with these three particular tracks for five and a half minutes. At least there's a feeling that some work has gone into the disc, other than just slapping it out there, though a bone of contention remains, for me, the insistence of companies creating 16:9 menus for a 4:3 presentation. Everything on this disc is in 4:3 "fullscreen" apart from the menus: no biggie, but continually frustrating and pointless.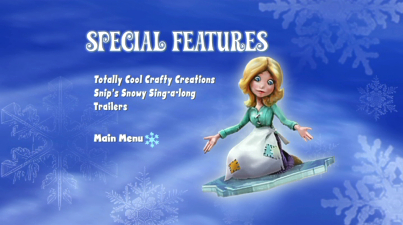 The disc opens with WB's still bizarrely kitsch Wizard Of Oz anti-piracy spot and previews for A Charlie Brown Thanksgiving, A Charlie Brown Christmas, It's The Great Pumpkin Charlie Brown (all available separately or in a Peanuts Holiday Collection pack), the You're Not Elected, Charlie Brown special, and a whizz-pop-bang promo for Warners' Blu-ray Disc titles. From their own menu, Scooby-Doo And The Goblin King, Fred Claus, The Looney Tunes Golden Collection Volume 6 and The Smurfs Season 1, Volume 2 are all added.
Case Study:
An extremely handsome slipcover glosses up this release, in line with Warners' previous Deluxe Editions, which could be accused of trying to make the puppets look a little too computer generated. It's a simple affair – Jack himself doesn't have a lot of color to him! – but it does "pop", thanks to the detailed embossing that uniquely (at least I don't come across this too often) stretches to the back of the sleeve to provide some dimensionality to the characters on the reverse of the pack. The same artwork – which announces this release as part of a Rankin/Bass Collection – is repeated on the cover art in a standard keepcase. As per normal with Warners' DVDs, there is no insert, but the disc art is in keeping with the cover.
Ink And Paint: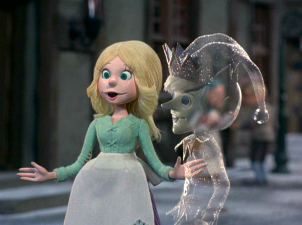 Presented just as it should be in its original television aspect ratio of 1.33:1, the benefit of a film mastering process means a stable element to go back to, and Jack Frost looks very decent, indeed much better than it should for TV of this age and budget. Likely coming from a 16mm source, today's high-end displays will betray the programs budgetary concerns, but it's solid, progressive and clean, a little light grain aside (understandable given the film stock). Although Rankin/Bass always filled their work with color, their palette remained distinctly pastel shaded, and there thankfully hasn't been any attempt to push or oversaturate the textures, which vary wildly from Jack's icy blue frost to Kubla's vivacious red, all held in check in a nice transfer that probably looks better than it did when it played on television way back when.
Scratch Tracks:
The basic mono mix, again true to the original, isn't going to blow your bass woofer away, but it was never intended to. Mixed for the tinny television speakers of the time, there isn't a whole lot of dynamic range to the track, but it's been suitably reproduced with crystal clarity and a lack of distortion here, from Hackett's narration to the somewhat lively, if unremarkable, songs. English subtitles are included for the hearing impaired.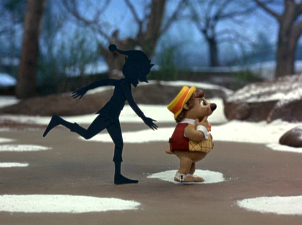 Final Cut:
It's very nice to see these often now overlooked works getting some decent treatment on disc, with some of the more popular ones making their way to disc in multi-disc sets that seem to be appreciated by Rankin/Bass fans. Upping the price from the usual $15 by five bucks to $20 is a little steep for a catalog release of a program less than an hour in length, and the extras don't hold anything as magical as a documentary on the producing team, for example, so those looking for this would do good to wait for a sale if they're happy to forgo the slipcover that's probably only going to be available in initial print runs. Jack Frost is certainly one of the best of the later Rankin-Bass specials, and those who have been collecting their library will want to add it to their shelves. More than a little old-fashioned, it might appeal to both younger eyes with its friendly story, and to older audiences looking for a bit of warm childhood nostalgia.
Animated Classic or Back To The Drawing Board?