MGM Television/Chuck Jones Enterprises/Cat In The Hat Productions (1970), Warner Home Video (March 4 2008), single disc, 26 mins plus over 2½ hrs of supplements, 1.33:1 original full frame ratio, Dolby Surround, Not Rated (nothing offensive), Retail: $19.98
Storyboard:
Lumpy, uncoordinated elephant Horton must convince his friends that he's not just hearing voices when he comes across a miniature civilisation embedded within a speck of dust which has settled on a cloverleaf. Being accused of being just as crazy is Dr Hoovey, a scientist from the teeny Whoville, who tries to explain that there's more "out there" than meets the eye. With time running out, Horton and the Whos attempt to show both camps that there's more to it all, and "a person's a person, no matter how small"…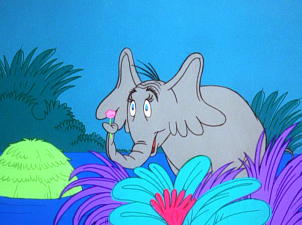 The Sweatbox Review:
In 2006, a new Grinch DVD
Replaced the old version, which went OOP
It came loaded with extras, some old and some new
Including the special, Horton Hears A Who!

But, Dr Seuss' story has again since been seen
As an animated feature for the biggest big screen
And so as his book has been padded, re-told
Someone thought the original could now be re-sold!

Yes, a new DVD, to cash in on the fuss
Has been issued by Warners: an edition deluxe
Picture and sound have got a remaster
And main menu access means playing is faster!

Yet for those with The Grinch is this worth an upgrade?
Is it a better than last time, with new extras made?
Who will buy this new version, this story of Who?
Well, read on and find out in our Animated View!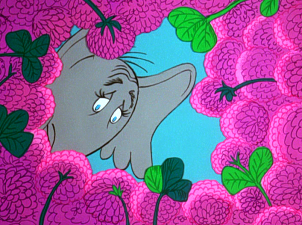 As commented on above, and continuing their pleasurable habit of reissuing an unofficial series of "Deluxe Edition" titles, Warners' new Horton Hears A Who! comes to disc again – this time as a main attraction after being bundled into previous Dr Suess compilations – tied to the theatrical release of Fox/Blue Sky's new computer generated adaptation. This Horton, from an age when animation was created with pencils, is no less sophisticated, being enormously amusing from beginning to end.
Director Chuck Jones had previously collaborated with Theodor "Dr Seuss" Geisel at Warner Brothers, and when he found the Studio was closing down, set himself up as an independent producer, finding great success on television with the classic half-hour adaptation of Geisel's book How The Grinch Stole Christmas!, which firmly established Jones' new ties to legendary Hollywood studio Metro-Goldwyn-Mayer. Amongst other projects, including winning the Best Animated Short Academy Award for The Dot And The Line: A Romance In Lower Mathematics in 1965 and an adaptation of his old Termite Terrace stable mate Frank Tashlin's children's book The Bear That Wasn't in 1967, came another Suess special.
1970's Horton Hears A Who! is quality animated filmmaking whether or not intended for television or not. Geisel himself again came on board to deliver the teleplay, himself expanding his very slim book into something that would play in a half-hour TV slot, as well as the handful of witty song lyrics, utilising his unique rhyming scan style. Coupled with Jones' expert animation, which cuts no corners other than using an elaborate layout painting of the Whos' expansive Who Who Scope perhaps one too many times, the featurette-length special would play just as well on the big screen. With even theatrical animation itself being produced on limited budgets around this time, there's very little to differentiate the cartooning on offer here from whatever else was out there: Horton comes from a time when quality was king.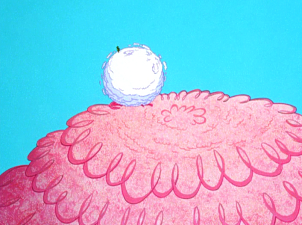 The story itself – as one would expect from a clever wordsmith like Geisel and the erudite Jones – works on several layers. At heart, it's a plea for free speech, combined with the moral that one should not believe themselves to be the be-all and end-all of things, as exemplified by huge elephant Horton's almost sacrificing himself to allow the teeny, tiny citizens of Whoville to be heard. Horton himself has gotten himself into this trouble by being naturally inquisitive, whereas the other jungle dwellers are too closeted in their own space to be bothered or care. Even when Horton expresses the notion that the speck of dust he claims to be hearing the voices from, he's dismissed as a looney, a potentially dangerous creature that should be locked up.
Of course, we know that the Whovilles are there, desperately trying to prove their existence to save themselves from destruction from a universe much greater than their own. But while younger minds will enjoy the simple plotting, those looking for more will find it in abundance: if anything, Horton is a great introduction for children and parents into questioning such weighty themes as the very nature of reality and, not least, the idea of the quantum multiverse! Not wishing to partake in these theories is Jane Kangaroo, who orders Horton's speck (since buried on a cloverleaf) be disposed of, by the creepy, monkey-like Whickersham Brothers.
It's here that Blue Sky's new film takes various twists and turns to fill out its running time, as Horton attempts to sneak off to find a naturally safe spot to hide the clover and, with it, Whoville. This shorter version (by more or less an hour) doesn't have the length to run off on such tangents, and even though it's been padded slightly, these additions come from Suess himself and feel more seamlessly inserted. In fact, in trying to remember the book from childhood, I struggled to think what might have been left out on the page, since to cut anything again from what's presented here would surely risk the carefully layered storytelling.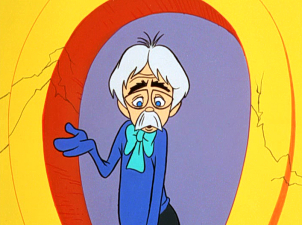 In short, Geisel and Jones' Horton Hears A Who! is a pretty definitive screen adaptation of the Seuss published book, even if Blue Sky's newer, flashier edition retains other elements that were changed here (the Mayor of Whoville's role has been combined with the more human scientist Hoovey, whereas in Blue Sky's film the characters appear as in the book). The story has also been adapted for the stage, as part of the Broadway musical Seussical, though comparisons with that version are harder to make, for obvious reasons. This version presents some fascinating concepts, which will hopefully open the door to further conversation. Combining Suess' fantastical ideas (he also wrote the screenplay for the nightmarish but brilliant The 5,000 Fingers Of Dr T, starring Hans Conried, who provides voices here alongside Jones and June Foray) with Jones' as usual somewhat sardonic vocal delivery of this era, this is who-mongously entertaining!
Is This Thing Loaded?
The disc opens with skippable previews for The Smurfs: Season One, Volume One and the Peanuts Valentines and Easter Deluxe Editions, while the 16×9 menu offers up a few more selections, for The Warner Bros. Academy Award Animation Collection (using some pretty ugly pre-restored clips for some reason), Tom & Jerry Tales Volume 4, A Pup Named Scooby-Doo: First Season (all 4:3) and Pop Go The Wiggles (in 16×9 – ahh, they burn my eyes and ears)!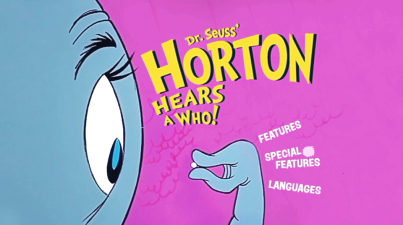 Selecting Features takes us to the main selection of programs: Horton Hears A Who! and the three bonus episodes. The 24-minute Butter Battle Book was produced for TNT in 1989, and I was most surprised to see bad boy of animation Ralph Bakshi's name on the credits (as producer-director), but he captures Seuss' tonal quality very well and seems to be a natural choice to bringing a cynical wit to the series, especially with the anti-war message being promoted in the story. Written by Suess in 1984, it's somewhat comparable to Gulliver's Travels, being about the results of when two warring factions – who live each side of a high, high wall – can not agree over something extremely trivial, in this case the "proper" way to eat bread and butter at breakfast. As events escalate, close comparisons to the Cold War can be observed, ending with both sides in a stale mate, both ready to prove their side "right" by using the ultimate weapon: the Bitsy Big-Boy Boomeroo. Not having read this book, I can't comment on how well it comes to the screen, suffice to say that that it's as enjoyable as usual, and directed extremely deftly by Bakshi in a style that totally recalls the older Seuss specials. Indeed, Geisel himself apparently claimed that this particular film was the most faithful of all animated adaptations of his work. It's ironic that the much earlier Horton short should look cleaner than the print here, though its progressive transfer is sharp and the soundtrack is very much alive.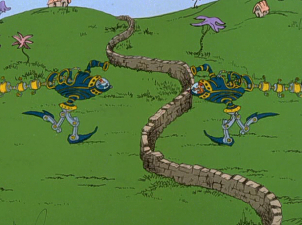 Seeing a return to the screen for The Cat In The Hat, he semi-narrates the 24-minute story of Daisy-Head Mayzie, directed by the less flammable Tony Collingwood. Taken from a story Geisel had written in script form, it was found after his death by his wife and turned over to his publisher in 1995. With TNT's Cartoon Network now a part of TimeWarner, the inevitable TV special was developed within the Hanna-Barbera studio and outsourced to Collingwood's own production company and overseas, though pleasingly again the quality level is easily above and beyond the kind of routine output that was otherwise being churned out at the time. The story concerns a little schoolgirl, Mayzie, who as the title might suggest, alarms the locals when she sprouts a daisy from her head! Ridiculed at first, she eventually finds celebrity but soon begins to miss what's most important to her. With screen favorite Henry Gibson (previously heard in Whoville in Halloween Is Grinch Night) as The Cat, and a number of other names (Tim Curry, Jonathan Winters) in the cast, this isn't as perhaps as polished an outing as the other entries here, but is easily as elaborately plotted and animated, looking and sounding pretty neat!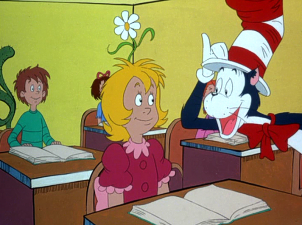 Horton Hatches The Egg, from the non-Birthday, very old edition of The Grinch, pops up again here and is a welcome comparison to how the character was previously handled in animation. This 1942 Warner Bros. Merry Melody from the then-recent Suess book might have been the pilot for a series, but as such this was the only other time Horton came to the screen. Directed by Bob Clampett (and not Jones, as is often inferred), Mike Maltese's scripting isn't as literal a conversion from the book as Jones' later Suess programs, even with their own changes, and what chiefly dates this cartoon version is Clampett's oft-used lampooning of Katherine Hepburn and Peter Lorre. A lengthier than usual cartoon at almost ten minutes, it's about another Mayzie, this time a strange old bird who tricks hapless Horton into minding her un-hatched egg, even though it remains resolutely so for months. But Horton is as good to his word as ever, keeping the egg safe through derision from his so called friends, and being captured by hunters for the circus. Eventually the egg hatches, but the result is as much to do with Horton's selfless commitment as it is about Mayzie's shirking of her responsibilities. Taken from Warners' recently restored uncut print, Horton Hatches The Egg is a great short from animation's Golden Age, and even if the elephant is bigger and pinker than in the later film, it's full of nutty Clampett touches.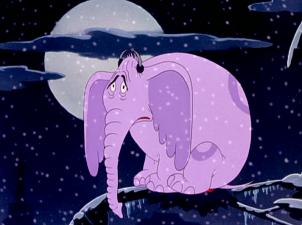 A Singalong Music Video: You Can Hear Horton, Horton Can Hear You! isn't anything to get too excited about, but is fairly fun nonetheless, collecting the song sequences from the movie in one three and a half minute clip that runs a bouncing speck of dust across the words on screen, while more incisive is the unanticipated but welcome new to disc entire 90-minute feature documentary In Search Of Dr Suess, a extensive celebratory profile created for Turner Pictures in 1994, three years after Geisel's death. For those expecting a minor featurette, this is, if anything, well worth the price of admission and the reason to pick up this disc for any Seuss fans. Half documentary, half musical entertainment, In Search Of Dr Seuss joins host Kathy Najimi on her quest to meet Seuss, following her as the magical Imagination storybook comes to life with a mixture of re-purposed clips and new versions of almost all Seuss' wondrous characters and stories.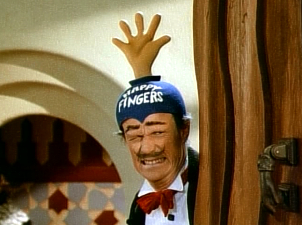 The line-up of talent that pops up throughout is like a Who's Who (excuse the pun!) of family entertainers of the time: Matt Frewer (first appearing with a nice nod to The 5,000 Fingers Of Dr T), Christopher Lloyd, Patrick Stewart, Eileen Brennan and Billy Crystal, while the ever ubiquitous Howie Mandel and Robin Williams can't help but be involved. It's suitably manic, sometimes too much so, but it's both full of neat-o video effects and seriously factual information, from Geisel's upbringing as an outcast child of German immigrants, to the stories behind his stories (he's confirmed to be a Jonathan Swift reader, which explains a bit), including a glimpse at the controversial 1945 Oscar-winning documentary short Hitler Lives, which he co-scripted. In Search Of Dr Seuss is as informative as it is cute, with high production values for a 1990s TV special, helped along by the ability to reference the multiple cartoon specials (including George Pal's 1944 Puppetoon And To Think That I Saw It On Mulberry Street) that lend it a multi-media quality that predates the later Sesussical stage show. The hyper mood might eventually wear the viewer down, but the sets impress, and taken in a couple of sittings, it's a unique way to salute a unique talent.
Case Study:
The first thing that stands out with this new edition is the glossy embossed slipcase, which really helps the title jump out. The logo shares a Seussian similarity with that on the original book and Blue Sky's new feature, so recognition will be a big plus in selling the disc in stores. Unlike The Grinch's 50th Birthday Edition or the recent The Easter Bunny Is Comin' To Town, there's no fluffy covering, but the clover on the front looks sweet enough to eat! There's a subtle change in labelling, with the Deluxe Edition text being swapped for a Deluxe Collection badge instead, perhaps suggesting more reissued titles on the way, which would be very welcome…bring on The Phantom Tollbooth! This being a Warners release, there's no insert, but the colorful, on model character art stretches to the disc very nicely – very fun and appropriate.
Ink And Paint:
Who-ow! Whereas we always seem to be making some form of apology or justification for poor TV material, marking it down to the age of the elements, the benefit of Jones' completing his productions on film means there's a terrific starting point to bringing the title back to life for today's high-end displays. Horton looks brilliant, amazingly vibrant and with nary a scratch or any gate weaving in sight. Put it this way: the version that was bundled in the 50th Birthday Grinch edition was just that, a bundled extra. Here, Horton is the star of the show, and the low compression allows the special maximum breathing space. Colors have been corrected and don't feel as oversaturated or boosted as before, giving a much cleaner image (the blue-trunked trees from the last edition are no longer covered in crosstalk). This is as solid as TV can look, folks, and that WB has seen fit to restore something like this to this level is testament to how well they treat their catalog library. The documentary, sourced from a 1990s video master, may have apparently intentionally intense colors, but is remarkably smudge-free.
Scratch Tracks: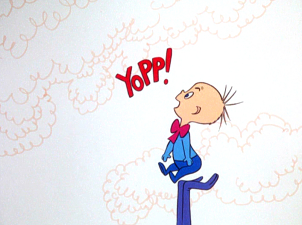 Perhaps even more impressive than the visuals is the audio track on offer here. Before checking the back of the box, I'd expected a bog-standard mono mix – and nothing wrong with that either, you might say – so imagine my surprise when it was clear that more than just the center speaker was in play. At first I thought I may have been hearing things, the way some good mono mixes can feel more spacious than they are, but nope: as with The Grinch, Horton has been given a nice new Surround track, and amazingly clean, separated and clear it is too! French listeners get the same configuration, while a Spanish track comes in more predictable mono. English and Spanish subtitles are also included for the four cartoon features, but unfortunately not so for the added feature documentary.
Final Cut:
The list price of nearly $20 might put off some who don't realise just how much material is contained within, but even then this new edition of Horton Hears A Who! is well worth picking up at its under $15 online cost. The new "paint job", additional specials and super flashy slipcase make it an extremely good value deal, even for those with the main program as an extra on any of The Grinch releases. With both of these titles on your shelves alongside Universal's grouping of DePatie-Freleng specials in their Suess Celebration, you'd have a pretty good covering of Suess animation, and I couldn't think of any other major titles you'd be missing. For any fan of Ted Geisel or Chuck Jones, this is a must-have, and the fact that the entire In Search Of Dr Seuss documentary is featured here is reason enough alone to pick up this excellent disc.
Animated Classic or Back To The Drawing Board?