DePatie-Freleng (1972), Warner Home Video (February 14, 2012), 1 Blu-ray + 1 DVD, 25 mins, 4:3 ratio, Dolby Digital 1.0, Rated G, Retail: $24.98
Storyboard:
A forest creature pleads with an industrial developer to behave more responsibly, but seemingly nothing can stop the charge of "progress"… unless…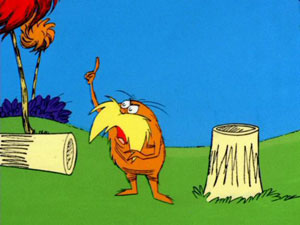 The Sweatbox Review:
Theodor Geisel, writing as Dr. Seuss, created a large number of what are now considered classic children's storybooks. Many of these are utterly undisputed classics, but a couple have been taken to task due to their political tone. The Lorax, published in 1971, is one of Dr. Seuss's more controversial stories. It has even been argued by some that it is inappropriate for children. I respectfully disagree.
The book concerns a boy who seeks to speak to The Once-ler, a man with a story to tell. His tale takes place years earlier, when The Once-ler first came to the part of the country he currently resides in, a country now devoid of beauty. When The Once-ler first arrived, he was delighted to find a great bounty of truffula trees, whose woolly fronds were silky soft and easily woven into an astounding fabric. The Once-ler started a small business making "thneeds," which he heretofore declared "everyone needs," despite the fact he only just invented them. His invention, however, did take off rather rapidly. The Once-ler's knack for selling quickly led to him expanding his business, creating large factories, and new equipment to cut down trees faster.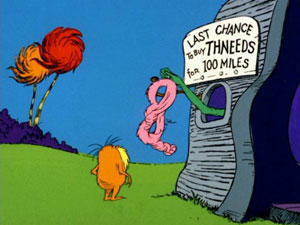 His nemesis in this tale of the past is The Lorax, an odd rumpled orange creature who pops out of a stump and begins preaching about the importance of the trees to the local ecosystem. At stake is the welfare of bar-ba-loots (bear-like mammals), swomee-swans, and humming fish. The Once-ler pays no heed, and repeatedly insists that The Lorax leave him alone. The pace of his business continues to pick up, the forest is cleared further, and more and more buildings go up. Pollution levels rise, and the animals have to leave. Finally, the inevitable happens, and the last tree falls, leaving the Once-ler's business just as devastated as the forest. The Lorax finally leaves too, lifting himself up and disappearing through the clouds, leaving a small message in stone: the word "unless." All these years later, The Once-ler has finally come to terms with how arrogant he was in his youth, and he provides his young visitor with a possible means of salvation for the forest.
Having read it to my own kids many times, I can attest that they find The Lorax neither gloomy nor overly preachy. Adult reviewers who take the book to task for its alleged political agenda or sad tone should really talk to a few kids to see what they get out of it. My feeling is that the kids get out of it precisely what Dr. Seuss intended. He simply wanted all of us to think about what we are doing when it comes to affecting our environment, a message that is naturally even more resonant today than it was in 1971. Geisel was not anti-development, or anti-business; he was just anti-stupid. The Once-ler is not a "villain" because he is a businessman; he is simply a man who erroneously let his greed be the driving force of his ambition, with no thought as to how he was affecting the world around him. In the end, his own business falls prey to his short-sightedness. Being responsible isn't just good for the environment, it's good business.
Like any great work of fiction, The Lorax generates thought and discussion. That's certainly how it's worked for my kids and I. The book suggests to us that we be concerned about how we do things; it doesn't preach against progress altogether. Utilized correctly, the story is a great tool for introducing kids to environmental awareness.
After The Lorax was published, it was quickly optioned for development as a television special by DePatie-Freleng, who did numerous Seuss adaptations in the 1970s. The story would naturally need to be expanded to fill out a 30-minute television slot, and they asked Geisel to write the script. A few things were removed, and a lot was added, but overall the story in the television special is very much that of the book. One does miss the book's more detailed introduction to the boy's meeting of The Once-ler, but little else is left out. Instead, the viewer gets a large expansion of what was in the book, with numerous zippy songs, some dialog looking at The Once-ler's attempted justification for his excess (and even some aborted soul-searching), and generally more details that serve to flesh out the forest's suffering.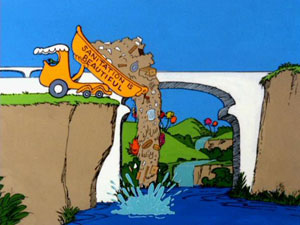 Given that Geisel provided the script and wrote the songs, I don't think that one can criticize the TV special for being anything other than what the author intended. The Once-ler gets a bit more well-rounded, and corporate greed gets a bit heavier whacking, so the tone is a bit different than that of the book; but the TV adaptation is no less valid. I look at it as being a companion to the book, and not a replacement. Even on its own, it's a great piece of entertainment, especially for families who don't mind talking about important issues.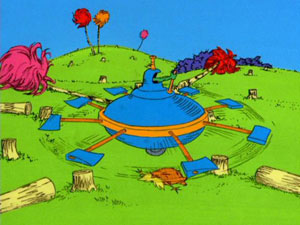 Is This Thing Loaded?
The most important extras on this disc (and included on both the Blu-ray and the DVD) are the two additional Dr. Seuss TV specials, each of which has appeared on disc before from either Warner or Universal. The first one is another DePatie-Freleng effort, the Emmy-nominated Pontofell Pock, Where Are You? from 1980. It was written by Dr. Seuss, though as far as I know it is not based on any of his books. The direction on this one could have been a little more imaginative, but it does tell an enjoyably fanciful tale of a bumbler who blows his job at the pickle factory, only to be given a magical piano by a male fairy named McGillicuddy, which allows him to travel to exotic locales. Pontofell's penchant for making mistakes almost costs him dearly, but he still ends up meeting a beautiful "eyeball dancer" named Neefa Feefa, with whom he falls in love.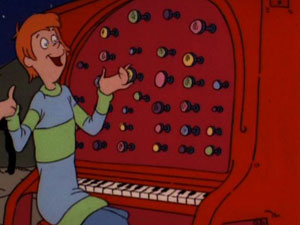 Anyone who thinks that The Lorax is too political may find the next selection to be unbearable. For others, The Butter Battle Book is a dandy send-up of the cold war, mixed with an equal part of Gulliver's Travels. In a premise similar to the plight of the warring Lilliputians and Blefuscuans in Swift's story (upset that they couldn't agree on which end to crack your hard-boiled egg), we meet two groups of people who are divided on the issue of which side to butter their bread. The Yooks and Zooks live on opposite sides of a stone wall, more than reminiscent of the Berlin Wall. They build bigger and better weapons, escalating from slingshots to atomic-powered pills called Bitsy Big-Boy Boomeroos. The story is left open-ended, as we wait to see if either side is ready to perform an act that would lead to mutual self-destruction. The allegory is certainly heavy-handed, but nonetheless accurate. Based on the Dr. Seuss book published in 1984, this special was done for Turner Broadcasting in 1989, and was directed by none other than Ralph Bakshi. In fact, it may be the least annoying and most coherent thing Bakshi ever directed. Other than its bland color palette, I enjoy The Butter Battle Book quite a lot.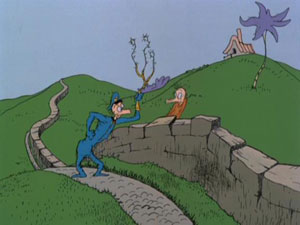 The Lorax: The Trees! The Trees! The Voice Of The Trees (10:50) is a featurette with Susan Brandt, the president of Dr. Seuss Enterprises, who discusses how Dr. Seuss encouraged kids to think about our responsibility to the environment. Representatives of TreePeople also talk about their tree planting and preservation programs, as well as kid-friendly tree facts.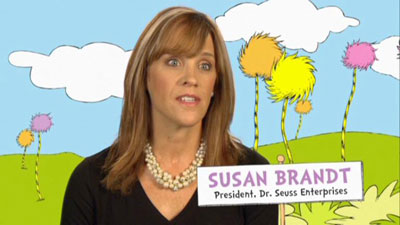 Naturally, Warner has placed some Trailers on this disc. The Blu-ray version opens with ads for Scooby-Doo: Music Of The Vampire, Happy Feet Two, Lion Of Judah, and the Happiness Is… Peanuts: Friends Forever DVD. The DVD included in this set begins with Trailers for the Looney Tunes Platinum Collection Blu-ray set, Scooby-Doo: Music Of The Vampire, Lion Of Judah, and Happiness Is… Peanuts: Friends Forever. Selectable from the menu system are Trailers for the Deluxe Editions of The Grinch Who Stole Christmas and Horton Hears A Who.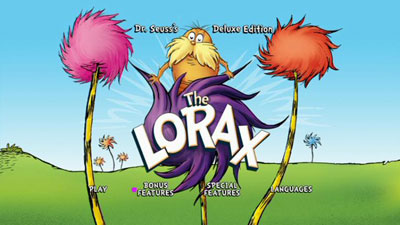 (The DVD lists the other two Seuss specials as "Bonus Features," and the featurette and Seuss trailers under "Special Features.")
Case Study:
The Blu-ray and DVD are housed in a Blu-ray case with a disc on either side. An insert provides a code for the UltraViolet digital version (the code can also be used for Warner Insider Rewards points). The embossed slipcover is nice, except for having three different stickers plastered all over the front of it.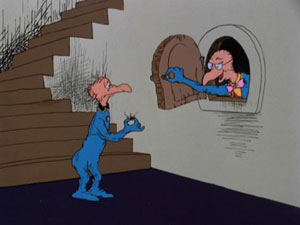 The Blu-ray case and menus list the Pontofell Pock cartoon by its alternate title, Pontofell Pock And His Magic Piano.
The DVD, incidentally, is region coded for either Region 1 or 4 according to my computer's DVD drive.
Ink And Paint:
The Lorax has been remastered and looks gloriously colourful, with a nearly rock-solid picture devoid of any serious issues. The cartoon looks like it was made this year, rather than being cell-animated in the 1970s. Nary a speck of dust is seen, and only very minimal aliasing issues intrude on one's enjoyment. The other two cartoons are another matter. Both Pontofell Pock, Where Are You? and The Butter Battle Book are dreary-looking affairs, with prominent aliasing and a sheen of hazy grain. They are offered in 1080p, but have obviously had no restoration, looking muddy and faded when compared to The Lorax. (To be fair, The Butter Battle Book looks much better than Pontofell Pock, which looks like it was pulled out of the garbage.) And with no feature film adaptations in the offing to tie into, it's unlikely that we'll ever have them prepared better than this for home video. It's a pity, and a missed opportunity to make this package all the more valuable, especially considering that all three Dr. Seuss specials have been previously released on disc.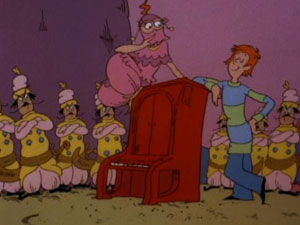 Scratch Tracks:
The Blu-ray has one-channel sound offered in DTS-HD Master Audio, believe it or not, while the DVD is in Dolby Digital. If only the direct-to-video movies would get as much hi-def audio support from Warner! The dialog and music both register just fine, crisp and clear with no distortion. Audio for the other two specials is in 2.0, though they don't sound appreciably better than The Lorax. No issues here, really. They sound at least as good as one could expect, given their origins.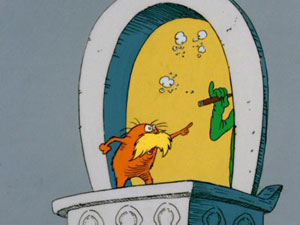 Both the Blu-ray and the DVD have audio in either English or Spanish, and the same options for subtitles.
Final Cut:
The Lorax is a great tale of environmental awareness, looking fantastic in this hi-def restoration. The other two specials are almost as good, but with the video on them seriously lacking, especially on Pontofell Pock. If you have a keen interest in seeing The Lorax looking its best, this is a great disc. For anyone hoping to see the other two titles restored, you'll be disappointed.
Animated Classic or Back To The Drawing Board?