Chuck Jones Enterprises/DePatie-Freleng (1966, 1977, 1982), Warner Home Video (October 18 2011), 2 discs, 76 mins plus supplements, 1.33:1 original full frame ratio, Dolby Digital, Not Rated (nothing offensive), Retail: $26.98
Storyboard:
The miserly Grinch discovers the spirit of Christmas in a true television classic, then does the same for Halloween, and again with a co-starring Cat In The Hat, in two further specials.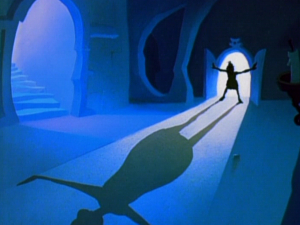 The Sweatbox Review:
If you're any kind of Ted "Dr Seuss" Geisel fan – or in particular of the animated take on his tale of How The Grinch Stole Christmas – then the chances are you probably already own this staple of the festive viewing period that has become an annual classic since it's first television airing in 1966. In fact, those really obsessive uber-fans that must have every available edition could even find themselves owning the special up to around ten times – and that's not including previous VHS or LaserDisc releases!
With two original standard DVD issues (a regular disc and a Special Edition), then a cleaned up and restored 50th birthday disc, and a Blu-ray version of that birthday disc, The Grinch is one property that Warner Home Video seems to be able to reissue over and over and still make a success of it. As well as these releases, specific to the special itself, The Grinch has also shown up in various boxed-set collections (usually, but oddly in my view, paired with some of the stop-motion Rankin/Bass Christmas titles), and in the 2011 holiday gift-giving season it turns up yet again in no less than three or four re-packaged releases!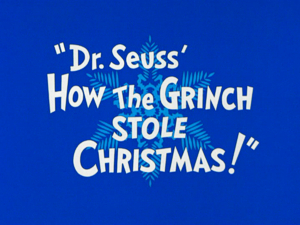 Even if you're not that big an admirer to collect each and every available version, I'll wager that, being the consummate animation fans that you are, you have in fact come into contact with How The Grinch Stole Christmas either through its almost annual and very traditional family showings on television around this time of year or via one of the many editions released to DVD. So there's very little point in me covering some very old ground once again in terms of how significant the special is, or how it continues to influence and inspire to this day.
Famously directed by Chuck Jones, I urge you to read further into his relationship with Seuss via my colleague Randall Cyrenne's excellent look back on The Animated Seuss, a retrospective of Seuss' work and the many animated adaptations produced over the years including, of course, How The Grinch Stole Christmas. Essentially transposing the barest of bare elements of A Christmas Carol in its tale of a miserly old grouch, literally a ill-looking green color due to his years of built up bitterness, The Grinch was a 1957 book until Jones' perennial special came along just one year shy of a decade later.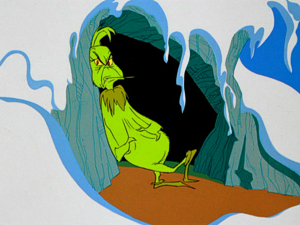 Produced just as his career at Warner Bros. Animation was coming to a close and he formed his own company, How The Grinch Stole Christmas is perhaps Jones' most well-known work outside of the Looney Tunes stable. Faithful to the Seuss illustrations, Geisel himself was wary of the padding the special required in order to bring up his story to the half-hour commercial TV format (The Grinch had also been produced, as many specials were in those days, as a potential theatrical featurette, which regularly stretched to around the 25 minute mark).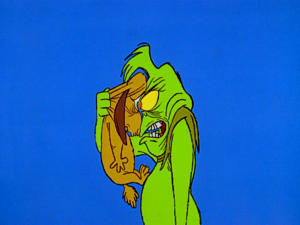 Arguably, Jones' screen version became so well established that it feels, when returning to Suess' original text, that there are parts missing! Clearly Dickens is an inspiration, and while there are no ghosts to contend with, the story in both versions essentially sees a very mean character discover the spirit of Christmas, in the Grinch's case by way of a very sweet young girl who epitomises all that is good about eternal optimism. Of course you've already seen it and know all this! And you more than likely own some sort of copy of it, which means you'll also already have the majority of content presented here, so what's the deal with this edition and why should it garner any attention?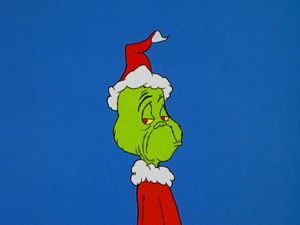 Well the answer lies in the addition of two further Grinch-starring Seuss specials made for television, The Grinch Grinches The Cat In The Hat and Halloween Is Grinch Night, although there isn't any real reason to get excited. Due to their nomadic productions and resulting multiple copyright holders, the Dr Seuss specials have been quite hard to collect, but in fact these two have already been issued before, through the Universal DVD release Seuss Celebration, which gathered all of the original Cat In The Hat animated adaptations along with short stories (The Lorax and Green Eggs And Ham included).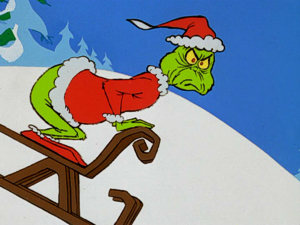 More recently, Warner Home Video seems to have become home to some of these through their various library acquisitions, and already we've had Horton Hears A Who! (the Special Edition release of which is extremely recommended) and there's an upcoming re-release of The Lorax early next year, paradoxically coming to disc to capitalize on the theatrical release of the new feature film version being released by…Universal, whose Celebration disc remains extremely good value with almost three hours of content, something that Warners' often Grinchy discs could do with more of.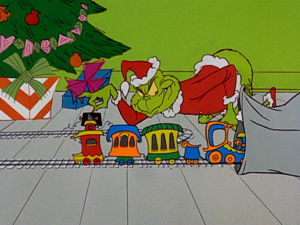 Instead of drip-dripping these specials through, often with only just over a half-hour of content on each one, I'd prefer to see a similar "Seuss Collection", a final, definitive issuing of the material that Warners now hold in their vaults. That may still come – after all there can only be so many times the same stuff can come out over and over, can't there!? However, for now at least, this disc replicates everything we've seen on Grinch editions before and only adds the kind of material that should, by rights, have been extras to a previous release (the aforementioned Horton topped up its primary half-hour with over two hours of extras).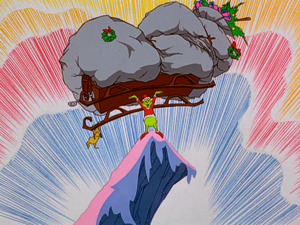 Really, these two specials should have accompanied the original Grinch in its 50th Birthday edition, and as such this is really little more than a reissue of that collection with the two extra Grinch specials finally thrown in for good measure. After the success of Jones' film, there was much demand for more animated Seuss, although intended directly for the TV market, and stepping into pick up the reigns was one of Jones' old Looney Tunes sparring partners Friz Freleng, via his partnership with David DePatie, who had also turned to producing television fare – including more than a few Looney Tunes specials – when theatrical shorts stopped being made.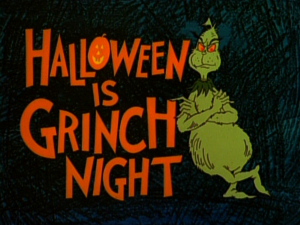 Created towards the tail-end of DePatie-Freleng's run of Seuss television shows (which included The Lorax in 1972), Halloween Is Grinch Night from stands as an interesting counterpoint to Jones' original, especially in that it was co-produced by his one time Looney Tunes collaborator Friz Freleng. The pair, over the years, often struggled with the authorship of those Warner Bros. characters, and one gets the feeling here that Friz took on these characters so that he could have some fingermarks on The Grinch too.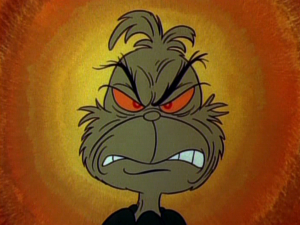 First shown in 1977, some ten years after Jones' Grinch, the first thing any long-time fans will notice is the animation quality, which strains to capture the look of the lavish budget that Jones enjoyed. There are some nice touches though: the Grinch himself is pretty nicely drawn, but as with so much of the middle-ground DePatie-Freleng stuff did, the special ultimately into the pitfalls of Saturday morning cartoon traditions, from the more economic background art, to the often recycled animation and a lack of quality quality control that sees the Grinch himself switching from solid green to a sickly yellow in different scenes.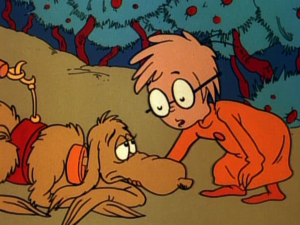 It's not all bad, since there's a continuation of sorts to the original film and – bypassing any consistency qualms that might ask why ol' Grinchy is back to being mean hearted again after apparently sobering up – it also returns to the focused storytelling of the original Grinch special. It's still not the vintage, almost-theatrical quality animation of Jones' original, and the story, credited to Dr Seuss (with Geisel given an executive producer title) largely basically repeats the structure and lessons learned of the 1966 film, but at least The Grinch himself is more Grinchy. Connecting back to the original is the narration, here with vocal chameleon Hans Conried supplanting Boris Karloff and doing a pretty fair job of it.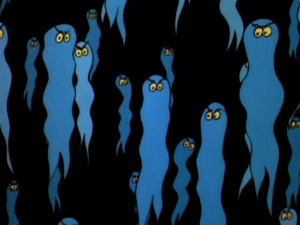 But apart from that it's just a bit all over the place, with a very contrived way of getting the Grinch back to his mean old self, and a melancholic moment where his dog Max (Henry Gibson, also lending an old-school charm to the piece) sings about his past, which is all a bit too downbeat for a "holiday" special, even if he does get a happier ending for himself, although this also felt at odds with their previous character dynamic. Trying to add some pep is Muppets composer Joe Raposo's other, brighter songs, but they don't have much to do with the theme (nor does this special really have anything to do with Halloween!) and struggle to do anything other than to add songs for the sake of them.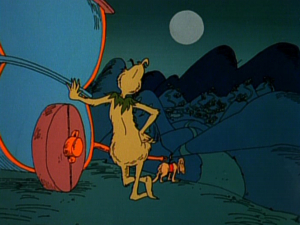 And I won't even try going into what the Grinch's overall plan is, which is never explained but seems to include some kind of hallucinogenic "paraphernalia", to use the Grinch's own word (probably similar to what the producers of this show were on at the time!) that draws us into a bizarre dreamscape that features some decidedly peculiar-looking creatures, some of which look like what Monty Python once sang was "sacred" stuff in The Meaning Of Life! Unbelievably, although Halloween Is Grinch Night can only attempt to be nostalgic in its own way and despite it not becoming the kind of annual staple that Jones' original has become for the festive season, it did go on to win an Emmy award. As to whether that award was deserved, well, I'll take the Grinch position on that.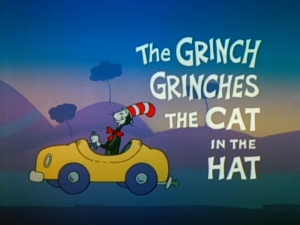 Also, but less implausibly, winning an Emmy, The Grinch Grinches The Cat In The Hat, from 1982, was the last special produced by DePatie-Freleng, although by the time of its completion it appeared under the Marvel Productions banner, after the legendary comics company bought the animation studio in order to create in-house animated incarnations of its popular superhero properties. Although again not tied to any specific holiday (only How The Grinch Stole Christmas is in any certain way), it squeezes into this collection as a way to complete the "Grinch Trilogy" of his animated appearances.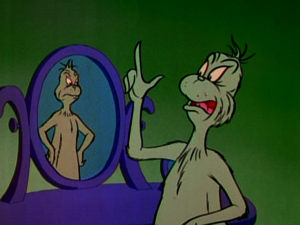 Karloff and Conried are replaced by Mason Adams this time around as the narrator, and the difference is more apparent, but Bob Holt's Karloff/Conried impersonation captures the Grinch well. There are a couple of inconsistencies again: the Grinch doesn't sport his darker green furry collar, and is too easily swayed back to his old routine by a convoluted device (here a magic mirror that simply bullies him into being "bad"). Pet dog Max also seems to have forgotten that he doesn't live with his previously mean old master any more: he's simply back at "home" and putting up with more of what must seem increasingly like the Grinch's schizophrenic episodes, but in other respects it's business as usual.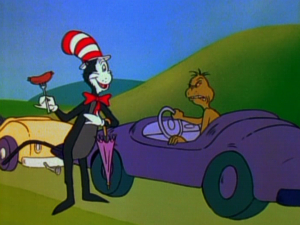 More of Joe Raposo's songs pop up, but they're not as repetitious as in Grinch Night nor as plentiful, and although they're not up to his Sesame Street or Muppet Show level, there are one or two hummable tunes. Not that they can really help the plot very much anyway, which turns into a Road Runner/Coyote sparring battle of wits between the Grinch and The Cat In The Hat when they come up against each other. Back to his old ways (again), the Grinch hates the Cat's brighter, optimistic, happier mood, and simply sets out to give him a bad day. And that, really, is it, but there's actually some fun to be had in this character crossover scripted by Geisel himself.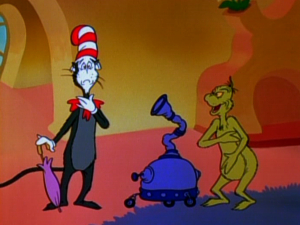 Also known as The Cat In The Hat Gets Grinched (discounting the holiday theme, the previous special even loses the Halloween from its title for it's alternate title as the more straight-forward Grinch Night), there's some much better animation (the Grinch's car smoke is nicely done), background art and effects work, and The Cat is always so much fun that he brings some freshness to what could have been yet another Grinch-centric re-run of the same themes. Yes, of course the Grinch ends up nice again, but it's fun seeing the green old meany – and The Cat – essentially meeting their matches.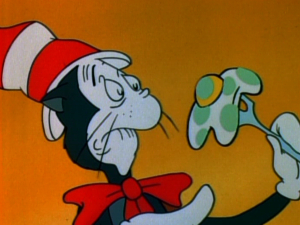 While it's wonderful idea to collect the Grinch's three animated appearances together in one volume, there is a feeling that we really didn't need yet another edition of Jones' original on DVD, while the two additional specials should easily have appeared previously or been saved for a more all-encompassing collection. I guess we'll have to wait until all of the Warners-owned specials have made their way out as single disc releases until they get repackaged together. In the meantime, there's very little to tempt anyone but big fans here, and they probably already own all this material.
Is This Thing Loaded?
You probably already own one of the many previous editions of The Grinch on disc (as well as the TV showings, it's been re-released every year for at least the past five years), and it's probably the 50th Birthday Deluxe Edition. If that's the case, then you already have Disc One in this collection. Literally, it's the very same disc offered again here, complete with all those previous special edition supplements intact. And if you have that Seuss Celebration disc from Universal, then you also have the two extra specials, too, plus a whole lot more.
The Birthday disc is actually quite loaded with its grouping of supplements from all previous editions. Dr Seuss And The Grinch – From Whoville To Hollywood (15:45) is "a rapping, rhyming chronicle of the original book", but it's more than that, covering Geisel's life story and thoughts behind his books, as well as touching more than briefly on his collaboration with Jones. I could have done without the continuous rapping beat, but it's a well put together featurette.
A Grinch Song Selections is just what it sounds like: the song sequences from the movie given direct access, and a Who's Who In Whoville is just a grouping of simple text screens offering info on Jones, Seuss, Karloff and Foray, while the Grinch Pencil Tests is, unless I'm missing something, extremely disappointing in that it's not the few seconds of line animation as also included on the Chuck Jones: Extremes And Inbetweens disc, but rather a series of just three (small) story sketch images.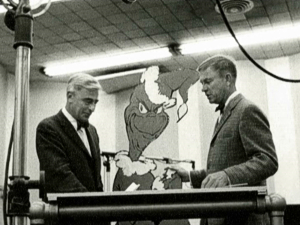 TNT's How The Grinch Stole Christmas Special Edition doesn't present the entire broadcast as originally seen in 1994, but does offer up the additional 19 minutes of material that was included. Hosted by Phil Hartman, the show basically ran the original special, but in a "making of" mode during which the program would cut away to Hartman who would reveal some behind the scenes information, clips and additional moments, including actual pencil tests (where the "safe" theatrical framing is evident), footage of Chuck Jones, and interviews with various crew members and fans, including an obviously inspired Tim Burton and Danny Elfman fresh from their not too dissimilar The Nightmare Before Christmas.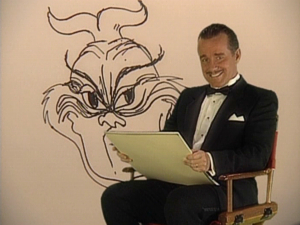 Expanding upon that material a little more, Songs In The Key Of Grinch (8:00) speaks with composer Albert Hague about his score and working with Karloff, as well as fellow vocalist Thurl Ravenscroft, non-credited on the special for vocal-doubling the Frankenstein star in his signature You're A Mean One, Mr Grinch but getting more than due credit here now. Restored after going missing from some previous pressings is a Making Animation And Bringing It To Life Audio Commentary with animator Phil Roman and vocalist June Foray, something of a good luck charm to Chuck Jones after their years of working together at the old Looney Tunes Termite Terrace. It's a nice track that offers a little bit of magic of its own.
As an older disc, the dated collection of trailers (a Wizard Of Oz anti-piracy spot along with pushes for other holiday titles) hold little interest. The other disc in the set, which features the two extra specials, doesn't have anything in the way of real supplements (a long overdue appraisal of the DePatie-Freleng era still doesn't seem to have been produced!), but does include some trailers, for the "new" Santa's Magical Stories – which includes the same Birthday edition of The Grinch again! – and Peanuts: Deluxe Holiday Collection and other Peanuts holiday titles including Happiness Is…Peanuts: Snow Days.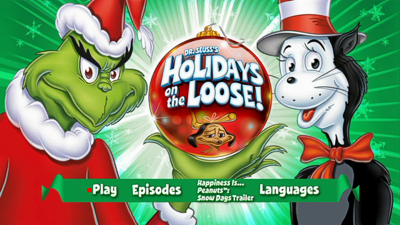 If you don't already have The Grinch on disc, and can forgo the HD of Blu-ray, which by all accounts doesn't add too much resolution to the already crisp image of the restored version, then this Holidays On The Loose collection easily wins on content value…but that's not saying much, seeing as the two additional specials have simply been dumped on their own disc. Why not simply issue those for a cheaper price? Or, even better, get around to making up a packed disc set of Warners-owned Seuss material?
Case Study:
While Holidays On The Loose (a title reference to a previous, non-associated Seuss special) doesn't have the glittery "snow" of The Grinch's 50th anniversary release, there is a glossy slipcover to bring a smidgen of festive cheer, although someone should perhaps point out to WB that only the original Grinch is actually a holiday story, the further two specials not really taking place on Halloween, and The Cat In The Hat tale not even anything to do with any holiday!
A standard DVD case features a flip-tray inside to accommodate the two extra specials disc, which has basic black artwork printed right onto the blank disc, while The Grinch's Deluxe Edition disc retains its full-color printing. Those that picked up that 50th Birthday disc should feel mighty peeved these two additional specials weren't included first time around.
Ink And Paint:
Cleaned up and restored in HD for its 50th Birthday release and later Blu-ray edition, How The Grinch Stole Christmas looks appropriately superb, and has plenty of room to stretch on its own disc. Much was made at the time of the color correcting of the print so that The Grinch returned to his signature green color (the original book having been printed in two-tone red and black, which wouldn't have read very well on the TV sets, many of them still black and white, of the time), but that seems to have been thrown out with the two additional specials.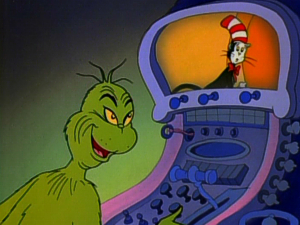 Part of the blame has to lie with their production and vintage – the most recent Grinch Grinches The Cat In The Hat looks and sounds better – but that doesn't account for the extreme interlacing and heavy use of DVNR that clearly erases some of the animation lines, especially on Grinch Night, which I don't recall was a problem on the previous Universal pressing. Ug-ly!
Scratch Tracks:
Again, How The Grinch Stole Christmas is the obvious beneficiary here, being that it's the exact same Dolby Surround mix as before, because this is the exact same Deluxe Edition disc as before. But sadly the same ethos as for the image goes for the sound on the two extra specials, which are offered only in Mono – their original soundtracks, granted, but it must be said they sound rather compressed.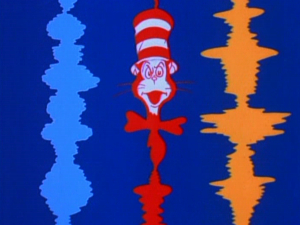 The Grinch gets additional French and Spanish dubs, while the two additional specials get French dubs, with all three also sporting English subtitle options.
Final Cut:
If you own any previous edition of How The Grinch Stole Christmas on DVD, then it'll be down to how much of an animated Seuss fan you are in whether this new edition can tempt you once again. The two extra, also previously available specials aren't really classics (there's a reason they're not shown on TV every year), and even then their DVNR'd video quality are something Warner Home Video should be ashamed of. If you don't have The Grinch on DVD, then this could be the edition for you, since it has the anniversary disc right in the box and the additional specials can rightly be seen as extras. But find it for a very good price, or you'll feel like a bitter old Grinch yourself at being centuple-dipped!
Animated Classic or Back To The Drawing Board?