Warner Bros./Amblin Entertainment (1995-1996), Warner Home Video (July 29 2008), 2 discs, 300 mins plus supplements, 1.33:1 original full frame ratio, Dolby Digital Surround, Not Rated, Retail: $26.98
Storyboard:
"Check out Dexter Douglas, nerd computer ace. Went surfing on the internet and was zapped to cyberspace. He turned into the Freakazoid, he's strong and super quick. He drives the villains crazy, 'cause he's a lunatic!" With these words was unleashed on the cartoon viewing public a series quite unlike any other, featuring a new, not quite the full ticket hero, a super-teen extraordinaire (who runs around in underwear!) – Fricassee, freakazoo…it's Freakazoid!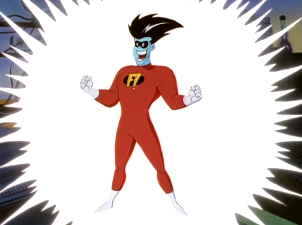 The Sweatbox Review:
After re-tooning up the Looney Warner Brothers classic cartoon characters and presenting their younger counterparts in the groundbreaking Tiny Toon Adventures, the newly freshened television animation unit was on a roll, going on to populate small screens with a host of immensely impressive and fondly remembered shows, a mixture of hilarious comedy and hard-boiled cartoon noir including Taz Mania, Pinky And The Brain, Batman: The Animated Series and, of course, Animaniacs, which had taken the Tiny Toons concept and ran with it.
One guy that had been around from the beginning, Bruce Timm, was itching to bring his own ideas to the fore – it was great that these shows were successes, but Timm wanted to unleash his own superhero creation. And so Freakazoid was born, but quite what happened next wasn't exactly the original plan. Timm envisioned a straight-laced action cartoon, along the similar lines that his take on Batman had proved so popular with, but when WBTV's long-time producing partner Steven Spielberg became involved, the tone changed from being action orientated, with Freakazoid zapped into being a spoof of your average, everyday superhero, very much with the accent on comedy.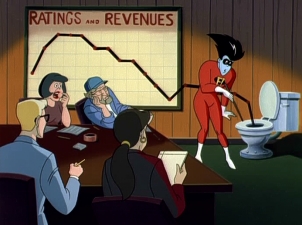 Freakazoid! is basically Animaniacs v2.0, which has a bit of good and a bit of not so good about it. Towards the end of its run, Animaniacs had started to branch out, to include more and more characters and one shot cartoons, but could only do so to a certain degree, somewhat hindered by its established stable of characters, meaning it was obvious a new program would be needed to let the team's burgeoning imaginations run riot. This superhero spoof being the result, Freakazoid! allowed for the inclusions of literally anything and everything, and while this does provide some insanely brilliant spots of genius, it also means the show loses focus as it goes, or perhaps even that its creators actually lost control of it as the slide into that chaos and insanity continued.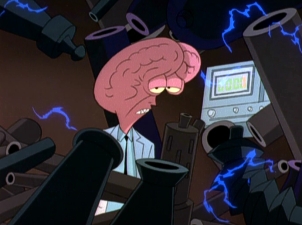 But there is a great deal of brilliance on show, and the series remains a hotbed of in-jokes, animated puns and hysterically knowing pastiches that cartoon aficionados will delight in. Each show doesn't have a specific episode name as such, with each one featuring any number of shorts (and starring any number of characters) within their half-hour slots. With the opening credits taking care of Dexter Douglas' backstory, this two-disc collection of the series' first season starts in full Freakazoid flow with Five Day Forecast / Dance Of Doom / Handman, in which there are simply too many quotable lines and moments of brilliance to expand upon here, but top points to the Animaniacs version of the Freakazoid theme and to veteran actor David Warner for his take on The Lobe – I'd quite forgotten how hysterical absurd the character was!
Candle Jack / Toby Danger in Doomsday Bet / The Lobe presents the debut of young Toby Danger, an absolutely spot-on skit on Johnny Quest and his ilk. Drawn and animated in that great Alex Toth style, Toby Danger (and father Dr Vernon Danger, natch) is one of the great Freakazoid creations and, presented "In Color", would have been a prime candidate for its own series. Warners' tradition of ridiculously stoopid alien invaders is upheld in Mo-Ron / Sewer Rescue / The Big Question / Legends Who Lunch, and geekdom is hilariously deconstructed in And Fanboy Is His Name / Lawn Gnomes Chapter IV: Fun In The Sun / Frenching With Freakazoid.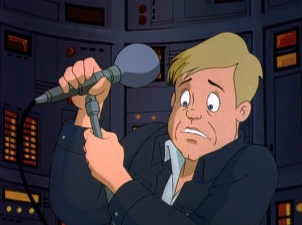 A hunt for a suitable sidekick is a running gag in many stories, and it's just one highlight of Foamy The Freakadog / Office Visit / Ode To Leonard Nimoy / Emergency Broadcast System / Cönversational Nörwegian, with Fanboy's Nimoy tribute worthy of mention. Freakazoid! was a show in fast turnaround, it seems, which is possibly why the occasional segment gets recycled. Rather than omit those repeats and cause disruption to the original episode order, Warners have rightly elected to keep these second-go-rounds in, and so the final episode on this disc, The Cloud / Candle Jack, repeats the latter horror pastiche, joining an ingenious Hitchcockian plot by The Lobe.
The episodes on the second disc – a flipper that allows for a little extra helping on the other side – are perhaps not quite as outlandish as the show would eventually reach, but still cough up more than their fair quota of chuckles. The Chip, Part I is the program's first full-length, single-story episode, and it takes the opportunity, after an intro from Motion Picture Association of America president Jack Valenti (and his cheeks) to fill in the Freakazoid origin story, and a pretty elaborate episode it is too, even if the more structured storyline hampers some of the comedy. But then, as the credits reveal, you have Ricardo Montalban as the villain and Jack Valenti ripping his own persona to shreds, so how can you lose? The cliffhanging story is resolved in The Chip, Part II / Freakazoid Is History!, in which the screwy superhero manages to save Air Force One but ends up in the time-travelling parody Quantum Freak.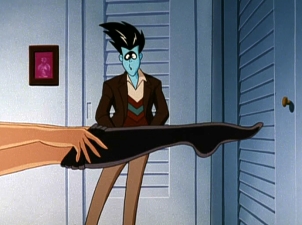 Hot Rods From Heck / A Time For Evil introduces The Huntsman (summoned with the Horn Of Urgency) a Jack Palance inspired comic book hero who never seems to be needed, while a new non-stress television technique is tested in Relax-O-Vision / Fatman And Boy Blubber / Limbo Lock-Up / Terror Palace. Christmas comes to cyberspace in In Arms Way / The Cloud, which includes a repeat of the earlier Hitchcockian Cloud story, and finishing off the first side of this final disc is the E. T. skit Next Time, Phone Ahead / Nerdator, complete with "notes" on how to make the show better from animated exec producer Spielberg, and a DreamWorks gag that dates the show but is very funny nonetheless! Side two completes this first season with the final two shows: the Lon Chaney Wolf Man horror spoof House Of Freakazoid / Sewer Or Later and the return of Ricardo Montalban in, what else, The Wrath Of Guitierrez, in which the evil businessman becomes Freakazoid's power-charged arch supervillain, for the ultimate showdown in cyberspace.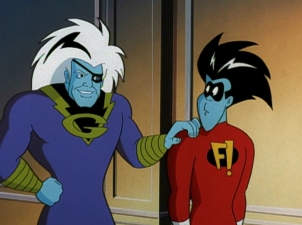 The latter episodes in the Animaniacs series had shown how good the broader WB artists had gotten in their fluid animation, and Freakazoid is arguably better animated than any of the shows that had come before, with terrific production values (among the crew are such names as Bob Hathcock and Ronnie Del Carmen, but check the credits for some odd joke insertions). I'd forgotten how adult some of the material in the humor was – a lot of jokes that must have flown right over my head when I first watched the show really made me crack up this time around, and I did find myself getting plugged into the show and laughing rather than making my notes!
The boundaries of animation (and sometimes good taste!) are well and truly broken by the show's continued destruction of the fourth wall and the astonishing amount of random references – now very much taken for granted in shows like The Simpsons and Family Guy – to other cartoons, movies and pop-cultural figures and celebrity cameos (Mark Hamill's "I'll never join you!" is a classic) are not only awe-inspiring but often ahead of their time; there were many shows that came to mind while I watched it that I had to remind myself came after the initial airings. The hilarity of South Park and the aforementioned Family Guy is easy to spot here, while the absurdities of Ben Edlund's The Tick and ideas in The Venture Brothers and Brad Bird's The Incredibles (not to mention composer Richard Stone's Emmy award-winning 1960s styled theme) are matched if not surpassed.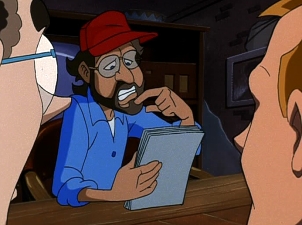 Simply put Freakazoid! could be put out again now as a fresh series and possibly find even greater success. As well as the sci-fi spoofing, it's also like some variety show from a crazy planet, throwing out such an enormous amount of comedy material that the sheer amount of jokes being thrown at the audience can't fail to have some stick. And most of it does, impressively, with such an amount of force and verve that one has to marvel that such a show actually got past the company front line and the network censors to make it on the air. That's not to say there's anything profane or in bad taste about Freakazoid!, but it might just be one for the more appreciative and mature animation fan. While younger kids might enjoy the heroics, some of the characters' asides are well revealed to be for older eyes and ears, for whom the show will be a revelation to those that didn't catch it the first time around. Freak on!
Is This Thing Loaded?
Always ones to do their properties proud, no matter how big or small they may be, Warners never fail to include at least one bonus feature in their cartoon sets, continually placing them above others (cough, Disney) that fail to include even the smallest token supplements. And Freakazoid even gets a little more than usual, with a featurette, promos and a triple helping of commentaries bundled in!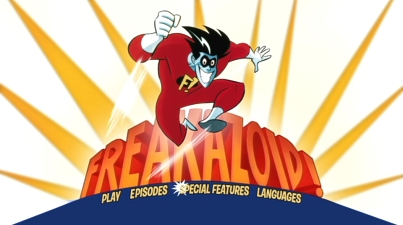 Those three alternate audio tracks, for "key episodes" (the first two, Five Day Forecast / Dance Of Doom / Handman and Candle Jack / Toby Danger in Doomsday Bet / The Lobe, and the later Next Time, Phone Ahead / Nerdator), feature speakers Tom Ruegger (Senior Producer), Freakazoid's voice Paul Rugg and writer John McCann, though unfortunately creator Bruce Timm, who from the sounds of things had left the project before it went into production, goes missing. The trio are great fun to listen to, bouncing off one another and piling in all sorts of additional points of reference that go some way to explaining how Freakazoid! was so smart in its writing (and improvisation!), how Rugg perfected the Patrick Warburton technique before Patrick Warburton, and just who Emmitt Nervend is, while the third show's track is handy in identifying the number of crew members caricatured in Steven Spielberg's Amblin story conference room!
Bruce Timm does pop up in the Freakazoid: The Original Freak featurette, on the final side of the second disc, running 17 minutes in appropriate 4:3 video. This is a fast-paced clips and comments piece that sound bites creator Timm, producer Ruegger, McCann and director Scott Jeralds as they explain how Spielberg wanted to move away from the cartoon antics of Tiny Toons and Animaniacs and into the action-adventure realms of an original property along the lines of Timm's acclaimed Batman series. Eventually, Spielberg asked for an injection of more comedy back into the show, confirming that Timm did back out of the project at this point, later using his original concept on the Beware The Creeper episode of Batman: TAS, though it's also interesting to note the fact that Freakazoid was intended as what might happen if The Joker were a good guy, pointing up the similarities in look that both share. Needless to say, this is a packed featurette, and refreshing in its honesty (Timm gracefully explains his early backing out diplomatically, but it's clear the show is not what he would have done with it), and there's even a look at his original concept drawings for various characters, some of which ultimately weren't used.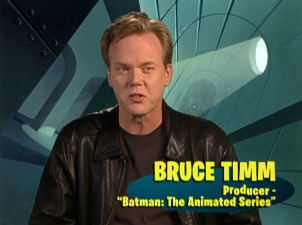 Placed in some very useful context by Ruegger and Rugg, the Freakazoid-less Freakazoid Promos are explained as being rushed together to promote the show in the face of not having any completed footage for when they needed to air. Parodies of some cruise ship commercials that were airing at the time, these TV spots are indeed as "audience defiant" as they are described, with seven pretty repetitive clips on offer from someone's archived VHS recording. Interestingly, the final one seems to be half-finished, but actually turns up sans voiceover in one of the completed programs.
Lastly, a group of trailers promote other current Warners animation on DVD: The Richie Rich/Scooby Doo Hour, Popeye And Friends, a Lego Batman videogame, and Popeye The Sailor Volume Two: 1938 – 1940. A frankly bizarre Wizard Of Oz anti-piracy spot and a preview for the simultaneous Tiny Toons/Freakazoid releases are also bundled onto the first disc.
Case Study:
For this latest batch of WBTV releases (Freakazoid comes to disc concurrently with the first set for Tiny Toons) the digipacks of Animaniacs are ditched for a regular two-disc slimline keepcase with a standard fold-over disc tray system that places the second, double-sided platter at the back to keep it from any harm. The inside of the dual sleeve makes note of the episode titles, while making the set special (and somewhat in keeping with earlier releases) is the reproduction of the outer sleeve art on a shiny, embossed slipcase, replicating the Animaniacs feel – nice.
Ink And Paint:
Television material on disc is always a little pot-luck, but in stark contrast to the sometimes iffy masters used for the release of Tiny Toon Adventures (though still as good as that program will ever look, due to the composite video format used), I was well and truly surprised – impressed even – at the strong showing for Freakazoid! on DVD. With a better production process to begin with, and less of a compression crunch, the episodes on these discs look fantastic, especially compared to other television animation from this or any other era.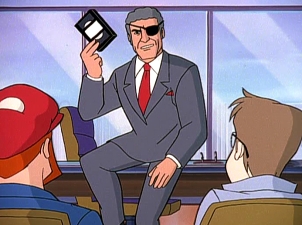 Created on film and mastered on video, don't expect the rock solid, computer colored perfection of a digital transfer, but don't be surprised to see a lot less either. Colors are never washed out or close to bleeding: even Freakazoid's vibrant red suit stays well within its lines. For some reason, the two most suspect looking episodes were the full-length story shows, The Chip, Part I and The Wrath Of Guitierrez, both with guest Ricardo Montalban, but otherwise this is about as good as interlaced video gets.
Scratch Tracks:
As well as the expected stereo surround track, a nice surprise is that we're also offered what must be a newly mixed 5.1 Dolby Digital mix which, unlike the Tiny Toons collection does a better job of spreading the fun sound effects around. However, I do again question the inclusion of both options when the benefits in giving over some more disc space to the images should outweigh having two otherwise every similar soundtrack options. Whichever one you go for, both mixes provide the aural equivalent of being trapped in a pinball machine, just as they're intended to!
Final Cut:
If you're a fan of the 1990s Warner Bros. television animation boom, it's likely Freakazoid is already on your list, especially at the online cost of under $20. I'd forgotten just how ahead of its time the show was, and how many conventions we now take for granted in animated television programmes today were either forged or broken during Freakazoid's run. There are a whole bunch of animated comedies running on TV now that owe a great deal to Freakazoid!'s pushing the boundaries, and a surprising amount of what we see today can be traced back, not least in what often runs on Cartoon Network's Adult Swim, but which gets along just fine here without having to resort to offensive language or pushing gags too far beyond their laughing point. If the show failed, it was because of a scheduling approach that tried to aim itself at young kids when the demographic actually (trying) to watch was much older. Now that Freakazoid! is back, on DVD, here's hoping he can be enjoyed by a wider audience.
Animated Classic or Back To The Drawing Board?