Warner Bros. (2016-2017), Warner Home Video (October 10, 2017), 2 Discs, 286 mins, 16:9 ratio, Dolby Digital 5.1, Not Rated, Retail: $18.94
Storyboard:
Members of the Justice League battle supervillains, monsters, and invading aliens in kid-friendly adventures.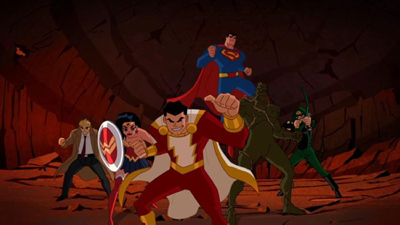 The Sweatbox Review:
We all loved Justice League, the show that ran from 2001 until 2004, and continues to live on in our DVD collections. It had all the characters from the comics, the stories were epic, and the tales had uncommon depth to them, with most of the series containing two-parters. It was everything a superhero or comics fan could want. I tremendously enjoyed re-watching the show again with my little boy when he was old enough to enjoy it, and he likewise was thrilled with the adventures of the World's Greatest Superheroes. However, television network people apparently thought that smaller kids needed a show they could enjoy too, telling simple stories of short length. Maybe they're right. I had Super Friends growing up, so maybe today's wee ones need a gentler superhero show, too. I was actually able to enjoy Marvel Superhero Squad, so why not give a DC kiddie show a chance?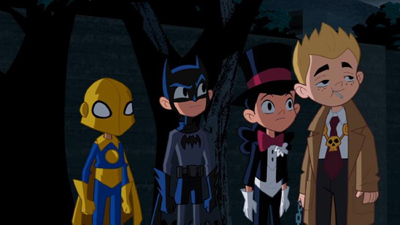 And hence we have Justice League Action, a series whose stories run only a quarter-hour, keeping the conflicts as basic as possible, while emphasizing action and uncomplicated morality. The good guys are perfect, and the bad guys are truly despicable. There's no time for shades of grey when the story needs to wrap up before the first commercial break. (Note that the choice of the screen capture above is a bit of a gag. The Leaguers aren't really that young when they're not magically de-aged, like in this one episode.)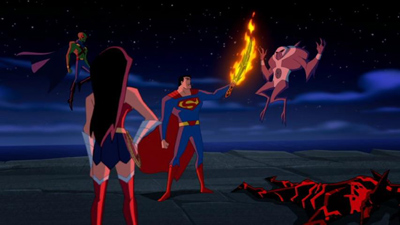 The series begins with an atypical 4-part story, pitting members of the League against the Brothers Djinn, magical creatures who want the Earth to revert to an earlier geological state, wiping out mankind and leaving the Djinn to be rulers of the planet. The villain who allows their escape in the first place is Black Adam, whom Batman meets after following the Wizard (who we all know is named Shazam) to the Rock of Eternity. (Actually, Bats ends up giving the Wizard a tow on the bat-rope!) Naturally, this portends the involvement of the hero Shazam, previously known as Captain Marvel. Other heroes involved in this story range from Hawkman to Swamp Thing, the former wearing a bizarre costume like nothing seen in the comics, and the latter sounding oddly young and human. For the most part, the show sticks with classic representations of the characters, but we do get the occasional odd choice.
The next story further shows off the wide-ranging scope of the show, which is perhaps its greatest asset. The mix of characters is often inspired and beyond fun. Even in the comics, we have never seen a team-up between Superman, Hawkman and Space Cabbie, squaring off against Lobo, who challenges them for the right to bring in and the worm villain Mister Mind. I mean, that's really a pretty incredible plot right there. Even John Constantine, one of the least kid-friendly characters in the mainstream DC Universe, is a member of the Justice League here, teaming up routinely with Zatanna and Batman to fight such threats as Solomon Grundy and Klarion the Witch Boy. Batman gets to travel to Apokolips with Big Barda, The Demon helps Batman while driving around in a mystically-enhanced hellish ice cream truck, Lex Luthor invades Themyscira, Plastic Man sneaks onto Brainiac's ship, and Blue Beetle, Firestorm, and Stargirl help out against the Phantom Zone villains. The plots may be paper-thin, but you can't beat them for awesome character combinations. Perhaps more than any previous DC animated show, Justice League Action really revels in the terrific depth of possibilities inherent in the DC Universe. The final episode on the set even brings back Space Cabbie for an adventure with Batman, Cyborg, and Jonah Hex, as they face off against Kanjar Ro! That's crazy!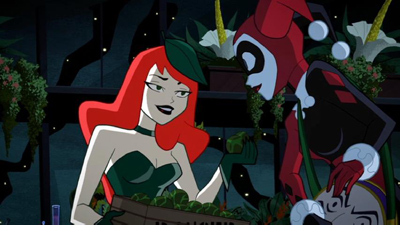 And of course, we get a couple of appearances by current fan-favorite Harley Quinn, including an episode with her besty Poison Ivy, facing off against Leaguers including Swamp Thing. That's actually pretty awesome.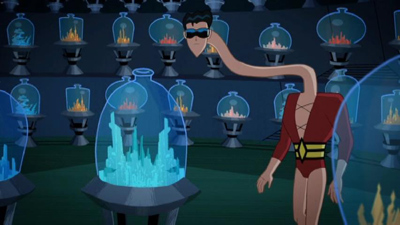 I suppose there's nothing wrong with allowing small kids to enjoy a superhero show aimed at their level. On the other hand, the original Justice League show managed to be enjoyable by kids and adults alike, though perhaps those kids were not under six or so. My son is now 10 years old, and he found Justice League Action to be unbearably simplistic, much preferring the older program, so Action's audience would seem to be rather narrow. Still, an old DC fan like myself can still glean some enjoyment with seeing his favorites interact in bite-size adventures, just as I can nostalgically enjoy an episode of Super Friends on occasion. At least the animation in Justice League Action is first-rate, and Batman's chest emblem doesn't get miscolored in every other scene like it was on the 1970s program.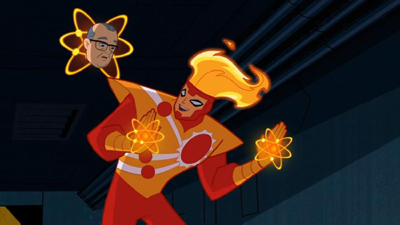 Speaking of visuals, I always find it interesting to see how these characters are adapted for each show or movie. Here, the designs are reminiscent of the Bruce Timm-era versions, with a few tweaks here and there. I'm not crazy about the huge bat-emblem on Batman's chest, but Action's Superman is a nice improvement, more in line with the Fleischer Superman than the enormous-chinned Timm version. Wonder Woman gets nicely tousled hair in keeping with her fighting spirit. As I said, I barely recognized Hawkman, so I don't know what the deal is there. Others like Firestorm and Green Arrow hew closer to their classic looks. In terms of continuity, the show takes its cues from various eras of the comics and cartoons. One episode sees Batman and Blue Beetle travel back in time to what appears to be pre-Batman: The Animated Series; and in a nod to the New 52 comics, Clark Kent and Diana Prince go on a date. The League's headquarters, meanwhile, starts in the Hall of Justice before they gain a new Earth-bound Watchtower.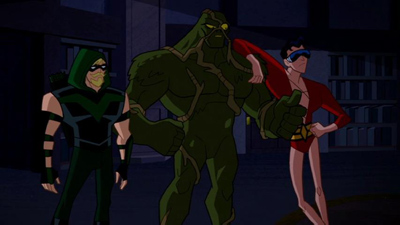 This two-disc set contains the first 26 (quarter-hour) episodes of Justice League Action, which comprises half of the initial season. It may not be absolutely fantastic television, but it is a fun show, and it does make a cool introduction to these characters for kids, before they are ready for the dramatics of more mature superhero series.
Is This Thing Loaded?
The only extras here are really just advertising. On Disc One, from the menu system we get Trailers for DC Super Hero Girls: Hero Of The Year and the Wonder Woman film. Disc Two begins automatically with a trailer for The Lego Ninjago Movie and the direct-to-video Lego Scooby-Doo: Blowout Beach Bash.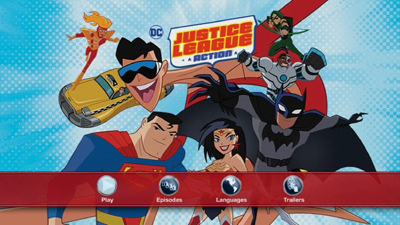 Case Study:
The DVD eco-case comes with a tray for one of the discs, with no inserts.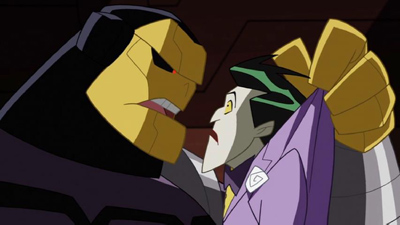 Ink And Paint:
The picture is as good as standard definition allows, and in motion looks quite good. Pausing the frames reveals some jagged edges, but during normal viewing this is not noticed. Most often, I felt this was as good as the series could look, though occasionally there is a softness noticed that underlines the fact that a high definition release would look even better.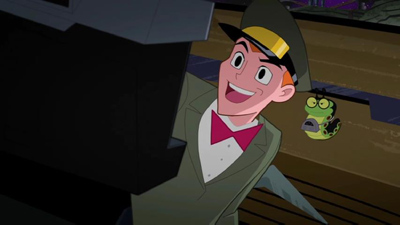 Scratch Tracks:
I have no complaints about the sound quality, presented here in surprisingly nice Dolby Digital 5.1. Dialog is clear, and directional effects are modest but have good power. Other language tracks include Spanish, Portuguese, and Thai. Subtitles are available in English, French, Chinese, and Thai.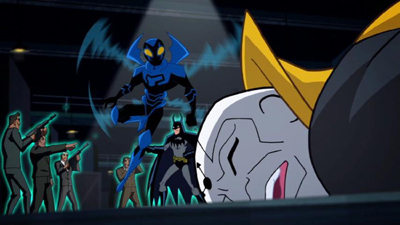 There is some interesting voice casting going on in this show. Kevin Conroy comes back as Batman, which is always welcome. Likewise for Mark Hamill, who plays The Joker again, and also gets to revisit The Trickster, but he makes a certainly… unconventional… Swamp Thing. Former Batman Diedrich Bader is Booster Gold this time. Sean Astin plays both Billy Batson and his alter ego Shazam. And Khary Payton plays Cyborg in yet another incarnation.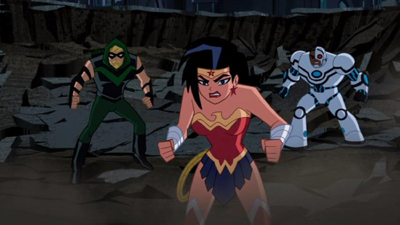 Final Cut:
It is impossible to avoid comparing this to previous animated versions of the League, particularly the classic 2001-2004 show. Justice League Action does what it sets out to do. A negative comment could state that it presents action-packed stories of little nuance, easily understood by small children. On the other hand, it is also certainly fun, bright, and positive, and it brings to life an assortment of characters never quite seen before. Old favorites like Firestorm, Swamp Thing, Plastic Man, and even Space Cabbie are given a chance to shine, making this in some ways the ultimate DC Universe cartoon. I would love it if the stories were more sophisticated, but after all these are really children's' characters, and it is nice for the younger generation to have their own Super Friends-style show, only with better graphics. Certainly, it's more appropriate for them than the PG-13 animated and theatrical movies. We'll list this one as recommended for kids, or kids at heart.
Animated Classic or Back To The Drawing Board?