TVC London/BBC for Frederick Warne & Co. (1992-1997), BBC/Warner (February 12 2007), 3 disc set, 247 mins, 1.33:1 original full frame ratio, Dolby Digital Stereo, Not Rated (nothing offensive), Retail: $29.98
Storyboard:
Also known under its production and broadcast banner The World Of Peter Rabbit And Friends, this collection brings together the delightfully animated versions of Beatrix Potter's beautiful illustrations. With live-action introductions to each tale, the stories of Benjamin Bunny, Jemima Puddle-Duck, Mrs. Tiggy-Winkle, Jeremy Fisher and, of course, Peter Rabbit, are among those brought to life from the imagination of Miss Potter and her original books.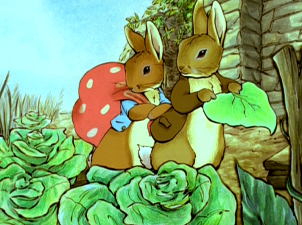 The Sweatbox Review:
In 2005, Johnny Depp leapt into his own imagination to portray Peter Pan author JM Barrie in a dramatisation of the creation of his most famous story, in the warmly received and charming biopic Finding Neverland. Since awards recognition and healthy box-office will always breed other projects, either direct sequels or films so similar in design that they may as well be, Neverland informed an admittedly slow spate of worthy successors, the most publicised of which was Miss Potter. I would imagine the question was, "right, which other quirky British author with a slightly tragic air to them could we make a heartwarming picture about?", and so the story of Beatrix Potter popped up as the lead contender two years later (they've also just repeated the trick somewhat with Becoming Jane, based on the young life of Jane Austen).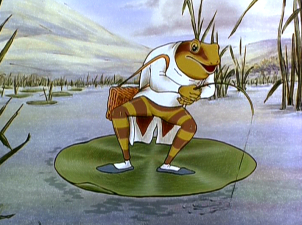 While Renee Zellweger was given much to get her teeth into in the role of the creator of Peter Rabbit and company, it remains a sad fact that, even though Potter's books are enormously successful still around the world – not least in the UK of course, where almost every child is bought a set at birth as more or less routine – the ever so cute stories remain something of an postscript in the US, where, after Pan and Alice In Wonderland, even Winnie The Pooh's literature origins are forgotten in the rush to praise Pooh Bear as a Disney creation. Perhaps mindful of that fact, the BBC steadfastly adapted the Potter books into delightfully whimsical animated featurettes for the best part of the 1990s, possibly as a way of creating interest and introducing the stories again to younger and international eyes, and possibly because every other piece of literature has already been drawn upon for the same treatment – even Shakespeare got animated in recent times!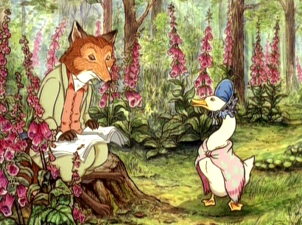 For more on Beatrix Potter herself, I really do recommend you seek out the recently released Zellweger film on DVD – despite the reasons for it being made, it does stand on its own as being an enchanting story in its own right, tinged with a bit of sadness, but expertly played by the leads, including Ewan McGregor as the turn of the 20th century publisher who takes a chance on the young author's seemingly "odd stories". Miss Potter is also uniquely sprinkled with subtle, lovely little bits of animation; a wink from Peter Rabbit here, a flurry from Jemima Puddleduck there, that have been created in the same, pastel watercolor approach with which Potter illustrated her own books, and that serve as the basis for the animation in this series too. Indeed, the film is a wonderful introduction to Potter and her characters, and this collection, which compiles all nine of the BBC specials (featuring a stalwart British cast of famously recognisable voices), is a most suitable way to enjoy her stories.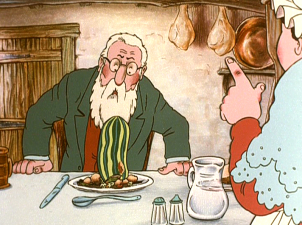 Spread across three discs (each naturally holding three specials each), Disc One begins with the signature story, The Tale Of Peter Rabbit And Benjamin Bunny, about the two mischievous bunnies' exploits as they go rummaging around farmer/nominal villain of sorts Mr McGregor's garden and come under threat from the McGregors' cat. The Tale Of The Flopsy Bunnies And Mrs. Tittlemouse continues the adventures in Mr McGregor's garden, where the crafty bunnies are almost captured but swap themselves for watermelons in McGregor's old sack, and The Tale Of Tom Kitten And Jemima Puddle-Duck brings to life the naughty kittens as well as Jemima's encounter with a wily fox. On Disc Two, in The Tale Of Mrs. Tiggy-Winkle And Mr. Jeremy Fisher, we meet two of the series most lasting characters, as Jeremy regales us with the story of when he went fishing and he ended up almost getting caught, and The Tale Of Mr. Tod proves to be one of the most exciting stories when Peter and Benjamin return to help their younger bunny friends escape the clutches of Tommy Brock, a very hungry badger. The Tale Of Two Bad Mice And Johnny Town-Mouse ends the disc with Tom Thumb and Hunca Munca the mice creating chaos in a doll's house, while poor old "country cousin" Timothy William finds himself struggling to fit in with Johnny's posh friends until a return visit sees the tables turned.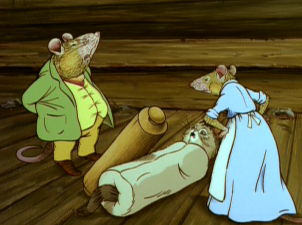 Like another successful book phenomenon with a "Potter" in the title, the stories may sound all very nice and sweet on the outside, but they don't shy away from flirting with real danger. Pigling and Pig-wig's capture in The Tale Of Pigling Bland is a good example of how the realistic relationships between disreputable humans and the animals are retained, even given the anthromorphized caricature. Tom Kitten becomes the food of choice for a nasty, greedy rat when, in The Tale Of Samuel Whiskers (or The Roly-Poly Pudding), he's at risk of being served up as Kitten Dumpling, while it's a return to safer, fairytale fare in the final Christmas-themed special, The Tailor Of Gloucester, when the titular cloth cutter falls ill and finds the Mayor's coat he has been working in is completed by secret assistants. Obviously with just nine of Potter's 23 or so stories translated to the screen, there are a few characters that long-time readers may feel disenchanted in not meeting in animated form – my personal disappointment was missing the cheeky and playful Squirrel Nutkin – but to its credit the series retains the linking of chronology in events that the author threaded through her stories.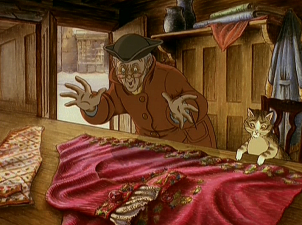 The World Of Peter Rabbit, as the complete collection is often referred to in book form, has come to the screen before, in the ballet dance film The Tales Of Beatrix Potter in 1971. Whereas the concept would work spectacularly as a stage treat, where the costumes and performances of the Royal Ballet could be experienced up close and "for real", the magic is lost in capturing these sprightly characters to film. They're much more suited, in screen terms, to animation, where the approach taken here reminds us of the "moving illustrations" of Disney's Winnie The Pooh cartoons, perhaps even more so due to the delicate pencil artwork and Potter-styled watercolor backgrounds. A previous edition of the Peter Rabbit story was produced for television in the 1980s, but the Americanisation of the voices didn't match the very British nature of the setting.
These versions are much more authentic, "based on the original and authorized editions" as the cover proudly proclaims, and so they should be, having been supervised by directors responsible for productions with similar sensibilities, including Dianne Jackson (The Snowman), Dave Unwin (the 1995 Wind In The Willows), Tony Guy (Watership Down, When The Wind Blows) and Geoff Dunbar (Paul McCartney's Rupert And The Frog Song) – all very British takes on rather sweet and genteel material. Adding to the feeling of faithfulness are the handsome, though repetitive, live-action bookends (sometimes over cut in an attempt to provide momentum), in which actress Niamh Cusack fills in for Miss Potter herself, coming up with the stories and narrating them as they come to animated life. It's all very disarming in a delightfully old fashioned way, and though the videogame generation are probably beyond saving, smaller children who may or may not know the books should be beguiled by seeing these illustrations frolicking about the screen. About as far removed from loud, walloping CGI, The Beatrix Potter Collection is just as captivating.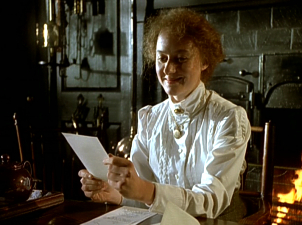 Is This Thing Loaded?
Previously released in a two volume set, with stories mixed up rather unevenly, The Beatrix Potter Collection comes to DVD again as part of the BBC's continuing output deal with Warner Home Video that's seeing a healthy amount of reissues and new titles coming to the US. Much more neatly divided up here, to three discs carrying three specials apiece, this is essentially a port over of the 2006 box set released in the UK (complete with rather long-winded animated menus) and, as such, unfortunately carries little supplementary material. The discs all start with a skippable preview for two volumes of the Charlie And Lola pre-school series but that's as far as any extras go. I do seem to remember a half-hour special on the creation of the films, including a bit on filming the live-action bookends, but I could be completely mixing this up with something else. I refuse to believe that nothing about the making of the series was documented on camera at the time of production, but I can't find reference to anything either, so I'm guessing that, any promotional items apart, there just wasn't anything else to include here.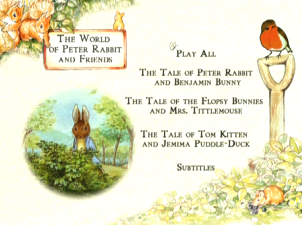 Case Study:
The UK set came in a couple of configurations, including a gift set that included a Peter Rabbit plush, but here we get a standard three case and a slipcover box, which is actually just right, mirroring the presentation that the original books come in. The artwork is faithful more towards Potter's illustrations than the moving characters in the films themselves, but this isn't false advertising at all, since the animated versions stick so faithfully to Potter's style that to provide otherwise on the cover would look odd in itself. The three sleeves come housed in white keepcases, with the outer box giving the appearance of a cutout. For anyone with the books, this makes for an appropriate addition to those collections.
Ink And Paint:
I was concerned that, this being a US reissue of an originally UK presentation, the dreaded PAL-to-NTSC conversion gremlins might have raised their heads again here to provide some ghosted inter-frames on the specials' travels from 25 frame to 30 frames per second. Happily, BBC/Warner have been able to make use of their finest original video masters in compiling the collection, providing a perfectly suited transfer here in the correct 1.33:1 full frame ratio.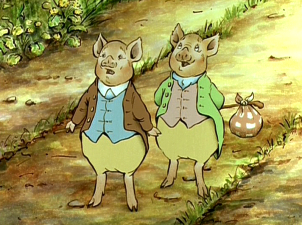 As such, ghosting is evident, but only if one is markedly looking out for it. The soft but vibrant style of the animation is so clean anyway that it lends itself to this slight wash, and the interlaced video pleasingly does its best in making these anomalies even less noticeable, if they'll be picked up by most audiences at all. The featurette-length of the specials (at around 26 minutes each) and just having three to a disc means compression is virtually non-existent and causes no other distractions.
Scratch Tracks:
Produced for television, there's a quaintness to these tracks that would sink any production with larger ambitions, but feels just right for the adventures of Peter Rabbit and friends. The two-track stereo mixes sound as rounded as good TV mixes usually do, and while these tales often contain exciting sequences these are not high octane, home theater demonstrations waiting to happen. But for examples of well-recorded dialog and effective use of a small orchestra (in Colin Towns' music scoring), this is artfully done. There are no dubs, but English for the hearing impaired subtitles are provided.
Final Cut:
With over four hours of quality for the price some studios charge for less than one, this really is a great value collection for fans of the books or new readers coming to the stories for the first time. With her tales having been translated into 35 languages across well over one hundred countries, there's certainly an audience for Beatrix Potter's stories, especially in England, where in the author's beloved Lake District countryside she remains a popular figure long after her death. I was lucky enough to visit the area's Keswick a couple of years ago (where the cry of "show us your Beatrix" seemed to be a popular one with pub visitors wishing to catch some "beer tricks") and see for myself the themed attractions recreating her many characters. It's clear why she counted Walt Disney among her fans, though perhaps his not-always smooth ride with the British critics put him off attempting animated versions at the time. Finally translated to the animated medium, one hopes she would be pleased with these results.
Animated Classic or Back To The Drawing Board?