Hanna-Barbera (1978-1979), Warner Archive (October 9, 2012), 1 disc, 99 mins, 4:3 ratio, Dolby Digital 1.0, Not Rated, Retail: $14.95
Storyboard:
Fred and Barney run into trouble with two classic monsters, and also find their friendship threatened when they coach rival ball teams.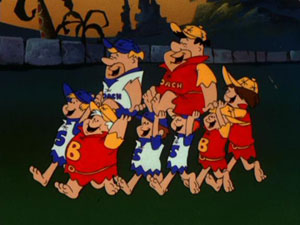 The Sweatbox Review:
Like a lot of people my age, I grew up watching Flintstones reruns. For me, it was every school day at noon, when I'd rush home to start watching at about 12:05. (The local station was kind enough to start it a few minutes past noon, in order for gaffers like me to get home in time.) Even now, I can probably mouth the dialog while watching a random episode. I also recall watching pretty well all of the sequel series, but I never saw the prime time specials that were done in the 1970s. Thanks to Warner Archive, the opportunity is now here. Two discs have been released, collecting a few of these specials, and the first disc is the subject of this review.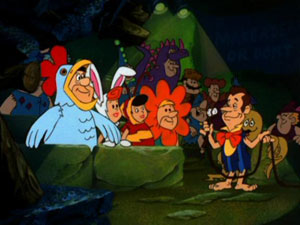 The first Flintstones special (A Flintstone Christmas from 1977) is included in a separate Christmas disc released a while back, but the next two find there way onto The Flintstones Prime-Time Specials Collection: Volume 1. Each of these specials ran an hour with commercials, and appear to have had juiced-up budgets that allowed for more detailed backgrounds to be created, making the final result a little more impressive despite the animation itself being of a similar quality to one of the TV shows. The old cast was gathered as much as possible, with Mel Blanc and Jean Vander Pyl returning as Barney and Wilma, though of course by this time it was Henry Corden doing Fred's voice rather than the late Alan Reed. Gay Hartwig provided the voice of Betty in these shows, as she had been doing for the TV series sequels and spin-offs.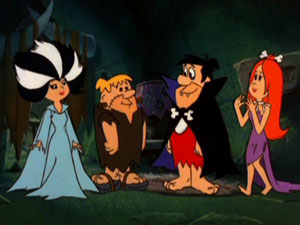 The specials on the disc are presented out of chronological order, so the first one up is The Flintstones Meet Rockula And Frankenstone from 1979. The story opens with the Flintstones and the Rubbles competing on a game show styled after the costume-focused Let's Make A Deal; the host of the show is played by perfectly cast Casey Kasem. Fred and Barney's rivalry is on full display, but they both end up making out well (or so they think), winning a vacation in creepy Rocksylvania. The two families head off to stay at Count Rockula's historic castle, now a hotel and tourist attraction. Before attending a costume ball, Fred and Barney stumble upon Rockula's laboratory, where an open window and a lightning strike unwittingly lead to the awakening of Rockula's creation, Frankenstone.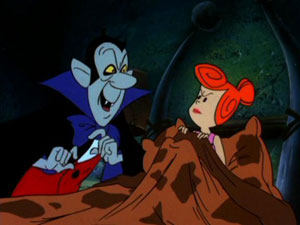 Frankenstone manages to revive Rockula, and they go meandering to find out what the heck is going on. Once Rockula discovers Wilma in bed, he declares his love for her. The existence of Fred is of no concern, as Rockula simply decides to make Wilma a widow. Rockula abducts Wilma, and before you know it, a zany chase occurs, with the two monsters alternating between being pursued by Fred and Barney, and hunting the boys down. It all leads back to Bedrock, where Rockula finally discovers what it might mean to actually take Wilma for a bride.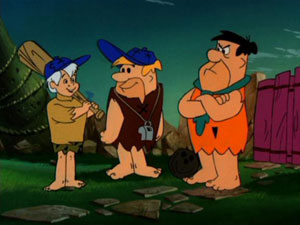 The next special on the disc is 1978's Flintstones Little Big League. I like this one a wee bit more, since it is set entirely in Bedrock and features pre-teen Pebbles and Bamm Bamm, who are therefore a few years younger here than they appeared in 1971's The Pebbles And Bamm Bamm Show. In the initial scenes, we see that Fred is unfairly mad at Barney, as he tends to be. This time, it's because Barney is spending his time coaching a Little League baseball club, instead of bowling with Fred. An offer from Barney of an assistant batboy position does little to calm the situation, and their friendship disintegrates. Fred's bitterness, however, turns to rivalry when Fred is asked to coach a ball team sponsored by his boss Mr. Slate. It becomes Fred's mission to clobber Barney's team, especially since his job may depend on it. Pressure mounts as Fred is faced with the prospect of needing to satisfy both a police officer and a judge, who each have a son trying out for Fred's team. This might be fine, except that those boys are even more hopeless than the rest of the team. Meanwhile, Barney's team is looking good, largely due to having star athlete Bamm Bamm batting clean-up.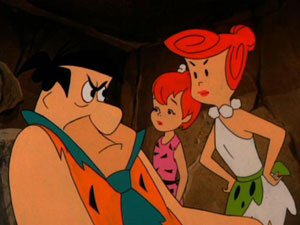 Fred, despite being quite desperate, totally overlooks his own daughter, Pebbles, who is begging to be included on the team and spend time with her dad. Fred eventually comes around when the obvious pitching talent of Pebbles eliminates his prejudice against girls playing ball (remember, this is the Stone Age). This leads to an epic match-up between Pebbles' pitching prowess and Bamm Bamm's hitting ability. But will schmaltzy television writing really allow a decisive outcome?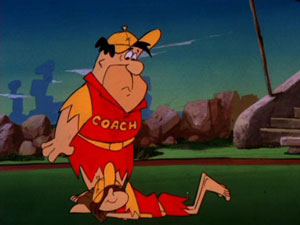 Both specials offer a lot of enjoyment, particularly for the long-time Flintstones fan, who will appreciate the familiarity of the characters. Little Big League also has the advantage of being much closer in tone to a regular series episode, what with Fred and Barney fighting and their kids helping to bring them together. On the other hand, Rockula And Frankenstone offers a monstrously nice change of pace, and is reminiscent of some of the dandy "genre" episodes they used to do occasionally, like Doctor Sinister or The Gruesomes. After so many years of waiting to see these, I found myself pleasantly surprised at how well they hold up.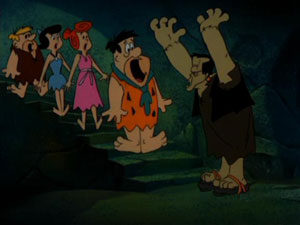 Is This Thing Loaded?
No extras have found their way onto this disc.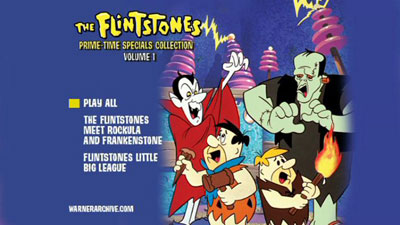 Case Study:
The DVD-R carries unique artwork on it, with Wilma scolding the monsters. It's funny how other major studios don't apply this much detail to even their bigger retail releases, but Warner does it on a manufacture-on-demand disc! The disc comes in a standard keepcase. The front cover shows off the monsters special, but the ball episode gets its due on the back, though it is still unfairly made out to be the lesser of the two shows.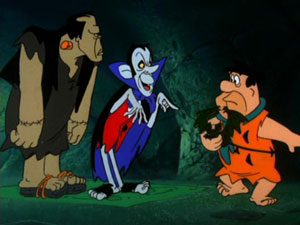 Ink And Paint:
There is good news and bad news. The good news, such as it is, is that the elements for this transfer are in decent physical shape, with an acceptable amount of smudges and dust and no major print damage. Keeping in mind the handmade nature of animation in those days, the materials are in as good a shape as one might expect, and similar to the TV series DVD sets for The Flintstones. The bad news is that the quality of the transfers is pretty bad, as the elements were in desperate need of some tweaking. With no restoration done, the color balance is off, with skin tones fluctuating between pink and yellow. Brightness fluctuates too, with Little Big League sometimes looking a little dull, despite being theoretically the brighter of the two shows.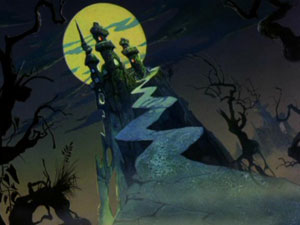 Scratch Tracks:
A mono English track is all that is included, and it gets the job done, but little more. The sound is generally clear, at least, with occasional harshness. In all, it's more satisfying than the video.
Final Cut:
These are two fine television specials that helped to shape The Flintstones in the 1970s, offering good entertainment, a few chuckles, and a strong sense of being with family or old friends. The video quality is a little unfortunate, and as a manufacture-on-demand disc there are no surprise extras, but I'm still happy to have these. I now look forward to checking out Volume 2, and hope to eventually get the 1970s TV sequel series as well. For classic Hanna-Barbera fun, it doesn't get much better than hanging out with the Flintstones and the Rubbles.
Animated Classic or Back To The Drawing Board?