Hanna-Barbera (1960), Warner Home Video (March 16, 2004), 4 discs, 737 mins plus supplements, 1.33:1 original full frame ratio, Dolby Digital 1.0 Mono, Rated G, Retail: $39.98
Storyboard:
Fred Flintstone, his wife and neighbors appear in television's first primetime animated sitcom, set in prehistoric times.
The Sweatbox Review:
And so it began. For a while there, it looked like only the smaller DVD producers realized that classic cartoon fans wanted box sets of their favorite shows. Rhino, Sony Wonder, and even A & E had put out nice collections of vintage toons, but the big guys seemed oblivious. Warner Bros. in particular, with its huge catalog of titles, just did not seem interested in making money on their old animated TV shows. And oh, how we all wished that they would "get it"— how we hoped that they would see the light and start releasing box sets of the Hanna-Barbera library that they have owned the last number of years.
Be careful what you wish for…! Unless you have a large DVD budget, you may have had to make some tough choices once the floodgates started to open. Warner Bros. heard the fans, and they responded with four box sets in the spring of 2004. They made a good choice for their first pair of releases, with one of them representing the first prime time animated series to appear on television. I give you… The Flintstones: The Complete First Season, truly a landmark DVD release.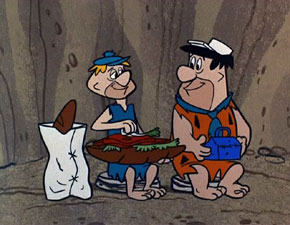 Personally, I was very excited about this release, as well as the whole new "Hanna Barbera Golden Collection" line. As a child of the seventies, I have great fondness for the Hanna-Barbera cartoons, and The Flintstones in particular. When I was growing up, a local TV channel always played Flintstones reruns at lunchtime. I would run home during the noon hour from school in order to not miss a minute of Fred and Barney's antics, and I saw each episode many times over. Something about that show just seemed so perfect in its appeal, and I was to be a fan for life. Before talking about the DVD set, we will take a brief look at the show's history. At the end of the review, there will also be a comparison with the laserdisc box set released in the late 1990s.
In the late 1950s, Bill Hanna and Joe Barbera left the recently closed animation department at MGM and formed H-B Enterprises, with an eye towards television production. They knew that the limited budgets available would mean that many tough compromises would have to be made, and they developed a method of "limited animation", including the practice of reusing footage or animating only parts of characters at a time.
Meanwhile, Columbia Pictures had decided to no longer fight the rising popularity of television, and they had formed a TV division called Screen Gems. Hanna and Barbera found an ally there in visionary sales head John Mitchell, and soon they were in business. After successes at NBC and in syndication with the late afternoon/early evening market, Mitchell suggested something nutty: How about a primetime animated series?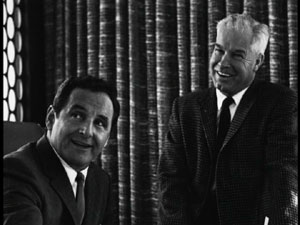 Mitchell envisioned Hanna-Barbera successfully making a primetime situation comedy that could be enjoyed by both kids and adults. It was an innovative idea, and a challenge that Bill and Joe looked forward to meeting. They also knew that they had to come up with something different than funny animals. Although their previous TV shows had been successful, they all had featured the types of antics seen on movie screens for decades. A move to prime time needed a fresh idea to justify it.
The studio's team came up with an idea of making a show similar to the beloved Honeymooners program that starred Jackie Gleason (one story says that Gleason did give his blessing eventually, after initially being irritated). Like Gleason's characters, the new show would feature a blue-collar dreamer & schemer, his dopey neighbor, and their wives. Plotlines would involve typical domestic stories, misunderstandings, and plenty of character interaction.
Still, this obviously was far from original in itself; they needed a special catch. They tried out some sketches of Pilgrims, ancient Romans, and more contemporary figures until they hit upon the idea of a prehistoric family, aided by a drawing made by Dan Gordon. This is what would make their sitcom different— the situations might be the standard ones of many sitcoms, but the execution would include numerous prehistoric gags and plays on words. And so The Flagstones was born!
Only, the characters in the "Hi and Lois" comic strip already had that surname, so the name of the new show was changed before airing to The Flintstones. And the rest is Stone Age history.
It was not so easy to sell the show initially, though. It took all the efforts of Joe Barbera and John Mitchell, making the rounds with sponsors and networks, to find someone willing to take a chance on the novel idea. By all accounts, most people liked the idea and Joe's spirited presentations, but the idea was so new that no one was sure that it could be successful. Finally, after being turned down by numerous sponsors, NBC, and CBS, ABC bought the show. Next, they found two sponsors in the Reynolds Tobacco Company (leading to commercials of Fred and Barney smoking cigarettes), and Miles Laboratories, makers of One-a-Day vitamins and the later Flintstones vitamins.
The Flintstones debuted on September 30, 1960 at 8:30 on ABC, a historic occasion but not an auspicious one. Most critics disliked the show initially, but it still ended up receiving an Emmy nomination and Golden Globe Award in its first season. By the second season it was a recognized hit, and its prime time run would last 166 episodes before ending in 1966. As its original run ended, Hanna-Barbera featured Fred and the gang in the second H-B feature, The Man Called Flintstone, a James Bond/spy movie spoof that had Fred taking the place of a look-alike spy and going up against the Green Goose. Continuous syndication of the original program and several spin-off shows and movies would follow over the years, including one big-budget live action film, and one lesser-budgeted prequel.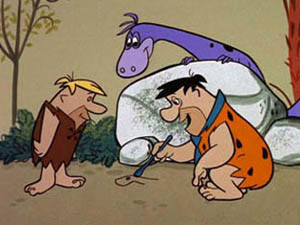 Yes, The Flintstones has always been popular, but why? It is not due to the smooth animation certainly, nor the originality of its plots. This was a cheap show that relied on formulaic stories. To end the discussion there, however, would be to short-change the show immensely.
Sure, the animation was limited, but the head animators could draw cartoons exceptionally well. Characters gave dynamic poses, and always had undeniable emotions in their expressions. You can watch these shows silent and get much out of it, because the acting is there! Hanna, Barbera, and their crew knew that they had to make the most out of their drawings, and they did so. It also did not hurt that Joe and Bill had gotten to choose the cream of the crop from all the theatrical animation studios that were closing down. The writers were top-notch too, including brilliant Warner Bros. story men Warren Foster and Michael Maltese. Story directors included cartoon veterans Dan Gordon, Alex Lovy and Art Davis.
Voice talent also came from the upper ranks of the industry. Mel Blanc (Barney) and Bea Benaderet (Betty) had worked together on the Loony Tunes, for example, as well as acting for radio. Alan Reed (Fred) was also a strong radio performer, while Jean Vander Pyl (Wilma) had been a television actress on Leave It To Beaver and The Donna Reed Show. Together, this ensemble brought life even when the limited animation struggled to do so. They made their characters endearing despite their foibles. Supporting performances were wonderfully given by Hanna-Barbera legends Daws Butler and Don Messick.
Then there were the Stone Age gags, of course. In The Flintstones, drivers propel cars using their feet, housewives vacuum with little mammoths, frequent flyers ride on giant pterodactyls, and records are played via the beak of a bird. Every episode is peppered with these gags, and they provide much of the charm of the show. It is an amusing notion that even in the Stone Age, people were always looking for devices of convenience to simplify their lives, the only difference between then and now being that the cavemen used creatures rather than electronics.
The real secret behind the success of the show, however, is heart. Watch any episode, and you can see for yourself. The two married couples are hopelessly in love, with their fiery arguments being only brief interruptions in lives that are marked by wedded bliss. Likewise, neighbors Fred and Barney may quarrel, but there is no denying their ultimate fondness for each other. Whatever the wacky plot, no matter the harebrained scheme that Fred is cooking up that week, the show is really about the joy of marital love and the unconquerable friendship between two buddies. The warmth of the relationships makes this a supremely comfortable show to watch, and makes us want to revisit the Flintstones and Rubbles again and again. Okay, it was the same formula that The Honeymooners used, but The Honeymooners is a television classic too.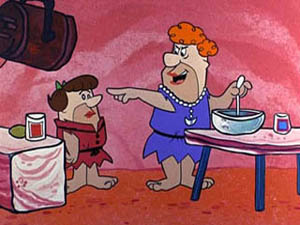 This DVD set includes all 28 episodes from the landmark first season, which I was surprised to realize contained a great many of my favorite shows. (Many credit the influence of storyboard artist Dan Gordon for the strength of the first season.) As is usual for season sets of TV shows, the episodes are shown in airdate order rather than production order. This is a fairly important distinction, as it explains why the look of the show varies so much over the first few episodes. The Swimming Pool was the first one produced, for example, but was held back a couple of weeks since it emphasized the antagonism between Fred and Barney. So, this show ran after the much more polished-looking Hot Lips Hannigan (the second episode to air, but actually the ninth produced).
Those that have only ever seen the syndicated versions of the shows will be surprised to find the original opening and closing sequences included with each episode on the DVD. The syndicated prints only have the later Meet The Flintstones opening where the gang goes to the movies, and the closing sequence at the drive-in. The first season, however, did not yet have the snappy theme song, and the Rise And Shine instrumental opening showed Fred driving through Bedrock. The closing is different, too, although Fred still gets locked out of the house in the end.
Fans of the show will note inconsistencies between episodes, especially when comparing the early shows with what became established continuity later on. Fred's place of employment switches names, Barney can't decide whether he works with Fred or somewhere else, the "Flintstonemobile" is absent during The Flintstone Flyer and replaced by a log car, and the guys are members of the Loyal Order of Dinosaurs (wearing admiral hats) prior to being Water Buffalos (with horned hats). The character models were refined quite a bit during the first few shows as well; check out The Swimming Pool to see variations within a particular episode (e.g. bigheaded Barney's nose changes shape and size, messy-haired Fred combs his hair only for certain scenes). After the first several shows, however, the look of the show was largely finalized. For myself, the designs started out quirky but somewhat grotesque, and became more pleasing but perhaps less interesting. Even the animation quality seems to improve over the first few shows, although ironically I thought that the key posing was strongest in the first couple of shows. I also love the bold brush lines of the inked characters, so much more expressive than the later "Xeroxed" cels would be in future years.
Here is a listing of episodes, with production number and plot summaries. There are no chapter stops.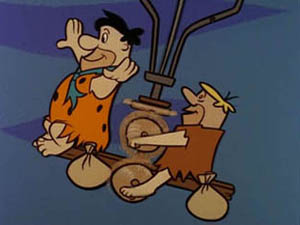 Disc One
The Flintstone Flyer (P-2) – Fred and Barney use a flying machine to attend a bowling match instead of the opera. First "Yabba Dabba Doo!"
Hot Lips Hannigan (P-9) – Fred makes the girls disappear with a magic trick in order to visit a musician friend, but the trick is on him after he becomes idolized as a singing star.
The Swimming Pool (P-1) – Actual first episode. Fred and Barney bicker over a shared pool, while their wives try to force the peace.
No Help Wanted (P-6) – Barney's new job (after Fred got him fired) is to repossess Fred's new TV. Dino's first appearance.
The Split Personality (P-10) – A conk on the head leaves Fred a better man, or so it seems at first. Soon, everyone wants the old Fred back, in order to get rid of "Frederick".
The Monster From The Tar Pits (P-14) – Fred doubles for a star as a movie monster, but finds that stunt work is not all that fun.
The Baby Sitters (P-4) – The boys baby sit little Egbert, but somehow end up with a baby dinosaur instead.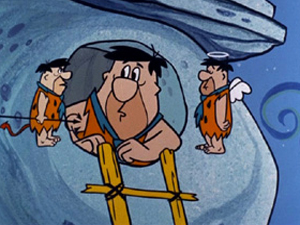 Disc Two
At The Races (P-7) – The boys make a bundle at the track, but have to hide it from their wives.
The Engagement Ring (P-5) – Fred hides a ring for Barney, and Wilma jumps to happy conclusions when she finds it.
Hollyrock, Here I Come (P-12) – The boys join the girls, who have won a trip to Hollyrock. Fred gets stars in his eyes when he wins the role of "The Frogmouth" in a TV series.
The Golf Champion (P-15) – The boys quarrel when Barney withholds Fred's golf trophy since Fred has not paid his club dues.
The Sweepstakes Ticket (P-16) – Great switcheroo episode, with the guys and gals each in possession of a ticket., and one's a winner. But is the winning ticket in the coffee pot or the cookie jar? And which ticket belongs to whom?
The Drive-In (P-8) – Fred and Barney secretly start a restaurant business, and have difficulty hiding cute auditioning carhop girls from their wives.
The Prowler (P-3) – The girls take judo lessons, but Fred plans to teach them a lesson by posing as a prowler himself.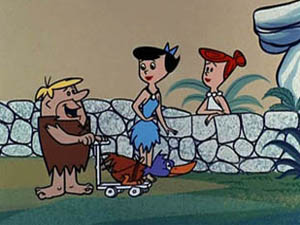 Disc Three
The Girls' Night Out (P-13) – Fred cuts a do-it-yourself record and becomes an unlikely singing star named Hi-Fye.
Arthur Quarry's Dance Class (P-20) – The boys secretly take dance lessons, using Joe Rockhead's volunteer fire department as a cover.
The Big Bank Robbery (P-19) – The guys come into some stolen money, and get mistaken for the real crooks. Their wives go undercover as gun molls to save the day before getting in trouble themselves.
The Snorkasaurus Hunter (P-11) – Fred and Barney go hunting, but end up with a pet instead. The new pet is referred to as "Dino", but Dino had already appeared in earlier episodes. In later episodes, Dino would change color and again lose his speaking voice.
The Hot Piano (P-18) – Wilma gets a piano for a gift, but Fred unwittingly has bought her a stolen one from a fellow named 88 Fingers. Happy anniversary, happy anniversary. Happy anniversary, haaaaaaaaaaaaaaappy anniversary!!!
The Hypnotist (P-17) – Fred's hypnotism shtick fails to impress the girls, but has Barney believing he is a dog.
Love Letters On The Rocks (P-21) – Fred hires a private eye (Perry Gunite) after finding a love letter to Wilma describing as having "eyes like frying pans".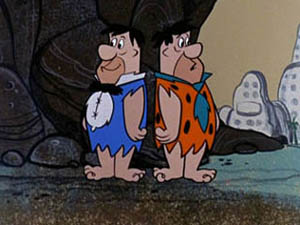 Disc Four
The Tycoon (P-22) – The first "Fred looks like someone else" episode. Fred switches places with a rich businessman, but is frazzled by his fast-paced life. "I'll buy that baby!"
The Astra'Nuts (P-23) – Fred and Barney accidentally enlist with the military, and find themselves reluctant astronauts.
The Long, Long Weekend (P-24) – Fred's old buddy "Smoothie" invites the couples for a weekend at his hotel, but does not tell them that his staff has quit.
In The Dough (P-25) – Betty and Wilma win a spot in a televised baking contest, but the boys take their place, baking a Flint-Rubble Double Bubble cake in drag. Classic.
The Good Scout (P-26) – Fred becomes a scout leader.
Rooms For Rent (P-27) – The girls rent out their spare rooms to young musicians, to the annoyance of their husbands.
Fred Flintstone: Before And After (P-28) – Fred becomes a laughingstock after appearing as the "Before" guy in a weight-reduction commercial. He then joins "Food Anonymous" in order to lose weight and win a contest.
(Supplements on Side B.)
Is This Thing Loaded?
The menus are nicely done, with just enough animation on the main menu to make them interesting without being annoying or taking too long to load. Over the main menu, the show's music and laugh track can be heard, giving the proper ambience. The episode menus are clever, depicting characters from the show watching a television whose image changes to reflect the different episodes as they are highlighted.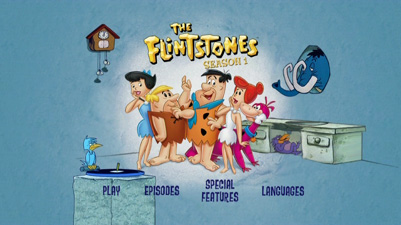 The actual bonus materials are all found on Side B of disc 4 (the first three discs are dual- layered, single-sided). It is a pretty skimpy set of extras, but better than nothing certainly. All About The Flintstones (5:19) promises much more than it offers. This is a fluff piece whose only redeeming quality is that it does have some footage of Bill Hanna and Joe Barbera. There are a few shots in there of Flintstones merchandising too, but it only leaves one wanting much more.
Wacky Inventions (5:42) is even less useful. This is a simple compilation of clips form the show, with a voiceover telling us that we are looking at gizmos from The Flintstones. Does anyone think that even young kids will find this at all interesting?
The Flagstones Pilot (1:34) is the original presentation made to networks in order to sell the show. It features a scene from The Swimming Pool, with early character designs and different voices for the characters. Daws Butler does both Fred and Barney, while Betty's voice is provided by June Foray. (Note that new voice work was given for this pilot when it was presented on the Cartoon Crack-Ups DVD, so this is the first time that The Flagstones is receiving a proper presentation on DVD.) Cartoon buffs will note that Butler gave a similar Jackie Gleason impersonation for The Honeymousers cartoon series, three shorts directed by Robert McKimson between 1956 and 1960 for Warner Bros. The pilot's print seen here was an editor's workprint, so it looks pretty nasty, but it is a terrific inclusion. This pilot was lost for many years, and only discovered a few years ago. Unfortunately, there is no context or explanation for it offered on the DVD itself.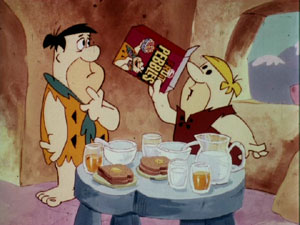 Aside from the Pilot, the only useful extra on the set is the one entitled Original Flintstones Spots (5:20). This has a number of advertisements for One-A-Day vitamins, Fruity Pebbles Cereal (in jerky video with no sound), and Alka Seltzer; also, there are a couple of promo spots with Fred announcing a scheduling change. The video quality is quite variable for these spots, some looking not too bad, and others terrible; still, it is nice to see them included. (There are no cigarette commercials, though. See below for more about these.)
Always looking for opportunities to cross-promote, Warner Bros. offers some Family Favorites trailers for the Scooby Doo and Loony Tunes DVD sets, as well as the current single disc Tom And Jerry releases.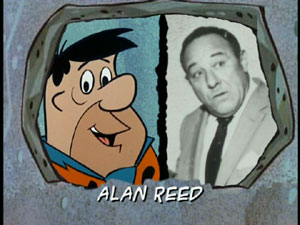 Laserdisc Box Set Comparison
A laserdisc box set was produced by John Kricfalusi and his crew at Spumco in 1997, featuring the first fourteen episodes of The Flintstones and some nice bonus material under a cover drawn by John K. The back cover text, disc-based supplements and magazine-sized 24-page booklet were all done with affection and wit. The booklet contained a great episode guide for the first half-season, further background on the disc-based supplements (including a guide to the animators and their styles), an Ed Benedict interview, and information on Hanna-Barbera.
Unlike the DVD set, the laserdisc set shows the episodes in production order, starting with The Swimming Pool. Some of the episodes even have the option of playing with or without the laugh track! Transfer-wise, the episodes look almost identical to those on the DVD, except with just a hint more grain and slightly more subdued colors.
The second side of the fourth and final disc was reserved for a half hour of supplements. This included the aforementioned Flagstones pilot, as well as a 1955 MGM cartoon by Tex Avery called The First Bad Man, narrated by Tex Ritter. This "Texas cavemen" cartoon was designed and laid out by Ed Benedict, who had similar responsibilities in designing the world of The Flintstones. Next, the "Lost Titles" are shown, although they are also used with the individual episodes.
A major portion of the extras is the selection of commercials and opening/closing pieces that tied into sponsors. There are a total of 4 spots for Miles Laboratories (One-A-Day vitamins), 2 for Carnation Evaporated Milk, 4 for Welch's, 1 for Kitchen Rich Cookies, and 4 for Winston cigarettes. The cigarette ads seem to be of greatest interest to collectors, and are a noticeable exclusion from the DVD set, although of course they may yet appear on future volumes (but I think it is unlikely, given how the DVD sets are marketed to families, to an extent, while the $125 LD box was definitely for adult collectors). The ads depict Fred and Barney getting away from their wives and their chores in order to take a few drags off their Winstons. Obviously, this type of commercial tie-in just would not be done today, and in fact Winston was removed from being a sponsor once someone realized it was not such a great idea for a family show.
There are two clip compilations called "Meet The Animators" and "Meet The Voices", showcasing the respective works of these creators. Next are dozens of still images of toys and printed material that came out of early Flintstones merchandising. Ed Benedict's model sheets with instructions are presented in "How To Draw The Flintstones". Lastly, some Pencil Tests are shown.
When the DVD set was first announced, I was tempted to sell my laserdisc box, as it was going for good money on eBay for a time. I am glad that I did not, though, since it is a classy package; and, as should be apparent by now, the laserdisc set's bonus material was quite superior to the DVD.
Case Study:
The four DVD's are housed in a fold-out digipack, complete with episode listings, nice artwork and some Flintstones trivia. The digipack itself slides out of a clear plastic slipcase. The result is that a full-color image of the characters on the slipcase is superimposed over what looks like a pencil drawing and layouts, providing a neat cel-like effect. It looks quite snazzy, although I found the plastic case a bit tight initially. It loosened up a bit after taking the digipack in and out a few times. If I had another criticism, it is a lack of airdate information or production order information. Overall, though, this is a spiffy looking package.
Ink And Paint: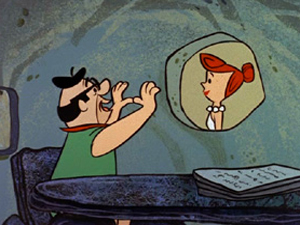 The folks working on this release have done a fairly nice job of cleaning up these cartoons as much as possible. On the whole, they look quite nice, with the worst defects being the smudges that I suspect were original to the filmed cels. Occasionally, there are the odd dirt specks or scratches, and some episodes have a bit of edge enhancement haloing or light grain, but never enough to truly distract the viewer. For cartoons over forty years old, these look very nice.
Scratch Tracks:
The audio comes with three flavors, all in mono: English, Quebec French, and Spanish. Each track sounds clear as can be, and suits the material just fine; there really would have been no point in creating false "surround" mixes. The shows sound almost as good as if they had been recorded yesterday. Subtitles are available in the same three languages as the audio. Regrettably, there are no audio commentaries.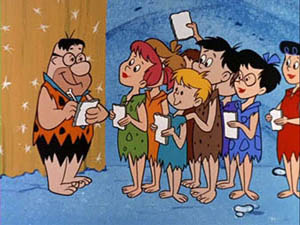 Final Cut:
This may fall short of being the ultimate Flintstones collectible, but it sure is nice to see the shows on DVD. Do not worry about what is not here, just enjoy what is: a complete collection of all the episodes from the first season of a classic TV comedy and milestone animation series. If you wish to know more about the show, you will have to read a book, because this set was not designed to educate. Speaking for myself, I already have plenty of animation books, so I am just extremely pleased to have this wonderful series coming to DVD in season sets, with decent video and audio. Whether a lifelong fan or a curious neophyte, this set is highly recommended.
Animated Classic or Back To The Drawing Board?