First National Pictures/Twentieth Century Fox (June 22 1925; July 13 1960), 20th Century Fox Home Entertainment (September 11 2007), 2 discs, 75 and 96 mins plus supplements, 1.33:1 original full frame ratio; 2.35:1 anamorphic widescreen, Dolby Digital 4.0, 1925: Not Rated; 1960: Rated G, Retail: $19.98
Storyboard:
Sir Arthur Conan Doyle's classic boys's own adventure of mysterious lands and preserved prehistoric life is brought to the screen in two vastly differing feature film versions.
The Sweatbox Review:
An well worn truism often repeated by visual effects artists and animators is that it was the stop-motion work of Ray Harryhausen – usually the skeleton sword fight in Jason And The Argonauts – that inspired them to break into the business, but the man who inspired Harryhausen himself was Willis O'Brien, whose pioneering dinosaur animation has come to disc as part of Fox's ongoing line of Irwin Allen releases.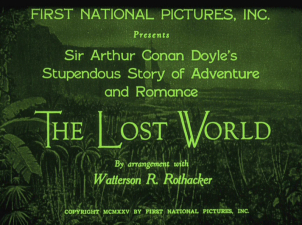 O'Brien had started out as a special effects animator and had always been drawn to recreating prehistoric life on screen. The Dinosaur And The Missing Link; 10,000 Years BC and Prehistoric Poultry all led the path, among others, towards The Lost World, which became a spring board for him to launch into making his own epic, Creation, in 1931. That film was never finished, though many of its ideas were incorporated into a giant ape-starring classic and its sequel just a couple of years later. O'Brien's well earned success from that bit of monkey magic could all be traced back to what he had learned from the first feature film to bring dinosaurs to life using puppet animation: 1925's special effects filled The Lost World.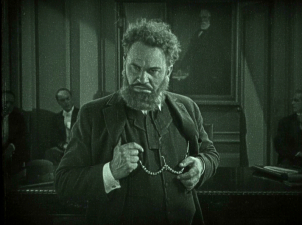 Aside from the tinting and accompanying music, the fact that The Lost World is a black and white silent movie means absolutely nothing: this is a gripping account of Conan (Sherlock Holmes) Doyle's novel with a strong central performance from probably the biggest name to have survived from the cast list over the years, Wallace Beery. A writer-director-actor, Beery had been a star for over ten years before appearing in The Lost World, and would go on to famously win the Best Actor Oscar for The Champ (1931, opposite future Perry White, Jackie Cooper), a role that would validate his move to talking pictures where he would fill out such characters as Long John Silver and PT Barnum, among many others, working each year of his life until he died in 1949. As Professor Challenger, who comes back from the Amazon with amazing tales of dinosaurs and a missing colleague, Beery is as theatrical as the silent format asked for, but no less equally riveting.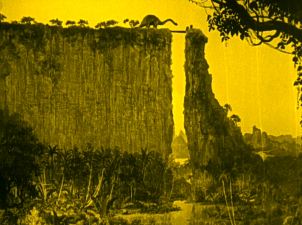 Willis O'Brien's effects shots are sublime…it's hard not to dream of the reaction they would have gotten from 1920s audiences, which I wager would be akin or even more startling than how we acknowledged today's Jurassic Park dinos. He brings real character and personality to these creatures and gives them repeated moves (not recycled, but repeated) to burn them into the audience's subconscious: we know the T-Rex looking beast is one to keep away from due to his jumping on the Brontosaurus' back to attack. Integration is marvellous too: decades of being exposed to how such tricks were achieved does nothing to dim the magic, and though the split-screens may be obviously placed, you'll never "see the join" as they say, and these moments remain breathtakingly suspenseful.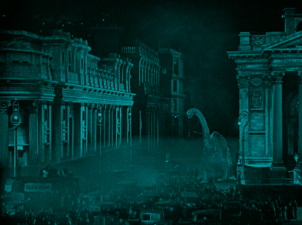 O'Brien would, of course, go on to create a true legend, the mighty title character in 1933's King Kong, before practically re-making that picture in the guise of Mighty Joe Young in 1950, on which a certain young Mr Harryhausen assisted O'Brien, and another groundbreaking and hugely influential career was born. The Lost World, with a dino loose in London climax pre-dating Kong's own big city rampage and that of Spielberg's T-Rex romp in the poorer Jurassic Park sequel (little less than another remake), is a terrific slice of hokum, and even if it doesn't inherently stick to the most accepted rules of science fact, is heartily recommended as the true birth of adventure fantasy blockbusters on screen.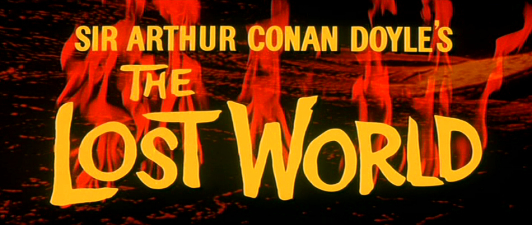 Less inspiring, and certainly more broad, is the 1960 version of the same story, ostensibly the real reason this set has seen release, produced by Irwin Allen in the days prior to becoming the well known "Master Of Disaster" of The Poseidon Adventure and The Towering Inferno before later backing true disasters such as Beyond The Poseidon Adventure and the unintentionally hysterical, has to be seen to be believed The Swarm. Here he's riding on the back of Twentieth Century Fox's fascination with CinemaScope adventure films of the time. With the success of Walt Disney's Jules Verne adaptation 20,000 Leagues Under The Sea in 1954, Fox was especially keen to jump on the bandwagon and attempt to catch the same lightning two, three, four or more times.
The intention was to draw more people to their wider screens: CinemaScope required spectacle, and a slew of similar to Leagues pictures included more Verne (Journey To The Center Of The Earth and Five Weeks In A Balloon among others from competing studios) and this Lost World, the first of many that Allen would oversee – Voyage To The Bottom Of The Sea was right around the corner – for Fox before moving into major television success and then bouncing back to movies to almost single-handedly create the disaster movie genre.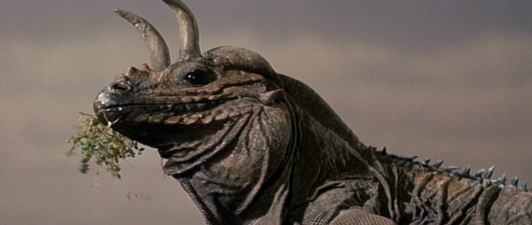 The Lost World of 1960 is as good and bad as Allen's productions would be over the years, and is chiefly remembered for the terribly faux dinosaurs, here rendered as basically magnified lizards with glued on horns and scales. Willis O'Brien this ain't, you might be ready to shout, but in fact O'Brien is listed as Technical Director, an unfortunate end to his otherwise celebrated working life that saw him disheartened in this movie's chosen process that was apparently deemed more realistic than how he had masterfully brought the dinosaurs to life 35 years before. He'd suffered the personal tragedy of losing his two sons and wife during the making of The Son Of Kong in 1933, and though he married again in the interim, two years after his second Lost World he suffered the heart attack that ended his life.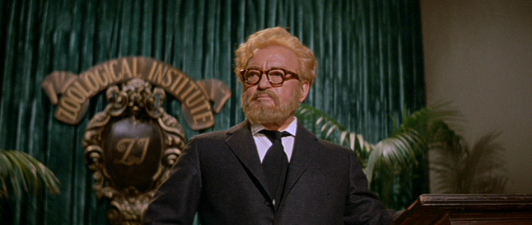 This all aside, it has to be said that, obvious or not, there's a bit of a kitschy kick to be had out of all this and, like the later One Million Years BC, all the over acting and cheesy effects are perfectly in keeping with the plainly obvious Saturday morning matinee tone that Allen – also serving as director – is going for. That he would go on to plunder his own library for stock footage on his television shows means you've probably already encountered some of these scenes in various alternate configurations! The movie also becomes soundstage bound and bogged down in its second act, but there's still an infectious charm to it. Again the actor filling the role of Challenger – this time original Invisible Man himself Claude Rains – is the best of the marooned bunch, though others that join the quest include Michael Rennie, Jill St John, David Hedison, Richard Haydn and the era's "TV beauty" Vitina Marcus, as a Raquel Welsh-styled native girl.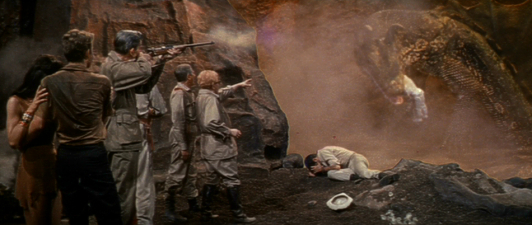 If you can discount brontosauruses that look more like giant lizards without the long necks (hey, even Allen wasn't that brutal to his animal stars) and the lack of a dino running amok in the city (an ending which goes AWOL here), then you should have an enjoyably campy time. It's probably best not to think of these creatures as the dinosaurs we know about today, and more like they're products of an alternative evolution. While it takes a fair while before we meet these prehistoric curios, The Lost World presents a typically bubbly 1960s take on the material, and while they may have gained the reputation of being famously fake, the dinos never look cheap and the production has a bright gloss that just about guarantees a good excuse for a schlocky night in!
Is This Thing Loaded?
The biggest and best "extra" here – given its own platter (Disc Two) – is of course the 1925 version, though I am a little confused. Originally released at well over 100 minutes, the success of the film soon brought a request from First National for an almost immediate sound remake. National ordered that all release prints of the silent edition be withdrawn and destroyed, leading to the only surviving version running just over an hour. Over the years, restoration has seen new cuts of varying length, though Image Entertainment brought together as many as eight different sources (and used some footage from other, similarly vintage films) in 2000 to present a "90% restoration" of 93 minutes (available in a very nice edition of its own).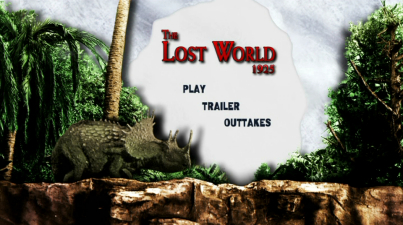 By comparison, the finest restoration has been said to be the George Eastman House effort of 1998, unavailable until now but supposedly almost complete, approaching the original running time at 100 minutes. However, while it is clear from the onscreen notices that Fox have been able to use the Eastman edition here, the film clocks in at just 75 minutes, which is where I was slightly at a loss. There is some talk about frame rates and such at the top of the disc, and while nothing seems to be moving too fast, I would suggest that this transfer has been made at 24fps instead of the usual silent frame rate of 18fps. My judgment on why this is may well be down to wanting to present the film in progressive mode, rather than having to convert it to interlaced NTSC video that would be required for an 18fps speed. Given the footage length of The Lost World, the same 75 minutes, run at the slower 18fps, would indeed correctly run to the exact Eastman House figure of…100 minutes. Though this does explain the "missing" minutes, checking the movie back again with this in mind, it's now clear that movement is slightly too fast and that we're essentially seeing a film projected back faster than the intended 18fps.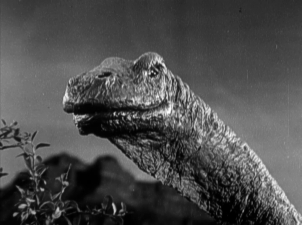 However, it's a very welcome "freebie" in a fun two-disc set, and even comes with a couple of bonuses of its own: a reconstructed silent trailer that plays up the "stupendous story of adventure and romance", and seven minutes of Willis O'Brien outtakes from the movie. These range from animation tests (including a way to convey the animals' breathing), close-up shots either trying out personality expressions or actually cut from the film, and even a couple of mistake shots in which O'Brien pops into the scene for a frame or two! Presented untinted and silent, these sequences remain just as fascinating as the movie, though the Image disc bests it by including a few minutes more material. The Lost World feature itself benefits from an organ performed score by Philip Carli, which highlights the drama and excitement much more suitably than other tracks that have attempted to do the same, coming over as big and brassy in some scenes, and light as strings in others.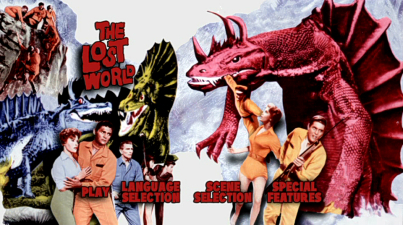 Back to Disc One, and Irwin Allen's version of the tale isn't skimped on either. Recently Fox has seen fit to reissue a number of Allen properties, including the above mentioned "Master Of Disaster" pictures, as well as a number of TV shows (Time Tunnel, Lost In Space, Land Of The Giants) and earlier films, like Voyage To The Bottom Of The Sea and this one. So far, they've all been fairly feature packed with interviews and commentaries but, bonus 1925 movie aside, The Lost World doesn't get quite so much, limiting the package to a very short promotional featurette that looks at real life dinosaur discovery and the film's story, a Fox Newsreel clip that has a glimpse of a kids premiere screening, and the theatrical trailer in anamorphic widescreen.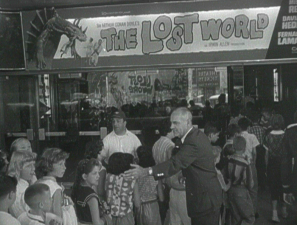 Best of all – as Fox has started doing more and more – is the interactive pressbook, an onscreen reproduction of the original press materials with selectable sections available for closer inspection. Someone goes to a lot of trouble to create these things, and they're well worth scrutinising. An additional stills gallery rounds things out with a look at production photos, concepts, posters and, most fun, a slideshow presentation of a comic book version of the movie that's slightly too small to read but gives a good representation. While other studios regularly get plaudits for treating their catalog titles with care, more attention should be handed towards Fox for coming up trumps even on B-movie fare like these Allen pictures. Excellent.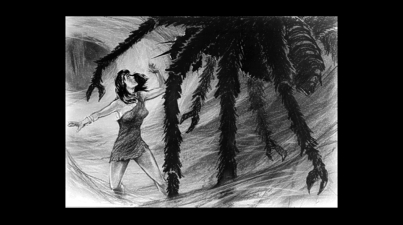 Case Study:
As part of the Cinema Classics Collection, Fox presents this two-disc edition of The Lost World in a deluxe cardboard cover which houses the keepcase with distinction as opposed to just being a straight outer slipcase. Though the artwork is consistent between them, it's not an exact duplication, which makes the idea of the outer cover more appealing. Inside, there's a promotion to save on other Allen TV titles, and a booklet that outlines details on the original film and its remake, oddly crediting the Image disc's David Shepard instead of Eastman House for the 1925 restoration. The disc art is appropriate for both editions…not overstated, though very nice.
Ink And Paint: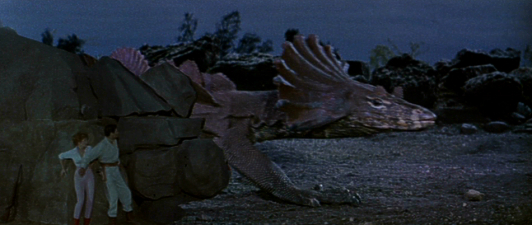 The vitality of the 2.35:1 CinemaScope image of the 1960 film is rightfully presented intact, and further reason why Fox should be applauded for mastering their material in such a way that retains the original intentions. While the "dinosaurs" look good for the actual creatures they are, the matte lines in some other areas are plainly visible. These are dated – but still fun – visual effects, and in Fox's lively transfer there's nothing major to fault here.
The 1925 feature is likewise in exceptional shape given its age and history. Reconstructed from several sources, the switches between them are fairly transparent, and the image is overall remarkably stable even when blown up to projected dimensions. There are a fair amount of hairline print marks, but they're soft and non-intrusive, while even some missing frames that mean a few jump cuts here and there are forgivable; hardly noticed once the viewer finds themselves engrossed in the plot. The color tinting is appropriate and the image has a surprising sharpness that even allows for the texture on O'Brien's models to be seen. Fantastic.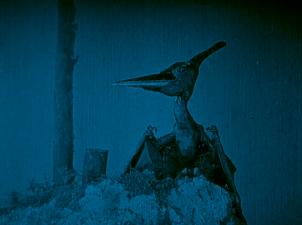 Scratch Tracks:
The 1960's Surround track version utilises the four-channel Stereo mix from its original theatrical engagements, and packs a fair punch (and a terrific roar!) for a 4.0 track of its kind. An alternate track contains 2.0 English, while French and Spanish dubs, and English and Spanish subtitles are also included. The 1925 organ accompaniment sounds nice and warm, well recorded. The silent film's intertitles are obviously in English, though there are no subtitled translations.
Final Cut:
The reason to really own this is for the 1925 The Lost World, with the cheesy 1960 remake the fun bonus. This edition features the closest reconstruction of the movie to its original length without resorting, like the Image edition, to filling in shots from other non-specific sources. The frame rate might irate some who feel it should run to 100 minutes, but this is certainly cheaper than the Image disc and contains a few nice features of its own. Even the remake is a fun – there's no other word for it – outing, which can be enjoyed on its own terms. Though ironically the 1960 version feels more prehistoric than O'Brien's 1925 epic, for under $15 online you can't really go wrong here.
Animated Classic or Back To The Drawing Board?