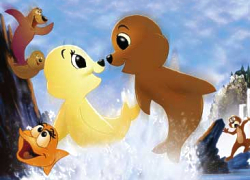 A fair old while ago, I mentioned the good news that the independent distributor Indican Pictures had made arrangements with animator-director Phil Nibbelink to secure his self-made animated feature, a retelling of the Romeo And Juliet story with seal stars, on DVD. That release just came out in July, and I've been itching to post my thoughts on it…but not until we'd heard from director Nibbelink himself!
Phil somewhat famously wrote, directed and animated every frame of Romeo & Juliet: Sealed With A Kiss himself, pulling in friends and family members to voice the characters. Made for just $2m, Nibbelink should be congratulated for putting his money where his mouth is and setting out on a one-man mission to keep traditional animation alive.
And we want to make a bit of a fuss about it!
So first up, you can catch our own Josh Armstrong's exclusive interview with Phil Nibbelink himself, where he describes the pain, torture and exhilarating challenge of quite literally hand crafting a full-length animated feature, from scratch, over almost five years. The result is a charming little outing with primary character animation that's as good as you would expect from a top-notch Disney animator. The story, adapted from Shakespeare's original, isn't quite as strong, but although it's been made accessible to kids, a fair few darker moments from the play remain and it certainly has sincerely dramatic and heartfelt moments.
For the total skinny on the movie, and the disc itself, I've posted my take in a full DVD review, which notes that, while not perfect, Sealed With A Kiss is a lot better than some of the more mainstream efforts making the rounds. Indican's handling of the material leaves a little to be desired, but ultimately the release is well worth your time and truly deserves our support. Kudos to Phil on this amazing achievement, and I'm sure you'll join me in wishing him all the best for whatever he attempts next.
Enjoy the weekend, and stay tooned! – Ben.