Various production studios (1931-1971), Thunderbean/Mackinac Media (May 2 2006), single disc, 108 mins plus supplements, 1.33:1 original full frame ratio, Dolby Digital 2.0 Mono, Not Rated, Retail: $14.95
Storyboard:
A wacky selection of "rare, lost and strange cartoons" featuring a wealth of vintage material, much of it never before seen outside the film collectors' market and often transferred from the only known 35mm and 16mm copies to have survived.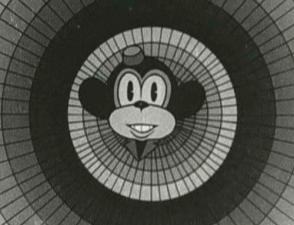 The Sweatbox Review:
Though the outer packaging doesn't really mention it, this is the first volume of an intended series that will mine private collections for such unusual animated one-shots that would normally turn up as extras on other discs if they weren't so out there. While bigger companies have found a niche market for their big name characters on home video, there's a whole range of shorts and films out there, either fallen from copyright and therefore of no interest to those big companies who would see little or no return on an investment to put them out, or the forgotten films that many don't even realise still exist…films produced by leading industry veterans after their big studio contracts dried up, or indeed by them moonlighting on the side for commissioning clients. Sick and twisted? You ain't seen nothing until you enter the world of Steve Stanchfield's Cultoons!, dedicated to bringing you these most off the wall shorts from animation history!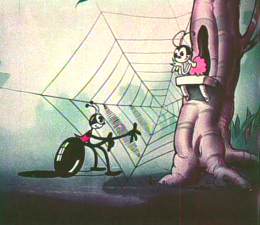 Mendelssohn's Spring Song (1931, 5:40) begins the exploration with a barnstorming entry by effects legend Cy Young made to promote the two-strip Brewstercolor system. In fact, it's said that this was the short that brought him to Walt Disney's attention and kick started his long career at that studio. After the success of the Silly Symphonies, many other companies followed suit, often merging the word "cartoon" musically with "tune" or playing with other musical terms to come up with Merrie Melodies and the like. This one is the first and only from a planned Jingles series, and one can see why it garnered Young praise: it's elaborately animated, with many inventive ideas that give it a surrealistic edge that was missing from many other of the Symphony imitators.
Monkeydoodle (1931, 8:18), created by sports cartoonist turned animator Les Elton, is a bizarre short that obviously has some sort of mixed up history since the version presented here was comprised of no less than four different print sources, even including some short silent passages where the sound prints had been cut. Seemingly trying to introduce Simon The Monk as a star – he even gets an animated title card treatment – this is a tremendously detailed picture, often feeling like the early solo work of Ub Iwerks. There's some good perspective animation touches, angled shots and character animation that really brings Simon and his hound opposite to life realistically for cartoon interpretations of their species, even if the bonkers plot throws almost everything into the mix!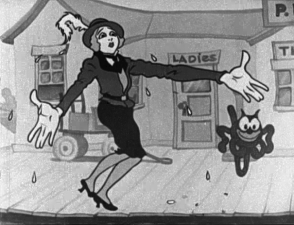 The Hobo Hero (1935, 7:58) is another Elton effort, less crazed in its visual ideas but just as screwy with its narrative. A seemingly un-connected stream of gags, this features the deadpan, Keaton-esque Piccolo Pete, whom we find riding the rails and coming to the rescue of a trapped pooch. Though the animation is fluid – the result of some obvious rotoscoping – and the design is as detailed as Monkeydoodle, this particular Elton piece lacks its solid timing and staging, and the surrealistic elements just come over as being too bizarre, and after the admittedly exciting railway track rescue the cartoon breaks down in interest and simply becomes too strange to describe.
Kool Penguins (1935, 7:40) is the first commercial in this collection, announcing the arrival of a fun bunch of cartoon penguins who were intended, and would become, major mascots of the Kool Cigarette Company. As with the later PM Picnic in this collection, it's films like this that really show how animation was essentially part of the adult culture back then. This would have been shown during a program for mature audiences in theaters, who would have lapped up cartoons just as much as a sophisticated comedy short or a newsreel, a far cry from today when companies are doing their best to cut smoking from family films and going as far as digitally altering children's animation to remove traces of cigarettes. Despite being promotional, perhaps it was that fact that meant it had money spent on it: Kool Penguins certainly looks as good as any other cartoon of the time and it's clear to see why smoking became the in-thing to be caught doing.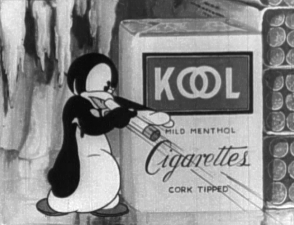 Winder Bakers At The World's Fair (1939, 3:36) puzzled me until I realised these were the only known remaining fragments of a longer production, and one that might have featured live-action sequences, according to the liner notes, or perhaps a live stage narration. While there's not much else to talk about with this one, it presents a fun look at the ingredients that go into making a yummy loaf of Slo-Baked Wonder Bread.
Ford Service Commercials by Dr Seuss (1950, 4:08) are quite a find, written and designed for the motor company by Ted Geisel and animated at the UPA studio, then a rising force in limited animation that would find a home both in theaters and on television. These are quite a pointer to the work we know from both of these entities, from the Geisel/Seuss' Whoville designs and wordplay to the limited animation style that UPA would make their own. Each running just over a minute, we're offered four samples here.
Animated Theatrical Commercials (1940-41, 7:10) are by no means "more of the same" as the Ford ones, as these were always intended to be shown in movie houses before the main feature. A compilation of spots for Coca-Cola (Pebble Punch, 1:40), Shell Oil (Cops And Robbers, A Squirt In Time and The Oilympic Games Endurance Relay, all 1:20) and Brookfield Butter (A Date With Kate, 1:20), these short shorts display all the hallmarks of the work of Cartoon Films, the company set up by Ub Iwerks, and until the hard sell comes out of nowhere around the halfway mark in each set up, audiences would likely not realise they were watching little more than a commercial! Especially fun is Coke's Pebble Punch but all of these Technicolor advertisements make plugging their wares particularly entertaining.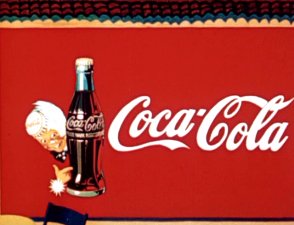 Korn Plastered In Africa (1931, 7:13) has a title that pretty much tells you all you need to know! Created by "Scarfoot" McCrory, and featuring children's radio host "Uncle Don" Carney, this is one straight nuts cartoon, a spoof of Trader Horn that takes place in darkest Africa. Full of cycles and a lack of narrative structure, this just doesn't really work on any level, like a stream of consciousness where even the lead character is mostly relegated to just the soundtrack. Even surrealism needs a theme, but this one is just too wacky and not in a good way, though has to be seen to be believed. Just what was that about!?
PM Picnic (1948, 6:51), like the Kool Penguins, pushes the boat out to use an animated cartoon aimed squarely at adult eyes. This promotion for PM's Whiskey was apparently produced for storeowners, which seems a terrifically long-winded way to go about making your product seem "cute". The film resembles one of David Hand's Animaland shorts, with a little bee all a-buzz at the prospect of the clear clean taste of the deluxe whiskey, but even as a commercial endeavor this feels disjointed and seems to only serve to introduce the little fluffy bunnies and forest creatures that would be used in the print ads for the drink.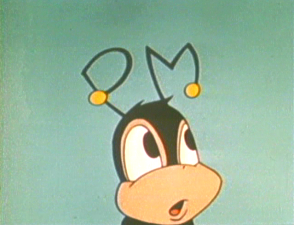 Toddy Commercials (1952, 2:20) are exactly the type of programming one would expect in coming to a Cultoons! disc on commercials, and very much the kind of advertisements commonly shown at drive-ins and on television in the 1950s. "Yes, see how better that pop corn tastes with Toddy Chocolate Drink, delicious cold or hot!" assures the narrator in these part-animated, part-cheesy live-action pieces that run around 50 seconds a pop. Probably the most in need of help in the sound department, the image on these also suffers from a heavily interlaced or digitised look, so thank goodness they're nothing more than short curios.
Monsters Do Have Their Place (1971, 0:48) is the most recent inclusion here, and an interesting one at that, looking like a plea from the movie theater chains to try and encourage the audience to help prevent the burgeoning pay TV industry draw away their business. Short, with mainly still framed rostrum camera animation, this is particularly of its time given the way paying for one-off events and downloads have today become the norm.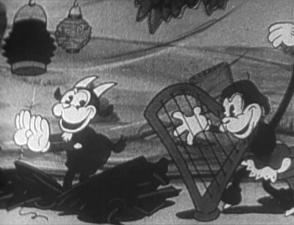 Goofy Goat (1931, 7:50) is a black and white print of an originally two-strip Technicolor short – sometimes credited as the first sound/color cartoon – and a clear attempt by producer Ted Eshbaugh to launch a series character. Easily the most fully rounded "cartoon" in this collection, it was also known as Goofy Goat Antics in later rental release (from which this print derives) when it must have become obvious that no further Goat cartoons would be forthcoming. That's a shame, since Goofy Goat seems to have a playful sense of humor ("Get out of the way, you road hog", he yells to a pig passenger in the car in front) and Eshbaugh comes up with some very amusing business. The format of the short allows for several different settings and what would have been effects moments to show off the color, in which this would be fantastic to see, though the lack of this doesn't take anything away from the enjoyment and this is probably my favorite of the titles included here.
No Fare (1935, 7:03) is most certainly another attempt to launch a series, this time for conductor Goofy Gus And His Omnibus, and comes from a distinguished pedigree of artists that were or would later be found working for the biggest animation studios in Hollywood. Unfortunately there is not much else known about this short, and even the director cannot be confirmed, but even if the animation is skilled, there's just not enough else going on with the plot or characters to engage an audience. Despite the hyperactive soundtrack it's a surprisingly slow and drawn out cartoon, without a clear resolve, and obvious as to why there were no more trips for Gus and his bus.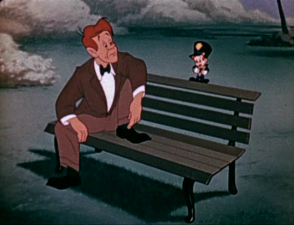 Easy Does It (1948, 31:15) is by far the most accomplished – and the longest – film on this disc, coming in at a healthy featurette length. Although commercial in design (for Stokey/Van Camp Foods), this Hugh Harman production, made after his split with MGM and Rudy Ising, looks every bit as good as his earlier work, though has a little difficulty completing the task of telling the story with it never particularly feeling like we are being sold something. But it's finds like these that really make these collections more than worthwhile, and this one is pure gold, a wonderfully animated, marvellously entertaining cartoon that plays like a paean to the Mom 'n' Pop stores of small-town America. Genuinely heartfelt, and by turns excitingly fantasist and struck with a cold realistic streak, there's a nice emotional message buried in the story as well as its required push for the food brand. Lengthy live-action central segment and hard sell aside, this is almost as good as a 1940s Disney special or segment from one of the Package Features, and a very good choice for this collection of Cultoons! to go out on a fine note.
Is This Thing Loaded?
Although Steve Stanchfield's collections have always been top-notch affairs and presented as professionally as any studio release, his Thunderbean Animation titles have stirred the interest of independent distributor Mackinac Media, who have shelled out for even better cover print and disc pressing, so this current batch look and feel better than ever. The actual contents, save for some corporate branding, remains the same from Thunderbean's own DVD-R versions from not so long ago, so those with that set of discs need not upgrade here unless they want to feel the extra security from having a silver mastered disc instead of a burnt one and pro-printed packaging.
The on-disc extras are plentiful, with the entire program playable in one sitting, or by selecting each cartoon, which brings up an additional introductory screen with some background info before the cartoon plays. In some instances, these pages also highlight the available Audio Commentary tracks on selected cartoons. These feature such names as Mark Kausler, Jerry Beck, Milton Knight, Stephen Worth, Mike Kazaleh and Stanchfield himself, discussing Monkeydoodle, Spring Song, Goofy Goat, the Ford Service Commercials and PM Picnic in various participant configurations. It's great to sit in with these guys as they are both a wealth of information and in cases newcomers to some of the cartoons. Hearing them sprout facts and figures about the titles and their creators, or just hearing their obvious enthusiasm – and bafflement at some of the crazier entries – reminds me of why I myself love writing about animation.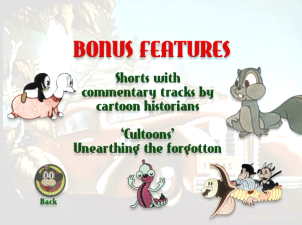 Also on offer is a detailed text essay, Cultoons: Unearthing The Forgotten, written by Steve Stanchfield and concentrating on how he personally got into film collecting, his adventures in putting out the original tape transfers and his pleasure at being able to source even better prints and produce more refined transfers and presentations for these new discs. These notes make for fascinating background reading on how we are able to experience these films, as well as a little on the man who has been the driving force in making that possible.
Case Study:
The design of the Mackinac-distributed discs change very little from Thunderbean's originals, merely adding small logos on the back and changing the overall branding line from the Animation Classics Collection to The Golden Age Of Cartoons banner on the front. Great is the four-page color liner notes insert (possibly a benefit of the Mackinac deal since these don't appear in Stanchfield-only issues), which have description outlines of all the shorts different to those found as text screens on the disc itself.
Ink And Paint:
As always, Stanchfield has ensured to transfer this rare material to maximum effect, windowboxing the prints so as not to lose any image information, and presenting all the films in their original ratios, one even in its intended 1.17:1 aspect. Print quality varies overall, of course, given the nature of the age and history of the elements, but the very best as been done here to deliver an authentic picture, with restoration work carried out where needed, such as splicing in segments from alternative prints to give us as close to a full version as possible on these very early, sometimes neglected films. The only thing that slightly becomes objectionable is a small copyright notice (though buried in the lower windowbox bar) that verifies the donating collector and Thunderbean's restoration credit (sometimes at least twice during a short), which otherwise appears on another entry at the end as a much cleaner text credit of its own.
Scratch Tracks:
With such material lucky to have survived at all, we can't be too picky on the audio quality of these tracks, though anyone who makes any complaint about the fidelity here just doesn't know what they're talking about. Dynamically, everything is fixed in the mid-range, but this doesn't stop the audio sounding full and the various orchestras plugging away never sound too fuzzy or filtered. And these are the originals, too…no added effects that stick out like a sore thumb!
Final Cut:
As someone who loves to put on a show and share material with audiences myself, I've great respect for anyone who goes the whole hog in putting together collections like these and can very much appreciate the time and energy they take. And that the end result, complete with the kind of menus that such series as the Disney Treasures and Golden Looney Tunes would be envious of, is as good as anything else out on the market prove that Steve and his Thunderbean collaborators have pulled off a great service to animation aficionados by hauling these films out from private collections and making them much more widely available. While the occasional title here might satisfy younger viewers, these kinds of discs are ultimately not for children, though us big kids everywhere will get a big kick out of 'em!
Animated Classic or Back To The Drawing Board?