Various production studios (1927-1956), Thunderbean Animation (first quarter 2007), single DVD-R disc, 108 mins plus supplements, 1.33:1 original full frame ratio, Dolby Digital 2.0 Mono, Not Rated, Retail: $14.95
Storyboard:
A second helping of, as the packaging suggests, "rare, lost and strange cartoons", featuring a host of early animated information and safety curios.
The Sweatbox Review:
Steve Stanchfield's Thunderbean bounces back with more from collectors' vaults from around the world, presenting here several oddities often from the only known 35mm and 16mm prints to survive the years. Steve's never ending quest to bring us rarities even the biggest studios couldn't pull together has been an ongoing concern for him since releasing his first VHS titles under the name of Snappy Films way back in 1988, quickly becoming known for offering well above average transfers of many hard to find titles. These same collectors are helping Stanchfield again to remaster these prints for even higher quality DVDs, and the Cultoons! series, originally among the earliest tape titles, ran to four volumes between 1988 and 1993, so we're hopefully going to be enjoying them for a good while to come.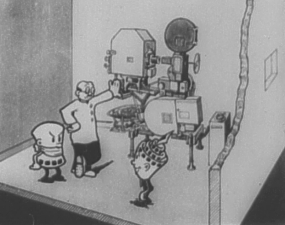 Finding His Voice (1929, 10:38) kicks off this collection, dubbed Animated Education, with an exploration of the sound recording and reproduction process. What's doubly amazing, apart from the quality of this Fleischer Studios commission for Western Electric, is that this exact same process is still being used today as a way of reading film soundtracks in the many theaters that have yet to covert to digital exhibition. This is a simply brilliant cartoon, for a variety of reasons: it's complicatedly drawn to the Fleischers' high standards and features a clear description that may well have gone over audiences' heads in the late twenties but makes fascinating viewing today. There's a clever touch, a filmstrip that becomes our cute lead, Talkie, and the lecturer's dry narration is the first time I think I've come across actual flubs in dialogue in animation that were not removed from the soundtrack. I'm assuming this is because the somewhat freefall reading was conducted in one take, making Finding His Voice the even more unique.
A Desert Dilemma (1930, 1:55), comes next, animated by Cy Young, here credited as "Sy". Odd and fairly nonsensical – it doesn't really get its insurance company message across – this short commercial displays many of the standardized caricatured and anthropomorphised people and vehicles of the time, and though it looks to have possibly been made with sound, this transfer comes from a silent print, with a crisp, authentic music track and spots added for effect.
Family Album (1930, 10:06) is a sequel of sorts, or at least a follow up, to Finding His Voice, seeing the return of Talkie the soundtrack filmstrip after we've been exploring his family tree by way of his ancestor, the talking telephone, or Tel E Phone as he's playfully credited. Again created for Western Electric to promote their audio achievements, the film wasn't animated at the Fleischers' this time around, and counts Paul Terry among the crew. The cartoon is simpler to look at, more static and drags more, even though it's not a lecture like the earlier picture and there is actually greater character interaction and more going on. Though there are several animation shortcuts taken here as opposed to the Fleischers' non-skimped on approach, it remains enjoyable enough and does contain one great title pun.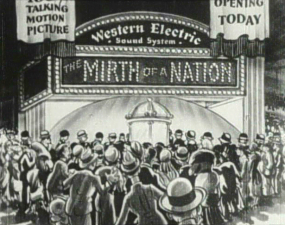 Out Of The Milk Bottle (1928/30-34, 5:51) has a title surely inspired by the wildly popular Out Of The Inkwell series, and was also released under the auspices of The American Dairy Association as Skinny And Husky In A Day At Coney Island. The apparent long production time actually refers to a sound reissue that changed some footage and added extra shots, which is the version we get here, with its original soundtrack even though voices are barely synchronised. Produced (cheaply!) by Jam Handy for Sheffield Milk, this is a commercial masquerading as a short, though none the less entertaining for it. The message is, naturally, to drink your milk, presumably of the sponsoring manufacturer's kind, and it's conveyed by having the one lone kid who is always tired and never joins in the fun on a trip to Coney Island, eventually pepped up and sprightly after gulping down the white stuff (yep, I'm sure that's not just a euphemism either)!
See How They Won (1935, 6:01) is a terrific Ub Iwerks cartoon that displays his trademark bats, elaborately drawn backgrounds and penchant for rhyming voiceovers. This one has one John Careless (a cousin of the early Elmer Fudd?) not looking after his health and therefore falling prone to the illnesses of Captains Influenza and Sorethroat. The animation is full and fluid, possibly the best looking of the titles here, which should come as no surprise given Iwerks' reputation. Rumor persists that it was originally created in color, and the strong artwork certainly supports that notion, with some fantastic effects animation and an epic battle between the Germs and the Health Service to close the picture out. Created for Boots Chemists, the only thing that mars this print is a lack of main titles or original end credits, though that doesn't take anything away from Iwerks' amazing work.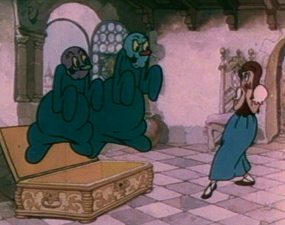 Once Upon A Time (1936, 9:02) surprisingly gets a touch of ridicule in the included commentary track on this disc, but taken in context for who it was made for (a commercial for another insurance company), it actually turned out no worse than any other moral message short of the time, and the Technicolor values give it a sheen it otherwise wouldn't have had. The short's title takes its cue from its fairytale land setting, wherein the disruptive Discourtesy and Carelessness, looking a little like the Germs from the Iwerks cartoon above, come to wreck havoc by causing the collision of many a storybook character's cars. It's true that Once Upon A Time is simply drawn, but it is fully animated and contains enough touches that should garner it a little more respect than it apparently has. Certainly it's the most outright entertaining selection here and, besides, the superlative score and catchy song has remained in my head for days, so in my book the cartoon works!
Three Blind Mice (1945, 4:41), featuring George Dunning amongst its artists, isn't a clear retelling of the famous verse but more a springboard to showing what happens when safety regulations are not observed when carrying out machine and manual labor. Shot using stop-motion animated cut-outs, the short retains the rhyming convention of the original, but it drags on for too long, becoming quickly repetitive and not helped by a visual look that doesn't alternate from its monochrome staging at any time throughout.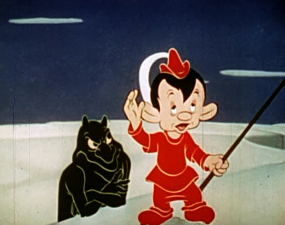 Winky The Watchman (1946, 10:08), made by Hugh Harman Productions after his MGM association with Rudy Ising had come to an end, is an highly entertaining effort that exposes what happens when kids don't look after their teeth. It struck something of a nerve with me because a decayed wisdom tooth is exactly what happened to me this week, so I got some additional amusement from the antics here. Of course, it's much more colorful and light-hearted than a real extraction, with Winky's enamel-white wall of knashers coming under fire from sneaky incisor-mining baduns! Winky himself reminds of the night watchman Gabby from the Fleischers' feature Gulliver's Travels and who went on to star in a short-lived series of his own, of which this feels like a distant cousin. Naturally, Harman's elaborately lofty production values – including proficient live-action bookends – make this a very handsome looking inclusion here, with the Technicolor processing again helping it stand out as something quite special.
Nursery Rhyme Films (1948, 5:21) was a company that specialised in brief interpretations of children's poems, and here we're offered a sampling of four: This Little Pig, Hey Diddle Diddle, Three Blind Mice and Jack And Jill, all running exactly 1:20 each. There's not much to say about these, since they all follow the same format: a narrated version of the text on screen, followed by a second character-led read-through, and finally a literal animation sequence that concludes things. Perhaps intended for television, these are at least fully animated and quite imaginative in how they deal with visualising the sometimes frankly absurd children's verses.
Oral Hygiene: Swab Your Choppers (1948, 6:54) features more dental care tips, this time aimed at those in the Navy and produced by UPA in their typical super-limited animation style that the studio was famous for. Despite the addition of color and a shorter length, what turns out to be a pretty straight forward instructional film on how to look after your teeth, doesn't measure up to the likes of Finding His Voice for interest value or even Winky The Watchman for entertainment. It's a drawn out cartoon that is typical of the yawn inducing information pictures the boys were subjected to in the day, and can't have even inspired them back then!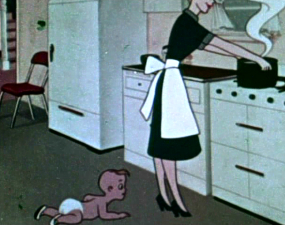 Accident Prevention Aboard Ship (1951, 7:12) is much better, funnier and roundly informative and entertaining, though it's another that gets lambasted by the commentary participants. Although it is a limitedly animated – if that's the word – short when seen through their eyes, there's no denying that this is a product of the time, done on a budget, and as successful as anyone could have hoped for given those circumstances. True that there is some unintentionally hilarious, dated safety film narration and situations, including some shocking ones that somehow feel astonishingly out of place in such an otherwise cheerfully toned cartoon, leading to a nervous laughter. The creative studio is unknown, even though it resembles the UPA style, but think of this as a Tex Avery comedy ("How To Have An Accident In The Navy"?) and you'll have a blast!
Discipline Pays Off (1951, 10:42) is another UPA training film for the US Navy. Though it offers more enjoyment and production value than Swab Your Choppers, this look at regulations throughout the ages still doesn't have the charm of the earlier entries in this collection. That it was originally intended and budgeted just for those in the marine services and not for viewing by the general public is a reason for its concentration on factuality, of course, but it still takes its time to make a point.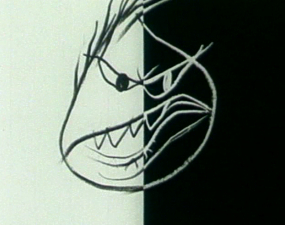 Rumor (1956, 5:47), a "Challenge Film" going by the credits, is truly the oddest film here, about race relations and the Detroit Riots of 1943. The intention of this storyboard-designed film is obviously to explore prejudice and confusion, but the effect is disjointed and nightmarish. Clearly inviting further discussion – there's even a note to stop the projector to consider the issues before proceeding – this one is sure to leave a lasting impression as the final inclusion on this disc, but probably for the wrong reasons, and at times the extraordinarily named Gunnar Back's somewhat sinister narration comes over as being quite psychologically paranoid!
Is This Thing Loaded?
With each subsequent release, independent Steve Stanchfield's disc presentation jumps forward in professionalism. That's not to say they never were fully rounded, pro-looking menus, but here we get perhaps the best I've seen on a Thunderbean disc: fully animated screens, with animated text, interstitial animation, and very nice treatment of all those elements too, giving a very good representation of the tone of the full program. I don't often gush about menus, but it's warranted here.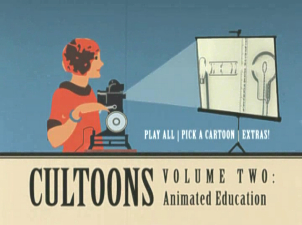 The extras themselves are split between a selection of the usual Thunderbean still frame supplements, a bonus cartoon and, most excitingly, six commentary tracks! The slide-styled Liner Notes have been compiled by series producer Stanchfield, who provides a fitting intro to this collection before running through each cartoon with a few words on each. As usual, these are informative potted contexts for the included titles, and just as a note about the sheet music for the song from Once Upon A Time gets one itching for a peek at it, another entry is indeed the Think About Your Safety Sheet Music! Matched to the track, this video clip offers up the full-page artwork and selected close ups including the unintentionally hilarious back page.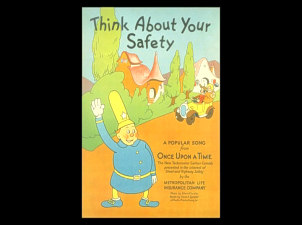 ASIFA-Hollywood Animation Archive sadly isn't anywhere as exciting as the menu option sounds. I was expecting a selection of appropriate images from their vast collection, perhaps showing some of the films being made, or associated shots of the studios in question, or maybe some simple one-sheets that promoted the films or similar selections. It is, in practice, a single frame announcing A-HAA's ambitious animation museum and archive, which is exciting in itself, but just not what I was hoping for here. A page of DVD Credits lists the many people who helped Steve out on this title, including Mark Kausler (who gets name checked twice) and our ol' pal Del Walker.
The real meat of these supplements are an assortment of Audio Commentaries on selected cartoons. Mark Kausler turns up for a solo take on Winky The Watchman and his enthusiasm is hard to contain…he's simply bursting with intricate minutiae, dates and history of this great little short and its director Hugh Harman. In fact, he's got so much to spill out that he's given a second, non-cartoon specific A Few Words On Hugh Harman moment where he brings his comments on the director to a close. Personal and heart-warming. ASIFA-Hollywood director Stephen Worth also contributes a lone track, for Finding His Voice, and again it's packed with information, most notably on voice artist Billy Murray and the early era of sound film production.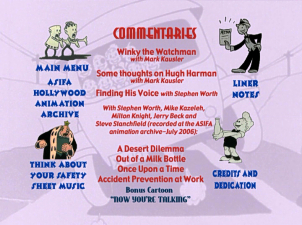 Worth, plus Mike Kazelah, Milton Knight, Jerry Beck and Stanchfield, are grouped together at ASIFA headquarters for the four remainders: A Desert Dilemma, Out Of The Milk Bottle, Once Upon A Time and Accident Prevention At Work. Though the thought of these guys sitting around a microphone expressing their thoughts on these oddities sounds like gold, they progressively all start jostling for attention after the first track, with some more overpowering than others. The results are that the three final tracks are hysterically comical to listen to, and I did enjoy them, but they're also very raucous affairs, particularly Accident Prevention. I also wasn't sure some disparaging remarks were quite appropriate on a DVD that is otherwise celebrating these lost gems, however good or bad they may be, though there are many useful nuggets peppered through the tracks.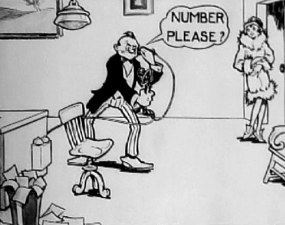 Finally, a bonus cartoon, Now You're Talking (1927, 8:40), has been added due to its significance as a cousin of sorts to Finding His Voice and its follow up Family Album. A silent Inkwell short, which has early users getting to grips with the new telephone technology, a music track has been added for this release, which is included not from the 2004 Library Of Congress print but courtesy of Rick Prelinger's Internet Archive Collection. I'm not sure if that source is the reason, but the image is heavily interlaced, or at least blown up from smaller than usual TV frame proportions, frustrating in that the actual print of the cartoon is pristine, with nary a speckle on it, surely the result of some sort of clean up. The resolution lines don't detract from the enjoyment, but as such its inclusion as a bonus-only has been correctly judged.
Case Study:
Thunderbean's Animation Classics Collection continues with their standard multi-screen background montage and prominent character highlighted on the front, in this case Harman's Winky the Watchman. A particularly nice touch, also replicated on the DVD's Credits page, is a dedication of this title to Thunderbean's cover artist Brenda Bailey, who appears to have passed away all too soon last year.
Ink And Paint: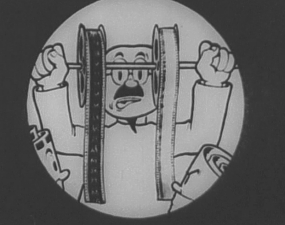 A mixed bag of animated rarities is going to produce a mixed bag of images, especially when sources are as varied in time origination and print location as this. That said, there's nothing to get worked up about here – this is the only place to see such stuff and you can be rest assured that it's been handled with the utmost care and attention to presenting it as best as can, and even the restoration credits which sneaked into the lower black bar of the windowbox during the first volume are thankfully not present here. The frame gate jumps a couple of times through one or two of the cartoons, exposing the adjoining frame which I thought might have been better masked off in the windowboxing, but that's about as harsh as I wish to be on material such as this which is lucky to have been transferred at all.
Scratch Tracks:
Again, we're dealing with vintage material from a range of collectors' and archive dupes, but the results come through loud and clear (thanks to Talkie!) and you know that Stanchfield just wouldn't include anything unless it met his high standards. Sure, the quality varies, but it's never inaudible and is actually often striking.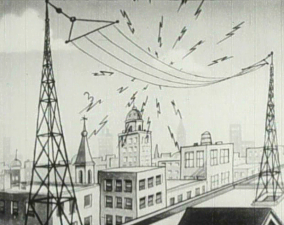 Final Cut:
After the initial volume of Ads And Oddities, I wasn't sure where Cultoons! could go, but I've been answered here with a fun collection that showcases some truly brilliant shorts (Finding His Voice, See How They Won, Once Upon A Time, Winky The Watchman), and some downright weird cartoons (Three Blind Mice, Swab Your Choppers, Rumor). While I should be fair and say that this is not really going to work well as a babysitter or perhaps even as a curiosity buy, it will be an instant purchase for those serious about animation history. Roll on Cultoons! Volume 3!
Animated Classic or Back To The Drawing Board?